Wilson proposes to girlfriend at Mudcats game
Brewers prospect gets engaged following ceremonial first pitch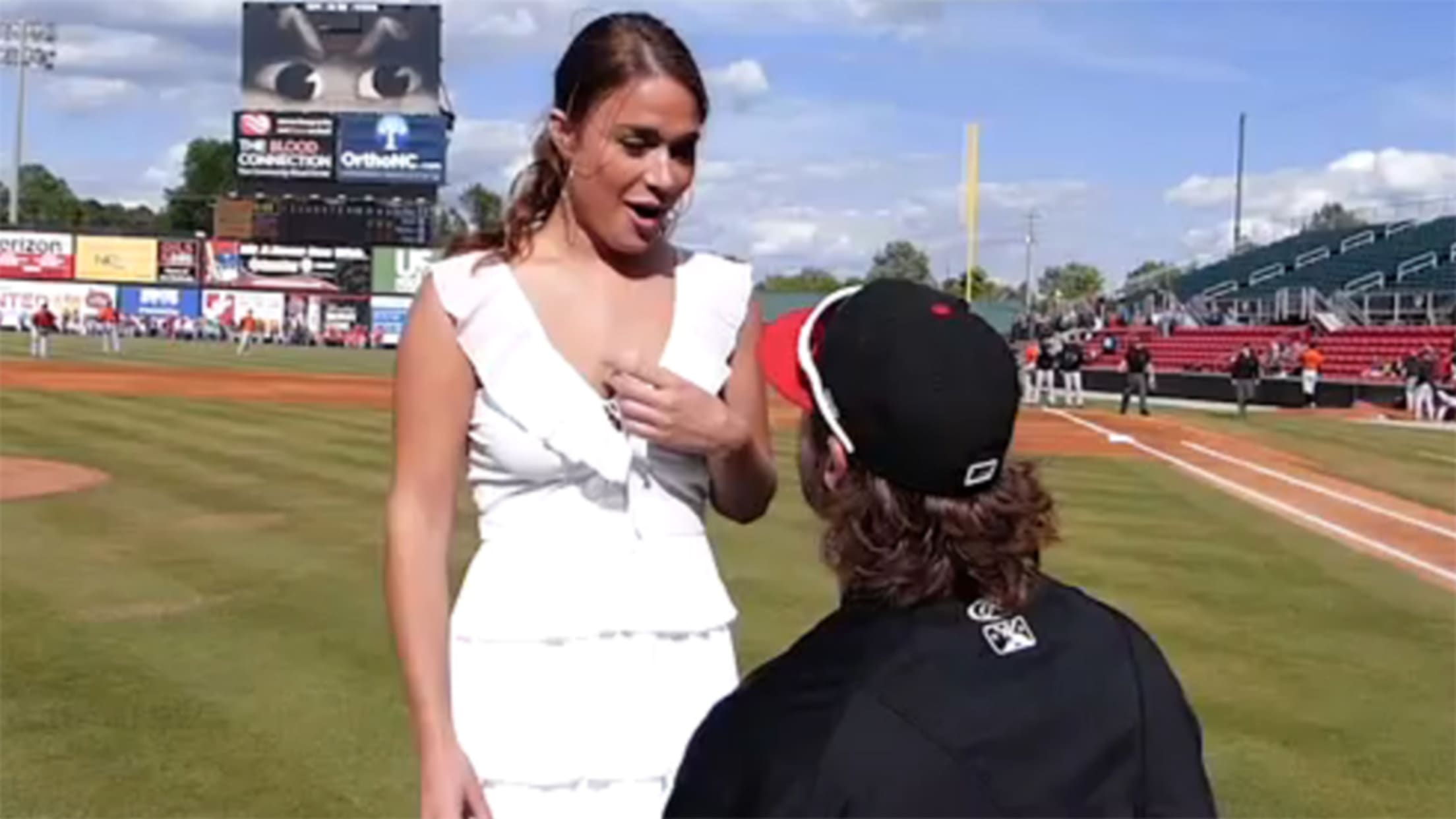 North Carolina native Weston Wilson got engaged to his girlfriend, Madison Hauck, before the Mudcats game on Saturday. (Carolina Mudcats)
Ceremonial first pitches usually put the pressure on the guests of honor to perform a simple task under the spotlight, but Weston Wilson was the one who had all the jitters on Saturday afternoon."I had some butterflies, but the good kind," he said.Before taking the field for Class A Advanced
Ceremonial first pitches usually put the pressure on the guests of honor to perform a simple task under the spotlight, but Weston Wilson was the one who had all the jitters on Saturday afternoon.
"I had some butterflies, but the good kind," he said.
Before taking the field for Class A Advanced Carolina against Frederick at Five County Stadium, the Brewers prospect stepped behind home plate to catch the first pitch from his girlfriend, Madison Hauck. Then he got down on his knee and proposed to her in front of a crowd of 5,010 that included family and friends.
The moment was surely memorable, but Wilson may need to rely on video footage to recall the details.
"I remember parts of it, but it's a little fuzzy right now," he said with a laugh. "I told the guys earlier that I'm just going to wing it when I propose and I just said whatever came to me. I told her that I've loved her from the moment I met her and I hope she would make me the happiest man. Luckily, she said yes."
It didn't take long for Wilson to make up his mind as to what he wanted to do. In fact, it didn't take him any time at all.
"I met her last December through mutual friends and my aunt and uncle," Wilson said. "Her family lives in Massachusetts, so I flew to Boston last winter. I knew I wanted to marry her when I first met her."
From there, it was all about the execution for the 22-year-old North Carolina native.
"It was just about the right timing," he said. "It depended on where I was going to be during the season. Last year, I was in short season, and I wasn't sure if I was going to be in Low-A or High-A. It would've been tougher if I had gone to Wisconsin and fly her family and my family out, but it really worked out well here since I'm from Carolina."
After receiving permission from Hauck's parents last month, Wilson set the wheels in motion.
"I basically came up with this idea three weeks ago with our manager, Joe Ayrault," Wilson said. "But I had to keep it a secret from her. I figured if I just told her about the first pitch thing, she was probably going to catch up to it, so I had to throw her off with a couple of things we planned in the future."
Hauck has attended several games since Wilson began his second professional season after being selected in the 17th round of last year's Draft, forcing Wilson to use a few decoys to keep his plan intact.
"After I got the ring, I had to bring her to my parents' house," he said, laughing. "I didn't want her to come to my apartment and find it and then have the whole cover blown."
On Saturday, in front of grandparents and parents from both families, including Wilson's sister, the Clemson product followed through on the plan.
"It's kind of surreal right now. It hasn't even hit me," he said. "I haven't be able to say much because my mind is going in so many directions. There's just so much excitement."
With the proposal taking place prior to the game, Wilson, of course, had to regain his focus. The third baseman went 0-for-2, snapping a seven-game hitting streak, in Carolina's 1-0 loss.
"I usually do a pretty good job of not letting any off-the-field stuff distract me," he said. "But I had to try to clear my mind because I still had some jitters. The first ball I hit to center, the guy [Austin Hays] made a diving catch. My second hit was to center again and he made another great catch. I got hit by a pitch in my third at-bat and I really wanted to get a base hit so she can have something to remember by, but it just didn't work out that way."
Saturday's affair wrapped up an eventful homestand for the Mudcats, who pulled off the hidden-ball trick on Wednesday and had a foul ball carom off the roof into a fan's beer cup on Friday.
"That was something we talked about in the locker room," Wilson said. "We were like, 'What's the next thing we're going to?' We've already had three things that don't usually happen in a season, so it's pretty crazy what's been going on this week.
"Maybe we'll turn a triple play next."
Michael Peng is a contributor to MiLB.com. Follow him on Twitter @MichaelXPeng.