Kirilloff blasts first homers since 2016
Twins No. 6 prospect racks up career-high six RBIs for Kernels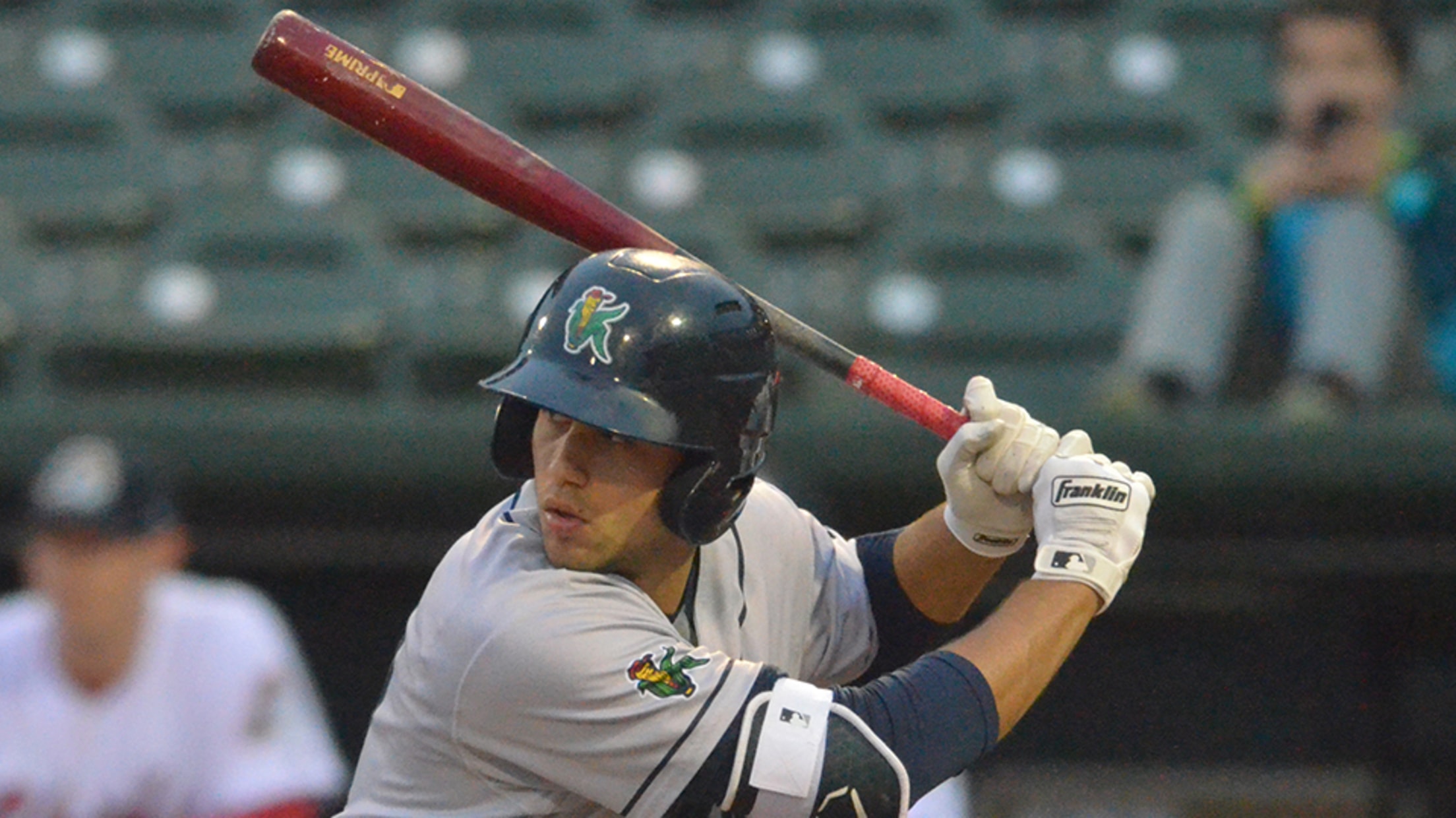 Alex Kirilloff hit seven homers in his first pro season in 2016, but missed all of 2017 after Tommy John surgery. (Allison Rhoades/Peoria Chiefs)
After missing all of 2017 following Tommy John surgery, Alex Kirilloff is eager to justify being drafted 15th overall in 2016.Minnesota's No. 6 prospect went a long way toward doing that Wednesday. Kirilloff went yard twice -- his first home runs since Aug. 26, 2016 -- and drove in a
After missing all of 2017 following Tommy John surgery, Alex Kirilloff is eager to justify being drafted 15th overall in 2016.
Minnesota's No. 6 prospect went a long way toward doing that Wednesday. Kirilloff went yard twice -- his first home runs since Aug. 26, 2016 -- and drove in a career-high six runs as Cedar Rapids outlasted Peoria, 12-9, at Dozer Park.
The left-handed hitter cleared the wall in left-center field to score Jose Miranda in the first inning, and then pulled one to right-center in the third to score Miranda and Akil Baddoo to put the Kernels back on top, 6-5.
Despite those dingers, Kirilloff said he doesn't consider himself a home run hitter.
"I'm not going up there trying to hit a home run on every swing," the 20-year-old said. "I'm happy to be out there on the field and I'm looking forward to making this season the best I can."
Gameday box score
Both shots came against Chiefs right-hander Winston Nicacio (0-1), who was making his full-season debut. Kirilloff lined an RBI single to center in the sixth as the Kernels grabbed the lead for good.
Kirilloff's injury was especially disappointing because his pro debut was so impressive. Considered one of the best prep bats available in 2016, the Twins gave the Pittsburgh-area native a bonus of $2,817,000 to pass up on a Liberty scholarship and go pro.
He didn't disappoint, hitting .306/.341/.454 on his way to being named MVP of the Appalachian League after the Twins skipped him over the Gulf Coast League. But after he felt some inflammation in his throwing elbow, the Twins shut him down on Aug. 27, and he had elbow ligament replacement surgery the next March.
Still, he doesn't feel any pressure to make up for lost time and said he put on about 10 to 15 pounds in an effort to get stronger.
Kirilloff draws comparisons to organization mate Max Kepler and the Brewers' Christian Yelich as a left-handed hitter with a corner outfield profile. He draws his power from strong wrists, rather than bulk or raw strength, and is an all-fields hitter with the ability to hit the ball out to left, center and right.
"That's what creates a lot of great swings," Kirilloff said of his wrist action. "Look at Brian Dozier. He's not a big guy, but it's about maximizing your body and potential. You don't have to be a big guy to hit homers."
The Kernels also got homers from first baseman Ben Rodriguez, a solo shot in the second off Nicacio, and catcher David Banuelos. Rodriguez added three hits, while No. 24 prospect Ben Rortvedt doubled and singled.
Cardinals No. 19 prospect Dylan Carlson belted a three-run dinger and singled.
Right-hander Calvin Faucher (1-0) pitched 2 1/3 shutout innings in relief for the win. Right-hander Ryan Mason notched a three-inning save and only yielded one run while picking up his second save of the season.
But for the Kernels, Kirilloff was the separating factor, and he is grateful to be back healthy.
"[My elbow] feels great, and I thank God for that. It's just great to be back playing."
Vince Lara-Cinisomo is a contributor to MiLB.com. Follow him on Twitter @vincelara.