Twins' Moya closes out season with MiLBY
Lefty reliever, traded from D-backs, dominated throughout 2017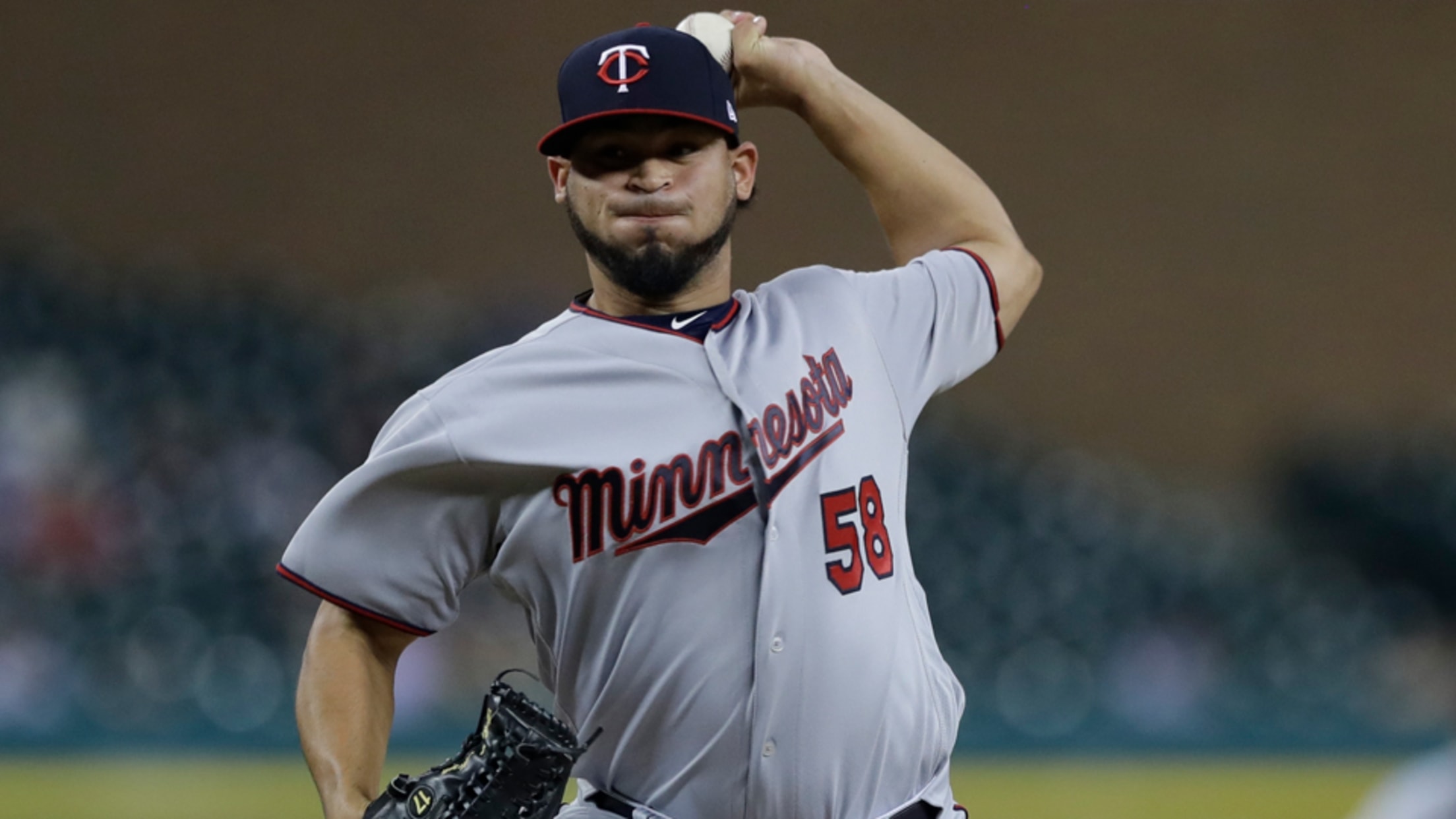 After a phenomenal Double-A campaign, Gabriel Moya allowed three runs over seven Major League appearances. (Carlos Osorio/AP Photo)
It had been a while since Jeff Bajenaru had worked with Gabriel Moya when the young hurler's name lit up the Visalia pitching coach's cell phone in September. The two were no longer even part of the same system."I was sitting in my in-laws' house, and I was like, 'What
It had been a while since Jeff Bajenaru had worked with Gabriel Moya when the young hurler's name lit up the Visalia pitching coach's cell phone in September. The two were no longer even part of the same system.
"I was sitting in my in-laws' house, and I was like, 'What is Moya calling for?' I knew he'd just gotten called up, but we didn't talk [regularly]," Bajenaru said. "I'm a fairly young coach at high-A ball, and seven years in I'm just seeing guys I had my first year [reach the Majors]. Gabriel was the first one who ever called.
"His English was way better, was the first thing I noticed. The second thing was that he was emotional, so happy, proud. He just wanted to tell me he'd been called up. I really appreciated that. I care about my players, obviously, and that meant a lot. He wasn't bragging. He just wanted to share it with me."
Moya isn't exactly a prototypical shutdown Major League reliever. With a fastball that sits in the low 90s, the 22-year-old native of Venezuela doesn't light up radar guns. Standing six feet tall, he's not an imposing presence and doesn't show a release point that might appear, at least from the batter's perspective, on top of home plate.
For all the ways Moya differs from the ideal image of a dominant bullpen weapon, however, the southpaw surely fit bill in 2017. With the game on the line, he was consistently unbeatable -- and his dazzling performance throughout the year made him the MiLB.com staff pick for the Top Relief Pitcher MiLBY award.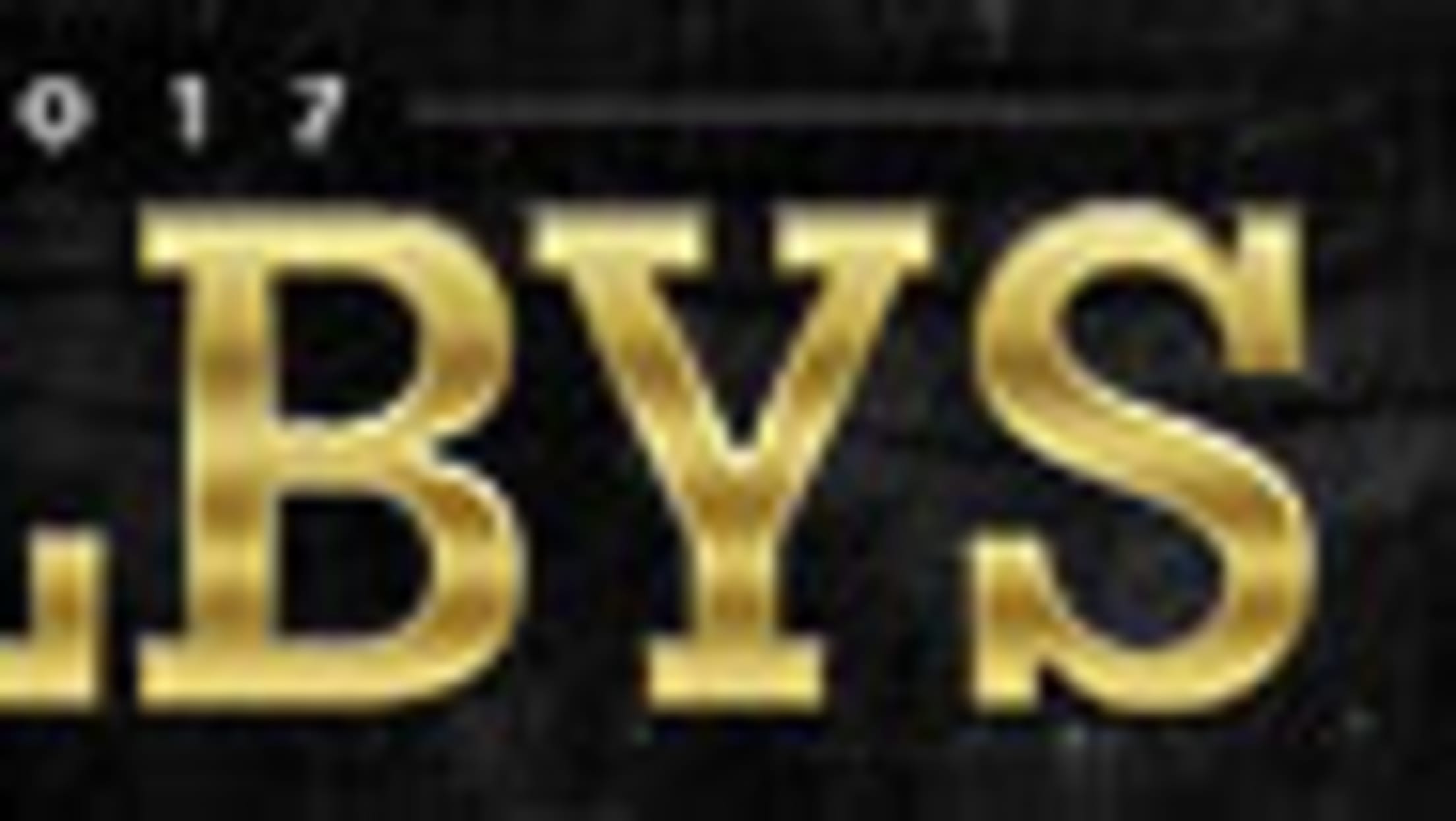 "Stuff-wise, is he the prototypical closer? You probably have to say no. But the numbers he's put up are very impressive," said Jake Mauer, who managed him from the end of July until his Chattanooga club claimed a share of the Southern League title.
Moya spent the Minor League campaign in Double-A, opening the year with the Jackson Generals before being traded from the D-backs to the Twins for catcher John Ryan Murphy and joining Chattanooga on July 27. Across the two Southern League clubs, he went 6-1 with a 0.77 ERA in 47 appearances, earned 24 saves in 24 chances, held opposing hitters to a .150 average and had 87 strikeouts compared to 15 walks over 58 1/3 innings.
The midseason swap kept Moya in the same division, so the Lookouts had some idea what they were getting. He was perfect against them in a one-inning save April 29, fanning two. They did break through for a couple runs two days later, but on June 6 he frustrated them for three frames, allowing a walk and a hit while punching out six en route to the victory in the Generals' 4-2, 14-inning win.
"We had some battles with Jackson. Moya, before he was with us, was -- if not leading -- always in the top two or three in saves in the Southern League," Mauer said. "We didn't want to see him as much as we did. He was pretty tough. Numbers-wise, he pops out at you, but what I really believe is a lot of it with him is confidence and approach and mental toughness."
Moya steadily moved through the Minors as an unranked prospect after signing with Arizona in 2012. Following a couple seasons in the Dominican Summer League, he was brought to the D-backs' facilities in Scottsdale in 2014. In extended spring camp, he first worked with Bajenaru, who became a key figure in his development.
"He'd always been a reliever in the DR, and when he got to extended, he was throwing really well," Bajenaru recalled. "We thought maybe he could be a starter, see if there was anything there. He went four or five innings every time, and he never gave up any runs. It was an easy transition."
Seeing that success at the complex, Arizona assigned the youngster to Bajenaru's rotation in the Rookie-level Pioneer League. Although he came within an out of a seven-inning no-hitter at one point that summer, overall it provided Moya and his organization with a lesson.
"He got to Missoula, and he had a 6.00 ERA. Missoula is a tough place to pitch, but it wasn't as bad as it sounded," Bajenaru said. "You could see he wasn't really a starter. He didn't have a slider at the time. He had no real breaking ball, just a fastball and changeup. They put him in the 'pen in '15 back in Missoula, and he was a really good reliever -- a seventh-, eighth-, ninth-inning guy."
That year, he went 2-1 with a 1.93 ERA over 25 appearances. It was enough to get him into the Class A Kane County bullpen for the start of 2016. He added a slider to his two established pitches: a fastball he could spot consistently and a changeup that made him even tougher against righties than lefties. His bread-and-butter stuff had him reunited with Bajenaru in the California League by the end of May.
"I had him again in Visalia in '16, and he just dealt," the former Major Leaguer said. "He throws an invisi-ball -- an invisible fastball nobody can see for some reason -- and he pitches in to righties. The changeup, man, it's great, and the way he commands his fastball to righties with two strikes.... His fastball is nothing special, 89-93 tops and it pretty much sits at 91, but he freezes guys with it."
With those tools in his belt and five years of pro ball experience under it, Moya appeared poised for something special. Bajenaru had kept an eye on his progress in winter ball in his home country, where the Aguilas del Zulia treated him as a lefty specialist.
"They were pitching him to get one out against lefties, and it was like, 'No, you're not using him right.' And then he didn't do that well," Bajenaru said. "You have to let him pitch."
When spring rolled around, he got his chance. The 5.84 ERA for the Aguilas behind him, he tossed two scoreless appearances, amounting to three innings and his first save, in the Generals' opening series. He scarcely blinked from there. When Mauer added Moya to his bullpen, the Lookouts were in need of an arm to replace another future MiLBY Top Relief Pitcher nominee.
"Timing wise, it couldn't have been better for us. We'd just sent up John Curtiss, who'd been our closer and one of the top guys in the league, too," the manager remembered. "That's the thing in the Minor Leagues -- guys get moved around, and you always wonder who's going to be next and get into that spot. With his track record, we knew him, and he came over and brought confidence and experience. He'd pitched in the back end and done it successfully."
It would've been understandable had Moya been shaken by his sudden in-season departure from the system he'd been in since he was 17.
"I think with anybody who gets traded, there's a little adjustment, at least in how different organizations operate and all that. For Moya, it was a pretty easy transition," Mauer said. "Command is always going to be the key for him, and he's got it. Another big tool he has is that he isn't afraid. He wants the ball in big spots. He wants to be on the mound when his team has the chance to win. His mental makeup is through the roof."
Moya made three straight scoreless appearances with his new club before his old club got to him Aug. 4 on a Michael Perez solo homer, but Moya shrugged it off and got the save in a 3-1 win. It was the last time he would be charged with a run until he reached the Majors. That's not to say it was always easy.
On Aug. 18, he came out of the bullpen with Chattanooga holding a 9-6 lead. Tennessee had runners on second and third and no outs. The Smokies managed a sacrifice fly and a double to pull within one with the tying run in scoring position. From there, Moya induced a harmless pop out and recorded a whiff to end the game.
Two days later, with Tennessee having seen Moya twice already in the series, Mauer needed the lefty to shut them down again. He didn't disappoint. After the Smokies sent six men to the plate, scoring twice, Moya entered and snuffed the rally on five pitches.
"He got a strikeout and a groundball out, and the next thing you know, we're out of the inning and shaking hands," the skipper said. "That was his M.O. the whole year. He found a way to close games out and make managers look smart for giving him the ball in that situation.
"I knew he wasn't going to be intimidated [in the big leauges]," Mauer added. "He was not going to back down for fear of the situation. You want them to find their comfort zone and settle into who you're going to be. With Moya, that's what's going to be interesting to see. He's going to carve out his niche and find his fit on a big league team and a relief staff. Whatever role he's in, he's not going to be intimidated."
Bajenaru is certain of that, too.
"A lot of people have said he's going to have to do it every year at every level. He's going to have to earn it," he said. "The thing I love about this kid, he reminds me a lot of the way I went about my business. He was always undersized, told he couldn't do it, told he couldn't make it, he didn't have enough. Those guys I have a heart for. He's passionate and he really cares. He does work hard, and he's always open to anything you ask him to do -- trying a new pitch or 'Let's do this,' 'See if this works.' That stuff impresses me about him and guys like that.
"He's one of the guys that probably shouldn't have made it, you know what I mean? He never wavered on who he is as pitcher, never stopped working on what's made him successful. That's a really cool thing."
Josh Jackson is a contributor to MiLB.com. Follow and interact with him on Twitter, @JoshJacksonMiLB.