Twins' Thorpe coasts to Pitcher of the Week
Minnesota's No. 11 prospect fanned 19 batters in 12 2/3 frames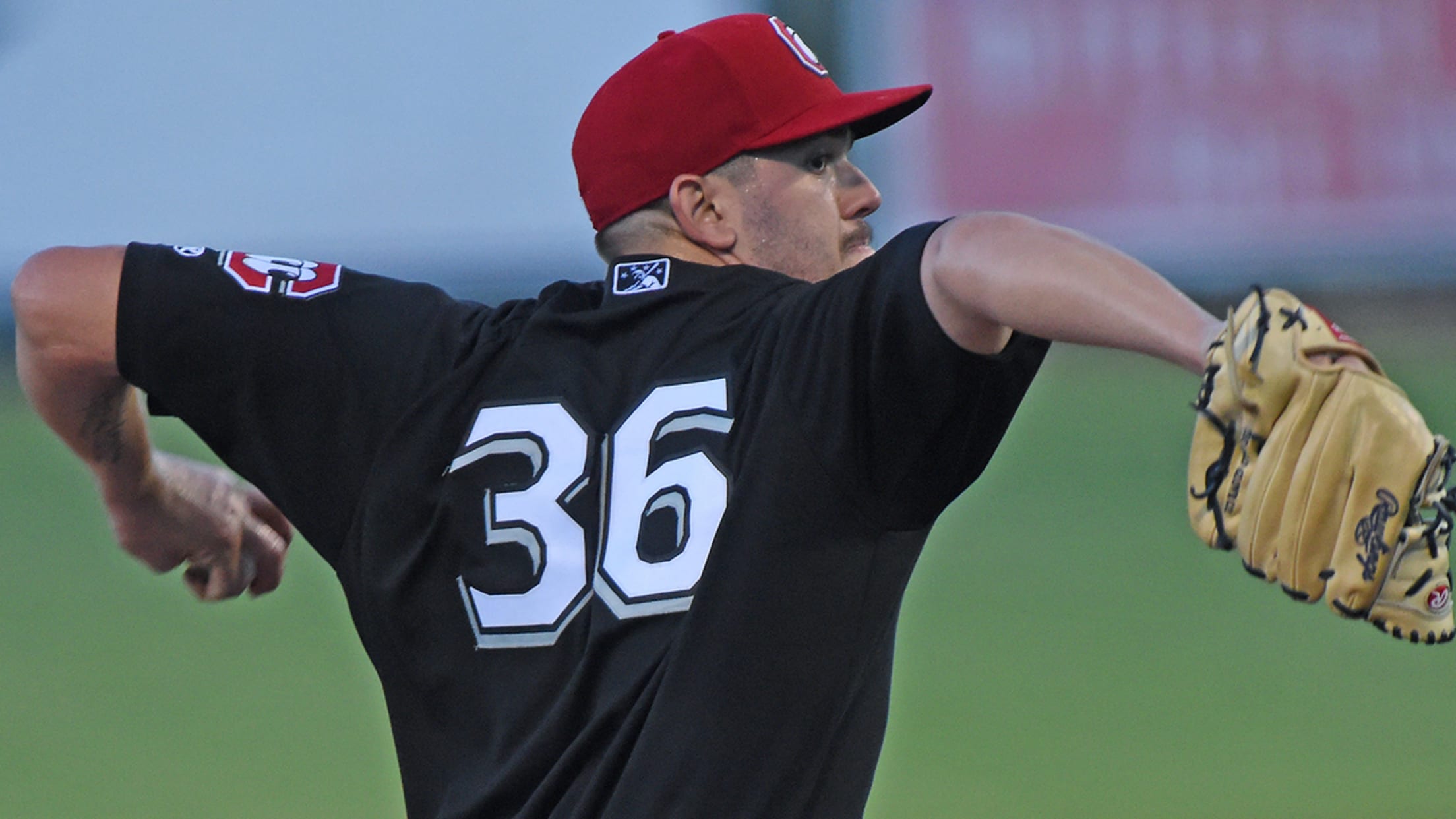 Lewis Thorpe has dropped his ERA nearly a full run over his last three starts for Double-A Chattanooga. (Brian McLeod/MiLB.com)
Lewis Thorpe had one bad day at Montgomery in early June. Southern League hitters have paid the price ever since.Minnesota's No. 11 prospect was named Southern League Pitcher of the Week on Monday on the heels of two dominant starts for Double-A Chattanooga. Over his pair of outings -- with
Lewis Thorpe had one bad day at Montgomery in early June. Southern League hitters have paid the price ever since.
Minnesota's No. 11 prospect was named Southern League Pitcher of the Week on Monday on the heels of two dominant starts for Double-A Chattanooga. Over his pair of outings -- with the award period from June 21 to July 1 to adjust for the Southern League All-Star break -- Thorpe posted a 0.71 ERA and struck out 19 batters in 12 2/3 innings and helped lead the Lookouts to a pair of wins.
"It's kind of been a little bit of a blur," Thorpe said Monday. "I've started throwing the baseball a little bit better and just trusting my stuff a little bit more. Everything's starting to fall into place, and I'm starting to get my act together."
• View the Player of the Week winners »
The Twins lefty was tagged for nine runs on nine hits over 3 1/3 innings on June 8, snapping a streak of three straight starts without allowing an earned run, but Thorpe didn't take it as anything but a hiccup.
"It was just one off day in Montgomery," he said. "I had two quick, good innings and then they just started swinging and the ball was falling in. Everything was going their way, so it was just an off day. That was a rough one."
From there, he rebounded. On June 13, the Australian struck out nine while walking one in 6 1/3 innings at Birmingham, allowing two earned runs. Then came his best outing of the year, which coincided with the start of the circuit's award period. Back in Chattanooga after the break on June 21, Thorpe silenced Biloxi over seven one-hit innings, striking out a career-high 12 against just one walk. Five days later, it was more of the same. The southpaw fanned seven with one free pass and yielded one run on four hits over 5 2/3.
"I'm just trusting my offspeed, not second-guessing myself and throwing what I want to throw, putting the pitches where I want to put them," he said. "If you locate your pitches, you're going to get results. That's how it's gone for me the past three starts.
"My confidence level has gone up. I think I'd be starting to get a little bit more tired, but no, I'm actually getting stronger and stronger as the season goes on which is absolutely amazing."
Since the one poor start at Montgomery, Thorpe has posted a 1.42 ERA in his last 19 innings to go along with a 0.79 WHIP and .182 opponents' average. In his first Double-A campaign, he now sports a 4.06 ERA that has dropped nearly a full run in his last three outings.
"The hitters are more selective," said Thorpe, who posted a 2.69 ERA in 16 Florida State League outings a year ago, getting one start in the Southern League last August as an appetizer to this year. "They know what they want. They know the pitch they want to look for, so you just have to be wary of where you want to put it. You have to follow scouting reports a little bit more so you don't just go up there and throw the ball."
As hard as it may be to believe, 2018 is Thorpe's first full season. While he burst onto the scene in 2014 by going 3-2 with a 3.52 ERA in 16 starts for Class A Cedar Rapids, Thorpe didn't make his season debut until June that year. The following spring, he went under the knife for Tommy John surgery and missed the entirety of the 2015 and 2016 seasons. His return to the mound didn't come until last May 19, and success has followed in short order to a somewhat surprising degree, even to Thorpe.
"A little bit, yeah," he said. "I think I was two and a half years out of the game. It was surprising. I didn't think my stuff would come back that quick, and it has, which is good. I'm just happy I've been able to find some form, and I'm just having fun with the game now. It's just a fun time out there now."
Below is the complete list of Minor League Pitcher of the Week winners for June 25-July 1 (except Southern League, which is June 21-July 1):
Tyler Maun is a contributor to MiLB.com. Follow him on Twitter @TylerMaun.