Lewis caps two-homer game with walk-off
Top-ranked Twins prospect doubles '19 long ball total in opener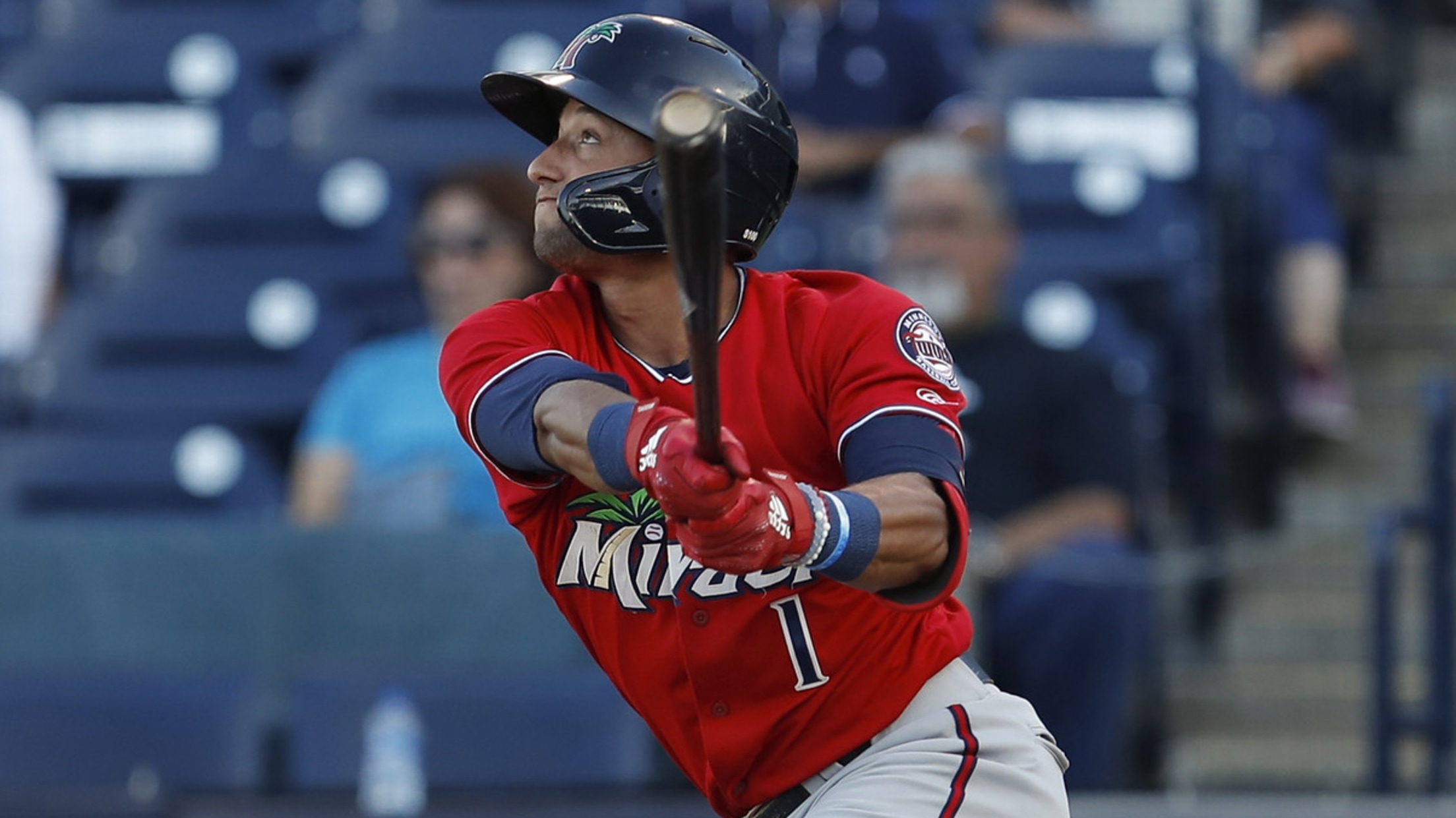 Royce Lewis has 22 homers and 120 RBIs in 239 games since the Twins drafted him first overall in 2017. (Mark LoMoglio/Tampa Tarpons)
After a lackluster first half, Royce Lewis has the tools to post impressive numbers in the second half -- and quickly. So far, so good for the 20-year-old shortstop.MLB.com's No. 7 overall prospect capped his first two-homer game of the season with a walk-off blast in the seventh inning, giving Class
After a lackluster first half, Royce Lewis has the tools to post impressive numbers in the second half -- and quickly. So far, so good for the 20-year-old shortstop.
MLB.com's No. 7 overall prospect capped his first two-homer game of the season with a walk-off blast in the seventh inning, giving Class A Advanced Fort Myers a 4-3 win over Charlotte in the opener of Wednesday's doubleheader at CenturyLink Sports Complex. It was his third career multi-homer game and first since Aug. 6.
Gameday box score
Lewis entered the game with a sub-.600 OPS but boosted his slash line to .227/.280/.346 with 19 RBIs and 11 stolen bases, sixth-most in the Florida State League, in 64 games.
"This whole season has been about making adjustments," he said. "The league makes adjustments to you and you have to bring your A-game every day.
"I've been hitting the ball well, a lot of stats don't take that into account. I've been hitting line drives, they've just been at someone. It's a tough league to hit in -- All-Star fielders, the pitchers are truly amazing."
After lining to center field in his first at-bat against left-hander Michael Plassmeyer, Lewis crushed a 2-2 pitch over the fence in left for his third homer of the season to give Fort Myers a 3-0 lead in the second.
"It was a good pitch -- low, inside," he said. "I was looking low-in for a slider. The ball came into that tunnel, I threw my hands and put the barrel on it."
After he struck out against Plassmeyer in the fifth, Charlotte scored three times in the sixth to tie it at 3-3 and set the stage for Lewis' heroics one frame later. With one out and noboby on base, the top Twins prospect watched a strike go by against right-hander Jack Labosky before taking two balls and working himself into a favorable count. Lewis sent the next pitch over the left-field fence for his fourth roundtripper of the season.
Tweet from @AlexisFarinacci: Royce Lewis Walks it off for @MiracleBaseball with his SECOND Home Run of the night!!#MiracleWin! #MNTwins pic.twitter.com/yDa2Ienpw8
"That one, I believe, was a mistake," Lewis said. "Our scouting report said he likes to throw the slider a lot. The batter before me [David Banuelos] got slider, slider, slider, fastball. I was going to sit on the slider, get one I could drive.
"He started me with a fastball down, a slider and a changeup. Then I got a slider, middle-in, and was able to drive the ball."
Lewis acknowledged that his stat line may not be as gaudy as some expect from a highly touted prospect, but he understands there's more to being a complete ballplayer.
"This is a great learning experience," he said. "If I wasn't here, I wouldn't be getting better.
"The whole Minor League system is for guys like me. It's all about progression, improving. Consistency at the plate is what I look for. I'm hitting balls at guys, line drives. I just have to keep looking to drive the ball."
In the nightcap, Charlotte's Joe Ryan flirted with a no-hitter, holding Fort Myers at bay until Twins No. 4 prospect Trevor Larnach stroked a two-out double in the sixth. Alex Valverde worked a 1-2-3 seventh to complete the one-hitter as the Stone Crabs won, 5-0.