Kernels' Lewis records second four-hit game
Top-ranked Twins prospect hikes Midwest League average to .400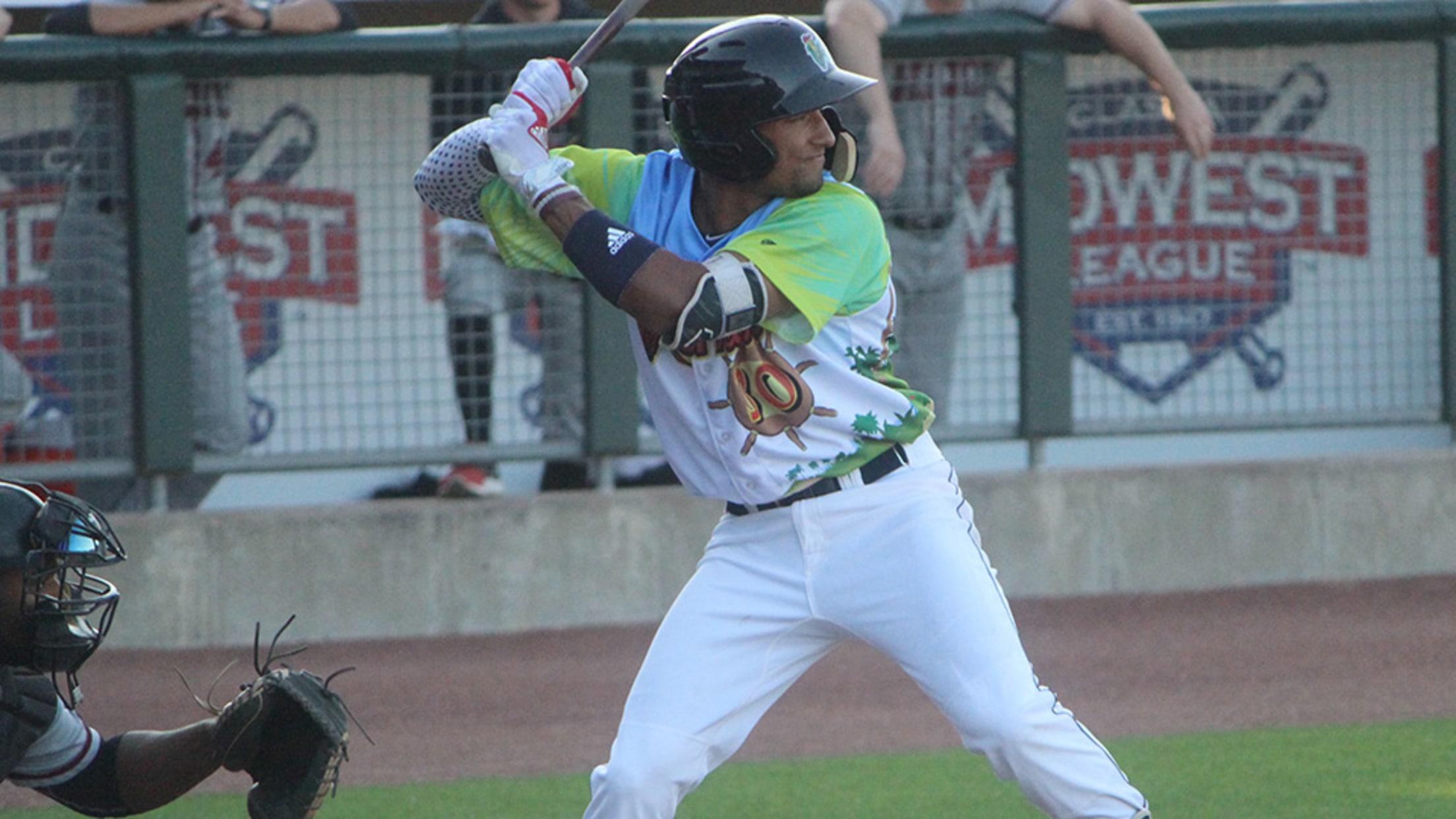 Royce Lewis is hitting .298/.392/.417 with 45 runs scored in 44 games across two levels this season. (Andrew Dodson/Cedar Rapids Kernels)
It hasn't taken long for Royce Lewis, the top overall pick in this year's Draft, to slide into a leadership role with Class A Cedar Rapids."I'm just looking to compete and work my butt off and make sure I'm learning and growing each day," the top-ranked Twins prospect said. "I
It hasn't taken long for Royce Lewis, the top overall pick in this year's Draft, to slide into a leadership role with Class A Cedar Rapids.
"I'm just looking to compete and work my butt off and make sure I'm learning and growing each day," the top-ranked Twins prospect said. "I set the standard for myself and I try to set it for everyone who is around me each and every day and just to be a great person and have a lot of fun doing it. I'm just trying to compete and help my team win."
Lewis set the tone on Sunday with four singles, driving in a run and scoring twice, as the Kernels totaled a season-high 23 hits in a 12-2 romp over Beloit at Perfect Game Field.
Gameday box score
"When everyone is hitting and feeling good at the plate, it just loosens you up as a hitter and it makes you feel good as well," MLB.com's No. 31 overall prospect said.
In his first eight games with Cedar Rapids, Lewis has a double and 13 singles in 35 at-bats with six RBIs and two stolen bases. He recorded his first four-hit game in his Midwest League debut on Aug. 13 after earning a promotion from the Rookie-level Gulf Coast League.
"I was excited to see how much energy at least our clubhouse has still being the end of the season for most of these guys that have played here the whole season," the 18-year-old said. "It's just been a lot of fun to be a part of this group and be a part of a full season."
In 36 games before getting the bump to Class A, Lewis batted .271/.390/.414 with two triples, six doubles, 38 runs scored, 17 RBIs, 15 steals and three homers -- including one in his first professional at-bat.
The California native has been at the top of the order in all eight games with Cedar Rapids and has sparked the Kernels with first-inning hits four times, including a ground single through the right side on Sunday.
"I just kind of play my role. Right now, as a leadoff guy, I feel like if I get a pitch to drive I can absolutely go ahead and drive it," Lewis said. "In this league, not a lot of mistakes are made, especially from a leadoff spot when you're taking a couple pitches in certain situations."
He moved up a base when Twins No. 11 prospect Travis Blankenhorn was hit by a pitch, then scored on a base hit by No. 10 Lewin Diaz. Following Joe Cronin's two-out double in the second, Lewis bounced to short to end the inning. He made the final out again in the fourth on a fly ball to left but got back in the hit column in a six-run fifth, plating Jimmy Kerrigan with an infield single.
• Get tickets to a Kernels game »
With two outs in the seventh, Lewis lined a single to center, Blankenhorn followed with a hit to right and Aaron Whitefield delivered an RBI single. He collected his fourth hit in the eighth, again with two outs.
Blankenhorn tied his career high with four hits, all singles, drove in one run and scored another, while Diaz was 3-for-3 with three RBIs and a run scored. Kerrigan fell a homer shy of the cycle.
Gerard Gilberto is a contributor to MiLB.com. Follow and interact with him on Twitter, @GerardGilberto4.