Twins take athletic Lewis first in 2017 Draft
Fellow teens Greene (Reds), Gore (Padres) round out top three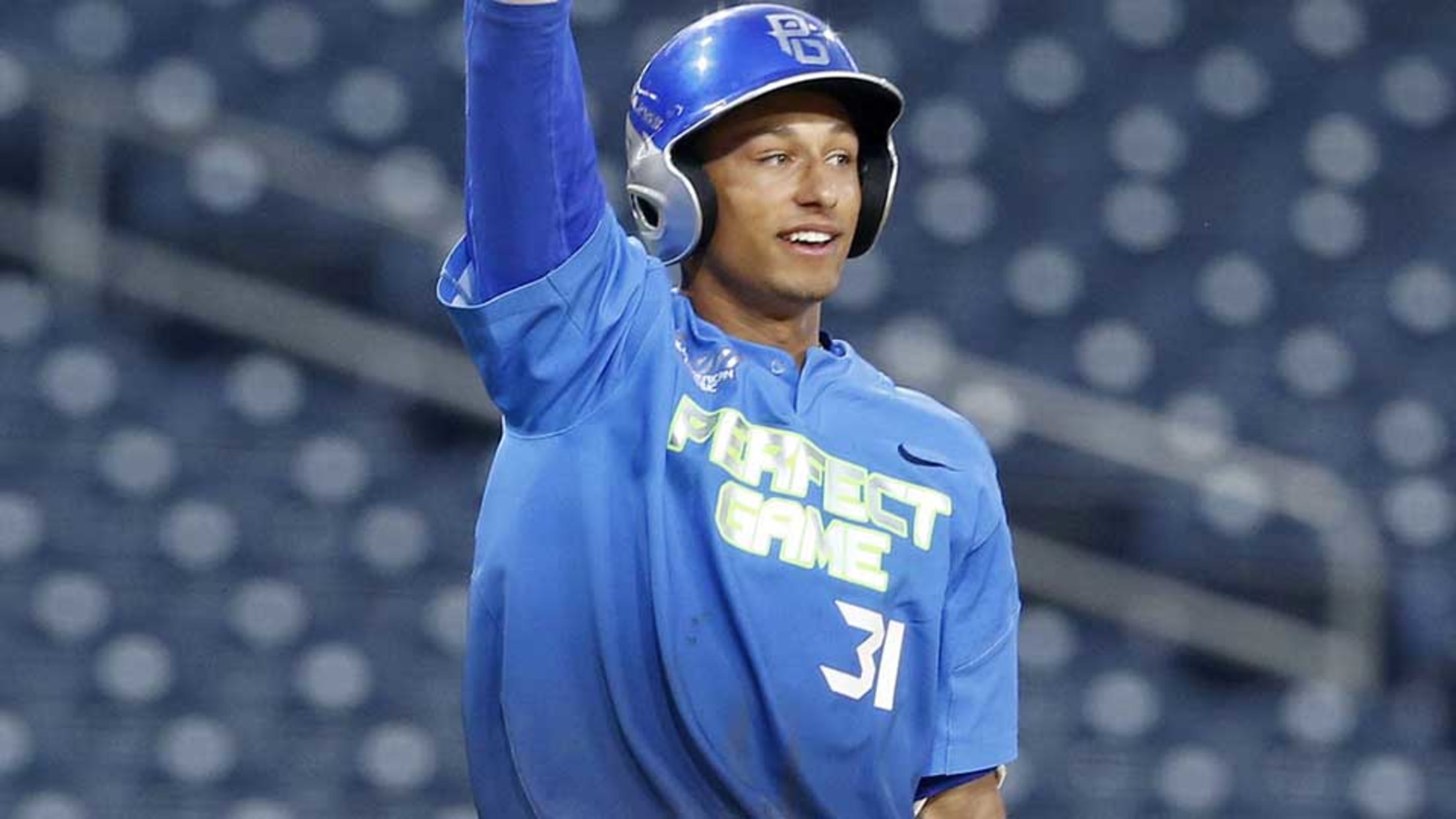 Royce Lewis is the Twins' first first overall pick since Joe Mauer in 2001. (Christine Cotter)
SECAUCUS, N.J. -- The Minor League landscape just got a whole new batch of talent.The first two rounds of the Major League Baseball First-Year Player Draft started Monday night at the MLB Network studios. Including Competitive Balance Rounds, 75 players will hear their names called on what could be the
SECAUCUS, N.J. -- The Minor League landscape just got a whole new batch of talent.
The first two rounds of the Major League Baseball First-Year Player Draft started Monday night at the MLB Network studios. Including Competitive Balance Rounds, 75 players will hear their names called on what could be the first evening of their pro baseball careers. Here's a running breakdown of the Draft's first round.
First round
1. Minnesota Twins: Royce Lewis, shortstop/outfielder, JSerra Catholic (California) High School --
One thing is for sure, Lewis can run. MLB.com gave his speed a 70 grade on the 20-80 scale, and that'd make him one of the Minors' fastest burners on Day 1. He's played shortstop and center field, both premium defensive positions, though just an average arm could determine at which spot he's most likely to stick. His bat is generally above-average, and though it's not there yet, he could grow into some power as he matures. Taken all together, it's an impressive up-the-middle profile, making Lewis the best true position-player prospect in the Draft. Signability might have helped Lewis as well.
2. Cincinnati Reds: Hunter Greene, right-handed pitcher/shortstop, Notre Dame (California) High School --
Ranked MLB.com's
No. 1 Draft prospect
, Greene is also a potential two-way player as a pitcher and a shortstop, but he's much more likely to stay on the mound. The reason behind that is his fastball has touched triple digits in front of scouts, and that type of heater alone is rare among 17-year-old right-handers. Add in that he's got a repeatable, easy delivery at 6-foot-3 and three other promising offerings in his slider, curveball and changeup, and that's not a package that moves to shortstop. Like Brendan McKay, it's possible the Reds let him play the field in his introduction to pro ball, just to keep his arm fresh and get a look at his capabilities. He does have good power to carry him offensively. But Greene's is a special arm, and Cincinnati should be thrilled to see him join the organization.
"I don't even know yet," Greene said of playing both pitcher and shortstop in the pros. "I still love doing both. I think the ballclub is excited for getting two ballplayers for one. I think they're pretty pumped up for that, so we'll see how it works out."
3. San Diego Padres: MacKenzie Gore, left-handed pitcher, Whiteville (North Carolina) High School --
If there's a prototype for a high first-round high-school left-handed pitcher, it's Gore. The North Carolina native added velocity this spring to sit in the mid-90s and has earned raves for his curveball. He's also got a slider and a changeup that have earned solid grades, and his control of that entire mix is said to be impressive for his age. Beyond the tools, Gore's pronounced leg kick from the stretch is a sight to behold. Like most high-school pitchers, it'll be a while for the Padres' investment to pay off here, but he has all the makings of a potential top-of-the-rotation piece in the organization.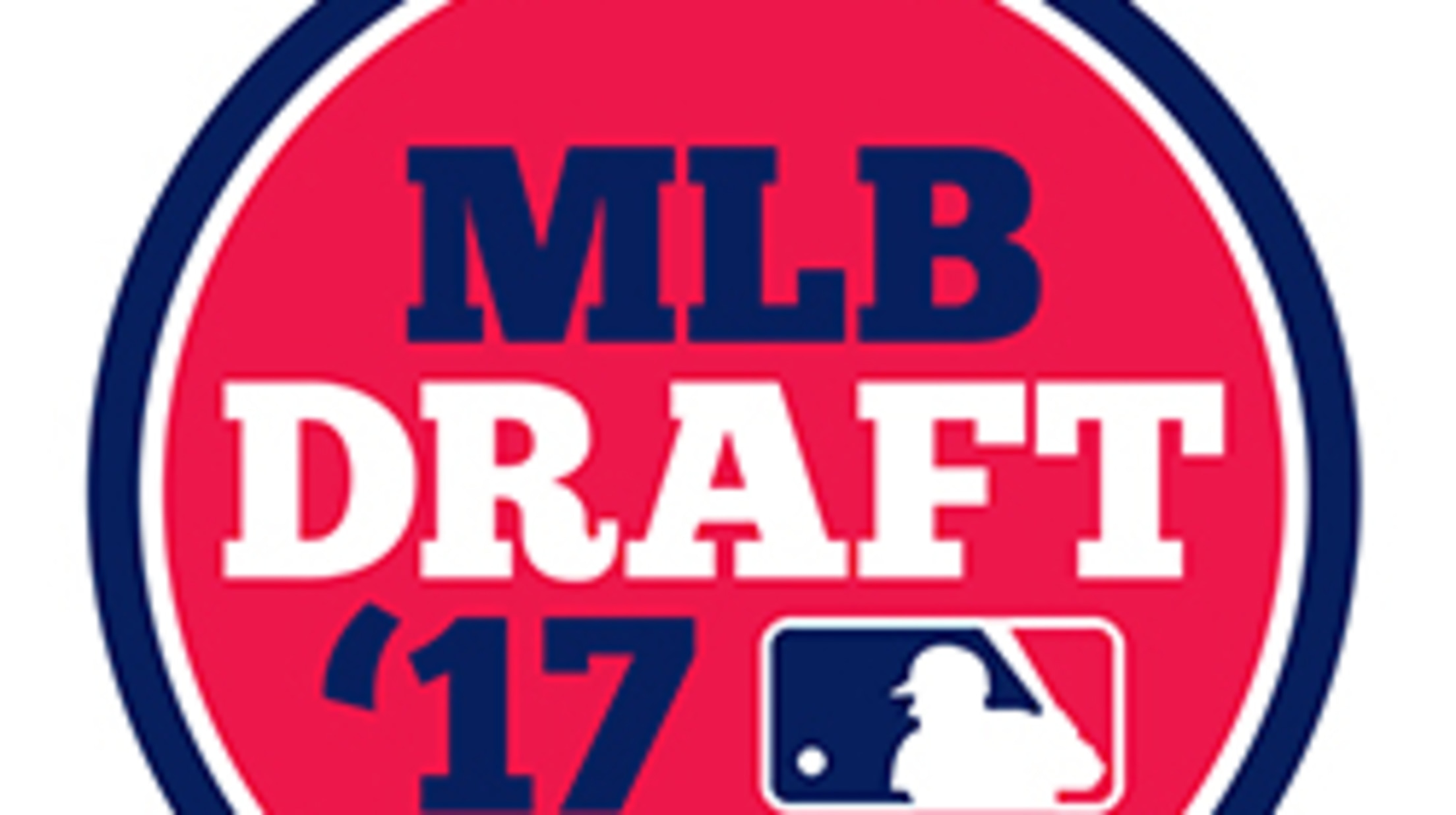 4. Tampa Bay Rays: Brendan McKay, first baseman, University of Louisville -- Whether McKay's pro career is defined by his work on the mound or at the plate is yet to be determined, but he's a first-round talent in either role. The University of Louisville left-hander has a plus fastball and curveball and good control that helped him post a 2.34 ERA with 140 strikeouts and 33 walks in 104 innings as a junior. He also hit .343/.464/.657 with 17 homers and handled himself well at first base. The Rays could very well give him long looks at both spots in the lower Minors, allowing him to DH on his off pitching days, to see what's better for his future. Because of that potential for duality, McKay will become one of the most intriguing prospects in the Minors. For what it's worth, he was announced as a first baseman in the Draft room, but the Rays -- being an American League team -- could be in a spot to let him pitch and DH, if they get creative.
5. Atlanta Braves: Kyle Wright, right-handed pitcher, Vanderbilt University -- Wright could be the latest in the line of Vanderbilt pitchers to make it big in the pros. He's the fourth Commodores player taken in the top five following behind David Price (2007), Pedro Álvarez (2008) and Dansby Swanson (2015). The 21-year-old right-hander earned that distinction by exhibiting a plus fastball and above-average offerings in his curve, slider and changeup. He posted a 3.40 ERA with 121 strikeouts and 31 walks in 103 1/3 innings during his junior year. Listed at 6-foot-4, 220 pounds, he's got the foundation and the track record to handle pro ball right away. He joins a Braves system already loaded with arms, but that didn't stop Atlanta from adding him to a mix with first-rounders Kolby Allard, Mike Soroka, Sean Newcomb, Max Fried, Ian Anderson, Touki Toussaint and Lucas Sims.
6. Oakland Athletics: Austin Beck, outfielder, North Davidson (North Carolina) High School -- Beck is a little bit from the Clint Frazier and Bradley Zimmer school out of outfield prospects. He can hit for power. He can run. He can throw. He can handle center field at his age, though like Frazier, he might be a better fit eventually in a corner. But will he hit enough to take advantage? The A's are hoping to find out. The North Carolina native reportedly has tremendous bat speed and that will drive his offensive value. He'll also add plenty of steals even after a torn ACL forced him to miss summer and fall baseball in 2016. When he signs, he'll be the top outfield prospect in the A's system, supplanting Lazaro Armenteros at No. 8.
7. Arizona Diamondbacks: Pavin Smith, first baseman, University of Virginia -- Who would go first, Smith or teammate Adam Haseley? Smith got the nod, joining a D-backs system that could use help from anywhere. Smith is hitting .342/.427/.570 with 13 homers in 59 games with the Cavaliers. The most impressive thing on the resume, though, is the fact that he's struck out just 12 times in 274 plate appearances. So not only does he have some pop, but he puts the ball in play a ton. He's likely limited to first, but he can handle himself well over there and should hit enough to provide value.
8. Philadelphia Phillies: Adam Haseley, outfielder, University of Virginia -- The Cavaliers didn't have to wait long to hear Haseley's name after Smith. The 21-year-old outfielder made a big jump in his junior year, thanks to a .390/.491/.659 line and more than doubled his 2016 home run output, going from six to a team-best 14, one more than Smith. That power jump will be tested with wood bats against tougher arms in the pros, but it's an encouraging trajectory. He's got above-average speed that should help him play center field, at least to start in the Minors. There might not be any 60s or 70s on his scouting report for now, but it's a solid overall package.
9. Milwaukee Brewers: Keston Hiura, second baseman/outfielder, University of California Irvine -- There is no doubting MLB.com's No. 22 Draft prospect's ability to hit. The 20-year-old batted .442 with a .567 OBP and a .693 slugging percentage, eight homers and 24 doubles in 199 at-bats during his junior year at UC Irvine. But where will he play? Hiura hurt his elbow his sophomore year and was forced to DH all this season. Because the injury is a UCL tear, there's a belief he'll need Tommy John surgery that would delay his pro debut even more. When those issues are behind him, he'll be an option in either the outfield or at second base. The Brewers obviously like his bat enough to take the risk.
10. Los Angeles Angels: Jo Adell, outfielder, Ballard High (Kentucky) High School -- The Angels farm system could use as much as it can get, and it added a potentially high-reward toolsy outfielder in Adell. The 18-year-old outfielder has impressive power that helped him win the home run derby at the Area Code Games, but his highest grades are reserved for his speed and defensive abilities, including his arm. There are questions about whether he can hit for a decent enough average to make the power play, but the rest of the tools are so good that even a marginal number would help him bring plenty of value. He'll likely be the Angels' top prospect if and when he signs away from his commitment to Louisville. Speaking after getting picked, Adell dropped Adam Jones and Lorenzo Cain as potential comps for his abilities.
"I've definitely become a better player just by getting the at-bats and seeing the live pitching," he said. "Coming from where I come from in Louisville, Kentucky, you don't always get to face the greatest competition. Me exposing myself, getting out, seeing the best arms I could see, that's the best thing I've done for myself the past two years."
11. White Sox: Jake Burger, third baseman, Missouri State -- Burger showed tons of power this year with 22 homers in 63 games as a junior, one more than he hit during his sophomore season. He has the arm to stick at third, though his range will be tested. He has a chance to be the power bat the White Sox need in their rebuild.
12. Pirates: Shane Baz, right-handed pitcher, Concordia Lutheran (Texas) High School -- In ranking Baz at No. 12, MLB.com gave Baz plus grades for his fastball, cutter, slider and an above-average grade for his curveball. It goes without saying that that's rare. There were worries he was too committed to Texas Christian University, but the Pirates should be able to talk him into the pros, where he'll focus on keeping that arsenal under control.
13. Marlins: Trevor Rogers, left-handed pitcher, Carlsbad (New Mexico) High School -- The Marlins went with high-school pitchers with their first pick in 2014 and 2016 in Tyler Kolek and Braxton Garrett and went back to the well here with Rogers. The 19-year-old southpaw has a fastball that can get into the mid-90s and his projectable size of 6-foot-6, 185 pounds to dream on. But he'll need to work on his offspeed as he climbs the ladder.
"They said that they were really influenced by left-handed pitching," Rogers said. "They really liked left-handed pitching. They were excited when I was available, and they pulled the trigger."
14. Royals: Nick Pratto, first baseman, Huntington Beach (California) High School -- Pratto already has an impressive bat and a glove that should earn him plus grades at first base. He might not even stick there, but for the best reasons; he's athletic enough that a future move to the outfield isn't out of the question. Pratto started to grow into some power in his final year of high school, and it'll be interesting to see whether that translates to the Minors.
15. Astros: J.B. Bukauskas, right-handed pitcher, University of North Carolina -- Bukauskas was the seventh-ranked Draft prospect but a candidate to drop because of his performance down the stretch. He still possesses a plus-plus fastball and an impressive slider that enabled him to strike out 116 batters in 92 2/3 innings with the Tar Heels. At 6 feet tall, size is a factor, but the stuff is unquestionable.
16. Yankees: Clarke Schmidt, right-handed pitcher, University of South Carolina -- The talk in the Draft room was that the American League East-leading Yankees could afford a project, and they have one in Schmidt, who underwent Tommy John surgery in April. When healthy, he's got three above-average pitches in his fastball, slider and curveball, and he did post a 1.34 ERA with 70 strikeouts and 18 walks in 60 1/3 innings before the surgery. The Yankees know a little something about top pitching prospects undergoing Tommy John surgery with 2015 16th overall pick James Kaprielian also going under the knife this season.
17. Mariners: Evan White, first baseman, University of Kentucky -- White's bat is good, if not stereotypical for a first baseman. He hit .373/.453/.637 as a junior, but with 10 homers in 53 games, it wasn't quite the eye-popping power expected from the position. However, his defense is special at the corner because of his athleticism. Like the Dodgers with Cody Bellinger, the Mariners might decide that athleticism is best utilized in the outfield, but if he sticks at first, White has a chance to be special with the glove.
18. Detroit Tigers: Alex Faedo, right-handed pitcher, University of Florida -- The Tigers' top two pitching prospects were high-school first-rounders in Matt Manning (2016) and Beau Burrows (2015), so Faedo is a little bit of trend-breaker here. He's got a plus fastball that can hit the mid-90s and a slider that's even better, so it'll come down to his changeup to show whether he can be an effective pro. He's shown an ability to make bats miss with 10.7 K/9 during his college career.
19. San Francisco Giants: Heliot Ramos, Leadership Christian Academy (Puerto Rico) -- Ramos doesn't turn 18 until Sept. 7, making him the youngest player taken to this point. At 6-foot-1, 188 pounds, he's shown good power and speed for his age, and that combination seems have enticed the Giants. But there are questions about his hitting tool, and he may just be an average outfielder. San Francisco will give him ample time to answer all those questions.
20. New York Mets: David Peterson, left-handed pitcher, University of Oregon -- The Mets took two college pitchers in the first round last season in Justin Dunn and Anthony Kay and continued the run with Peterson. His fastball and slider are considered above-average, but the standout part of the package is his control. Peterson averaged only 1.4 BB/9 this season compared to 12.6 K/9. Guys who can fill the zone can move quickly, and Peterson has that chance with New York.
21. Baltimore Orioles: D.L. Hall, left-handed pitcher, Valdosta (Georgia) High School -- The 18-year-old southpaw has two potential plus pitches in his fastball and curveball but lacks the projectability of Rogers, who stands six inches taller than the 6-foot Hall.
22. Toronto Blue Jays: Logan Warmoth, shortstop, University of North Carolina -- Warmoth played himself into the first round by showing increased power in his junior season with a .336/.404/.554 line and 10 homers in 63 games, up from the four homers he hit in 2016. He seems likely to move over from shortstop to second base.
23. Los Angeles Dodgers: Jeren Kendall, outfielder, Vanderbilt University -- Kendall was this Draft's biggest dropper, and the Dodgers should be beneficiaries. Ranked No. 6, Kendall has plus-plus speed that plays on the basepaths and in center field and some good pop with 15 homers on the resume this season. His above-average arm adds even more defensive value. But his 25.1 percent strikeout rate as a junior against college arms might have scared off the 22 teams above. If the Dodgers can work with him to make more contact, Kendall could be a steal here.
24. Boston Red Sox: Tanner Houck, right-handed pitcher, Missouri -- Houck's heater might be the best among college arms taken in the first round, earning a 65 on the 20-80 scale for its ability to reach the high 90s. But his other offerings are nothing more than average, and his delivery can be a bit worrisome, leading many to believe his future is in the bullpen. His velocity could play up even more in that role.
25. Washington Nationals: Seth Romero, left-handed pitcher, University of Houston -- On talent alone, Romero goes much higher. His fastball and slider were given plus grades, and his changeup is also considered above-average for a three-pitch mix that isn't usually found at this spot in the Draft. But he was suspended early this season for drug-related problems and was kicked off the team after reportedly getting in a fight with a teammate. The Nationals will have to hope they can work on him and tap into his potential on the mound.
26. Texas Rangers: Bubba Thompson, outfielder, McGill-Toolen (Alabama) High School -- Thompson was the last in-person draftee taken Monday, and the Rangers should be happy he was available at No. 26. Much has been made about Thompson's offers to play quarterback at schools such as Ole Miss and Tennessee, and indeed, that points to how well his arm and mobility play in center. But Thompson made strides at the plate and his power seems to be on the upswing. That trend could continue as he gets more regular at-bats.
"It's God-given talent," Thompson said of how he improved in 2016. "But when it came to baseball [season], I worked out in the weight room, trying to get bigger, stronger and tried to show more power. I think that's what I did."
27. Chicago Cubs: Brendon Little, left-handed pitcher, State College of Florida, Manatee-Sarasota -- The Cubs dipped into the junior college ranks to take Little, a hard-throwing left-hander with a promising curveball but some control worries.
28. Toronto Blue Jays: Nate Pearson, right-handed pitcher, College of Central Florida -- The Jays made it back-to-back JuCo picks by taking Pearson, who routinely hits the high-90's with his fastball and reportedly hit triple digits in bullpens this spring. That was enough for Toronto to dream on at this spot, but it'll take improvements to his slider, curve and change - all of which graded out at 50 or lower according to MLB.com - to be effective in the Minors and beyond. According to Baseball America's Matt Eddy, this is the first time since 2000 that two junior college players went in the first round.
29. Texas Rangers: Chris Seise, shortstop, West Orange (Florida) High School -- Seise has size at 6-foot-2 and should add more to his 175-pound frame as he grows older. He's already got impressive speed that should help him stick at shortstop, and if he can add some offense, he could be a solid project for the Rangers.
30. Chicago Cubs: Alex Lange, right-handed pitcher, Louisiana State University -- For all the Cubs have done well in building the model franchise, none of their six starters this season were drafted by the organization. So perhaps it makes sense they've gone with two college pitchers with their two first-round picks, this one being a compensation pick for Dexter Fowler. Lange has a plus fastball and has earned raves for a curveball that has helped him miss bats as far back as his freshman season. But his delivery can be worrisome in terms of how much effort is involved, and that can also lead to issues with control.
Sam Dykstra is a reporter for MiLB.com. Follow and interact with him on Twitter, @SamDykstraMiLB.