Kernels' Lewis lugs the big lumber
Top Twins prospect records first career multi-homer game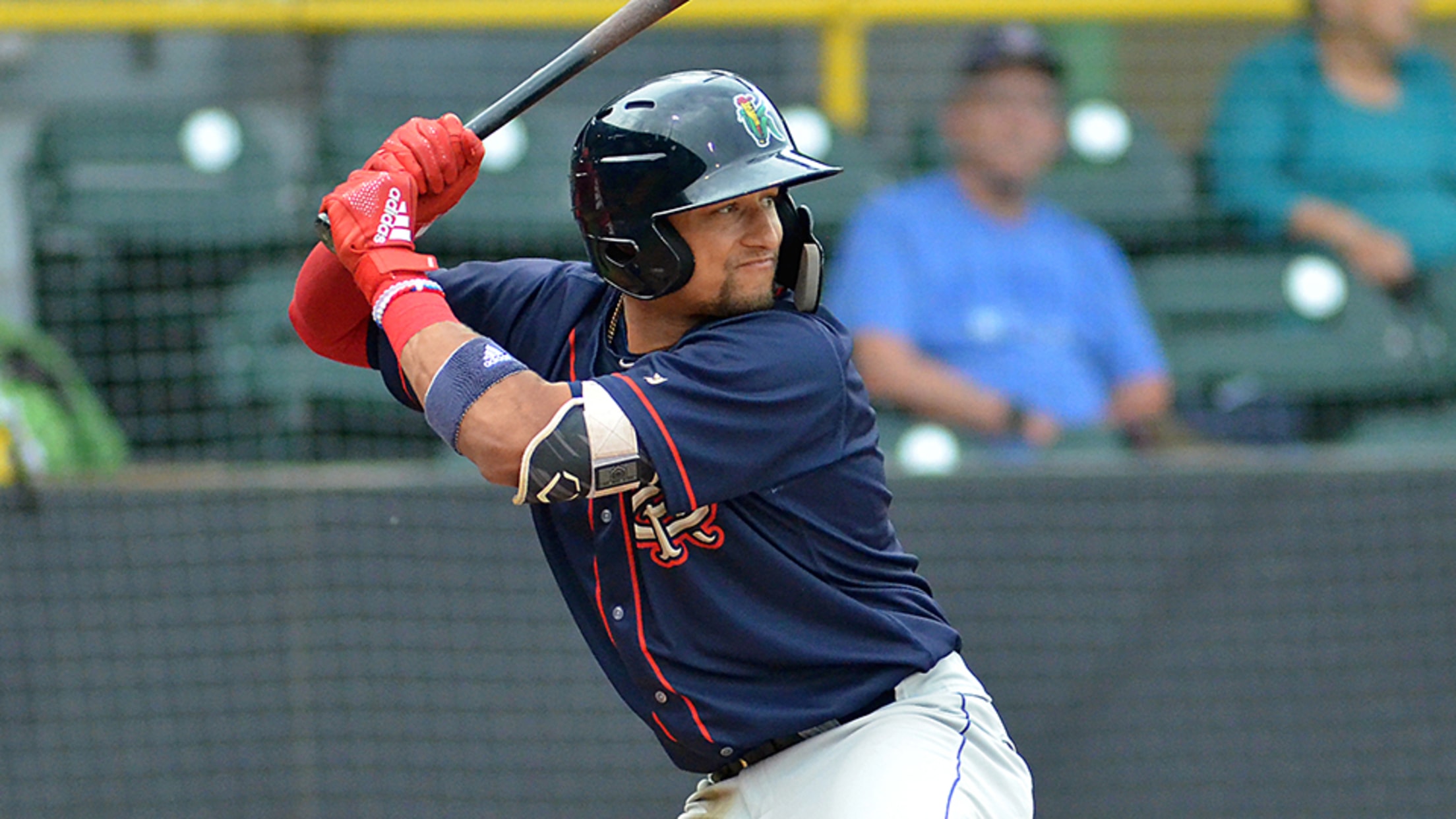 Royce Lewis hit four homers in his pro debut in 2017 and has three this season after blasting two on Sunday. (Paul R. Gierhart/MiLB.com)
Unlike most hitters, Royce Lewis will tell you unabashedly that he considers himself a home run hitter.On Sunday, he showed why.The Twins' top prospect slugged a pair of solo shots for his first career multi-homer game before Class A Cedar Rapids dropped a 9-4, 10-inning decision to Clinton in the opener
Unlike most hitters, Royce Lewis will tell you unabashedly that he considers himself a home run hitter.
On Sunday, he showed why.
The Twins' top prospect slugged a pair of solo shots for his first career multi-homer game before Class A Cedar Rapids dropped a 9-4, 10-inning decision to Clinton in the opener of Sunday's doubleheader at Perfect Game Field.
Gameday box score
The No. 1 overall pick in last year's Draft also played a key role in the nightcap, lifting a sacrifice fly in the eighth to give the Kernels a 3-2 win and a split of the twinbill.
Lewis hit four homers in 204 at-bats across two levels last summer. This season, he had one in his first 137 at-bats, but began Sunday with a bang.
With one out in the first inning, the Southern California native blasted one over the wall in left field off right-hander Clay Chandler to give the Kernels a 1-0 lead. In the third, he followed a single by Jacob Pearson with another big fly to left off Chandler.
Cedar Rapids hitting coach Brian Dinkelman said he expects Lewis to grow into his power, although he has not tried to change the 18-year-old's swing.
"We haven't talked much about launch angle. We talk about hitting balls hard on a line," Dinkelman said. "He has the power, and if he hits it on a line, he'll hit some homers. We're just not talking about trying to hit the ball in the air.
"I'm not a big preacher on launch angle. We talk more about hitting the ball on a line; we're bigger on exit velocity."
The Twins gave MLB.com's No. 20 overall prospect a $6.75 million bonus as the top overall pick, passing over proven college talents such as Brendan McKay and Kyle Wright. He rewarded them with a strong pro debut, hitting .279/.381/.407 in the Rookie-level Gulf Coast League and with the Kernels.
As a prep player, power was not considered his calling card, but he's out to change that perception.
"I do consider myself a home run hitter," the 6-foot-2, 188-pound infielder said in April. "People don't think so when they look at my high school numbers, but after talking to [Twins No. 4 prospect] Nick Gordon] and what he said about how those big league balls fly and even the balls in the Minors fly a little bit, the potential is definitely here; it's just a showcase now. I mean, people think I can't play shortstop and I'm proving people wrong."
Lewis struck out only twice in the five-game series with Clinton after fanning nine times in his previous five games. Dinkelman said he talked to his pupil about his approach.
"We talked a little bit, but we haven't changed a whole lot mechanically, it's more about not coming out of his swing and not chasing pitches," he said.
Dinkelman said he is monitoring Lewis' walk total, which is down appreciably from 2017.
"It's about pitch selection," he said. "Guys are going to pitch him a little tougher and he has to wait to get the pitch that he wants."
Lewis didn't get much help in the way of offense in the opener. Sixth-ranked Alex Kirilloff doubled, Pearson tripled and singled and No. 23 prospect Ben Rortvedt singled.
With the bases loaded in the sixth, Clinton tied it on consecutive sacrifice flies by Ryan Costello and Eugene Helder. The LumberKings took the lead in the ninth on another sacrifice fly, but the Kernels tied it on an RBI single by Rortvedt.
Clinton finally grabbed the lead for good in the 10th as Joseph Rosa tripled home Billy Cooke, who started the inning on second. Ariel Sandoval lifted a sacrifice fly, Ryan Costello and Eugene Helder delivered RBI singles and Nick Thurman capped the five-run frame with an RBI double, all off right-hander Moises Gomez (0-1).
Rosa drove in both LumberKings' runs in the nightcap, leading off the game with his third homer of the season and adding a single in the eighth to give Clinton a shot at the sweep.
Nick Brown (1-2) allowed an unearned run in the eighth of Game 2 but got the win.
Nick Wells (3-3) went the distance for the LumberKings and gave up three runs after taking a shutout into the seventh inning.
Vince Lara-Cinisomo is a contributor to MiLB.com. Follow him on Twitter @vincelara.