After late start, Granite building career year
Twins prospect puts oblique strain behind him, hits .470 in June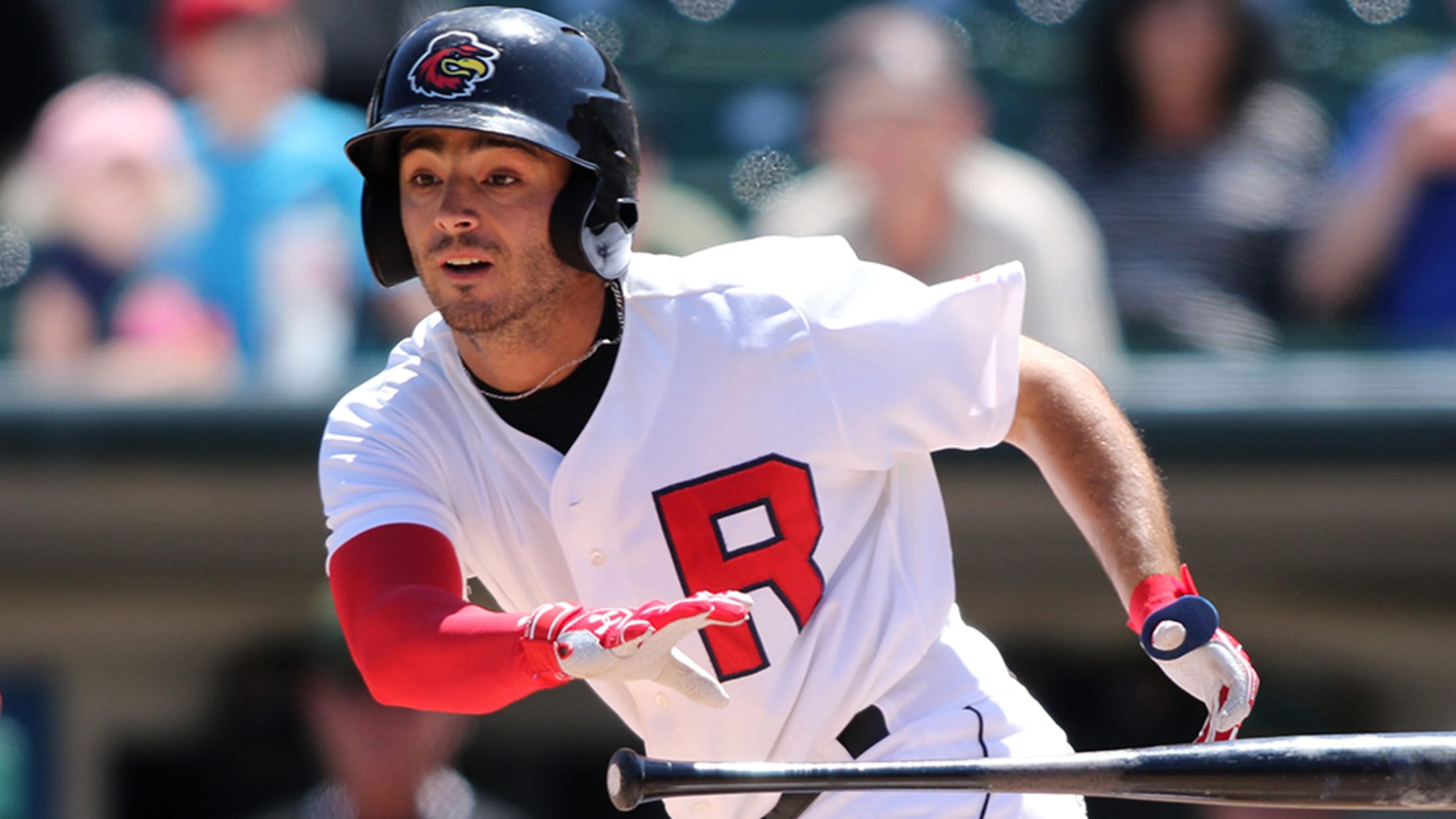 A 14th-round pick in 2013, Zack Granite has a career-high .916 OPS over 63 games this season. (Joe Territo/Rochester Red Wings)
Rochester center fielder Zack Granite found himself at first base a lot in April. And he hated it.He wasn't collecting a bunch of singles or walks. Nor was he trying a new position."I was coaching first base every day. I just felt like this is miserable," the Twins' No. 21
Rochester center fielder Zack Granite found himself at first base a lot in April. And he hated it.
He wasn't collecting a bunch of singles or walks. Nor was he trying a new position.
"I was coaching first base every day. I just felt like this is miserable," the Twins' No. 21 prospect said. "It was freezing here, I'm standing out there, not playing and I was driving myself crazy mentally just because I wasn't really doing anything."
Because of a left oblique strain that occurred on the final day of Spring Training, Granite was left waving his arms, rather than swinging the bat.
Following an autumn in which he was named the Twins' Minor Leaguer of the Year, a winter in which he completed his degree at Seton Hall and a spring in which he got his first real taste of big league camp, Granite had his positive momentum, and Triple-A debut, put on hold.
"He's got a tremendous inward drive to play the game and be the best he can be," said Rochester hitting coach Chad Allen. "When you get hurt and you've got that mentality, it'll burn you inside. He was anxious to get back."
After weeks of literally being on the sidelines, Granite was sent to Class A Advanced Fort Myers to rehab with the Miracle and his former manager, Doug Mientkiewicz. There, the 24-year-old reveled in finally standing on first base, rather than next to it.
In five Florida State League games, Granite went 7-for-19 (.368 average) with two extra-base hits and two walks. Stealing three bases in three attempts, the left-handed hitter was ready for Rochester and his International League debut on May 7.
"I was nervous. It was probably 40 degrees, maybe even colder than that. I had a face mask on because it was so cold," Granite said. "I was ready, though. The cold wasn't getting to me. I was just ready to come out and play, so it was a lot of fun. It was a pretty anticipated event."
Granite collected two singles and a stolen base as he finally got to venture past first at Frontier Field. The rest of the month was not as smooth for the Staten Island native, however. Granite went on to hit .237 over 22 games in May with the Red Wings.
Allen noticed his shoulders weren't square to the pitcher the way they should be, making Granite pull-happy. The delayed start to the season and the time on the disabled list also affected his mentality as the 2013 14th-round pick began to overthink mechanics while at the plate.
"I was mentally grinding and I wasn't really thinking about what I should be thinking about," Granite said. "I worked with Chad Allen about just getting on plane with my shoulders. My shoulders have always been the problem -- sometimes I was battling uphill, pretty much."
Tweet from @TwinsPics: Torii the Teacher. #MNTwins https://t.co/EAGGvbGzaV pic.twitter.com/KiNapuGGWR
Remembering what former Major Leaguer Torii Hunter Jr. told him at Spring Training -- "Man, your mechanics mean nothing if you just swing at good pitches" -- Granite realized he needed a new approach.
Then, on June 1, something clicked for the Seton Hall alum. After starting the game in Durham 0-for-3, Granite gave himself a simple message prior to his fourth at-bat.
"I was having a tough time seeing it. I was picking it up late, wasn't really putting good swings on it. And I just told myself, 'Just see the baseball,'" he recalled. "And I hit a double that at-bat and I was like, 'Let's go! Just worry about seeing the baseball.' And that's when I really took off."
Taking off could be an understatement as Granite raised his average .130 percentage points over 29 June games. The leadoff hitter posted a .470/.527/.667 slash line for what Allen considers one of the best months by a player he's seen in his six years of coaching.
Granite went hitless in only one game, going 0-for-2 with a walk in a seven-inning contest at Pawtucket on June 18, and put together 20 multi-hit performances during the month.
"Honestly, I had a lot of rest from being hurt, so I was just taking every at-bat individually. I wasn't thinking about what just happened. It was like, 'Let's go, it's me versus you,'" he said. "Every single at-bat, every single pitch, I was mentally locked in, and I think that was the biggest thing. I wasn't worried about anything else, except for this pitch that was about to happen. So I think that allowed me to do so well.
"I'm not going to lie. I did get extremely lucky. I was able to find holes. I just felt a little lucky every now and then. And when you're going well, good things happen."
While Granite expects to bat 1.000, believing he's going to get a hit every time up, he leads the International League with an eye-popping .365 average and a .415 on-base percentage over 58 Triple-A contests.
Granite is even showing more power than he has in the past. With three homers so far, he's already just one shy of tying his personal best. At 6-foot-1, he quipped that he likes going yard because "it's less work for me. I don't have to steal" or think about strategy as a baserunner.
"It's tough to start the season on the DL," he added. "You don't want to be one of those guys that's always on the DL, always hurt. I haven't really had many days off. I've been in there every day. I want to show that I'm a reliable teammate. I don't want to be banged up and all that. So it meant a lot to me that I was able to come back and come back strong."
Noting that he happily put the face mask away as the weather warmed up, Granite continues to stay hot for Rochester as the summer rolls on and is hitting .348 (8-for-23) in July. He earned a trip to Tacoma for his first All-Star Game selection and looks forward to his family as well as his girlfriend, Melissa, cheering him on in attendance.
Continuing to focus on his consistency, Granite is always trying to improve. When his teammates joked he had to somehow top his career June in July, he reflected on how strong that month was for him.
Then said, "Why not?"
"He just has a great mind-set -- a competitive, fiery kid who doesn't like to lose," Allen said. "When you have that mentality, you keep fighting every day, and that's the mind-set you have to have to become a great baseball player, is to never think that you're enough, because you never are.
"Baseball's a humbling game, and if you don't work at it, it can kick you in the butt real quick and kick you out of the game real quick. So I think he's got that mentality that he has to get better every day."
Kelsie Heneghan is a contributor to MiLB.com. Follow her on Twitter @Kelsie_Heneghan.