Hessman points the way for future Tigers
Minor League home run king enjoying second phase of career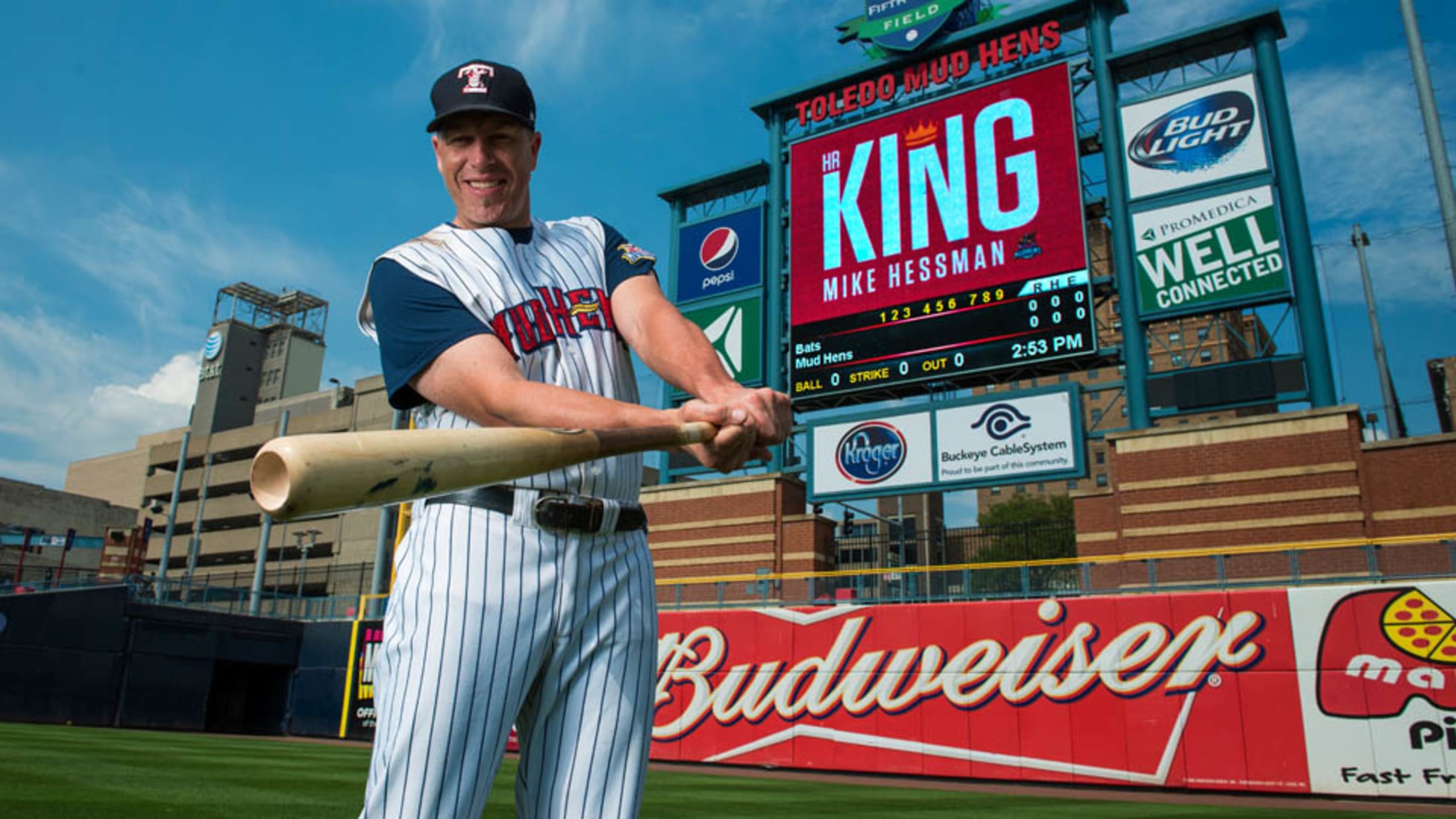 Mike Hessman amassed 433 home runs and 1,207 RBIs in a 19-year Minor League career that ended in 2015. (Toledo Mud Hens)
On Aug. 3, 2015, as Mike Hessman circled the bases for a record 433rd and final time, he did so without regret. After playing 20 years and nearly 2,300 professional games, he officially announced his retirement a few months later and looked back on a career that began as an
On Aug. 3, 2015, as Mike Hessman circled the bases for a record 433rd and final time, he did so without regret. After playing 20 years and nearly 2,300 professional games, he officially announced his retirement a few months later and looked back on a career that began as an 18-year-old in 1996, not entertaining any thoughts of what might have been. Instead, he focused on what was.
As he enters his third season as a Minor League coach, he's focused on what is still to come.
That's where Hessman is in life. He's happy, healthy and still filled with a passion for the game that he's played since he was a little boy in Southern California. There are no "what-ifs" in Hessman's world, only the joy and love of baseball, which he's now passing down to others -- this year as the hitting coach for Double-A Erie.
He also does so as an International League Hall of Famer.
A gentle giant
Hessman has always cut an imposing figure. Blessed with natural ability, a strong work ethic and immense power, the 6-foot-5, 215-pounder was selected by the Braves out of Mater Dei High School, a baseball hotbed in Orange County that has produced 35 professional players since 1967. He became the 21st in 1996 and the third (at the time) to reach the Majors when earned his first callup in 2003.
He had spent seven seasons in the Minors at that point, so even at 25 years old, he knew the difficulty of reaching his ultimate goal. The infielder acquitted himself well with Atlanta, which was en route to a 12th straight division title. Hessman hit .286/.423/.667 with two homers in 19 games over the final five weeks of the season. He was a Major Leaguer at last. He just didn't realize that the on-ramp to the expressway he thought he was on would turn into a series of dead-end streets.
"Obviously, I'm thankful and extremely grateful to play as long as I did," Hessman said. "I never thought I would play professional baseball for 20 years. You start out your career and journey looking to reach the bigs and play as long as you can. I got some very brief stints, but I never had the opportunity for consistent playing time. I'd fill in for injured guys or occasionally come off the bench. But once I got that sample and that taste [of the Majors], it made me hungry to always try and get back there."
The slugger would get back, several times, in fact. He returned to the Majors with Atlanta in 2004 but not again until 2007 with Detroit. He took home International League MVP honors that season after hitting 31 homers while driving in a career-high 101 runs with Triple-A Toledo. At that point, Hessman had been playing professionally for 12 seasons, was 29 years old and was no longer considered a prospect. Even with 254 Minor League home runs on his résumé heading into 2008, Hessman could not break into a regular role in the Majors.
Part of it was bad luck. He came up during the Braves' dynasty and moved to a Tigers organization in the midst of a series of playoff appearances themselves.
"There comes a point with age and everything else that you realize things may not happen how you planned it out," Hessman said. "My faith played a big part of things. God put in me certain situations and places for a reason. For example, I played in the Olympics [in 2008] instead of getting called up. That was a great experience and something I'll never forget. I never worried about stuff I couldn't control. I worried about being a good teammate and helping the guys around me. I knew that if I went about my business the right way, things would take care of themselves."
He made 17 appearances with Detroit in 2008, his last big league stint until 2010 with the Mets, when he appeared in a career-high 32 games. But that would be the last time Hessman would step onto a field as a Major Leaguer.
"Sure, I wish I would have played a little better. It might have opened up more opportunities," said Hessman, who hit .188 with 14 homers in 109 career big league games. "Do I wish someone had told me I'd get steady playing time? Heck yeah, I wish that would have happened. I believe I would have succeeded if given that opportunity. I'm sure I could have run into 20 or so [home runs] like I was doing in the Minors, but it never panned out. I don't hold anything against anyone for that. I wish I had more regular playing time, but anyone who is in that position would say the same. Sometimes it just doesn't work out."

From real-life Crash Davis to Minor League coach
It may not have worked out in the Majors, but the name "Mike Hessman" is forever inked into the annals of Minor League Baseball. He continued his career for five more years, including a one-year stint with the Orix Buffaloes of the Nippon Professional Baseball League in Japan. Hessman returned to the United States and played with Triple-A Oklahoma City (then an Astros affiliate) in 2012, when he clubbed a career-high 35 home runs. He moved on to Louisville (Reds) in 2013 before heading back to the Tigers and Toledo for the final two years of his career.
Hessman entered his 19th and final Minor League season in 2015 with 417 long balls, 15 shy of Buzz Arlett's all-time record for homers in the U.S.-based Minors. At 37 and more than 10 years older than the average Triple-A player,
he tied Arlett's 79-year-old
mark on July 29. Four days later, on Aug. 3,
he rewrote the history books with a grand slam
against Lehigh Valley to become the Minors' all-time home run king. Not counting the six he hit in Japan and the 14 he hit in the Majors, it was the 433rd roundtripper for Hessman. It was also the last he'd ever hit.
Of course, the inevitable comparisons to Crash Davis came next. The fictional Minor League catcher played by Kevin Costner in the 1988 hit "Bull Durham" hangs on to eventually become the top home run hitter in the Minors, with little fanfare. Hessman laughs off that sort of talk.
"Crash Davis," he said. "I don't hear that too much from guys on the diamond. That's more of a thing the media likes to bring up when they talk to me. But I take a lot of pride in playing at such a high level for as long as I did. To be able to have a record like that, even in the Minors, is something I'm very proud of. I was able to stay healthy and I did things the right way. I'm just happy I was able to play that long."
He also credits someone else for his longevity as a player -- his wife Sabrina.
"It's a huge thing to have a special woman by your side," said Hessman, who met his wife in 1999 while playing with Class A Advanced Myrtle Beach. "It takes someone really special to handle our profession. There's a lot of sacrifices that are needed and [our significant others] play a big role in our successes. It's a grind, but it's our job and it's what we love doing. I've been blessed to do something I love for a living, but it's tough on us as players, coaches and men. I give my wife and all the others out there a tremendous amount of credit."
Although Hessman hung up his spikes more than two years ago, he didn't go far. Staying in the Detroit organization, he was named hitting coach for Class A Short Season Connecticut on Dec. 3, 2015 and moved on to Class A West Michigan last year and the Arizona Fall League's Mesa Solar Sox after the 2017 regular season. The Tigers announced his job with the SeaWolves in January.
Even though the game has evolved since he debuted 22 years ago, it's still baseball, and he knows he can impart some of the wisdom he's gleaned during his two decades as a professional.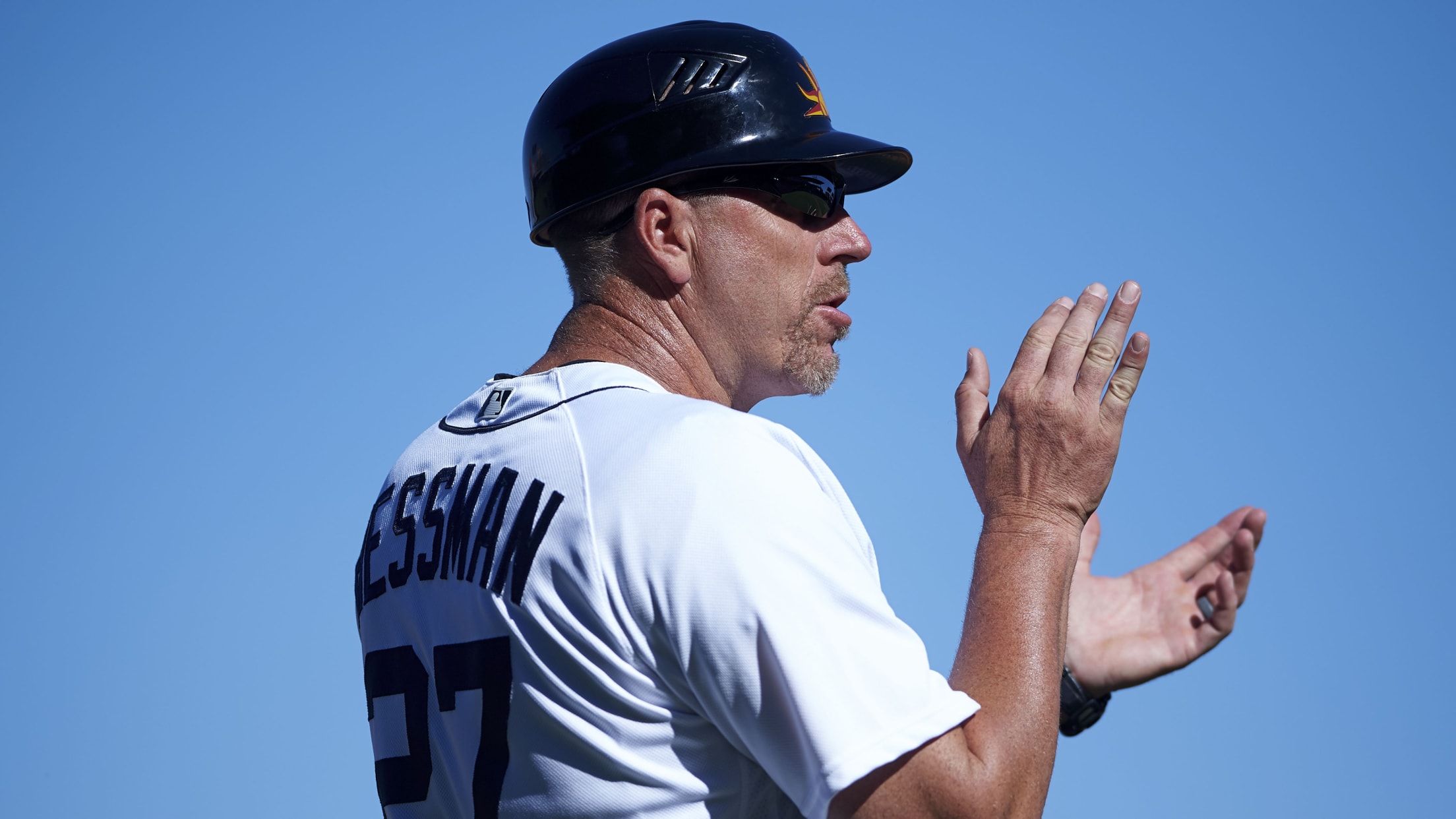 Hessman is in his first year as Erie's hitting coach. (Zachary Lucy/AP)
"I think I can still relate to these guys pretty well," said the 40-year-old. "I've only been out of the game since 2015, but I can see the changes happening. I need to adapt with them. As a coach, I'm looking out for the best interests of the players. It's my job to make them the best that they can be."
Hessman certainly isn't the first player to spend a majority of his time in the Minors. But what makes his situation unique is how successful he was over such a long period of time. It allows him a perspective that can be valuable to his players.
"I always try and lead by example," Hessman said. "I did when I played and I continue to do so now. I always tried to stay as even-keeled as possible throughout the game, even if things were tearing me apart inside. I try to relay that to these guys. It's important for them to keep their heads up and stay as positive as possible every day. It's a real grind and there's a lot of ups and downs. But no matter what, they need to come in with the same enthusiasm, whether they were 4-for-4 or 0-for-4. I don't want them short-changing themselves in any way."

Hall of Famer
In addition to his overall home run mark, Hessman also retired as the International League's all-time home run leader (288), which earned him a special phone call earlier this winter. On the other end of the line was IL president Randy Mobley, who broke the news to Hessman that he would be one of two people inducted into the International League Hall of Fame this year.
"I was very surprised to get that phone call," he said. "I'm excited and thankful for the selection. They will be honoring me in Toledo on Aug. 16. It's an off-day for [Erie], so I'll be heading over to Ohio for a presentation before the game. It'll be a fun experience."
With a coaching career in its infancy, Hessman has no plans to step away from baseball anytime soon. He admits there is probably only one thing that would be able to pry him away from the game he's made his life.
"My family," he said. "That would be the pull. Otherwise, I don't know [if] I could ever get away from the game. I love being on the field, in the dirt and within the game. I'll still hop in the cage and take some BP or some ground balls in the field. I love the aspect of the system, moving players up and preparing them and seeing how they do. I still love what I'm doing and I don't think that will ever change."
Hessman never played the game for numbers alone. He knows that he accomplished a lot, probably more than he ever expected, but it was always about winning and putting the team first. He'll never forget what the game has given to him, even if he didn't get the chance to show what he could as a full-time player in the bigs.
"I'll never take my career for granted, both in the Minors and the Majors," he said. "When I first got called up [in 2003] and went up to bat as a pinch-hitter, a teammate of mine [Matt Franco] said something that has always stuck with me.
He told me, 'Now you're in the record books. They'll never be able to take that away from you.'"