Chattanooga outfielder had Grate-est arm
Minor Leaguer set world record for longest throw three times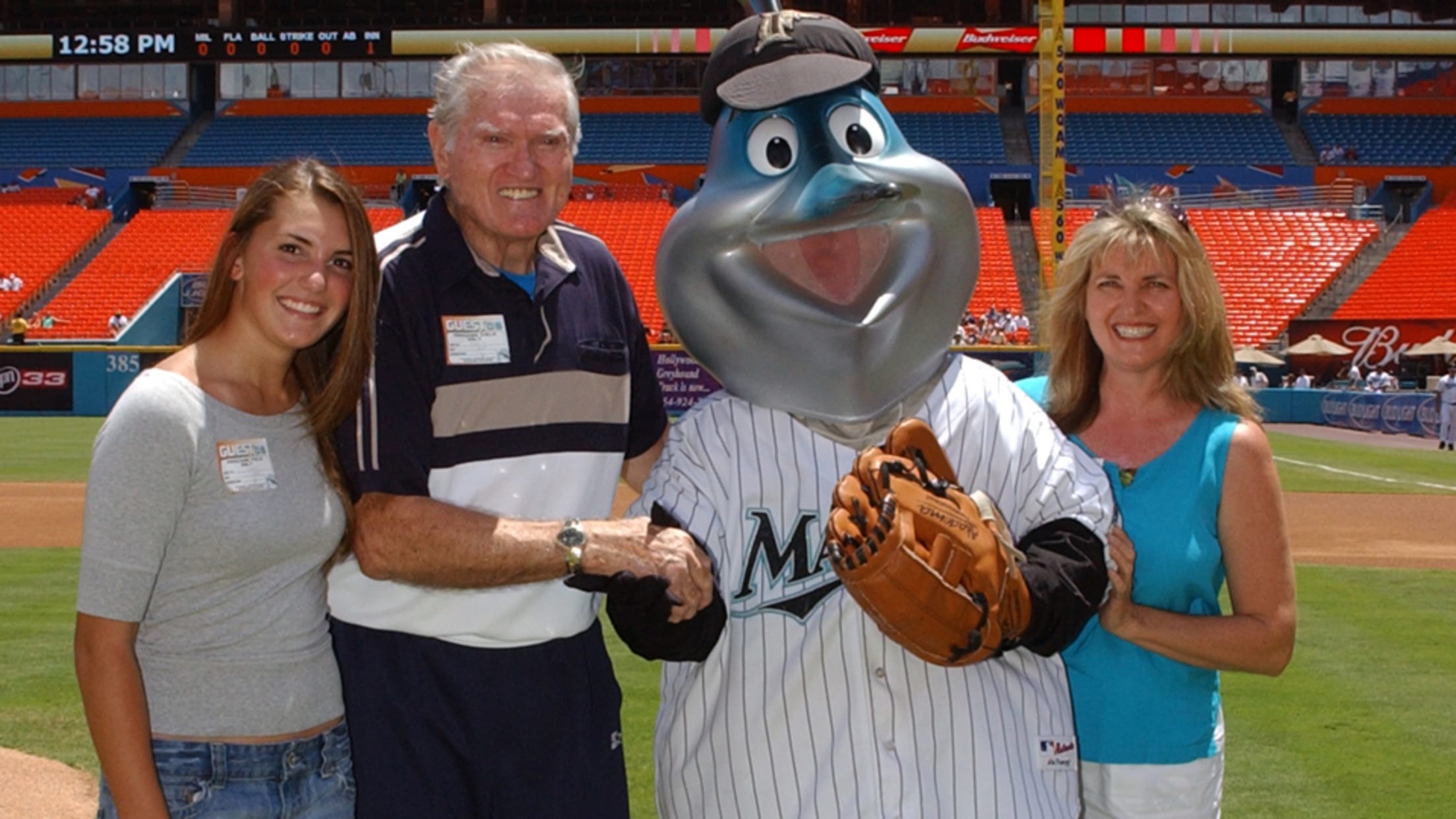 Don Grate's family saw him throw out the first ball at a Florida Marlins game on Aug. 27, 2006, his 83rd birthday. (Miami Marlins)
Baseball historians will always wax poetic about the cannon arms possessed by the likes of Roberto Clemente, Carl Furillo or Dave Parker, and rightfully so. Attempting to take an extra base on any of the aforementioned players was almost always a sure-fire way of running your team out of an
Baseball historians will always wax poetic about the cannon arms possessed by the likes of Roberto Clemente, Carl Furillo or Dave Parker, and rightfully so. Attempting to take an extra base on any of the aforementioned players was almost always a sure-fire way of running your team out of an inning and incurring the wrath of your own manager.
But when the old-timers, and even some of the new-timers, get together and start bragging about the greatness of someone's arm, what they probably should be talking about is someone's Grate-ness. Because when it comes to throwing and big-time arms, few players, if any, were better than Don Grate.
Grate, a converted pitcher, had a right arm unlike any before him and few since. He thrice set the world distance record for throwing a baseball while playing Minor League ball in the '50s, first with Chattanooga of the Southern Association in 1952 and 1953 and then again with Minnesota of the American Association in 1956.
His original toss in 1952 traveled an astounding 434 feet and 1 inch, breaking the record of 426 feet and 9 1/2 inches set 42 years earlier by Larry Lejeune in Cincinnati. Grate broke his own record twice, the second time coming on Aug. 27, 1956 (his 33rd birthday), when he unloaded a 445-foot, one-inch rocket at Metropolitan Stadium in Minnesota.
While Glen Gorbous is credited with breaking the record the following August, throwing a ball 445 feet, 10 inches in Omaha, Grate still feels the conditions weren't equal and that his toss remains the legitimate record. While some promoter-types wanted to get the two players together for a "grudge match," it never came off. Gorbous wanted to challenge Grate at the end of the 1957 season, but Grate said he was too tired and the pair never met. Gorbous died in 1997 after undergoing open-heart surgery. So getting the two rifle-armed outfielders together to sort it out won't be possible. But the 83-year-old Grate, who is also a former All-American basketball player from Ohio State and a U.S. Olympian, was more than happy to discuss his exploits and career with MiLB.com from his Miami home.
"Omaha had a unique type of park," Grate maintains. "If you were playing left field in Omaha and someone hit it out, the wind would blow it back. If you threw the ball from left field to right field, the wind would aid it. The air was lighter out in Omaha than it was in Minneapolis, and the wind was blowing right to left on the day that I threw it."
"No one took into consideration the atmospheric conditions," Grate said. "It didn't make much difference. I felt I threw it further even though it wasn't the official record. The ball I threw in Minnesota hit on the backstop [behind home plate] so they just measured to the backstop, which was 445-1. The ball should have gone further, and that ball should go into the record books."
Regardless of whether you believe the record belongs to Grate or Gorbous, one aspect of their throws remains undisputable. They were both incredible. The idea of throwing a ball longer than a football field, longer than some players can even hit it, is remarkable. Such a feat would never be attempted today for fear of injury but Grate never had concerns about doing damage to his arm.
Grate had already injured his arm in the mid-'40s while pitching for the Phillies, which essentially ended his career on the mound. So, the idea of gripping a baseball and letting it fly was never cause for worry.
"I also had been throwing all year and was warmed up," Grate said. "I wasn't fearful because I knew what my limitations were. I would throw the ball from the outfield to any base and I didn't hesitate to let it go. I had a good arm at one time, too. I was supposed to be the No. 2 or 3 pitcher for the Phillies at one point."
"I came up [in 1946] and won a game in relief against the Giants [on Sept. 22]. I was a straight overhand pitcher but my manager [Ben Chapman], at one point, came out to the mound and told me to side-arm the next one. He said throw it like Ewell Blackwell [nicknamed "The Whip"] did. So I did and something snapped in my shoulder. I finished the inning, and we scored some runs, so I ended up winning."
Grate's arm, no longer serviceable as a pitcher, left him expendable and the Phils eventually traded him to the Braves, for whom he pitched a season in Eau Claire before calling it a career. He wasn't out of work for long because Chattanooga Lookouts owner Joe Engel came calling in 1951, asking Grate if he wanted to pitch again.
The two eventually reached an agreement and Grate signed on with the Lookouts. Grate, who could handle a bat, was pressed into service as an outfielder not long after joining the club when one of his teammates developed with a stiff neck. He hit .480 over his first two weeks in the outfield, so that's where he stayed for the remainder of the season.
"I played the outfield in Chattanooga for a couple of seasons before moving on to Louisville and then Minneapolis," Grate said. "I could throw for distance out there without injuring my arm because it was already injured. I would come in to relieve, but when I did I wasn't as fast as I once was and I finally reached a point, when I was playing center field in Minnesota, that I gave up pitching completely. But the Giants had some guy named Willie Mays in center field, so I couldn't go up."
Grate first discovered his ability to throw the ball great distances in 1952 in, of all places, a Georgia prison, where the Lookouts were playing an exhibition game.
"The inmates were betting cigarettes on whether I could throw the ball from the mound to their quarters and break a window," Grate said. "The inmate's manager told me the guard wasn't going to let us out unless I did it. So after pitching a whole game against the inmates he wanted me to throw."
"I said I might hurt my arm and he said, 'just throw,'" Grate said. "So I threw, and that's when I realized I could do it. I hit the window pane."
The Lookouts headed to New Orleans after their run-in with the prisoners in Atlanta, and that's where Grate got to test his arm again. In between games of a doubleheader against the New Orleans Pelicans, Grate and two other players engaged in a throwing contest but both of their tosses only made it halfway between the mound and home plate from center field. Grate then proceeded to throw the ball over the press box and onto Tulane Avenue.
At that point, Engel realized Grate could be a great attraction at a sideshow and offered him "a fabulous prize" if he would attempt to break the world record the following season at Chattanooga. Grate agreed.
"Our park in Chattanooga was 525 feet to center field," Grate said. "So, I got on the bank out there, took three steps and threw three balls. I finally threw one 434 feet. It hit on top of the dugout, bounced into the last row of the stands and into the parking lot."
"My fabulous prize was $500," Grate said. "If I had a promoter I could have been on a Wheaties box."
The following year, Grate broke his mark for the first time. On Aug. 23, 1953, he threw a ball 443 feet, 3 1/2 inches with a running start. Each of the balls from his first two record-setting tosses was sent to Cooperstown.
"I was there both times," said Bill Buchanan, a resident of nearby Birchwood, Tenn. "I was a ball boy on the right-field line. The first one hit the top of the dugout, and there was a guy sitting there who pointed exactly where it hit. He had a rifle arm. No one would stretch a base on him. He'd throw you out."
Grate said he kept his arm loose in later years by firing the ball from the left-field corner in Minnesota to home plate, which was some 310 feet away, as the team's catcher hit him fungoes.
After retiring, Grate went on to coach and teach in high school in Ohio and Miami before retiring in the late '80s. Other than Gorbous, he says he doesn't know of anyone attempting to break the record and is pretty certain no one will ever try.
"There was one fellow, I heard, who played for the Indians that was going to try but the manager said he would fine him if he did," Grate said. "Managers frowned upon throwing the ball like that. And if someone wants to do it today, it's not worth jeopardizing your arm. Your career would be finished."
Kevin Czerwinski is a reporter for MLB.com.