Curve's Keller goes distance in one-hitter
No. 2 Pirates prospect tosses first shutout in Eastern League semis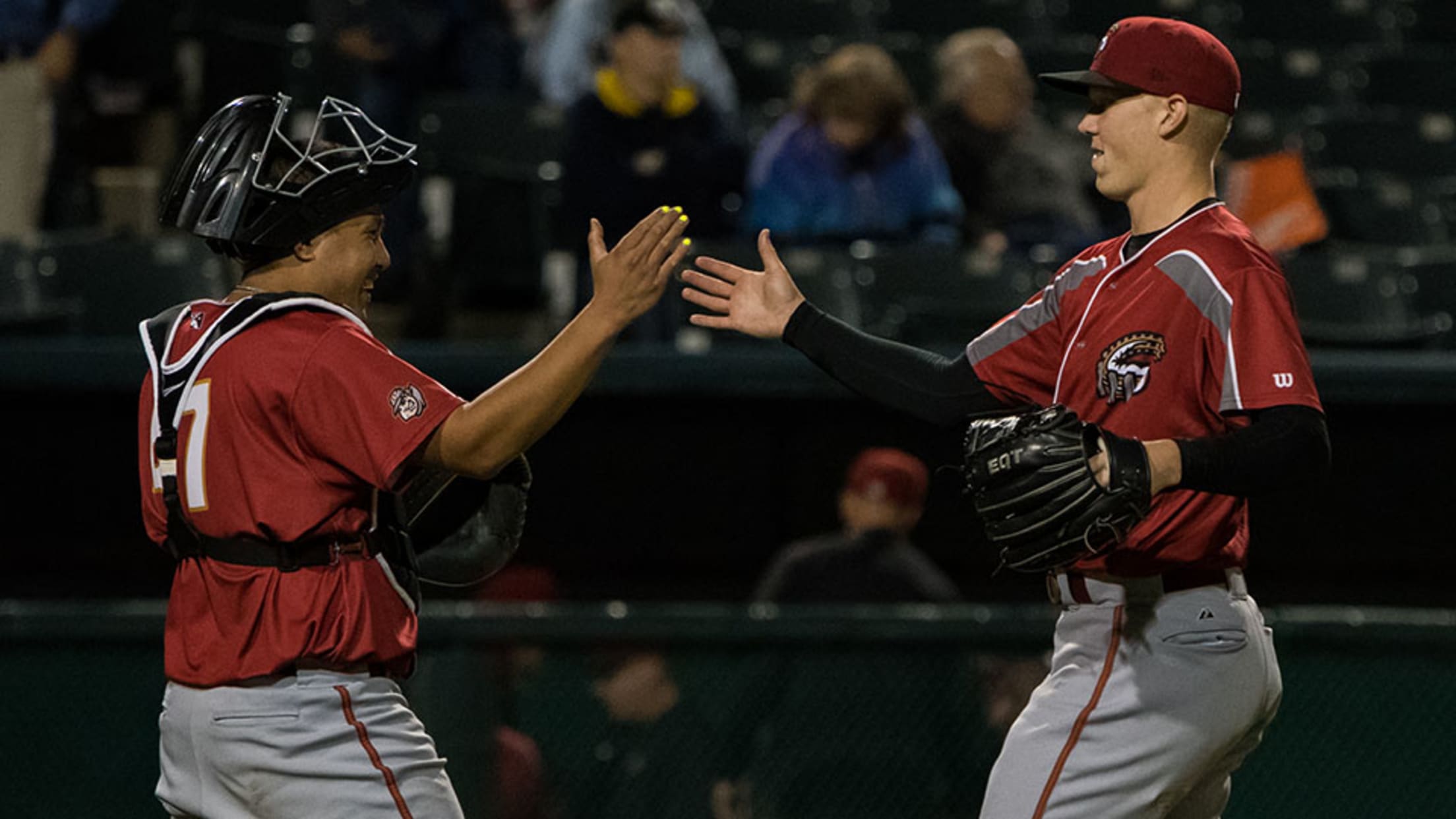 Jin-De Jhang congratulates Mitch Keller after he makes history for Altoona. (Terrance Williams/MiLB.com)
Even as Mitch Keller ventured into unchartered territory Thursday night for Double-A Altoona, he refused to let a baserunner become a setback in his third postseason start. When the first four pitches he's thrown in the ninth inning of a professional ball game missed the strike zone, the second-ranked Pirates
Even as Mitch Keller ventured into unchartered territory Thursday night for Double-A Altoona, he refused to let a baserunner become a setback in his third postseason start. When the first four pitches he's thrown in the ninth inning of a professional ball game missed the strike zone, the second-ranked Pirates prospect felt oddly at ease.
"When [Bowie right fielder Steve Wilkerson] got on, I just thought to myself, 'They've been turning two for you all night. Just put it in the zone and let the defense work,'" Keller recalled.
Box score
Seemingly on cue, the right-hander induced a double play from Adrian Marin en route to his first complete game -- a one-hitter -- as the Curve took Game 1 of the Eastern League semifinals, 2-0, against Bowie at Prince George's Stadium.
"We were mixing pretty well. Not throwing the same thing, not the same sequences all night," MLB.com's No. 21 prospect said. "I can't really pick one, they're all working. That too is a big confidence booster."
After earning a promotion from Class A Advanced Bradenton the first week of August, the 21-year-old amassed a 2-2 record and a 3.12 ERA with 45 strikeouts in six starts for Altoona while holding opposing batters to a .197 average. Thursday night marked the first time a Curve pitcher ever faced the minimum over nine innings.
Complete playoff coverage
"I was kind of surprised myself that no one was taking me out because I had never gone nine before," the Iowa native said, although he sat at just 80 pitches after eight innings. "I don't really know what to say. It was so awesome to be able to go out there for the ninth."
Keller got through the outing in 90 pitches, 59 for strikes. He had four punchouts and two walks.
The first two members of the Baysox to reach base -- Garabez Rosa walked in the second and Cedric Mullins with a lead-off single in the fourth -- were wiped out by double plays.
"That's the way you write it up. It's just as few pitches as possible," the second-round pick in the 2014 Draft said. "When they're turning two like that, you get someone on and you have no worries. It's a great feeling out there on the mound when everything is rolling like that."
Altoona second baseman Mitchell Tolman mishandled Adrian Marin's grounder with one out in the sixth, but Marin was thrown out by catcher Jin-De Jhang trying to steal second. Marin also wound up on the wrong end of a diving catch by Curve right fielder Michael Suchy in the third.
"I can't say enough about the defense behind me. It was unbelievable, they were making plays for me all night out there," Keller said.
Cole Tucker doubled twice and singled in five at-bats for the Curve. His two-base hit in the fifth led to Altoona's first run when Jordan George drove in the No. 5 Pirates prospect with a single. He added another knock in the seventh before Tolman singled in Casey Hughston.
Game 2 of the best-of-5 series will be played at 7 p.m. ET on Friday night at Prince George's Stadium.
Gerard Gilberto is a contributor to MiLB.com. Follow and interact with him on Twitter, @GerardGilberto4.