Healthy Kay making mark with Columbia
Like townsman Matz, No. 14 Mets prospect strong after surgery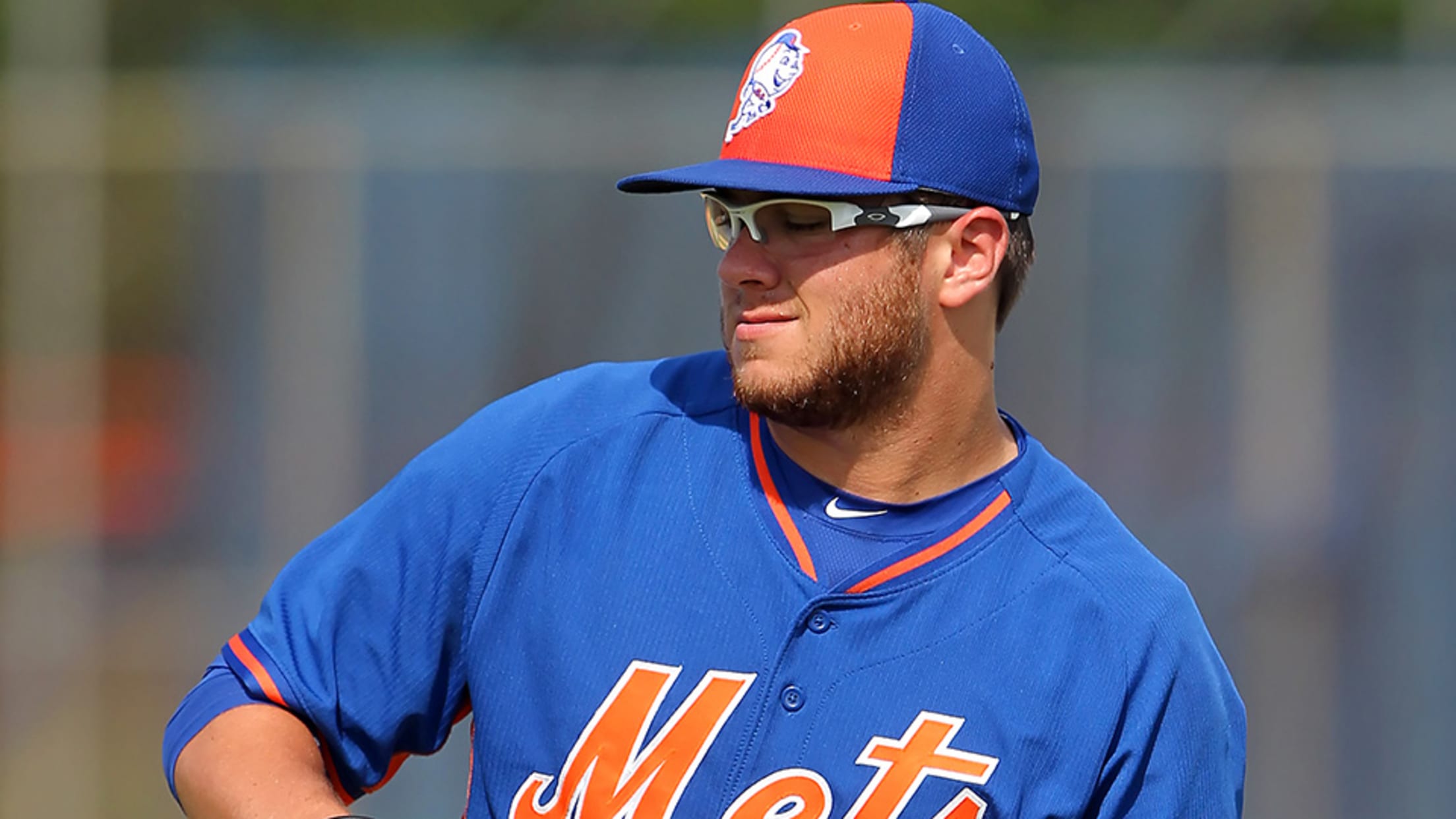 Anthony Kay was drafted by the Mets twice, signing with the team after his first-round selection in 2016. (Cliff Welch/Icon Sportswire)
Lou Petrucci has been the baseball coach at Ward Melville High School in Setauket-East Setauket, New York, for over a decade and had coached elsewhere for nearly two decades before that, but he's never come across anybody who hates losing more than Anthony Kay does.So when Kay lost about a
Lou Petrucci has been the baseball coach at Ward Melville High School in Setauket-East Setauket, New York, for over a decade and had coached elsewhere for nearly two decades before that, but he's never come across anybody who hates losing more than Anthony Kay does.
So when Kay lost about a year and a half of playing time due to Tommy John surgery and the ensuing rehab, it wasn't the process of rebuilding arm strength that was the most difficult part. Sure, the recovery was arduous, physically exhausting at times. But the left-hander found it hardest just being away from the diamond, not competing with his teammates.
"It sucks not being out there and pitching," the Mets' No. 14 prospect said. "You've just got to be patient and trust the process. You've just got to go along with what the trainers and everyone else is trying to tell you to do."
But 673 days after he made his final collegiate start for the University of Connecticut, Kay made his professional debut with Class A Columbia. All the hours of therapy had paid off. Instead of sitting on a trainer's table or exercising his arm muscles, he could toe the rubber as he'd done for most of his life. And with four scoreless frames against Augusta, the results weren't bad either.
Two months into his tenure in the South Atlantic League, the southpaw and the Mets are pleased with the progress he's made.
"Things have been going great," Mets director of player of development Ian Levin said. "Any time someone has something as significant as Tommy John surgery, you're not sure what's going to happen when he comes back. He's been out there, looks healthy, feels healthy and looks strong. He's certainly off to a good start and we're happy to have him back out there."
Kay's journey didn't begin with Tommy John rehab, though. His life in baseball began about 55 miles east of Citi Field on Long Island, where he shares a link with another Mets left-hander.

The Long Island connection
As an eighth grader in Suffolk County, New York, in the spring of 2009, Kay didn't have to look far to see successful models of what he might be able to achieve on the baseball field. At nearby Patchogue-Medford High School, it was
Marcus Stroman
excelling on both sides of the ball and ticketed for Duke University in the fall.
At hometown Ward Melville, it was
Steven Matz
dominating at the plate and on the mound. A senior that year, Matz claimed the Yastrzemski Award for the county's top player and was selected by the Mets as the No. 72 overall Draft pick.
When Kay began at Ward Melville in the fall, he was slated to play on the varsity club, but he understood there were some big shoes to fill. That autumn, he took part in team workouts with Matz in attendance.
"When I was a little younger, I kind of wanted to be in [Matz's] shoes," Kay said. "It was definitely cool to be able to follow him and be able to represent that team."
But the hype surrounding the freshman was tempered, and expectations sure weren't going to change the way he pitched or viewed himself. He set out to create his own legacy and make his own mark. Even if they were both left-handed, Kay understood that he and Matz don't exactly share the same body type.
"Yeah, Steve is like 6-foot-2, 200 [pounds]," Kay, who's two inches shorter and 18 pounds heavier, said with a laugh. "There's definitely kind of a difference.
In what Petrucci felt was almost "a fitting irony," it was Matz who closed out the 2009 season on the field at East Setauket and it was Kay who was on the mound to start the 2010 campaign.
"When people ask me what goes on at Ward Melville, it's just the kids pushing the kids," Petrucci said. "When you have great kids like Steven Matz and Anthony Kay, it makes the job a whole lot easier. … Anthony is, in himself, a great pitcher as well. Anthony, like Steven, is a competitor. Just like you see that Steven has emotions, Anthony has the same emotions. You just might not see it in the same manner. But Anthony Kay is a winner."
And win was essentially all Kay did while with Petrucci and Ward Melville. He dominated for the large part of his four years there. As a junior in 2012, Kay did not allow an earned run en route to claiming the Gibson Award, given to Suffolk County's top pitcher. The next season, he tossed Ward Melville's first no-hitter since 1991. He finished his senior campaign with a 7-2 record, fanning 87 in 65 2/3 innings.
All the while, he was emerging as a top-tier prospect on Long Island among talented players like
Matt Vogel
, a two-way star at Patchogue-Medford who eventually became a 25th-round selection in 2016 by the Rays.
"I don't think Long Island baseball gets as much respect as it should," Kay said. "We've got some good guys -- Matz and Stroman representing in the big leagues right now. And we've got some guys in the Minors. It's definitely a competitive place and it's fun."
Moving forward, taking a step back
The success Kay had at Ward Melville came on the strength of largely two pitches -- his fastball and changeup. He and Petrucci came to a consensus early on that Kay would forgo throwing a curveball for his first three years or so.
"I said, 'Listen, nobody is going to sign you for your curveball. They're going to sign you for your fastball command and how well you keep batters off time -- how well you keep the hitters guessing,'" Petrucci said. "And Anthony could pick guys off... That's a part of him being competitive."
The coach was right, as Kay's two pitches caught the eye of plenty of scouts. The young star felt energized in the wake of extra attention, and the results that followed made him a strong Draft candidate. Indeed, in 2013, the Mets used their 29th-round pick on him. After a little debate, Kay opted not to sign, instead keeping his commitment to UConn.
"Yeah, I definitely thought about [signing a contract]," he said. "But I think ultimately, at the end of the day, it was definitely a good choice to go to UConn. It definitely paid off."
The hurler refined his repertoire on the campus in Storrs and became one of the program's top pitchers. In three seasons, Kay established a new school strikeout record (263), became the sixth player to reach at least 20 wins (22) and as a junior became American Athletic Conference Pitcher of the Year in 2016. A Second Team All-America selection that same season, Kay played a key role in the Huskies' conference title and eventual NCAA Tournament berth.
On June 9, four days after UConn was eliminated, Kay gathered with his friends and family and awaited a Draft-night call. When he found out the Mets selected him again -- this time as the No. 31 overall selection -- he couldn't wait to get his pro career off and running.
But over the time it took to ink his contract and get situated for his first professional game, Kay's left elbow began to pose a concern. It was soon discovered that he had a torn ulnar collateral ligament and would need Tommy John surgery.
If this story feels familiar, that's because it is.
In another way the two Long Island hurlers are linked, Matz had learned soon after he was drafted that his UCL was in need of repair. He wouldn't pitch in his first professional game until 2012. Drawing from his own recovery experience, Matz offered the young prospect some advice: stay patient and follow through with the doctor's orders.
"I mean, it was a shock," Kay said of the injury. "I didn't really expect it, but you kind of have to go through with it. I feel like everyone is kind of getting it nowadays, so I guess it was a good thing to get it out of the way. I definitely feel stronger afterwards, so I'm glad that I did do it."
Back on track
When Kay walked out on the mound at Spirit Communications Park on April 8, he admitted it felt weird. He'd pitched in some Spring Training games, but nothing would truly give him the competitive feeling that a regular season game could.
Still looking for his command, he yielded just two hits and struck out four in his debut. Considering it had been 22 months since his last start, the 23-year-old felt the outing was more than successful.
"It was just good being back out there," he said. "I wasn't too worried about the results. It was more about being out there and being able to pitch."
Kay has continually worked on getting stretched out through his starts and the results are showing. Through his first eight outings, he's held a 2-2 record with a 3.59 ERA and 1.27 WHIP. In his latest outing, on May 26, he pitched a season-high seven innings, allowing one run while fanning eight.
One of the encouraging signs for Kay and the organization is that even without a total feel and consistency with all of his stuff yet, he's whiffed 40 batters and issued 14 free passes in 42 2/3 innings with the Fireflies.
"He's been doing great," Levin said. "And it is a transition for him, and a difficult one because he got injured right away and missed so much time. It's not your normal progression for a guy, but he's shown he's able to handle it. He's no worse for the wear. And for him, it's just being on the mound and executing and getting better."
Levin isn't too concerned with where on the map or in the system Kay is pitching, just that he is pitching somewhere and in good health. And it might not be the worst thing in the world for Kay to stick around in Columbia for a bit. After all, he's become a celebrity -- at least on Twitter -- thanks to his entrance music. Kay warms up to the song "Pon Pon" that's been popularized by "Fortnite" player Ninja, who blasts the tune after his first win in the video game each day.
Kay's teammates ran with it and broke into Ninja's signature dance while Kay was warming up on May 5. The video of the jam session tweeted by the Fireflies has generated more impressions than
Tim Tebow
content from last season, according to the team.
"Yeah, it was just kind of a joke," Kay said. "It just kind of blew up."
Petrucci wasn't surprised by the reaction elicited from the video, but he was impressed by how quickly Kay's became the center of attention.
"It's Anthony's first year down there. It's not like he's a five-year Columbia Firefly," the coach said. "He's been down there a month. … Anthony's got that type of personality. He's very endearing."
But, staying grounded, Kay isn't letting any viral sensation or thought of a potential promotion affect his daily work.
"I kind of just pitch," Kay said. "I really don't worry about [the long term]. Whatever happens happens."
In terms of Kay's career, Petrucci thinks the lefty means plenty more than the numbers he records on his player page. His accomplishments give his hometown community a sense of pride and inspiration.
"I think it's exciting for New York baseball. I think it's exciting for Long Island baseball," Petrucci said. "With all of the great pitchers that have come out of Long Island, Anthony is a testament to him putting his work in."
Andrew Battifarano is a contributor to MiLB.com. Follow him on Twitter, @AndrewAtBatt.