Mets' Taylor goes on DL following assault
Police: Hurler hit on head with crowbar during attempted robbery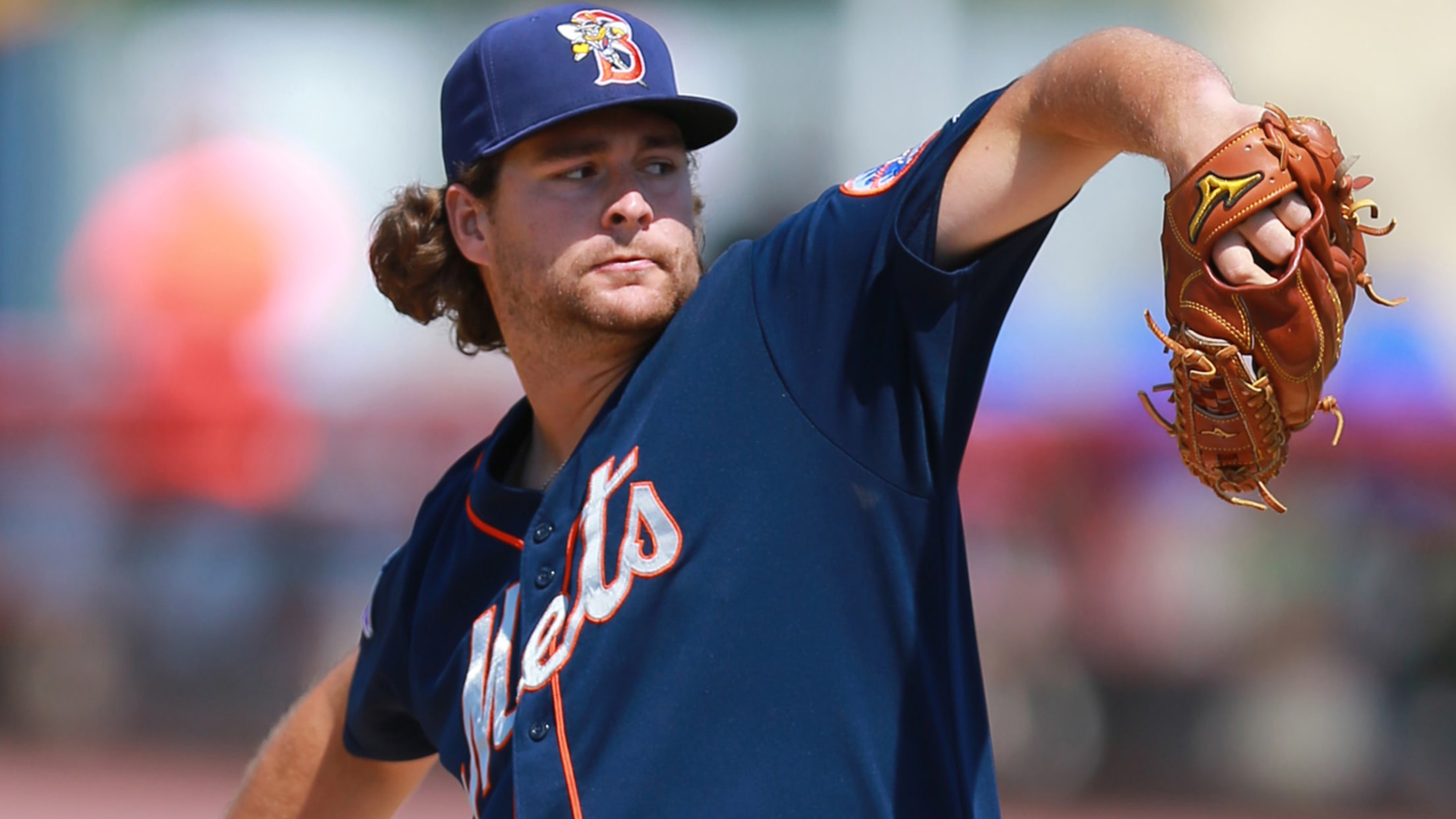 Logan Taylor made 44 appearances for Double-A Binghamton last year. (Gordon Donovan/MiLB.com)
Triple-A Las Vegas reliever Logan Taylor reportedly sustained a concussion Saturday afternoon after he was assaulted by a homeless man in Salt Lake City, according to area police.Police say the 25-year-old and teammates Dominic Smith and Kevin McGowan were walking down a Salt Lake City street on Saturday when they
Triple-A Las Vegas reliever Logan Taylor reportedly sustained a concussion Saturday afternoon after he was assaulted by a homeless man in Salt Lake City, according to area police.
Police say the 25-year-old and teammates Dominic Smith and Kevin McGowan were walking down a Salt Lake City street on Saturday when they were approached by a man. In a statement of probable cause from the Salt Lake County Sheriff's Office obtained by MiLB.com, the arresting officer said Taylor stated "the suspect demanded his wallet and then hit him with a bag with a rock in it, then hit him in the back of the head with a crowbar."
Taylor received six or seven staple stitches on the back of his head at an area hospital after the incident, 51s manager Pedro Lopez told the Las Vegas Review-Journal. Las Vegas put the right-hander on the disabled list the next day.
"There were a couple guys that saw it, Dom and McGowan," Lopez told the newspaper. "They tried to go after the guy when they realized it was Logan, but (the police) ended up catching the guy later on."
Police reported locating 33-year-old Joshua Cruz by 455 South 200 West in downtown Salt Lake City after the assault, and he allegedly attempted to flee officers before being apprehended. According to a Salt Lake County Jail spokesperson, Cruz was booked into the jail at 1:06 a.m. MT on July 2. He was charged with aggravated robbery, a first degree felony, and failure to stop at the order of law enforcement, a class A misdemeanor. Cruz is being held on a $2,500 cash-only bond.
"At the very time the call was coming in, an officer that was right in the area was flagged down by people, and he tried to run away," Salt Lake City police detective Greg Wilking told the Review-Journal. "He was chased. He was told to drop the items he had, and then he turned around on the officer, and that's when another officer came on the scene and they used a Taser to take him into custody."
Las Vegas finished its four-game wraparound series at Salt Lake with an 8-6 loss Monday. Taylor remained with the team and will see a doctor when the 51s return to Las Vegas, Lopez told the newspaper.
"It's in the hands of the police now and we can't comment further," the Mets said in a statement to the Review-Journal.
A 2012 11th-round selection out of Eastern Oklahoma State University, Taylor has made 22 combined appearances between Double-A Binghamton and Las Vegas this year. He has a 1-1 record and a 4.46 ERA.
Tyler Maun is a contributor to MiLB.com. Follow him on Twitter @TylerMaun.