Mets' Tebow suffers minor ankle sprain
Outfielder still participating in workouts after tripping on sprinkler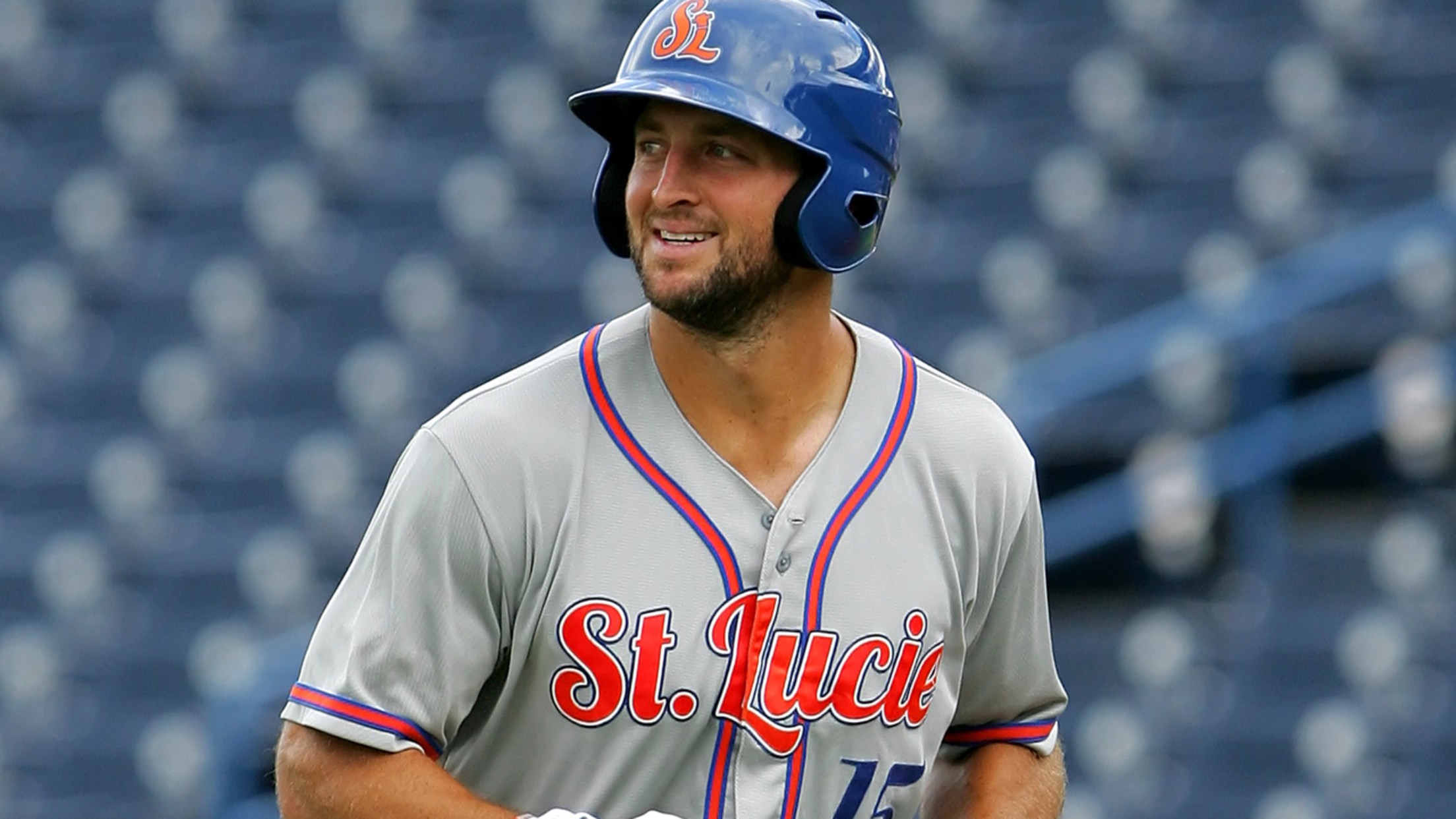 Tim Tebow finished his first season with a .664 OPS in 62 games in the Florida State League. (Cliff Welch/MiLB.com)
Last week, Mets general manager Sandy Alderson made headlines when he said he believes Tim Tebow will play in the Major Leagues. Before attempting to accomplish that feat, Tebow is dealing with some Spring Training adversity.The Mets farmhand reportedly sprained his left ankle tripping on a sprinkler head in the
Last week, Mets general manager Sandy Alderson made headlines when he said he believes Tim Tebow will play in the Major Leagues. Before attempting to accomplish that feat, Tebow is dealing with some Spring Training adversity.
The Mets farmhand reportedly sprained his left ankle tripping on a sprinkler head in the outfield at the team's St. Lucie complex last week. Since suffering the injury, the outfielder has been participating in workouts and took live batting practice against right-hander Matt Harvey on Friday.
"I'm trying to be smart about it and keep [the ankle] taped," Tebow told the New York Post on Sunday.
Tebow climbed from Class A Columbia to Class A Advanced St. Lucie last year in his first Minor League season and compiled a .226/.309/.347 slash line with eight homers and 52 RBIs in 126 games. The 2007 Heisman Trophy winner improved his line after he made the jump to the pitcher-friendly Florida State League, going from a .220/.311/.336 line in 64 games in the South Atlantic League to .231/.307/.356 in 62 contests with St. Lucie.
The Mets invited Tebow to Major League camp this spring as part of an effort to "accelerate the process" of the 30-year-old's development.
"I think he will play in the Major Leagues," Alderson said last week. "That's my guess, that's my hope and to some extent now after a year and a half, a modest expectation. So I'm happy he's here. He's great for the team, he's great for baseball. He was phenomenal for Minor League Baseball last year."
"We're very pleased with his progress so far. I think that this experiment on his part has evolved from when it first started and we signed him into something I think much more meaningful and with somewhat greater expectations," Alderson said. "He's been super for us the first year-plus. He made progress on the field, he's dedicated himself to improvement, he spent a lot of time in the offseason, working with hitting coaches and so forth, a lot of time."
Tebow likely will return to St. Lucie to start the 2018 season but could be assigned to Double-A Binghamton if the Mets choose to be aggressive.
Tyler Maun is a contributor to MiLB.com. Follow him on Twitter @TylerMaun.