Allen seizing opportunity with Rumble Ponies
From indy ball to pros, Mets infielder is taking challenges in stride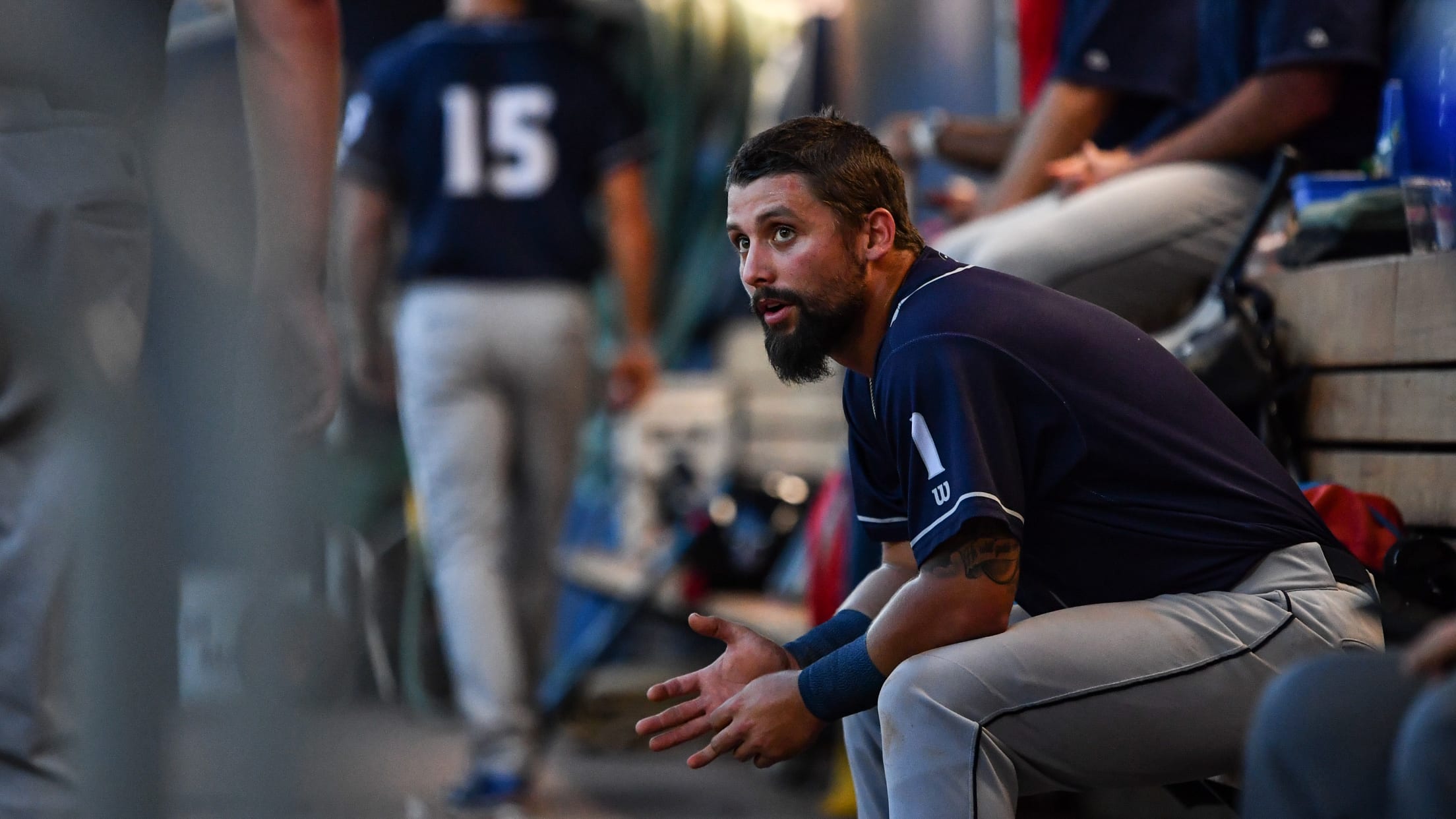 Josh Allen played 371 games in independent leagues before landing with the Binghamton Rumble Ponies. (Terrance Williams/MiLB.com)
It was a stray bullet, fired during the Criminal Justice Academy at South Florida State College's shooting proficiency exam for cadets.Instead of its intended target, the round connected with the chest of Josh Allen, who didn't have to be there but figured he'd complete academy training before chasing his dream
It was a stray bullet, fired during the Criminal Justice Academy at South Florida State College's shooting proficiency exam for cadets.
Instead of its intended target, the round connected with the chest of Josh Allen, who didn't have to be there but figured he'd complete academy training before chasing his dream of playing professional baseball.
That once-forgotten dream had been revitalized only weeks prior, in March 2014, at a tryout in Nashville, where Allen -- now with Double-A Binghamton in the Mets organization -- had impressed Andy McCauley, manager of the independent Evansville Otters, enough to make the skipper want to see more.
Suddenly, thanks to the bullet, that opportunity was in doubt. But after finally getting a pro deal, Allen wasn't about to give up.
"I thought after college that was it for me," he said. "Actually, it's kind of funny how fate kind of goes."

Last man standing
If Allen's professional career has followed a sinuous path, filled with four years of independent ball before the Mets signed him to his first affiliated contract this June, then it makes sense that his amateur career foreshadowed the twists and turns to come.
Born in Fort Meade, Florida -- the hometown of Giants outfielder Andrew McCutchen -- he began his collegiate baseball career at Chipola Junior College in Marianna, Florida. Tommy John surgery cost him his second year there. Next up was the State College of Florida before playing a full senior season at West Florida.
Undrafted and discouraged, Allen sought to enter the real world. The police academy felt like a natural step.
"While I was there, I never got over the baseball bug," the 27-year-old admits. "Talked to my parents and decided I wanted to give it another shot again."
So Allen and his father Googled "Pro Baseball Tryouts" and discovered that while there are
significant barriers
to getting into the Minor Leagues, independent ball tryouts are open to everyone. The closest one was in Nashville, and off he went.
"I hadn't played baseball in almost a year -- it had been 11 months," he remembered. "To that point, I had just hit off a tee. I went out there and there was probably 300 people there. We did the whole [routine]: run the 60, field ground balls, hit. Then we broke it up into the top 60 and we played a game against each other. I don't know how I did it, but I went 4-for-4 with three doubles and a home run. That was the first time I'd seen live pitching in about a year."
Allen recalls hearing that nobody was walking away from the tryout with a contract. But McCauley extended an offer with the opportunity to make the team out of its spring training.
"You probably start with about 120, 130 kids there," the coach said. "I always like to go out there and hit fungoes to the infielders when they're making pitching changes, because it gets a little dull if not. It started with about 30 infielders while the pitcher was getting loose. Then it went down to about 25, then 20. I mean, we were out there for about eight hours. At the end of the day there was one kid out there still taking ground balls. It was Josh Allen."
Baseball dreams alive again, Allen returned home to graduate from the police academy, pack his belongings and move to Indiana to play for the Otters.
'This was going to be it for me'
There's no easy way to tell someone you've been shot, Allen quickly discovered, especially when you don't want your new manager to consider you damaged goods before you've even suited up for him.
So Allen simply wasn't going to open his mouth. Luckily, the errant round didn't cause serious damage, only some nagging soreness.
"I didn't say anything about it, just because I'm a new guy. I'm a rookie," he said. "I don't know how anything goes. I don't really have any number to kind of back up any loyalty or anything."
One afternoon, during double-play drills, an assistant was instructing the second baseman. The assistant nudged Allen's chest, causing him to flinch. Concerned and confused, the assistant asked about the reaction.
"It just kind of slipped because I was saying what it was, and I was like 'I got shot,'" Allen said. "And he was like 'You what?!'"
Allen explained the situation, but the assistant was off to tell McCauley already.
"He was like, 'Why didn't you tell me?'" the Bartow High School product said. "I was like, 'I was afraid you were going to release me!' So that was always a big joke, was I never told him I got shot because I was afraid he was going to send me home."
It's a good thing McCauley didn't. Allen crushed Frontier League pitching for the next four years, winning MVP honors in 2016, when he hit nine homers, drove in 46 runs and posted a .354/.458/.582 slash line while leading Evansville to a title.
"He hit a home run against Southern Illinois two or three years ago, and that was kind of the "Aha!' moment for him where he stayed behind the ball and hit it to the opposite field in a pretty legitimate-sized ballpark," McCauley said. "I think that's when it all started to click and he started to believe that he was pretty good."
Technical ability aside, the way Allen conducts himself in the batter's box sets him apart.
"He's just unrelenting. He doesn't give an inch," his former skipper said. "He's one of the toughest kids I've ever had play for me. [He gets] hit by pitches. The last two years with me, I think he played every single game. He just refuses to give in. Plays with a chip on his shoulder, not getting drafted. He spent enough time in independent ball [that] I think that's a big motivator for him, too."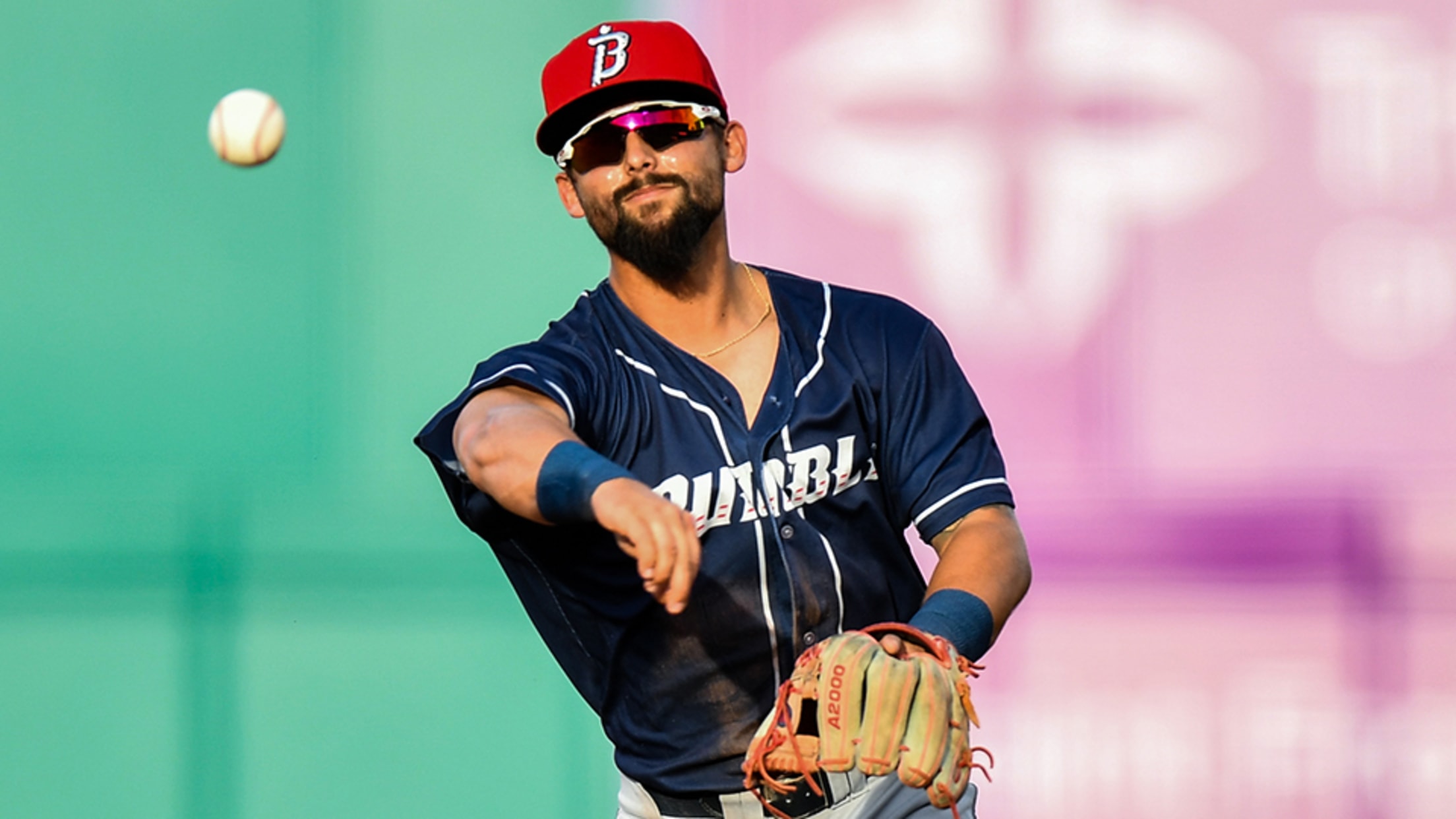 Allen has a .980 fielding percentage in 333 frames at second base. (Terrance Williams/MiLB.com)
After the 2017 season, Allen, turning 27 in March, had one more year of eligibility for the Frontier League. But McCauley saw an opportunity to increase his player's profile by moving him to the St. Paul Saints in the American Association. Before the deal, Allen was discouraged about not having landed with an affiliated organization yet and was ready to hang up his spikes. But he'd heard about the facilities in St. Paul and wanted the experience of playing under manager George Tsamis before he left the game. It was enough to keep him in baseball for what he thought would be a last hurrah.
"I kind of went into this year with the mindset that this was going to be it for me," Allen said. "There's only so long you can play, especially independent ball. Most people play independent ball in the hopes of getting picked back up and continuing their careers in affiliated. I never had a career in affiliated, so it's kind of like you don't ever know if it's going to come. You kind of reach that point where coming into this season, I was like, 'All right, I'm going to enjoy this year and be done with it.'"
On May 30, Allen was hitting .188, but he erupted for a life-changing hot streak the next two weeks, finishing his brief Saints career batting .344 over 24 games.
The Mets purchased his contract on June 14.

New level, no problem
The biggest jump in talent between Minor League levels is often considered to be the one from Class A Advanced to Double-A. Allen didn't have much difficulty at all when he first arrived with the Rumble Ponies. He was batting .277 as late as July 17. His average dipped to .233, but he raised it to .248 with a .686 OPS following his first three-hit game on Aug. 1. That's the last game he played in; Allen is on the disabled list with a lower body injury.
"I just was kind of enjoying the experience more than anything," the 5-foot-10 infielder said. "I wasn't expecting much or putting too much pressure on my success. It was just one of those, like, 'I'm here now. Just try to take in the moment. Just get used to it,' kind of thing. I got off to a good start and it was great because it gives my mind -- you always have those questions. 'When I get up to this level, can I hang with these guys?' Being that I came out and had a first good couple days it solidified, personally, in my mind, that I could play with these guys. It definitely gave me a confidence boost."
For someone in his first affiliated ball experience, Allen made an immediate impression on Binghamton manager Luis Rojas.
"He really jumped at me," he said. "A very professional guy. Plays really hard. Battles at-bats, takes really good at-bats. I think the competition going from indy ball to the first time facing affiliated ball, I think the transition, he's made it look easy. He blended in with the team. He helped us."
Rojas meant the last part. The Mets signed Allen essentially, the skipper said, to take the roster spot vacated by Jeff McNeil, who was promoted to Triple-A Las Vegas two days after New York purchased Allen's contract and has since made it to the Majors. As a 26-year-old debuting in the big leagues after starting the year in the Eastern League, McNeil has laid out a blueprint for players like Allen.
Among the bonuses of playing affiliated ball, Allen noticed, are the reams of data he's been exposed to. Scouting reports were a part of his independent league experience, but they pale in comparison to what he sees daily with Binghamton. He quickly began utilizing detailed information on pitchers, which helped fuel his hot start. But other teams eventually accumulated enough data on him to begin exploiting his weaknesses, which include hitting off-speed pitches.
"In independent ball, you'll see guys who will throw hard but they throw a lot of fastballs because they can't command their breaking balls," Allen explained. "You'll see some guys who throw slower [and] command their breaking balls, but they don't have the velocity to throw it by you. Here, you have a good combination of guys who throw hard and can also throw their off-speeds for strikes, too. So it was kind of an adjustment period of, you step up to the plate and there's a guy throwing 97 miles an hour -- of course you're going to expect 97 -- and then he throws three sliders on you."
Allen has slugged a pair of homers and 12 doubles and tallied 20 RBIs. He's whiffed in 47 of his 153 at-bats.
"I don't think the transition, as far as the competition, was a big change for him," Rojas said. "But the part of being part of an organization is probably what's new for him -- all the transitions, teammates coming and going. Now his goal is to get to the big leagues, like everyone in that clubhouse. I think that's the type that he's learning the most. He's thinking of his future, his career and what's going to happen next season. So he's learned a lot in that matter."

Ready for the journey to continue
It's safe to say that the preseason plan of moving on from baseball is no longer much of an option.
Allen realizes he's at a disadvantage in terms of reaching the Majors. He is a 27-year-old in Double-A. It's not the best spot to be in. As a realist, he recognizes that he faces intimidating odds. But he's not in a position to give up now.
"Especially being that it's my first year in affiliated, I'm behind the eight ball with a lot of guys that have been in affiliated for a long time," he said. "I love the game. It's what I've done my entire life and that's what I've put all my heart and soul into. To walk away when you have a great opportunity is definitely something that doesn't make sense in my mind."
In his 20 years of managing independent ball, McCauley counts Allen as only the third player he's seen make the jump to the affiliated ranks -- and the two previous mentees had prior Minor League experience.
"It's a great independent story. … To be honest with you, I always knew the kid was going to play," McCauley said. "I just wasn't sure if anyone was going to give him that opportunity. I've had a number of kids throughout the years that I shake my head [that] they didn't get the opportunity. You just have to live with it down here. It is what it is. I couldn't be more grateful to the Mets for giving him that opportunity, and I couldn't be happier for the kid to get that opportunity."
But that opportunity only exists because McCauley took a chance on a then-23-year-old nearly a year removed from the game -- and didn't let learning about a gunshot wound shake the confidence he had in the player.
"Playing for Andy was kind of the thing [that brought] the love back for the game for me, personally," Allen said. "He was the one guy that gave me a chance. I always felt like I owed him something for that. I worked hard, just kind of gave it everything I had just because I didn't want his gamble on me to turn out wrong, you know? So I worked hard and definitely reaped the benefits."
Allen isn't sure if his future lies with the Mets or another organization. That's the least of his concerns.
"As long as somebody wants me," he said, "I'll be here putting in the work."
Chris Bumbaca is a contributor for MiLB.com based in New York. Follow him on Twitter @BOOMbaca.