Alonso flashes grand power for 51s
Mets No. 2 prospect smacks first three Triple-A homers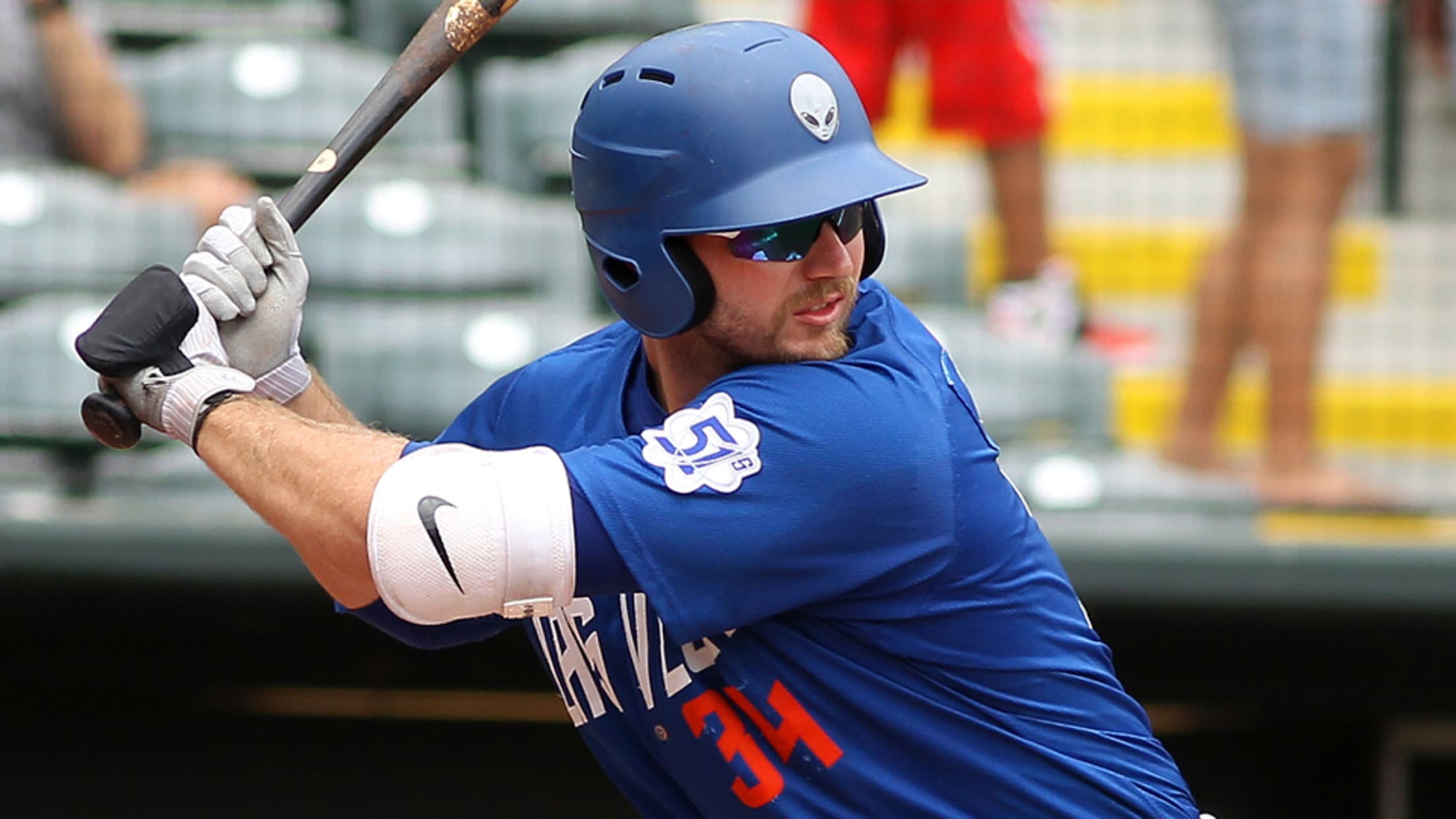 Peter Alonso moved into a five-way tie for fourth place in the Minor Leagues with 18 homers. (Ben Sandstrom/MiLB.com)
As soon as the ball jumped off Peter Alonso's bat during his eighth-inning plate appearance, he listened intently. And when he didn't hear a sound, that's when he knew he completed a rare feat. His line drive to left-center field ended up clearing the fence as the Mets' second-ranked prospect's smacked his third
As soon as the ball jumped off Peter Alonso's bat during his eighth-inning plate appearance, he listened intently. And when he didn't hear a sound, that's when he knew he completed a rare feat.
His line drive to left-center field ended up clearing the fence as the Mets' second-ranked prospect's smacked his third homer of the game in Las Vegas' 14-12 win over Reno at Cashman Field. One of the homers was a grand slam as Alonso drove in a career-high seven runs and boosted his average to .333 and OPS to 1.142.
"I was listening for the sound of the fence because I smoked it, but I didn't think I hit it high enough," he said. "The ball just went out and I was like, 'Oh, my god.' I didn't even know what to say I was so excited. I was thinking, 'Holy [smokes], I just hit three home runs in a game.' It's fun. I'm going to remember this one for the rest of my career."
After swatting a first-pitch offering from Reno starter and D-backs No. 22 prospect Alex Young over the fence in left-center in the third inning, Alonso sent a ball out to the right-center with the bases loaded in the sixth. It was his first grand slam of the season and fourth of his career.
The celebrations that followed each homer were polar opposites.
"[After] the first one, everyone gave me the silent treatment because everyone was like 'about time' " Alonso said. " 'We've been hearing about this kid who has power and it takes him six or seven games to hit a home run -- about time.'
"And then the grand slam everyone was pumped up because it cut the lead to one."
He muscled another one out in the eighth to complete the 51s' first hat trick since Travis Taijeronrecorded one on Aug. 21, 2015.
Alonso said hitting coach Joel Chimelis tracked down the three home run balls and handed them to him after the game. And, yes, the University of Florida product said he's keeping them.
"It was a pretty awesome night," Alonso said. "I'm seeing the ball really well. I know I can't hit three home runs every night, but I want keep hitting the ball hard."
The 23-year-old is a prolific slugger with 18 roundtrippers in 72 games between Double-A Binghamton and Las Vegas this season. But he doesn't usually hit them in bunches, with Saturday only the fourth multi-homer game of his career.
Gameday box score
Alonso earned a callup to Triple-A after hitting .314/.440/.573 in 65 Eastern League games. He's carried the momentum after a sweltering conclusion to last season in which he put up a .327/.407/.599 line with 13 homers after the Florida State League All-Star break.
Before he started tearing the cover off the ball, the 2016 second-round pick had trouble gaining traction in the FSL, missing six weeks after breaking his left hand and hitting .167/.217/.269 with two homers in 21 games after he returned. It took him time to regain his timing, but he's been a different hitter ever since.
"When things were going terrible, that was my Spring Training time again," Alonso said. "I had to go through the growing pains of getting my feet underneath me in the box and my timing right and just being in sync with the game. After I finally got my timing down, I'm a good hitter. If I don't have my timing, I'm probably one of the worst hitters on the planet. But I'm happy I'm playing well and I have my timing."
Alonso's slam cut the 51s' deficit to 10-9. Colton Plaia's two-run blast tilted the lead in Las Vegas' favor, 12-11, and Alonso tacked on two insurance runs with his third of the night. Patrick Kivlehan drove in a run in his second straight three-hit game, while Christian Colón homered, singled, walked and scored three times.
D-backs No. 19 prospect Kevin Cron was 2-for-4 with four RBIs, while Kristopher Negrón collectd two hits and drove in three runs for the Aces.
Josh Horton is a contributor to MiLB.com. Follow him on Twitter @joshhortonMiLB