Mets' Tebow goes yard on first pitch of '18
Former football star homers in first AB for second straight year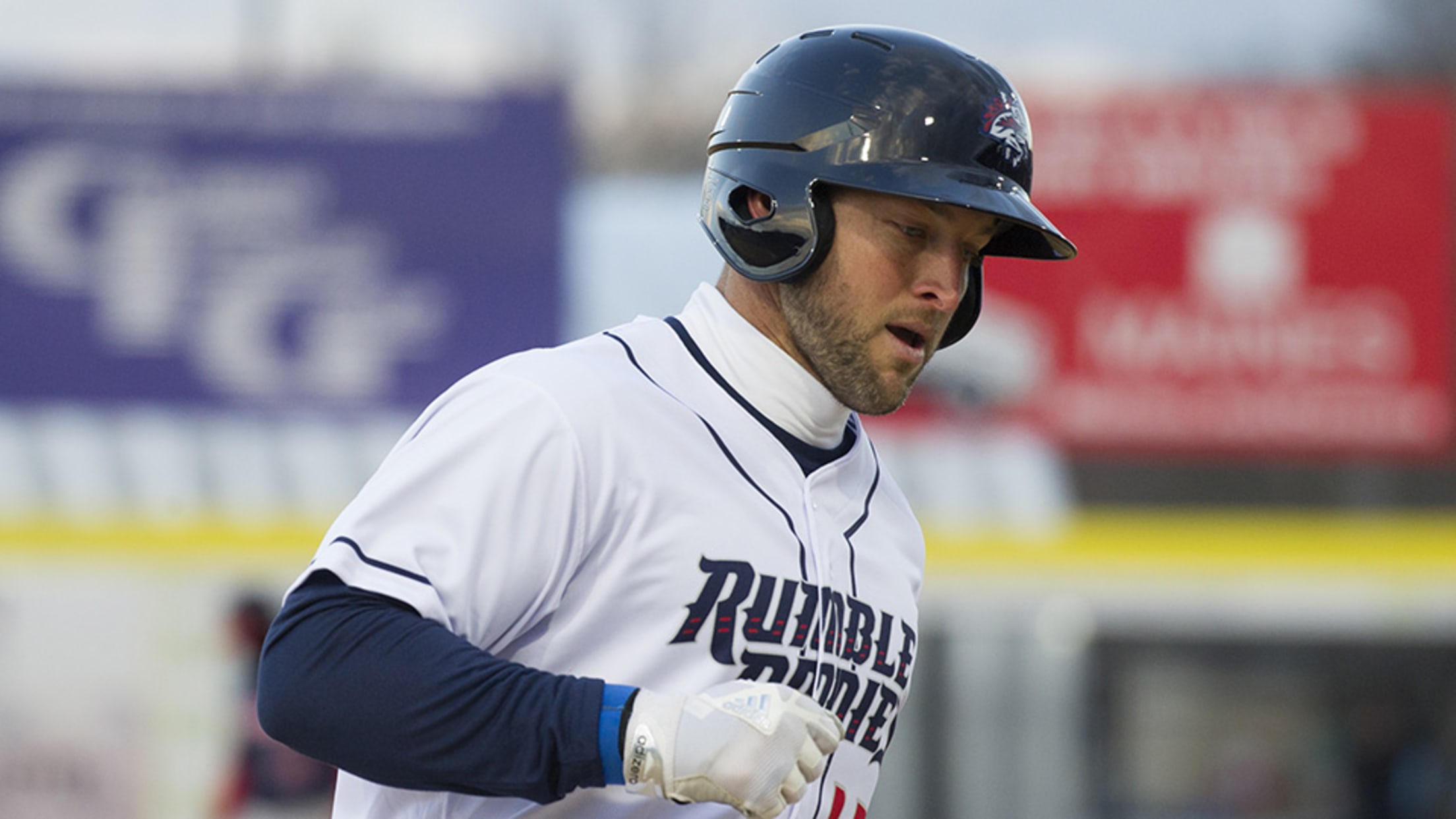 Tim Tebow rounds the bases after homering in his Double-A debut for Binghamton. (Matt Smith/AP)
As Yogi Berra once quipped, "It's déjà vu all over again" for Tim Tebow.A year after homering in his first at-bat as a professional, the Mets farmhand did it again Thursday, launching a three-run blast on the first pitch he saw at the Double-A level for Binghamton. Mets No. 4
As Yogi Berra once quipped, "It's déjà vu all over again" for Tim Tebow.
A year after homering in his first at-bat as a professional, the Mets farmhand did it again Thursday, launching a three-run blast on the first pitch he saw at the Double-A level for Binghamton. Mets No. 4 prospectPeter Alonso and Jeff McNeil also went deep for the Rumble Ponies, who opened the season with a 6-0 blanking of Portland at NYSEG Stadium.
The crowd of 5,247 was the second-largest for a home opener in club history. Binghamton drew 6,282 fans for the 1993 opener.
With the Rumble Ponies leading, 2-0, thanks to Alonso's roundtripper, Tebow ripped Sea Dogs right-hander Teddy Stankiewicz's first pitch over the right-center field fence. The former Heisman Trophy winner reached on a fielder's choice, grounded out and struck out in his final three plate appearances.
"I felt pretty good," Tebow told reporters after the game. "He walked the two batters before me, so on one hand you're probably thinking he's going to be a little bit wild and be patient. But a lot of times after a catcher makes a visit to the mound, the next pitch is probably a fastball somewhat down the middle to try and get going again. That's what I kind of anticipated, that's what it was and I felt pretty good."
Gameday box score
The 2007 Heisman Trophy winner and former NFL quarterback created a buzz wherever he played last year. He went deep in his first at-bat with Class A Columbia in 2017 and needed only one game to go yard after his June promotion to Class A Advanced St. Lucie. Tebow finished his debut season with a .226/.309/.347 slash line, 34 extra-base hits and 52 RBIs in 126 games.
"It's good to see him ready," Binghamton manager Luis Rojas said. "For him to be engaged, find his pitch and deliver that homer was pretty good. ... He's got a long season ahead, but he had a great spring and he worked really hard, so it's great that he started the season this way. Knowing the history and knowing that every first at-bat he's gotten in his professional career he's done the same thing is pretty impressive."
Tebow acknowledged the uniqueness of homering in his first at-bat on consecutive Opening Days, but he downplayed the significance in terms of the marathon that is the 140-game Minor League season.
"I don't know, it's pretty special," he said. "But baseball's a game where it's never too high and never too low. It's just one at-bat and just one pitch, so you have to be focused. Tomorrow is another day where I have to improve.
"[Today] was a great day and it was a fun day, but it was just one day. We need to be focused on the next day."
McNeil connected on a solo shot in the second to cap the scoring for the Rumble Ponies, who homered three times in a game on three occasions last year.
Binghamton starter Drew Gagnon allowed two hits and a walk with five strikeouts over six innings. Austin McGeorge, Adonis Uceta and 29th-ranked Mets prospect Gerson Bautista completed the shutout, combining for six strikeouts over the final three frames.
Stankiewicz (0-1) surrendered six runs on four hits and four walks with three strikeouts in four innings for Portland.