Mets, Tebow talk about future in Majors
New York GM Alderson says outfielder 'will play' in big leagues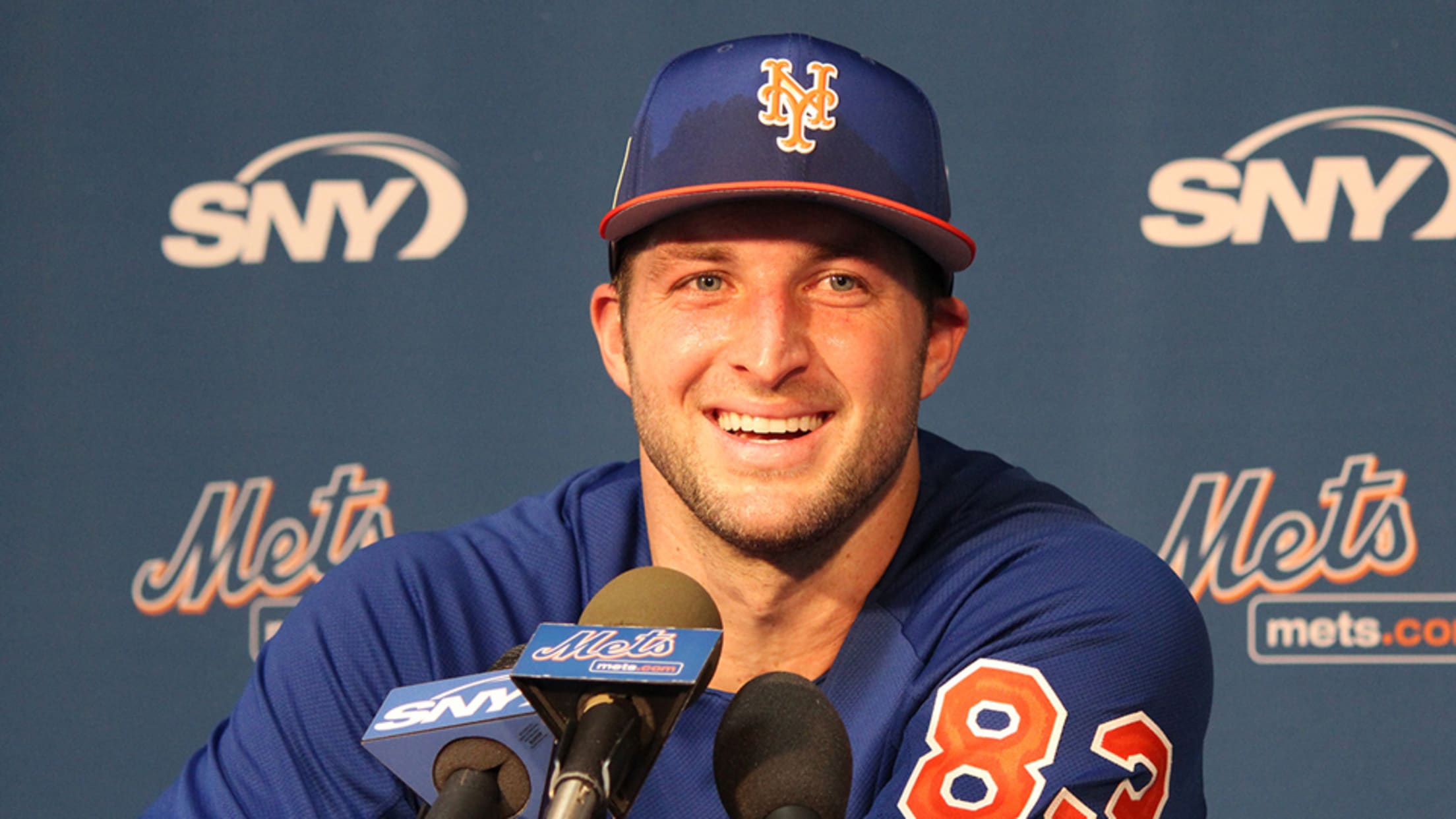 Tim Tebow compiled a .656 OPS across two Minor League levels in his professional debut last season. (MLB.com)
Start spreading the news, Tim Tebow could be headed to New York "at some point."Mets general manager Sandy Alderson told reporters on Sunday he has high hopes for the club's outfield prospect."I think he will play in the Major Leagues," Alderson said. "That's my guess, that's my hope and to
Start spreading the news, Tim Tebow could be headed to New York "at some point."
Mets general manager Sandy Alderson told reporters on Sunday he has high hopes for the club's outfield prospect.
"I think he will play in the Major Leagues," Alderson said. "That's my guess, that's my hope and to some extent now after a year and a half, a modest expectation. So I'm happy he's here. He's great for the team, he's great for baseball. He was phenomenal for Minor League Baseball last year."
The GM said Tebow is at big league camp because the team needs to "accelerate the process," given his age and where he started.
"We're very pleased with his progress so far. I think that this experiment on his part has evolved from when it first started and we signed him into something I think much more meaningful and with somewhat greater expectations," Alderson said. "He's been super for us the first year-plus. He made progress on the field, he's dedicated himself to improvement, he spent a lot of time in the offseason, working with hitting coaches and so forth, a lot of time."
New Mets manager Mickey Callaway talked to Tebow on the phone during the offseason and got to see him on Sunday in Port St. Lucie. The skipper said that because Michael Conforto is out for Spring Training following shoulder surgery, the 30-year-old will get playing time at big league camp.
"We want to see what he can do. I think the person that he is, the worker he is, those are the kind of people who you want around and we're going to evaluate Tim Tebow just as we would anybody else," Callaway said. "I think Tim Tebow is here because he could potentially help us at the Major League level at some point and he wouldn't be here otherwise.
"We have some time that he's going to be able to take over out there [in left field] and do his thing."
Tweet from @Mets: [email protected] has arrived in camp. #Mets pic.twitter.com/vLmXxk1VRN
In his first pro season, Tebow posted a .226/.309/.347 slash line with eight homers and 43 RBIs in 126 games between Class A Columbia and Class A Advanced St. Lucie. The 2007 Heisman Trophy winner likely will return to the Florida State League after breaking camp or move up to Double-A Binghamton.
"My goal isn't about what's going to happen one day. My goal is to focus on this day -- our outfield work, my training session, getting to know all our coaches and working as hard as I can," Tebow said. "I think one of the important things about being an athlete is being able to lock in and have tunnel vision, because I can't worry about one day if I'm going to play in the bigs or not.
"I got into this because I love it, because I'm passionate about it. For me, it's being able to lock in and have tunnel vision regardless of what team I'm on. Wherever they decide to put me, I'm going to be able to lock in and give it everything I have."
Tebow added his thoughts on potentially seeing Seahawks quarterback Russell Wilson, who was traded to the Yankees on Feb. 7 and will be at their big league camp.
Tweet from @AnthonyDiComo: Tim Tebow also says he would love to play against Russell Wilson this spring. The Mets and Yankees do play March 7 and 10... 🤔🤔🤔
Kelsie Heneghan is a contributor to MiLB.com. Follow her on Twitter @Kelsie_Heneghan.