Sheffield, Adams knocking on Yankees' door
Next wave of prospects coming to Bronx could arrive on mound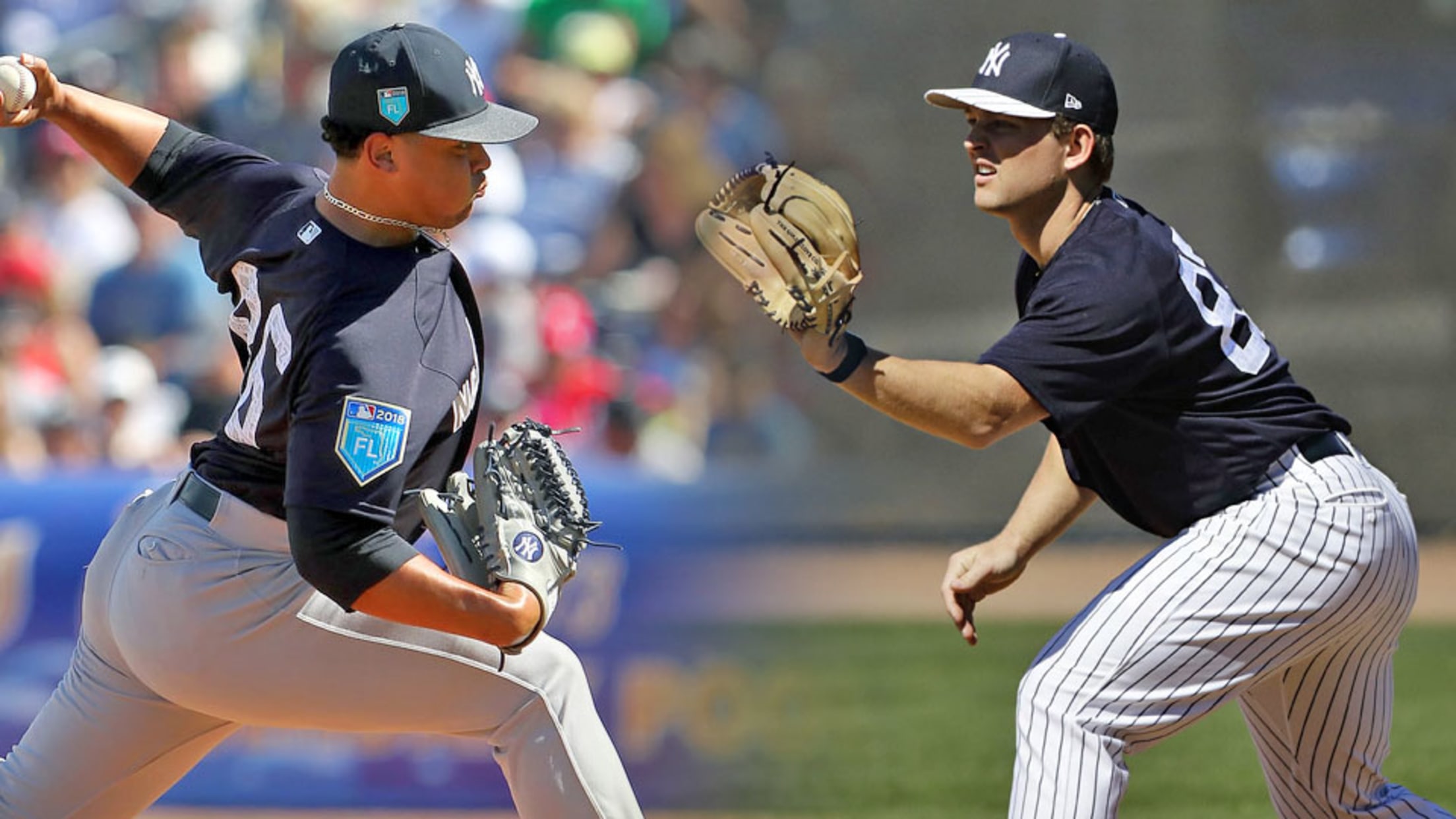 Justus Sheffield and Chance Adams are baseball's No. 48 and No. 75 overall prospects, respectively. (Cliff Welch/MiLB.com and Matt Rourke/AP)
TAMPA, Florida -- There's been no shortage of story lines at Yankees camp this year, and they almost exclusively involve position players -- Giancarlo Stanton's first spring in pinstripes, the moving parts of a packed outfield, attempts by Miguel Andújar and Gleyber Torres to invade the New York infield. But
TAMPA, Florida -- There's been no shortage of story lines at Yankees camp this year, and they almost exclusively involve position players -- Giancarlo Stanton's first spring in pinstripes, the moving parts of a packed outfield, attempts by Miguel Andújar and Gleyber Torres to invade the New York infield. But don't miss this headline: The Yankees have a lot of quality, upper-level arms.
The team's previous wave of prospects might have been bat-heavy, but New York is hoping the next will feature some impressive hurlers -- led by No. 48 overall prospectJustus Sheffield and No. 75 Chance Adams, both of whom should be knocking on the door in 2018.
"Eventually, we're going to need a starter in the big leagues," said Yankees director of player development Kevin Reese. "Who's going to get that call? I do think everywhere you go there are different things that motivate people. There will be times when one guy will go out and you're pulling for him, and he shoves, so you're looking to one-up him the next time out. I do think those things motivate these players. Fortunately, we're at a time when we have a lot of pitchers all over that are going to put up those numbers and drive everybody else to get the most out of themselves."
From an experience standpoint, Adams might be the most ready of the bunch. The 23-year-old right-hander made 21 Triple-A starts in 2017 and finished in the top five in the International League with both a 2.89 ERA and 1.08 WHIP over 115 1/3 innings. Since being taken in the fifth round of the 2015 Draft, Adams hasn't posted a season ERA higher than 2.45, but a knock against him is that he's done so without flashy stuff. His fastball usually sits in the lower 90s, and his slider is the only other offering that's considered plus. Without the depth across his offerings, his strikeout rate fell to 22.3 percent at Triple-A, the lowest mark of his career.
While the organization puts a value on his impressive stat line, they're still looking for a clear sign that he could carry it to the Majors.
"There have been times when he has one or two of his pitches but not the third one," Reese said. "Changeup development is something we've tried to focus on, get him to work on more. At times, talking about being consistent can get old. But he had games that were good, some not so good, and when you look at guys at the Major League level, one thing they do is bring it every time they're out there. Keeping that consistent mind-set and routine is something we're always pushing with him."
From a stuff standpoint, Sheffield has the goods to make a big push to the Bronx. The 21-year-old southpaw pitched 93 1/3 innings for Trenton a season ago and could have finished with Scranton/Wilkes-Barre, had a strained oblique not kept him out for two months from July to September. The Yanks sent him to the Arizona Fall League to make up for lost time, and he took off. Sheffield's velocity started showing up in the upper-90s at times, and his slider and changeup gave him the three above-average offerings that serve as the foundation for quality Major League starters.
It was just a five-start stint last autumn, but the Yankees would love to see Sheffield bring the AFL version of himself back to the Minors, whether that's Trenton or Scranton/Wilkes-Barre to begin 2018.
"I think he was just going out there and having fun," Reese said. "That slightly different competitive environment in the Fall League is good for people, because the wins and losses aren't quite as important, there are more days off, fewer bus trips and stuff that can get tough on a guy. They just go there and let it fly. It was a good lesson for him because if he goes out there and trusts his stuff, he's going to have a really nice season."
The Yankees invited both hurlers to Major League camp this spring with every intention of sending them back to the Minors for Opening Day. (Andujar and Torres, this is not.) In fact, Sheffield was reassigned to Minor League camp after giving up three earned runs on three hits in 1 1/3 innings out of the bullpen Thursday.
Part of that has to do with their roster situation. With CC Sabathia re-signing and Masahiro Tanaka choosing to not opt out of his contract this offseason, there is little drama when it comes to who will fill spots in the Yankees rotation this spring. But that plan also has to do with how far both Sheffield and Adams have to go before they're Major League ready, as they've shown this spring. Adams has allowed just one earned run in three innings but has yet to strike out a batter in Grapefruit League play. Sheffield finished his Grapefruit League stint with an 11.81 ERA over three appearances.
The Yankees know that both hurlers have high ceilings and hope they could meet them in 2018. But there is still work to be done before that talk can begin in earnest.
"Both [Sheffield] and Chance, their fastball command is going to be what either separates them as star-type players or keeps them as the back-end-of-a-rotation type," Reese said. "They both have tremendous stuff. They both have the stuff to shut down a Major League lineup, maybe even right now. Maintaining that consistency, avoiding deeper counts -- whether it's walks or deep counts that get the pitch counts up -- and trying to allow them to go five, six innings as opposed to four, five innings. Sheff's stuff is really good, in particular. He just has to keep doing it."

More from Yankees camp
Schmidt gets going:
Yankees first-rounder
Clarke Schmidt
threw his first bullpen session a few days ago since undergoing pre-Draft Tommy John surgery last April. The right-hander threw about 25 pitches (all fastballs), according to Reese, and the organization is targeting a mid-season return to game action for him. "He says he feels good, but we're going to take our time with him," Reese said.
Florial blossoms:
Estevan Florial
became one of the toolsiest prospects in pinstripes after hitting .298/.372/.479 with 13 homers and 23 steals in his age-19 season between Class A and Class A Advanced. But MLB.com's No. 44 prospect has been knocked for his strikeout-heavy profile as evidenced by his 148 whiffs over 110 games in 2017. Cutting that number down will be a focus in 2018, Reese said, but the organization doesn't want to change the outfielder too much.
"There are guys that have a crazy chase issue, and that's not him," said the Yanks exec. "He can get deep into a count, and I think there were times where he could have been more aggressive on hittable pitches earlier in counts. That could artificially cut down on strikeouts. But there were also times when he got later into a count and should have shortened up or made an adjustment to put the ball in play more. It's a delicate balance. We love his ability to impact the ball and his power potential, so we'll have to continue to monitor that process."
Tate on track:
There was a time when
Dillon Tate
looked like he'd be a Draft bust. Taken fourth overall by the Rangers in 2015, the UC Santa Barbara product saw his stock fall so low he became one of three prospects traded to the Yankees for half a season of aging outfielder Carlos Beltran just 13 months after he entered pro ball. However, he seems back on track after his first full season with the Yanks, posting a 2.81 ERA and 1.14 WHIP over 83 1/3 innings at Class A Advanced and Double-A. (He was limited by shoulder issues.) Because of the improvements, he's climbed to the No. 11 spot in MLB.com's Yankees prospect ranks. While Reese wasn't ready to commit Tate to a future role as a full-time starter, he mentioned how pleased the club was with the right-hander's development going into 2018.
"I think it was well-documented that he was drafted as a certain type of player, and Texas tried to change some things with his delivery," he said. "What we saw from a scouting perspective was some of his athleticism had been taken away. When we brought him in, we said, 'Be you.' All of a sudden, the stuff ticked up again. It took him some time to get comfortable with that again, but the stuff is starting to look like the stuff that got him drafted. His changeup's really good. He's got a lot of arm strength. His fastball-change plays really well, and we've had reports with a good slider. I think that's less consistent than the changeup, but if we can get it where it can be, the sky's the limit with him."
Sam Dykstra is a reporter for MiLB.com. Follow and interact with him on Twitter, @SamDykstraMiLB.