Rote also made his mark on the diamond
NFL legend dominated in brief stint with Corpus Christi Aces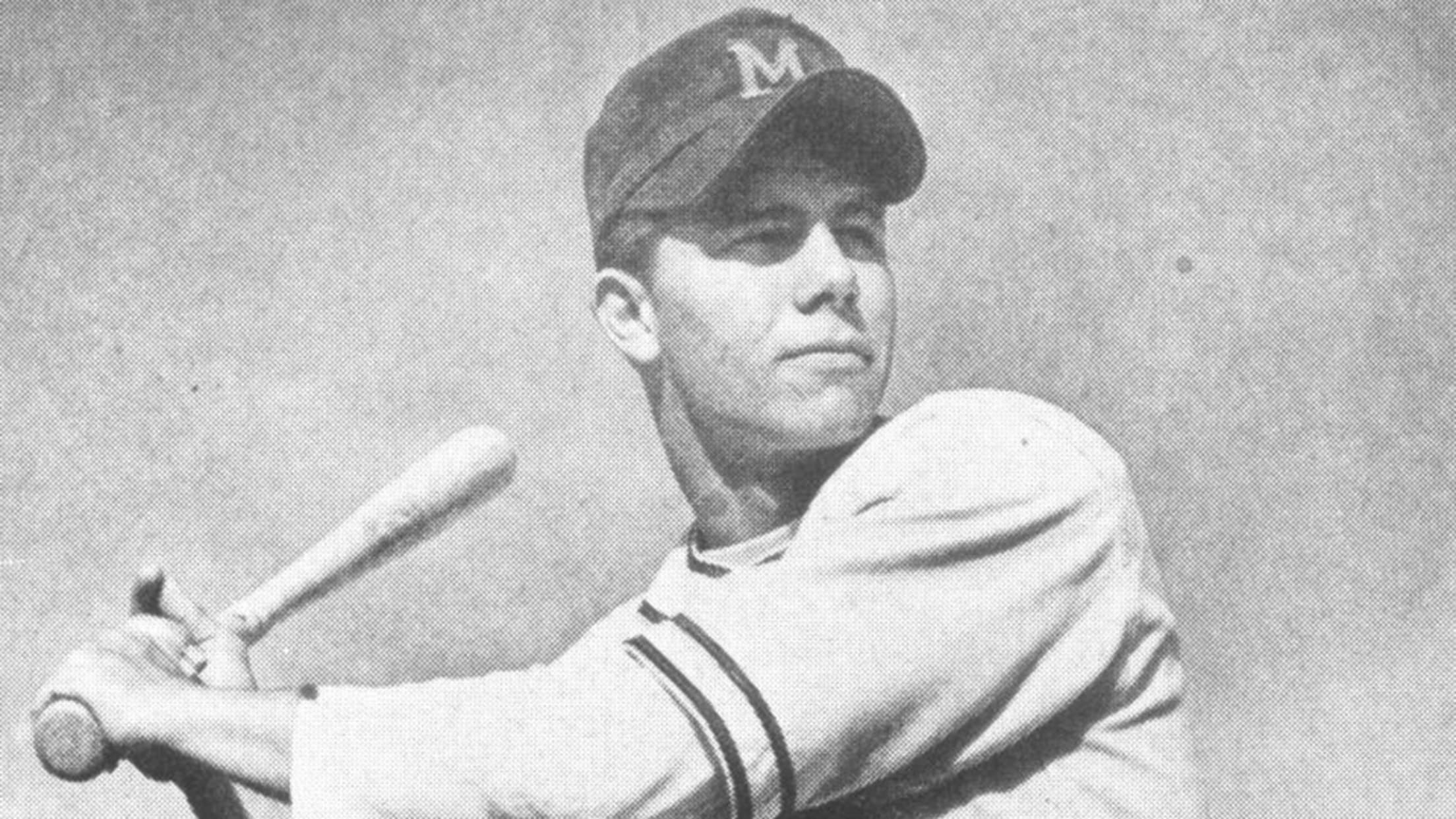 Kyle Rote still ranks 14th on SMU's career list with 2,049 rushing yards. (Southern Methodist University)
Minor League Baseball is known for its rich history dating back more than 100 years. While much has been written about the best teams and top players who have graced the Minors, there remain many stories either untold or largely forgotten. Each week, MiLB.com will attempt to fill that gap
Minor League Baseball is known for its rich history dating back more than 100 years. While much has been written about the best teams and top players who have graced the Minors, there remain many stories either untold or largely forgotten. Each week, MiLB.com will attempt to fill that gap and explore these historical oddities in our new feature, "Cracked Bats." Know of any stories to be considered for this feature in the future? Send an email and let us know.
Kyle Rote made a name for himself as a New York Giant in the 1950s, but his teammates weren't Willie Mays and Sal Maglie.
Rote didn't play in the Polo Grounds, either. Instead, he earned his celebrity status across the Harlem River at Yankee Stadium, playing with the likes of Frank Gifford and Sam Huff. He carved out his place in sporting history among the NFL's elite during a time that is largely considered to be one of baseball's golden ages.
He was one of the building blocks of the NFL, helping turn the league into the powerhouse it has become. Few people know, though, that Rote actually was an accomplished baseball player, having made a big splash in the Class B Gulf Coast League upon graduating from Southern Methodist University in 1951.
The former All-American and future member of the Texas Sports Hall of Fame was already a legend in the Lone Star State following a spectacular high school career in Austin and an even more impressive run at SMU. So when Corpus Christi owner George Schepps offered Rote, who ran track and played baseball in college, a contract in the spring of '51, many thought he was only capitalizing on the popularity of one of Texas' favorite sons.
The Gulf Coast League, which was in its first year of existence, lasted only three seasons. But Rote quickly proved he was more than just a publicity stunt, becoming one of the league's most popular players. He spent seven weeks there, tearing up the circuit while leading many to believe he had missed his true calling.
There is some dispute, however, as to how many games he actually played for the Corpus Christi Aces. The Minor League Baseball Encyclopedia credits him with having appeared in 22 games, while Noe Torres -- author of "Ghost Leagues: A History of Minor League Baseball in South Texas" -- has him appearing in 16. The one thing the two sources agree on is that he had 23 hits, seven of which were homers. The encyclopedia doesn't list what he batted, though Torres has Rote going 23-for-64 (.360). KyleRote.org, the website run by Rote's family, says he hit .347. Torres credits him with 17 RBIs, while the Encyclopedia gives him 13.
"Sure, the pitchers have better control and are faster [than amateur ball], but batting against them is easier," Rote, an outfielder, told The Valley Morning Star at the season's outset. "At least they know where the plate is."
Details about much of Rote's time in the GCL are sketchy, but there are a few facts that aren't in dispute. Like the three-homer, six-RBI game he had against Galveston on April 26. Then there was the May 22 game against Harlingen in which he had a homer, triple and two singles before leaving in the sixth inning after getting hit by a pitch.
The next day, he announced he was leaving the Aces to get ready for football. Whether getting hit by the pitch expedited his departure -- NFL training camp didn't start until July -- isn't clear. But it was obvious that he left a mark in the GCL, where Corpus Christi was atop the standings with a 24-18 record.
Torres quoted Schepps in his book about Rote's departure.
"It is with regret that we have to lose Kyle Rote. It is my opinion that he has a bright future as a prospect in baseball," Schepps said.
Torres, a Texas baseball historian, concurred.
"If Rote had focused all his attention and abilities on baseball, he would surely have been one of the 'giants' of the diamond rather than the gridiron," Torres said. "I assert this based on the documented evidence that Rote was a successful ballplayer at every level in which he played. He was considered a top baseball prospect coming out of high school.
"The fact that he played Class B baseball in 1951 was not an indication of weak baseball skills as much as it was a reflection of how fearful the New York Giants were of allowing their top rookie to play another sport prior to NFL camp. They grudgingly permitted it, but apparently kept hounding him to give it up for fear of injury. As it turned out, Rote played very well in the Gulf Coast League and did so against some excellent ballplayers."
Rote starred for the Giants over the next decade, retiring after the 1961 season. He became the original founder of the NFL Players Association, was the Giants' captain for 10 years and was named as the receiver when New York honored its all-time team in 1995. He died in 2002 at the age of 73.
His name remains legendary in NFL circles, though, and in the minds of many baseball fans in a little corner of Texas.
Kevin Czerwinski is a reporter for MiLB.com.