Chiefs' Gorman gears up with two dingers
Cardinals No. 3 prospect records second multi-homer game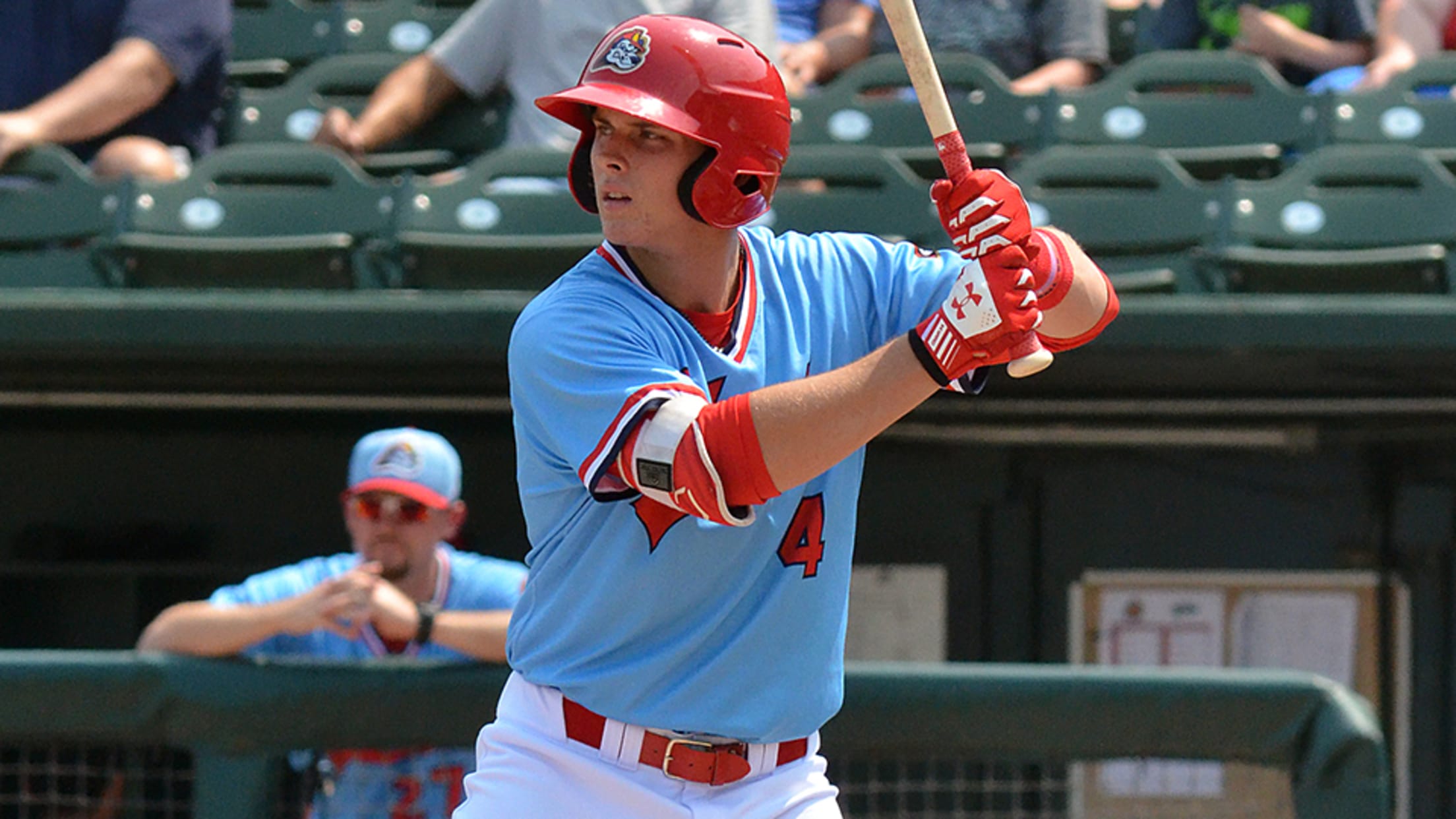 Nolan Gorman is tied for fourth in the Minor Leagues with 15 homers since his June 19 pro debut. (Paul R. Gierhart/MiLB.com)
Nolan Gorman belted a lot of long balls last summer on the high-school derby circuit, taking home hardware from the Under Armour All-American Game and the All-Star Game High School Home Run Derby. With high expectations for this year's 19th overall Draft pick, Gorman's raw power is living up to
Nolan Gorman belted a lot of long balls last summer on the high-school derby circuit, taking home hardware from the Under Armour All-American Game and the All-Star Game High School Home Run Derby. With high expectations for this year's 19th overall Draft pick, Gorman's raw power is living up to the hype.
St. Louis' No. 3 prospect recorded the second multi-homer game of his young career and his first in the Midwest League, blasting a pair while driving in three runs as Class A Peoria fell to Quad Cities, 6-5, at Modern Woodmen Park. Gorman has 15 home runs in his 2018 campaign, tied for the fourth-most in the Minor Leagues since his pro debut June 19.
The Phoenix native knocked 11 dingers in 38 games with Rookie-level Johnson City, driving in 28 runs while compiling a slash line of .350/.443/.664. He needed just nine games to put together his first multi-homer performance in a 12-6 victory over Kingsport on June 30.
Gorman said he hasn't felt any pressure in being St. Louis' 2018 first-round selection. Any nerves he may have been feeling were shed completely following his promotion to the Midwest League on Aug. 8.
Gameday box score
"None of that bothers me, and it shouldn't," he said. "Them taking me there shows they think that highly of you. They see you have the talent, so you've just got to go out and to play as hard as you can and give 100 percent effort every day.
"But getting called up, that was a good confidence boost, knowing they believe in me and my performance with the Rookie team to come up and try to help this team win."
With two hits in his previous five games, Gorman looked for a boost in his first at-bat Monday. Though he didn't take the bat off his shoulders during a four-pitch walk off Bryan Abreu, the No. 100 overall prospect said being able to see the pitches and take a base helped him in his approach his next two times up.
When he stepped up to the dish in the the third, Gorman teed off on the Quad Cities starter. On the second pitch, he barreled a fastball down the middle for a two-run shot over the wall in right-center field.
In the sixth, after River Bandits took a 5-2 lead, the 18-year-old expected to see an early curveball from Abreu for the first time in the game. The pitch slid high and inside. Gorman waited patiently, and on the fourth pitch, he grooved an elevated fastball for a leadoff blast, sparking a three-run charge in the frame for the Chiefs.
The third baseman struck out in the seventh to cap his night.
During his senior season at Sandra Day O'Connor High School, Gorman recorded a .421 average while belting 10 homers, but he walked 46 times in 32 games. Opposing pitchers apparently were aware of his home run derby success.
As a professional baseball player, the ability to establish a pregame rhythm and take live swings nearly every day has helped Gorman make the transition, he said. The player with arguably the most raw power -- high school or college -- in the 2018 Draft class has almost quickly adaped his game to the Minors,.
"Just being able to get into that routine every day and get in the same swing I'm going to use on pitches I can drive, it's really helped," he said. "It's been big, from when I take swings off the tee to batting in the cages, I have to swing the same every time in every at-bat. That consistency is starting to come together."
Quad Cities' Chandler Taylor blasted a three-run homer in the fifth and Scott Schreiber's solo shot in the sixth gave the River Bandits the lead for good.
Nathan Brown is a contributor to MiLB.com. Follow him on Twitter @NathanBrownNYC.