Not forgotten: Teams salute middle children
Bandits raise money for Autism Awareness, Trolley Frogs take SWB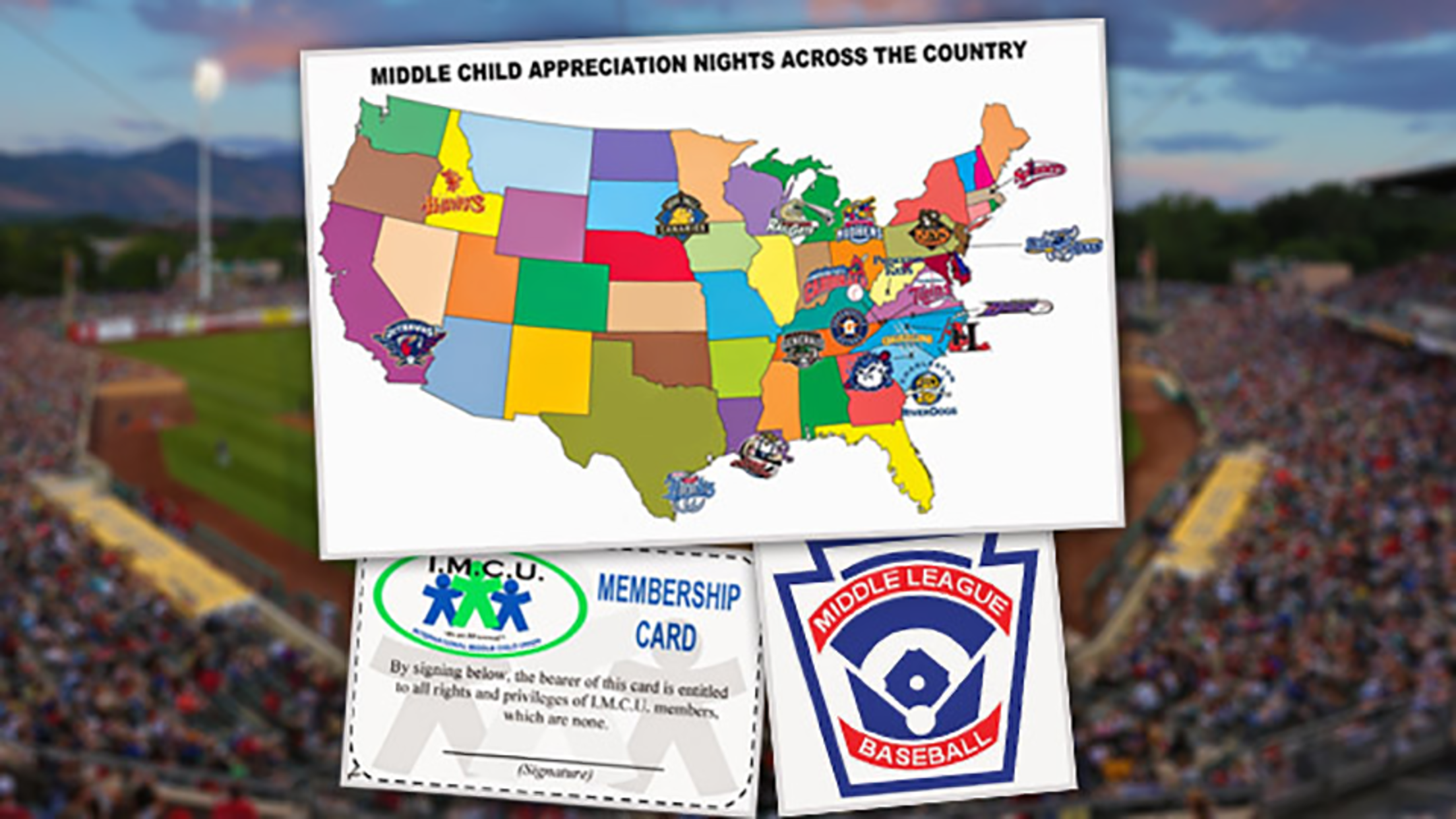 Teams staging "Middle Child Night": Boise, Corpus Christi, Greeneville, Johnson City, Lancaster, Wilmington and Winston-Salem.
Minor League teams are known for the creativity of their gameday promotions. On Tuesdays this season, we preview the most intriguing for the week ahead. If you'd like a particular promotion to be considered for this feature in the future, please send it to [email protected] with the subject line: "Promo Preview" or send
Minor League teams are known for the creativity of their gameday promotions. On Tuesdays this season, we preview the most intriguing for the week ahead. If you'd like a particular promotion to be considered for this feature in the future, please send it to [email protected] with the subject line: "Promo Preview" or send a Tweet to @bensbiz, hashtag "#promopreview."
From "Talk Like a Pirate Day" to "National Tell a Joke Day," there are no shortage of obscure holidays on the 2014 calendar. But none is easier to ignore than that which will be observed on Aug. 12.
It's "Middle Child's Day."
This season, however, one man is on a quixotic crusade to give middle children the respect that they quite possibly deserve. Author Bruce Hopman, founder of the middle child advocacy blog "Smack Dab" (as in, "in the middle"), has convinced teams across the country to make Aug. 12 "Middle Child Night" at the ballpark. On this special evening, the much neglected middle child will, however briefly, be able to escape the shadow of his or her headstrong elder sibling and doted-upon younger sibling.
<jsp:include page="/milb/include/promo_preview_13.html">
Teams staging "Middle Child Night" on Tuesday, Aug. 12, include the Boise Hawks, Corpus Christi Hooks, Greeneville Astros, Johnson City Cardinals, Lancaster JetHawks, Wilmington Blue Rocks and Winston-Salem Dash (the Midland RockHounds are abstaining, sadly). Other teams with the promotion scheduled this week include the Princeton Rays and Lowell Spinners; the Charleston RiverDogs, Frederick Keys and Hickory Crawdads have already staged it.
"It started as a joke," said Hopman, who, of course, is a middle child. "I Googled 'Minor League promotions' and a whole bunch of goofy things came up. I thought, 'Well, if they're giving away caskets and liposuction and making people use portable toilets, then maybe this doesn't seem so crazy.
"My original idea was to do some dark, twisted promo," he continued. "Like, you have to leave your middle child in the car during the ballgame, or the team gives free gifts to the middle child's brothers and sisters, you know -- stuff that played into the middle child always being ignored."
Not surprisingly, the teams that Hopman contacted were amenable to a more family-friendly approach. Hopman obliged, putting together an extensive list of game ideas, giveaways and audio and video links that teams can draw upon throughout the evening. While specifics will vary from team to team, Hopman is particularly excited about a pair of song parodies that he has written for the occasion: "The Mid Kid Anthem" (to the tune of "Don't You Forget About Me") and a version of "Take Me Out to the Ballgame" with lyrics such as "I don't need peanuts or Cracker Jack, I'd be happy with a pat on the back."
Other initiatives include customized team-logo "Middle Child Union" membership cards, a "Guess the Middle Child" videoboard challenge (Groucho Marx and Simon the Chipmunk were both middle children, for example), a meet and greet with middle children on the team roster, middle names used during player introductions and a middle child pre- or postgame parade around the bases.
Clearly, Hopman is a middle child on a mission.
"It is my obligation to make sure that people are aware of 'Middle Child Day,'" he said. "No one knows it exists, and it's just not fair. It's like they gave us a holiday just so they could ignore it!"

Best of the Rest
Quad Cities River Bandits (Midwest League)
Autism Awareness Photo Jersey, Aug. 8
In 2012, the River Bandits made history by becoming the first U.S. pro sports team to hold a photo jersey auction. Friday marks the third iteration of the promo, in which players take the field in "Autism Awareness" jerseys. Each jersey number is composed of more than 100 small photo squares -- each of which were available for purchase at a cost of $25 each -- and the money raised by the photo purchases and the resulting
jersey auction
benefit Quad Cities Autism Center, Inc. In 2013, this promotion raised more than $12,000 and earned the River Bandits a coveted "Golden Bobblehead" award at the annual Minor League Baseball Promotional Seminar. Can they possibly raise the bar in 2014?
Reading Fightin Phils (Eastern League)
Human Cannonball Appearance, Aug. 8
A good Minor League promotion must be memorable, and few things in life are more memorable than seeing a man get shot out of a cannon. That's what will be taking place after Friday's Reading Fightin Phils game, as David "The Bullet" Smith will take a 150-foot aerial journey from centerfield to a tarp set up above home plate. While impressive, this is still 51 feet short of the human cannonball world record, which was set in 2001 by one David Smith, Sr. Like father, like son.
Scranton/Wilkes-Barre RailRiders (International League)
Trolley Frogs "What If" Night, Aug. 8
The Scranton/Wilkes-Barre Yankees changed their name prior to the 2013 campaign, with RailRiders triumphing over Blast, Black Diamond Bears, Fireflies, Porcupines and Trolley Frogs in a "Name the Team" contest. But what if this contest had gone in another direction? What if the team had instead been renamed the Trolley Frogs? The RailRiders are answering this not-so-pressing question Friday, as the team is suiting up as the Trolley Frogs (following standard protocol, these jerseys will be auctioned off after the game). Surprisingly, this promotion is not sponsored by local FM station Froggy 101. I guess they were concerned that the jerseys would get poor reception.
Dunedin Blue Jays (Florida State League)
80s Night, Aug. 9

The D-Jays' exemplary run of theme nights continues with Saturday's "Tubular Saturday Night," a wide-ranging homage to the 80s. It'll be a night of "scrunchies, leg warmers and neon," says the team, and the first 250 fans receive a team-logo slap bracelet. Songs from the decade will be played throughout the evening, and the team is guaranteeing an appearance by a "flock of seagulls" (the birds, not the band). Finally, if the D-Jays win, then all fans receive a ticket to see the new Teenage Mutant Ninja Turtles movie. Much like this promotion, that film only exists due to the powerful allure of childhood nostalgia.
Toledo Mud Hens (International League)
Toledo Crawfords Throwback Night, Aug. 9
Durham Bulls (International League)
Negro League Night, Aug. 10
A distinct highlight of this weekend's promotional slate is a pair of Negro League tributes, both staged by International League teams. On Friday, the Toledo Mud Hens will wear throwback jerseys in honor of the 1939 Toledo Crawfords, the only Negro League team to play an entire season in the city of Toledo. The next evening, the Durham Bulls welcome 20 Negro League alumni to the ballpark for an on-field ceremony and autograph session. These guys have stories to tell, and it's always worth your time to listen.

Quick hits
Because I don't even know why, here is a list of more notable promotions taking place this week.
Aug. 6: The Peoria Chiefs give away Pete Vonachen baseballs, in honor of the beloved team owner who passed away last year.
Aug. 7: X Games icon Travis Prastrana is honored with his own bobblehead by the Bowie Baysox. … The Lowell Spinners give away Dave Roberts "The Steal" bobbleheads, further mythologizing his career-defining moment. … Mariano Rivera visits the Trenton Thunder, the Yankees' Double-A affiliate. This will probably result in long lines.
Aug. 8: Bill Ripken bobbleheads shall be given away by the Aberdeen IronBirds. They are guaranteed to be obscenity-free. … The San Jose Giants honor the 50th state in the Union via their annual "A Giant Luau." … In Nashville, the Sounds give away throwback bobbleheads depicting a player wearing 1978-style apparel.
Aug. 9: The Akron RubberDucks show their love for Cleveland Browns quarterback Bernie Kosar with, yes, a Bernie Kosar bobblehead giveaway.… That's not the only quarterback bobblehead of the day -- the Asheville Tourists honor Minor League outfielder-turned-Super Bowl winner Russell Wilson. … Boxer Ray "Boom Boom" Mancini visits the Mahoning Valley Scrappers. Yes, "Boom Boom" bobbleheads will be given away.
Aug. 10: I've got nothing. Feel free to email me to let me know what I missed.
Aug. 11: See above.
Aug. 12: It's not a promotion, per se, but due to construction at Hammond Stadium, the Fort Myers Miracle will begin playing their games at the Red Sox's Spring Training home of JetBlue Park. … Fans of alliterative bobbleheads are rejoicing at the Kane County Cougars' Albert Almora giveaway. … The Mississippi Braves' "Ole Miss Night" features special guest James Meredith, the university's first black student and a Civil Rights pioneer.