A's Puk undergoes Tommy John surgery
Oakland's No. 1 prospect expected to miss 12 to 18 months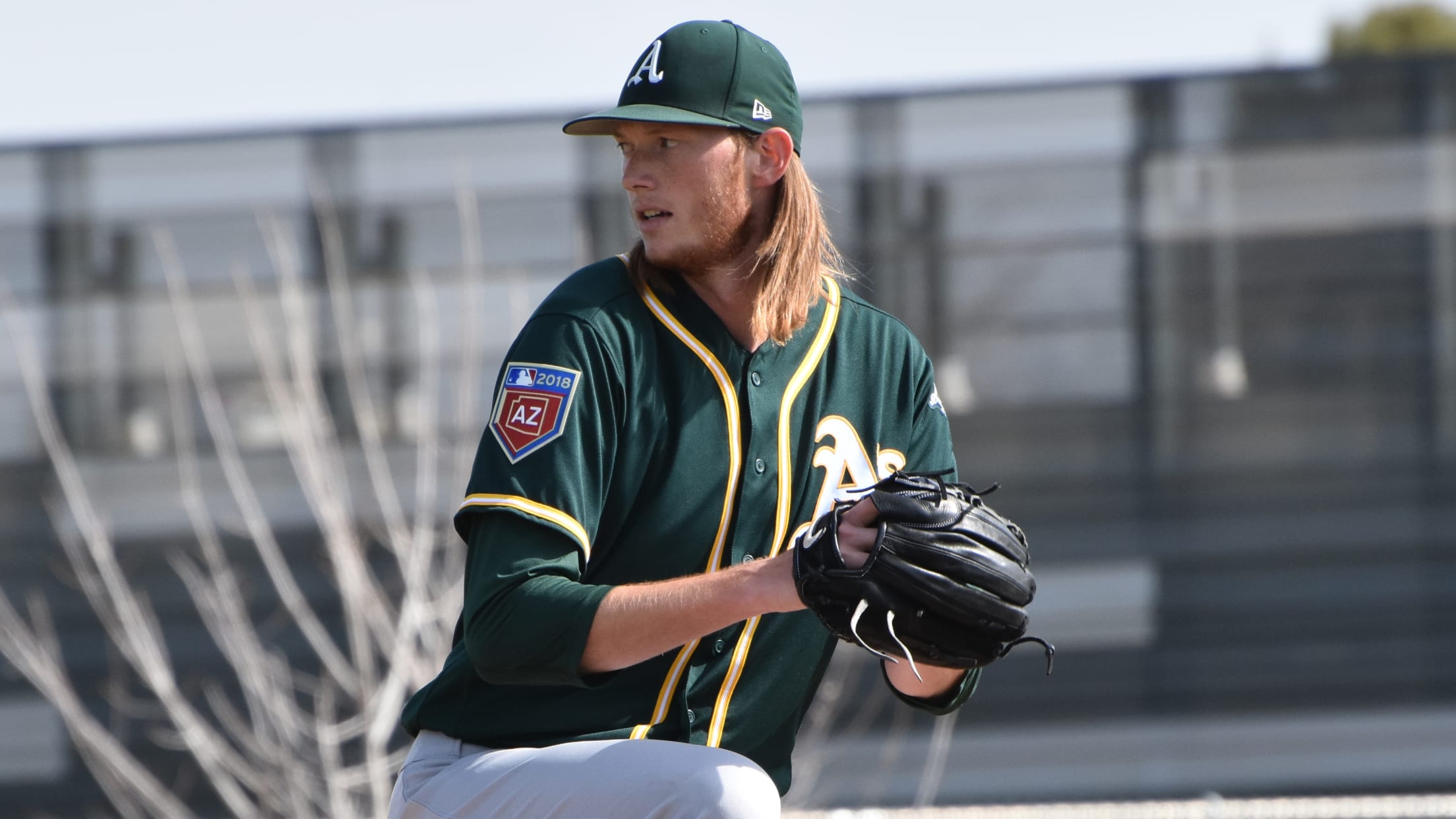 A.J. Puk is 6-14 with a 3.82 ERA and a 1.21 WHIP in 157 2/3 innings over two professional seasons. (Jerry Kime/MiLB.com)
What had the potential to be a promising year for A.J. Puk is over before it even started. The top-ranked A's prospect  will miss the 2018 campaign after undergoing Tommy John surgery to repair the ulnar collateral ligament in his left elbow, the team said Wednesday. Orthopedic surgeon Dr. Neal ElAttrache performed
What had the potential to be a promising year for A.J. Puk is over before it even started.
The top-ranked A's prospect will miss the 2018 campaign after undergoing Tommy John surgery to repair the ulnar collateral ligament in his left elbow, the team said Wednesday. Orthopedic surgeon Dr. Neal ElAttrache performed the surgery in Los Angeles.
"If you can do one thing as an organization -- keeping people healthy -- then it's like a gold mine," A's Minor League pitching coordinator Gil Patterson said. "That's everyone's goal and sometimes it feels like we're spinning our wheels and going backward. People that throw hard have a tendency to have injuries. And, of course, A.J. at 94 to 99 [mph], he's right there."
MLB.com's No. 32 overall prospect experienced left biceps soreness after a Cactus League start March 18 and Dr. James Andrews recommended elbow surgery. With Patterson and Oakland already accustomed to the American Sports Medicine Institute run by Andrews, the original prognosis was not much of a surprise.
"Would it have been better for him to pitch two or three years and then have it? I'm OK with it now," Patterson said. "The perfect thing is that no one would need it, including A.J., pitch their 10 or 12 or 15 years or however long it would be and then be done. It's needed but plenty of people have come back from it, and we're certainly all praying and hoping that it all happens with A.J."
Puk is the second Oakland pitcher to undergo Tommy John surgery in the past two months as right-hander Jharel Cotton had the procedure done in March. Patterson, who underwent Tommy John surgery during his playing career, said Puk will be able to lean on a contingent of supporters within the organization during the rehab process.
"I do have something to offer in that realm, even though it was so many years ago," Patterson said. "Even listening to other players go through stuff. I think that's a plus, you talk about determination and discipline and desire and work ethic and seeing the light at the end of the tunnel. ... We have two guys now, the guy we got from the Yankees -- [Oakland's No. 9 prospect] James Kaprielian is here -- and Daulton Jefferies is here. So he has resources."
The 2016 first-round pick is expected to miss 12 to 18 months, he could make his return to game action midway through 2019. Patterson said the A's have not put an exact timeline on Puk's return, noting the staff will closely monitor the left-hander's progress through his rehab.
"Going forward, it's up to the medical people for the most part," Patterson said. "I have not heard [from the staff], but I did hear from [Puk]. He texted me back that the surgery and everything went very well. All of that stuff is very good, but going forward, it comes down to how quickly he recovers. Everybody has different genetics. But I would certainly think with his size and strength, it's going to be a good recovery."
Puk enjoyed a breakout campaign last year, finishing 6-10 with a 4.03 ERA and a 1.25 WHIP between Class A Advanced Stockton and Double-A Midland. The University of Florida product also finished third in all of the Minors with 184 strikeouts in 125 innings. Patterson was impressed by Puk's composure and consistency at both levels.
"With what he's been able to do from the physical and mental growth, I think that growth by him has made him a pitcher rather than someone who throws hard and someone who blows smoke out of his nose -- he pitches," Patterson said. "He made a great delivery adjustment from Florida to us and he grasped it quickly. A.J. has really grown leaps and bounds on the mental side. This is a bump in the road, but you're not the first and you're not going to be the last. As big is he is, he is a beast. You talk about a beast when this guy pitches, this guy is a beast."
In four appearances (three starts) in big league camp this season, Puk posted a 3.38 ERA with a 1.22 WHIP and seven strikeouts in 10 2/3 innings. The 22-year-old was expected to begin the regular season with Triple-A Nashville.
Having watched Puk develop and "grasp the art of being a power pitcher," Patterson believes Puk will come back with the same swing-and-miss stuff he showcased in 2017.
"I wouldn't expect anything different than the way he finished up last year," the coordinator said. "He made some very good pitches this spring. I don't know he felt each time. He talked to me a couple of times about how he was feeling, but overall, it was a very productive spring. The only thing you could say is that he maybe walked a hitter or two more than I might have expected.
"But overall, he threw the ball very well and impressed the Major League staff. Those are all good things for him."
Andrew Battifarano is a contributor to MiLB.com. Follow him on Twitter, @AndrewAtBatt.