Snappers' Beck plates four in three-hit game
A's sixth-ranked prospect fuels 10-1 win over Timber Rattlers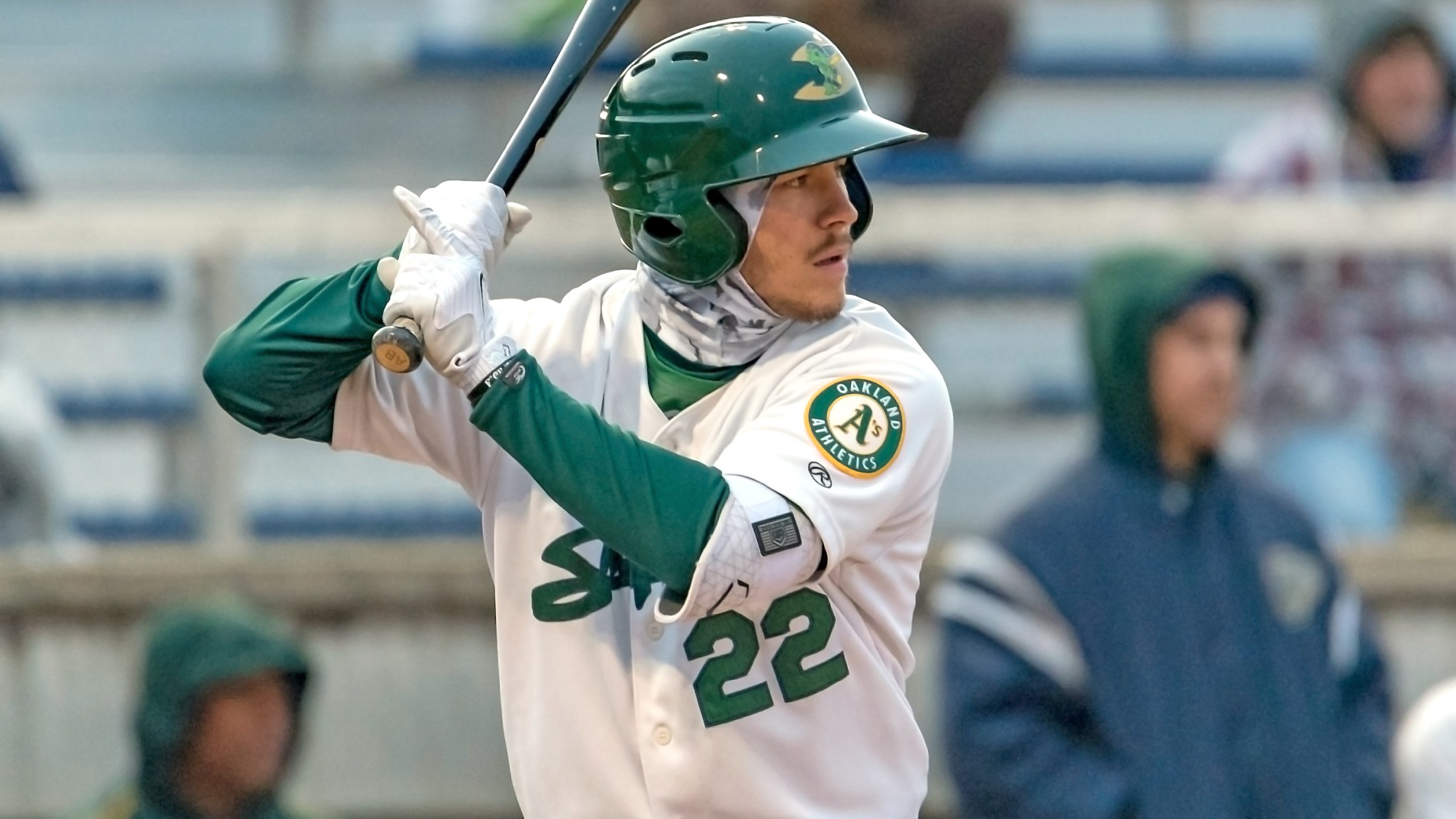 Austin Beck batted .211 through 41 games in the Rookie-level Arizona League last summer. (Justin Nuoffer/MiLB.com)
While the A's built a strong contingent of prospects through trades and international signings, 2017 first-round pick Austin Beck has earned his place under the microscope.In his second game with Class A Beloit, Oakland's sixth-ranked prospect singled three times and drove in a career-high four runs to lead the Snappers
While the A's built a strong contingent of prospects through trades and international signings, 2017 first-round pick Austin Beck has earned his place under the microscope.
In his second game with Class A Beloit, Oakland's sixth-ranked prospect singled three times and drove in a career-high four runs to lead the Snappers to a 10-1 rout of Wisconsin at Fox Cities Stadium. Beck bounced back from an 0-for-5 performance in his Midwest League debut.
"Everything was clicking today," he said. "Yesterday, I was swinging through the baseball and barely missing it, but it was just one day."
Gameday box score
The Lexington, North Carolina, native struck out on three pitches in his first at-bat but followed Nick Allen's two-out bunt single in the second with a liner to center for his first full-season hit. He went after the first pitch with the bases loaded against right-handed starter Alec Bettinger in the fifth and moved everyone up a base with an infield single knocked down by shortstop Trever Morrison.
Beck got a chance to break the game open in the fifth with two outs, a pair of runners in scoring position and a 4-1 lead against right-hander Robbie Hitt and knocked a single to right to score both runs.
"After I got those two hits, I felt really comfortable at the plate," Beck said. "Especially the way we were hitting, if I didn't get it, guys behind me would get the job done and would pick me up. I just tried to stay in my approach and hit a line drive back up the middle."
He reached on an error in the seventh and popped to second with the bases loaded in his final at-bat in the eighth to finish 3-for-6.
The 19-year-old outfielder signed for a club-record $5,303,000 bonus after being selected out of North Davidson High School with the sixth overall pick in last year's Draft. He spent his senior season and subsequent first year in the professional ranks recovering from a torn ACL that slowed some of his progress.
"It's good now," Beck said. "Last year, I had to take a lot of time to stretch it. In my first year, [the knee] definitely played a factor, but as long as you stretch it, it will be fine."
In 41 games in the Rookie-level Arizona League last summer, Beck learned a hard lesson about the differences between high school ball and the pros. He posted a .211/.293/.349 slash line with two homers, four triples, seven doubles and 28 RBIs.
"The biggest thing was plate discipline," he said. "The guys up in pro ball can really pitch, and you go to go up there with an open approach. That's really the main thing."
The Snappers fought through sub-freezing temperatures to total 15 hits, just one for extra bases. A's No. 26 prospect Wyatt Marks (1-0) yielded one earned run on four hits with three strikeouts over five innings before Bryce Conley pitched the final four frames. The right-hander allowed one baserunner on a walk and fanned four to earn the save.
"We hit the baseball really well today, our pitching staff pitched really well -- they didn't give up many hits," Beck said. "The lineup hit really well, we strung a lot of hits together, lot of RBIs."
Gerard Gilberto is a contributor to MiLB.com. Follow and interact with him on Twitter, @GerardGilberto4.