A's prospect Murray wins Heisman
No. 9 overall pick threw for 4,053 yards, 40 TDs at Oklahoma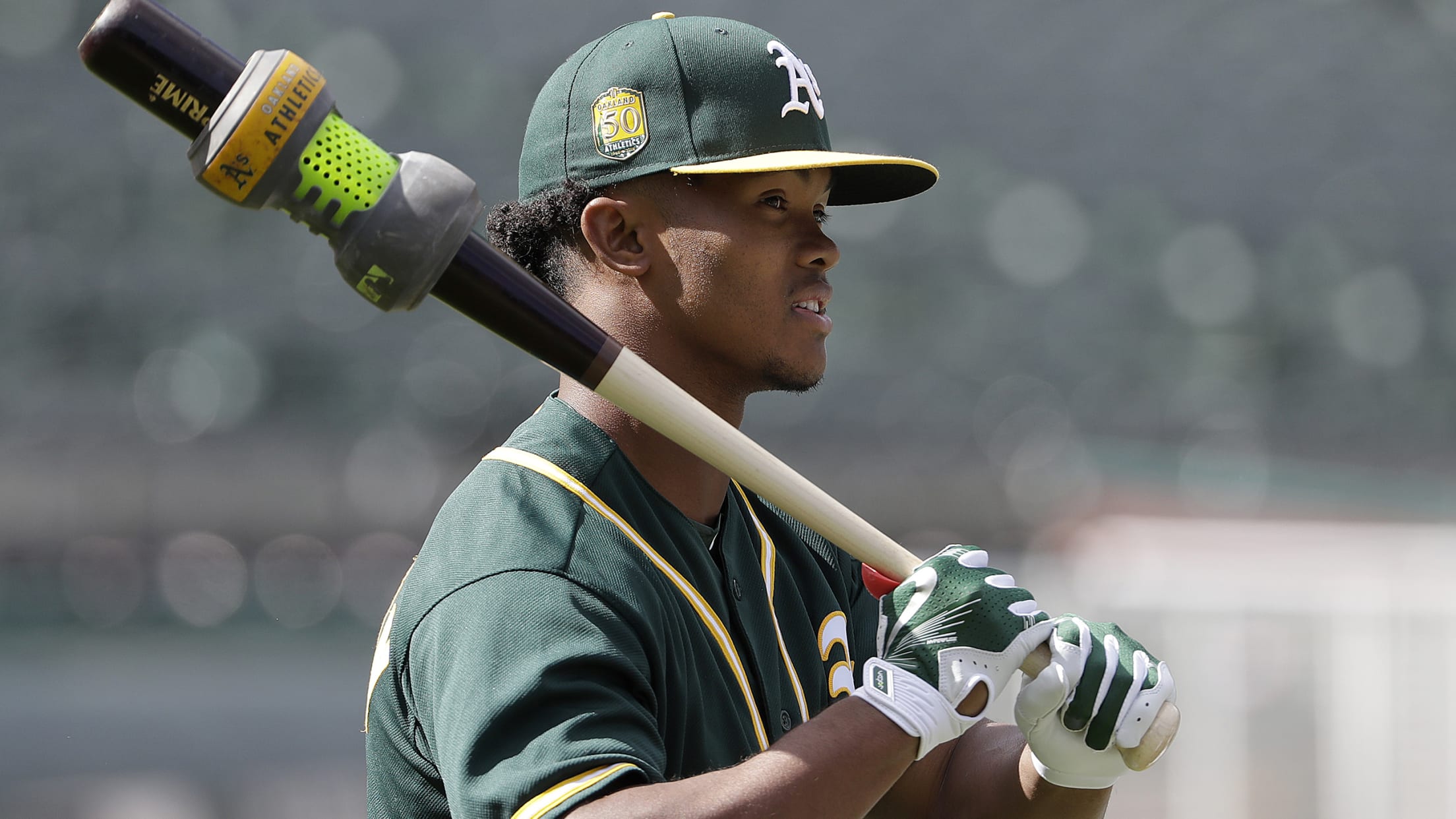 Kyler Murray ranked ninth in the Big 12 Conference with a .556 slugging percentage this year. (Jeff Chiu/AP)
It's been quite a year for Kyler Murray. Drafted ninth overall by the A's in June, Murray returned for his junior season with the University of Oklahoma football team. Playing quarterback, he led the Sooners to a 12-1 record, the Big 12 Conference championship and a berth in the College Football
It's been quite a year for Kyler Murray.
Drafted ninth overall by the A's in June, Murray returned for his junior season with the University of Oklahoma football team. Playing quarterback, he led the Sooners to a 12-1 record, the Big 12 Conference championship and a berth in the College Football Playoff against top-ranked Alabama.
Murray's 2018 campaign also will be remembered for individual accomplishments, regardless of the result against the Crimson Tide at the end of the month. He won the Heisman Trophy on Saturday, adding it to a list of honors that includes Associated Press Player of the Year and the Davey O'Brien Award.
Murray had a fantastic year, using an accurate arm to carve up opponents' defenses and his legs to compromise them. The 21-year-old threw for 4,053 yards and 40 touchdowns while rushing for 892 yards and 11 scores. That all followed a baseball season in which he produced a .296/.398/.556 slash line with 10 homers and 47 RBIs in 51 games.
The Allen, Texas, native made it back-to-back Heismans for the Sooners, with Baker Mayfield -- the eventual No. 1 overall pick in the NFL draft -- winning the award after the 2017 season.
Now, the 5-foot-10, 195-pound prospect is faced with a decision: football or baseball? Tim Tebow elected football out of college before changing course and attempting to reach the Majors. Tebow is likely to begin the 2019 season with Triple-A Syracuse in the Mets system. The plan for Murray since the Draft, which has been reiterated many times by agent Scott Boras, is that the gunslinger will end up playing in the Oakland system following the football season. The A's guaranteed Murray $5 million and the chance to return to Oklahoma this year, but the expectation is that he will begin playing baseball in 2019.
Earlier this week, Murray told Sports Illustrated, "I'd like to do both [football and baseball] if possible. But I don't know how possible that is."
Chris Bumbaca is a contributor to MiLB.com. Follow him on Twitter @BOOMbaca.