Outfield carom secures Best Blooper award
Fontana races to homer MiLBY; Nichting takes flight for Top Play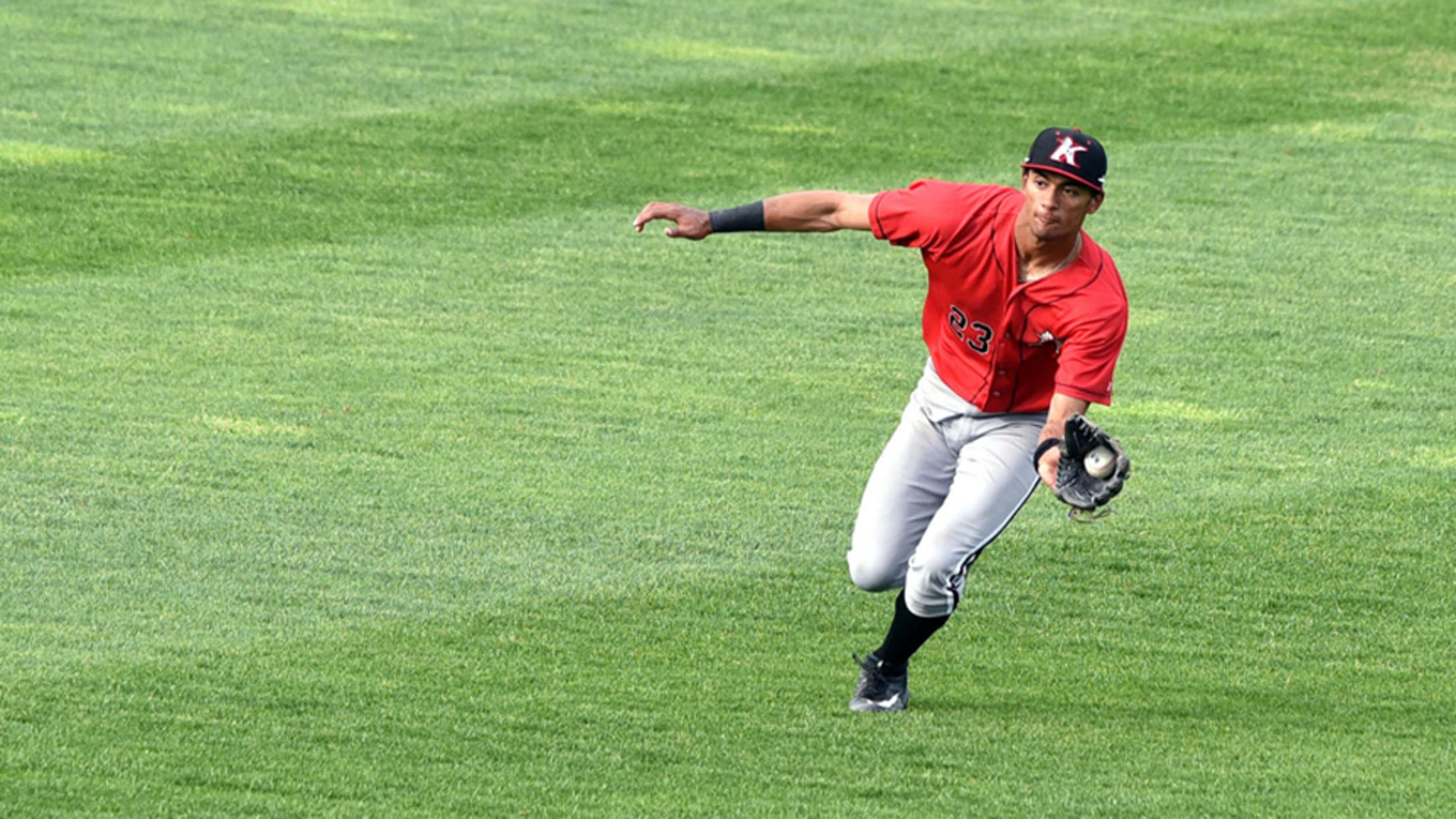 "I'll probably be made fun of for this for a while, but I'll take it," said White Sox prospect Joel Booker. (Ken Inness/MiLB.com)
With about 80 games taking place each night, opportunities abound in Minor League Baseball for a unique home run, incredible play or wacky moment. Given the daily grind, however, only certain highlights can live on in the memories of players and fans.MiLB.com scoured the archives to find the top plays,
With about 80 games taking place each night, opportunities abound in Minor League Baseball for a unique home run, incredible play or wacky moment. Given the daily grind, however, only certain highlights can live on in the memories of players and fans.
MiLB.com scoured the archives to find the top plays, home runs and bloopers from the 2017 season. Take a deeper look into the three videos voted by fans as the best of the best in the annual MiLBY awards.
Best Blooper: Jones gets some help
Jameson Fisher wants to clear the air.
On what was voted the Best Blooper of 2017, he never actually touched the ball.
"The camera angle is perfect to make it look like it hit me," the left fielder said.
So what did happen?
Alex Jones stepped to the plate in the bottom of the fifth inning for Class A Greensboro against Kannapolis ace Alec Hansen on May 28. With a hard-throwing righty on the hill, Fisher and center fielder Joel Booker were shifted in "oppo formation," creating a big gap in left-center field. On an 0-2 count, the Marlins prospect slapped a fly ball toward that hole, causing the outfielders to put their heads down and sprint.
"I hit it, was running hard and then looked up and I don't really know what happened," Jones said with a laugh. "Everyone's cheering and yelling and then I'm around second base like, uhhh."
Both Booker and Fisher thought it was hit too far for them at first, but as the ball floated through the Greensboro, North Carolina air, the White Sox prospects realized they had a good read.
"In the moment, I thought I was going to be able to catch it so late, I didn't even call it," said Fisher, who takes his share of the blame for the miscommunication. "Then right before I was going to catch it, I heard Booker call it. I tried to bail out of the way."
But it was too late.
"I reached up and grabbed it and I tried to avoid him by pulling the ball in toward my body," Booker recalled, "but when I pulled it in, I twisted my wrist up and it flung the ball out. It actually didn't hit Fisher at all. It just looked like it. He actually never touched the ball -- he never hit my glove. It was 100 percent my fault."
The center fielder watched the ball fly out of his glove and toward the wall in the slow motion. Knowing quickly what he might have done, Booker talked to the ball.
"Please don't go on top of this wall," he said.
But it did -- just two days after the 24th anniversary of a home run ball bouncing off Jose Canseco's head. The error-free play gave Jones his second career long ball as his family watched from the stands.
"It was cool to hit a home run for them, even a memorable one like that is still pretty cool," the 24-year-old said. "They were laughing as well. After watching me play ball for 18 years, they had never seen anything like that."
While the home crowd was celebrating, the duo was dreading its return to the dugout because they both knew the jokes were coming. In the next half, Booker walked and scored on Fisher's triple, but even with an 8-1 lead, the center fielder couldn't help but think about his pitcher.
"I felt bad because that gave up a home run for Hansen and that affected his ERA," Booker said. "So I apologized multiple times to Hansen and felt so bad for it, and plus I felt stupid for giving up the play."
While the 23-year-old was apologizing, Jones was opening his wallet.
"We had a kangaroo court and it was a fine for hitting a home run that got thrown out," the catcher said, $2 poorer.
The Intimidators outfielders couldn't avoid the highlight -- even manager Justin Jirschele showcased it a couple times. Fisher, who admits to watching it "probably 100 times," is sure this play will make its way through the whole White Sox system.
"It was kinda like fun and games and everything, but at the same time, it was laughably frustrating because of the fact that it didn't touch me," he said. "There's just so many negatives. I'm going to hear so much about it at Spring Training, I'm sure it's going to be a blast."
While Fisher laughs it off, Booker reminds himself that "no publicity is bad publicity." Although he wasn't sure at first if he wanted to be a part of the Blooper of the Year, he just had to laugh once he heard the play did win.
"Oh my gosh," Booker said. "I'll probably be made fun of for this for a while, but I'll take it."


Top Home Run: Fontana legs it out
After 10-and-a-half innings and 270 feet, Nolan Fontana was exhausted. But knowing that it was extras, he knew he had to find the energy, so as he ran down the home stretch, he only had one task on his mind.
"Don't trip," he told himself.
Twenty-five seconds prior, the Angels prospect was stepping into the box to lead off the 11th against Triple-A Iowa's Dylan Floro. The Salt Lake No. 6 hitter was looking to break out after starting 0-for-4.
"I knew [Floro] was a guy that had some plus out-pitches. He definitely had a good fastball and wanted to get it on the first one in the zone," he said. "I was struggling, I was missing pitches early on in the count, earlier in the game."
On the first pitch of his final at-bat, Fontana slapped a fly ball to left-center field. Left fielder Mark Zagunis dove for it right as center fielder John Andreoli was running toward him, eventually diving over his teammate as the ball got loose in the commotion.
"[I] luckily hit it far enough and placed well enough to where they couldn't actually make a play on it," the University of Florida product said with a laugh. "And then it kind of fumbled around and once I rounded second base and saw it fall and sitting there against the wall, I just kept going."
Turning toward the third-base coach's box, Fontana saw manager Keith "KJ" Johnson waving him on, so he knew it was go-time as he rounded third and sprinted home, where his teammates were there to celebrate the 5-4 walk-off win.
"I just remember a couple of them getting some good punches in and it felt like I was in a boxing match," he said. "They were ripping my jersey off -- everything was awesome though. Well worth every minute of it."
The home run came as part of Fontana's most powerful campaign -- he slugged a career-high 10 jacks in 2017 after leaving the yard a combined 17 times over his first five seasons. After getting picked up by the Angles in November 2016, Fontana said it was a "breath of fresh air" at Spring Training this year as he revamped his approach.
The third baseman was able to carry those changes into the season, leading to his Major League debut with Los Angeles on May 22. Though he knocked his first big league homer on May 26, he'll always remember the MiLBY-winning roundtripper he collected two weeks prior.
"Anytime there's an inside-the-park home run, I think it's the most fun play there is in baseball," he said. "And for it to be a walk-off is really unique, and to be a part of that was really cool and exciting for our team."
Fontana walked away from the plate that night with a dirty jersey, reaching the finish line on a head-first slide.
"That was not a trip," he said. "The dive was more of like, I'm exhausted and I'm glad we won the game."


Top Play: Nichting goes into the seats
The fence was too tall.
As T.J. Nichting was chasing a foul ball off the bat of J.J. Matijevic, he assessed the height of the wall in foul territory.
"The fence was a little taller than I thought it would be to be able to reach over for it," said the Class A Short Season Aberdeen left fielder. "I just timed it up and I was like, 'I gotta catch this ball at its highest point' and the rest just sort of happened."
Nichting wasn't planning on jumping over the wall. (If you tell yourself you're going to jump into the stands, "you probably won't follow through," he noted.) The Orioles prospect just let his baseball instincts kick in as he tracked the pop-up.
Not needing to worry about the runners since there were two outs and he was in foul territory, Nichting just jumped -- without realizing he was going over that tall fence.
"I didn't realize it until I was sitting down in a chair," he said with a laugh.
With "a big outfielder's glove" to make sure the ball didn't pop out, Nichting could relax. His first time diving into the stands for a ball was a success. And the 22-year-old was especially happy that he landed on the smooth seat rather than an arm rest or stairs.
"'Wow! Holy cow! Great catch!'" said a fan whom Nichting had bumped into while making the play.
The ninth-round pick in last June's Draft got up and hopped back over the fence to head toward the dugout. Shortstop Mason McCoy caught up with Nichting to ask if that was the best catch he had ever made.
"Pretty much without any hesitation, I just nodded my head and said, 'Yeah, I think so," recalled the University of North Carolina at Charlotte product.
Getting a high-five from pitcher Cameron Bishop, Nichting watched the replay and said the catch seemed even cooler on the big screen.
After a "great" first year of pro ball, Nichting is thankful for the fans who voted for him, noting that a little bit of luck went into the play.
"It means a lot -- it means things are going well and you don't run into situations like that without putting in hard work and doing what you need to do out there," he said. "So it just means that hard work is paying off a little bit and you get recognized sometimes for that."
Kelsie Heneghan is a contributor to MiLB.com. Follow her on Twitter @Kelsie_Heneghan.