Leyland embracing new role with Bowie
Son of former MLB manager enjoying first year as coach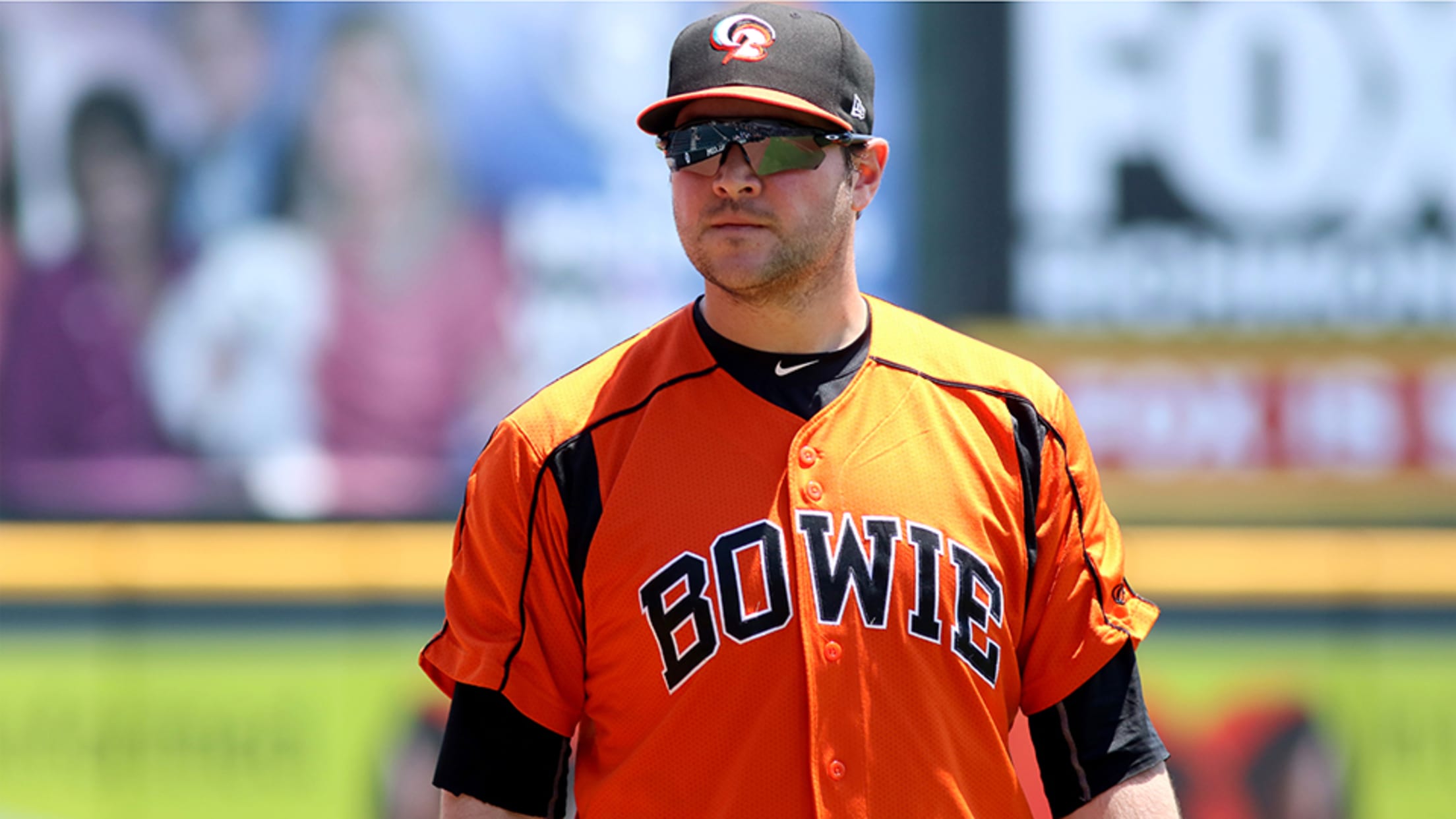 Pat Leyland joined the Baltimore Orioles organization as a coach after six seasons playing in the Minors. (Andy Grosh/agphotosports)
If he doesn't make the call himself, Pat Leyland's phone rings before every game, like clockwork.On the other end is a baseball great who managed the likes of Barry Bonds, Moises Alou, Miguel Cabrera and Justin Verlander. The three-time Manager of the Year comes with the same line, day after
If he doesn't make the call himself, Pat Leyland's phone rings before every game, like clockwork.
On the other end is a baseball great who managed the likes of Barry Bonds, Moises Alou, Miguel Cabrera and Justin Verlander. The three-time Manager of the Year comes with the same line, day after day, for the first-year Double-A bench coach.
"Every day, I know it's coming, but he still tells me to 'react to what you see, react to what you feel,'" Leyland said. "And that's as good as any advice I've gotten for this role, to not overcomplicate things, and try to take every game one at a time. You're going to make your share of mistakes, but you can't dwell on those."
Leyland learned from an early age that a career in this game of failure is best built upon a foundation of relationships. Relationships were partly why he was selected by the Tigers straight out of high school in the 2010 Draft. Relationships, in a way, also contributed to his struggles as a player, and relationships are what drive him today as a bench coach with the Bowie Baysox.
His playing career ended just last year, but Leyland has continued to learn from his father -- Jim Leyland, who managed in the Majors for 22 seasons -- that baseball is more about writing new chapters than closing books.
"As a player, I was far too analytical, no question about it, and I suffered from that," he said. "I put very high expectations on myself as a player, and for whatever reason -- a lack of talent or not being healthy or whatever -- when you don't perform like how I wanted to, I overanalyzed things, and it wasn't good for my career. ... But it was the way I was wired."
Naturally, he grew up around the game, wandering clubhouses and taking in batting practices from up-close, but he's quick to assert that his love for baseball was self-developed, not forced. It would be hard, though, not to fall fast for a game when you get to experience a World Series title first-hand at six years old, as Leyland did when his father was in his first season managing the Florida Marlins in 1997.
"Some memories of that and knowing now what that meant, him finally getting over the hump after Pittsburgh and the joy he had for that," he said. "When he went to Detroit, I was old enough to engage with him in what was going on, and I talked to him before and after every game. I got to visit and be around the team and hang with him. Those memories were precious, something you don't take for granted."
Soon enough, the younger Leyland had his own chance to make precious memories in pro baseball. He graduated from Bishop Canevin High School in Pittsburgh in 2010, a right-handed catching prospect who batted .532 as a senior. As buzz around the son of one of the Major Leagues' most popular managers grew, he prepared for a quest to reach greater heights than his father did as a player. The elder Leyland signed with the Tigers in 1964 and rose as far as Double-A Montgomery in seven seasons, embarking on his managerial career in 1972 with Detroit's Midwest League squad.
On June 8, 2010, a day for the family scrapbook, Detroit drafted the Pennsylvania catcher in the eighth round. He'd spent the last four years creating relationships with the players and coaches in the pro ranks. All of a sudden, he was one of them.
"I think it helped, having the idea of how things ran around there, but what I didn't know going in was, it was no substitute for doing it," he said. "You can be around it all you want. You can have a feel for things someone else might not have, but you've got to go out and do it and make your own way and path. Growing up around it all was a great experience, but once I started playing, I didn't have a leg up on anyone, by any means. Once you start, your play speaks for itself."
And for much of his career, his performance didn't say what he would have liked.
By the time he was taken in the eighth round, the manager's son was the third catcher Detroit picked up in that Draft, behind Rob Brantly (third round) and Bryan Holaday (sixth round).
"That's great," Jim Leyland told MLive.com after the news broke. "It's about competition. Either Patrick is good enough, or he's not. You find out if you are good enough. I'm not tough on him. I'm honest."
The teenager spent the rest of 2010 with the Rookie-level Gulf Coast League Tigers and advanced to Class A Short Season Connecticut in 2011, when he slashed .220/.279/.280 in 35 games. His first taste of full-season ball went marginally better with Class A West Michigan in 2012. He batted .237 in 68 games, but from there the injuries began to pile up.
First, it was shoulder surgery leading into the 2013 campaign, when he was sent down from Class A Advanced Lakeland with a .168 batting average in 25 games back to Connecticut, where he transitioned to first base.
"I just never bounced back the way I would have like to. That was a tough year," he said.
Then, it was ankle surgery leading into 2014, and after his worst season at the plate to date, Leyland and the Tigers parted ways.
At every step, his father was on the other end of the phone with advice. When the two crossed paths during Spring Training, Leyland never viewed his old man as the lauded Tigers manager, which made taking his advice and occasional criticism easier.
"I just approached him as 'Dad.' Anything else would have been phony," he said. "I could have tried as hard as I wanted to separate the personal and the professional, but at the end of the day, he's my dad, and I can't shut that off, and I think it would have been counterproductive to try."
At the same time, his intense love and admiration for the organization and the man who managed the Major League squad compounded the frustration Leyland felt about his on-field struggles. With the advantage of hindsight, he realized that he internalized pressure to perform and validate his Draft selection from the start, and when he didn't rise to the top immediately, he doubled-down and made things worse.
"Things just snowballed on me a bit, and part of that were injuries," he said. "If anything, along the way, though, I tried to get back too soon and rush. Looking back on it now, I wasn't totally ready from a maturity standpoint. Not that I wasn't able to handle it all, but I put a lot of pressure on myself. I just really wanted to do so well for them because I felt like part of that organization even before they drafted me, and that's a lot for an 18-year-old.
"But I wouldn't change any of it. I got to play for a great organization, and that's something I'll cherish forever."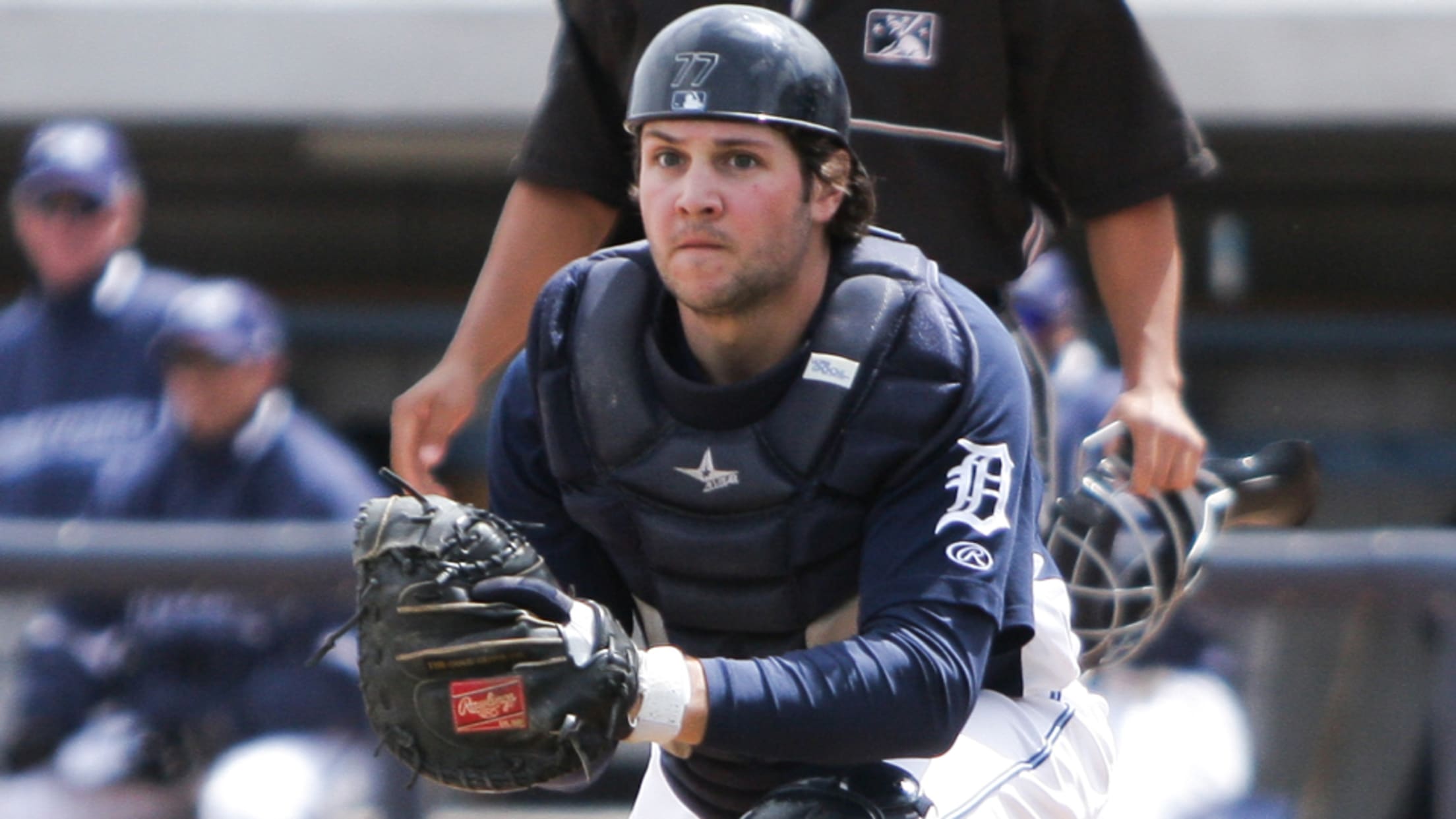 Pat Leyland's playing career was hampered by injuries. (Emily Jones/MiLB.com)
The Seattle Mariners signed Leyland in November 2014. He underwent wrist surgery after Spring Training in 2015 and appeared in one Double-A game with Jackson before joining Class A Clinton, where he enjoyed a resurgence -- posting a .272 batting average in 60 games. After leaving the organization he'd spent a lifetime around, Leyland felt like he was starting to find his footing in professional baseball, but taking five years to get there as an eighth-round pick was problematic in the eyes of clubs around the league.
He competed for a job during Spring Training with Cincinnati in 2016 and Washington in 2017, but he was cut just days before regular season play began in each year.
"That was tough. I was finally feeling like I was starting to put things together that year in Clinton, but you have a window in this game, and unfortunately my window was starting to close," he said.
As much as he would have loved to see his dreams of playing in The Show come to fruition, he'd seen first-hand that working in baseball in another capacity could bring a lifetime of joy. After his final Spring Training attempt, Leyland was given an opportunity to return to the GCL as part of the Baltimore Orioles organization -- this time, as a coach.
This year, Leyland was called up to become Bowie's third base and bench coach, but it was an opportunity he had to mull over. As it stands now, he's younger than six players on the Baysox roster, and he had to make sure that he was mentally prepared for that dynamic. When he really thought about it, though, Leyland realize he was as ready for the challenge as anyone.
"Not that it disqualifies any other coach, because there's more than one way to do things, but I know I can relate to our players," he said. "I understand what they're going through. I tell them that I wasn't a very good player, and I know how hard this can be. I can be a shoulder to lean on, especially when things aren't going well. I had to fight and claw and find a way to grind things out."
As a former player who dissected every at-bat and play behind the plate in his own game, Leyland has slid easily into the technical role of coaching. Before games, he studies the arm strength of the opponent's outfielders to judge how to react to potential scoring opportunities. He also helps develop the Baysox catchers and assists in running batting practice.
But it takes more than attention to detail to build winners, he's learned. He's also there to chat up players when they're on deck during BP and to help out if they're not feeling 100 percent. If one of the Baysox hitters is struggling, Leyland is as prepared to act as a sounding board as any coach.
He's been there -- recently -- and he could just as easily be in their shoes right now.
"I gave this job a lot of thought in the offseason, but what it came back to was this simple thought that this game is all about respect," he said. "If you treat them the right way, 99 percent [of the time] you're going to get that back. I know as a player -- but, more importantly, as a person -- that if you treat people with respect, you're going to get that back, and that's how it's been in Bowie."
With that mentality, Leyland has enjoyed playing a part in the growth and development of several players. Fostering those relationships and watching as his own up-and-down experiences help someone else has been the most rewarding part of coaching, he said.
As he forges those new relationships, he continues to benefit from older ones. Leyland frequently talks with former coaches who worked alongside his dad, including former Detroit third base coach Gene Lamont.
"I still consider those people family," he said. "I wouldn't change any of my experiences [with the Tigers], because of the people around us and the support we had there. It's all part of my journey."
Nathan Brown is a contributor to MiLB.com. Follow him on Twitter @NathanBrownNYC.