Redbirds win first PCL title in eight years
Playoff MVP Wisdom homers, sparkles on defense in Game 5 win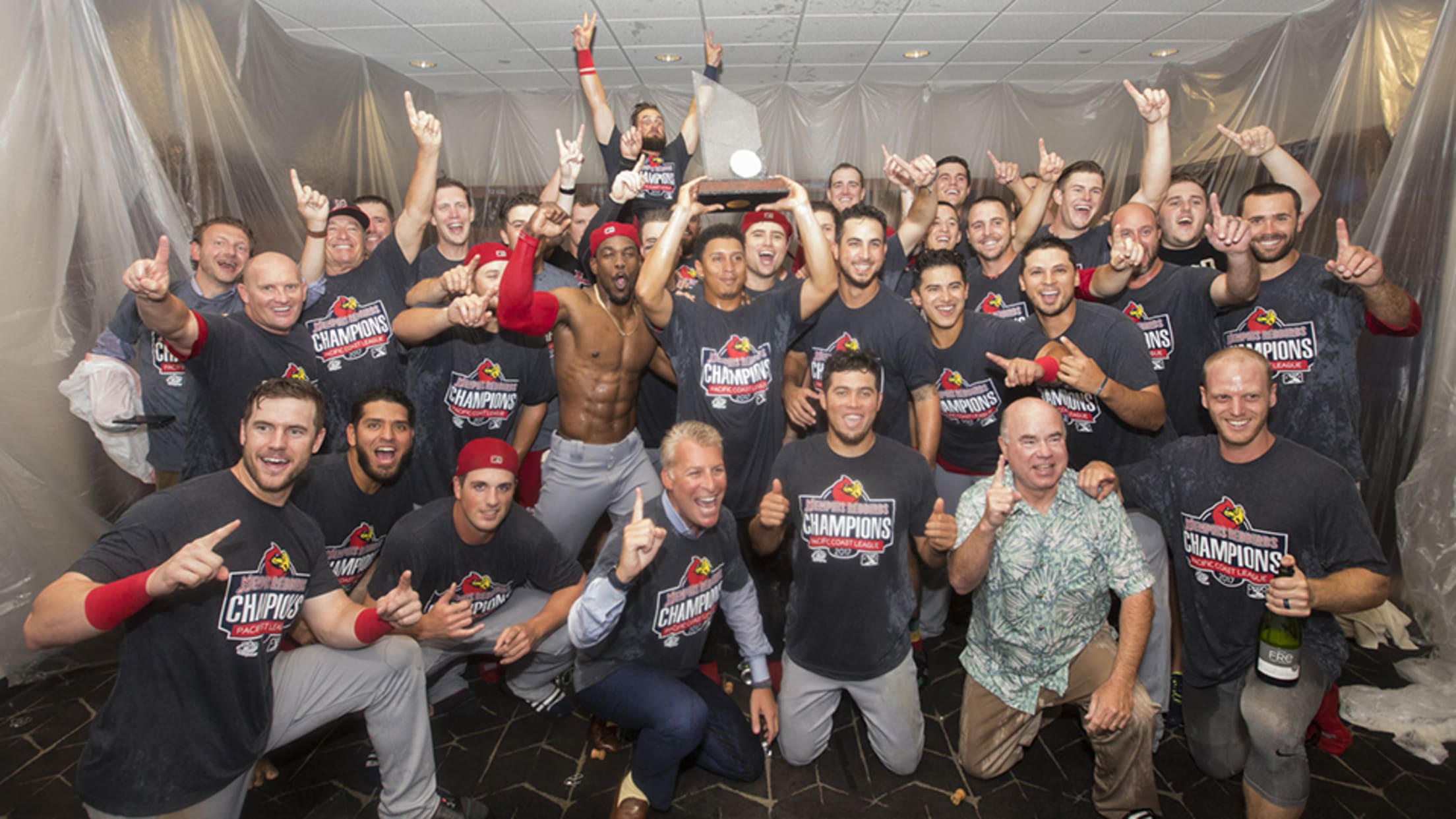 Memphis celebrates its third Pacific Coast League championship under first-year manager Stubby Clapp. (Ivan Pierre Aguirre/El Paso Chihuahuas)
If the plan was for Memphis to extract every ounce of drama from its first Pacific Coast League Finals appearance since 2010, it did a remarkable job.The up-and-down nature of the series wasn't lost on Redbirds manager Stubby Clapp, who watched his club go from a 2-0 series lead to
If the plan was for Memphis to extract every ounce of drama from its first Pacific Coast League Finals appearance since 2010, it did a remarkable job.
The up-and-down nature of the series wasn't lost on Redbirds manager Stubby Clapp, who watched his club go from a 2-0 series lead to a decisive Game 5 that ended with the third PCL championship in team history on Sunday night.
Patrick Wisdom hit a two-run homer and Matt Pearce struck out eight over six innings as Memphis beat El Paso, 3-1, at Southwest University Park to win its first PCL crown since 2009. The win ended the Chihuahuas' bid for a second straight championship.
Memphis will meet International League champion Durham in the Triple-A National Championship on Tuesday at Scranton/Wilkes-Barre's PNC Field. But Clapp -- who played on the Redbirds' 2000 title-winning team -- was enjoying the moment and not looking ahead.
"I was talking earlier today about the way the whole season has gone," the 44-year-old skipper said of being pushed to a decisive fifth game. "From the very first game of the season, where we needed 13 innings to win ... it was like this all season. So we figured, 'Why not? Let's go for it and finish the job.' We were blessed to pull it out and I'm particularly blessed to win a PCL title as a player and manager with the same team. I can't say how grateful I really am."
Gameday box score
Pearce traded zeros with El Paso's Kyle Lloyd until the Redbirds broke through in the fifth on Wisdom's two-run blast. Aledmys Diaz led off the inning with a single to left field and Wisdom followed with a shot over the left field fence to snap Memphis' scoreless drought at 13 innings.
The 26-year-old was named playoff MVP after batting .278/.350/.528 with two homers and nine RBIs in 10 games.
"You could see our guy's shoulders drop a bit. That homer allowed them to exhale," Clapp said. "They wanted it to so bad and it was obvious some were trying to do too much early on instead of being themselves. But after that homer, you could just see the difference in them."
Chase d'Arnaud cut into El Paso's 2-0 deficit with a solo homer in the bottom of the fifth. But Cardinals No. 4 prospectTyler O'Neill restored the two-run cushion when he scampered home on an error by reliever Adam Cimber in the sixth.
Trailing, 3-1, the Chihuahuas' had runners at the corners with two outs in the eighth, but Wisdom robbed Nick Buss of a potential RBI with a diving snag at first base. Josh Lucas allowed back-to-back singles to start the ninth, prompting a visit from his manager, but he set down the next three batters to notch his third postseason save.
"I didn't say anything special," Clapp said. "We were just preparing for the bunt in case El Paso went in that direction. I reminded Josh to be smart and just to get one out and not let anything snowball. We talked about the situation and he just went from there and did the rest. He settled down and put the pressure on their hitters to swing the bat with some good pitches."
Pacific Coast League champions
Pearce (1-0) allowed one run on five hits and two walks while recording a season high in strikeouts. Mike Mayers and Sean Gilmartin combined for two innings, yielding two hits while fanning two. Pearce struck out two in the ninth before retiring d'Arnaud on a popup to shortstop to set off the celebration.
Lloyd (0-1) pitched five innings and gave up two runs on five hits and a walk with six strikeouts for El Paso, which was trying to become the first PCL team since Tucson in 1991 to win a championship after losing the first two games of the series.