PCL notes: Iowa's Zagunis eyes opportunity
Cubs No. 8 prospect refocused following MLB stint, trade deadline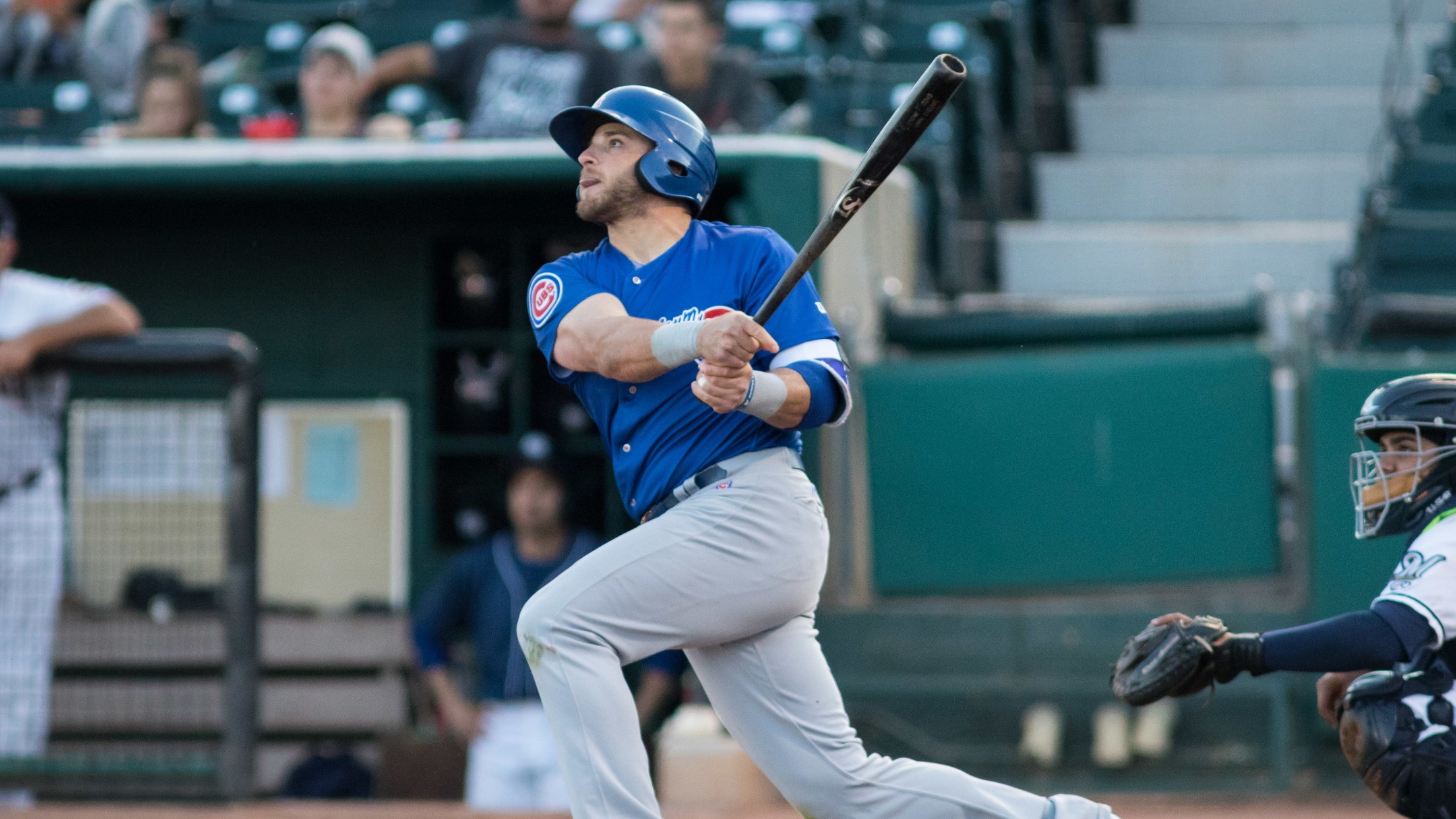 Mark Zagunis, who made his Major League debut with the Cubs in late June, hit .301 with 15 RBIs for Iowa in July. (Bobby Stevens/MiLB.com)
On July 30, Mark Zagunis had an unusual day.The outfielder was one of two Iowa Cubs held out of the game against Albuquerque. Trade rumors were swirling a day before the MLB trade deadline with the Chicago Cubs deep in discussions with the Detroit Tigers over left-handed reliever Justin Wilson
On July 30, Mark Zagunis had an unusual day.
The outfielder was one of two Iowa Cubs held out of the game against Albuquerque. Trade rumors were swirling a day before the MLB trade deadline with the Chicago Cubs deep in discussions with the Detroit Tigers over left-handed reliever Justin Wilson and catcher Alex Avila.
Zagunis, the Cubs' No. 8 prospect, sat alongside the organization's top prospect, Jeimer Candelario, and waited for any word on whether he had been traded.
"For me personally, I'd heard my name was getting thrown around a little bit in trades," Zagunis said. "So I was just kind of trying not to worry about it. You know, if it does happen, it's a good opportunity for you to go somewhere else and maybe get a shot quicker than I would here. You just try not to worry about it. You just stay focused on the game."
Halfway through Sunday night's game, a trade was made. However, Zagunis was staying put in Iowa.
Candelario and a lower-level prospect were shipped to the Tigers organization for Wilson and Avila.
With the trade deadline behind him, Zagunis will continue to look for an opportunity in Chicago, where he made his Major League debut earlier this season. Zagunis played in seven games from June 22-30, going 0-for-14 with six strikeouts, four walks and one RBI.
"It's definitely a relief -- this is my [Rule 5 Draft] protection year," Zagunis said of the callup. "It was a relief to get on the 40-man. God forbid someone gets hurt up there, but I have a better shot to go up than I would if I wasn't on the 40-man. I'm just looking for an opportunity, whether it's another one this year or another one next year."
His performance with Iowa since his lackluster MLB debut has been stellar, as the 24-year-old hit .301/.370/.422 in July with 15 RBIs. It was statistically his best month at the plate. Not letting a weak performance in the Majors deter him, he's excited to move forward.
"I think I've accomplished a lot. [I] made my debut," Zagunis said. "I started real slow. I missed a lot of time in Spring Training due to [an injured] foot. Besides the slow start, I'm excited about where I'm at. I feel good."
Zagunis played more catcher than outfield at Virginia Tech from 2012 to 2014. He was drafted by the Cubs in the third round of the 2014 Draft and remained at catcher through his first pro season, before the decision was made to move him to the outfield in 2015.
"I feel fast. I feel strong. I've been working hard in the outfield," Zagunis said. "I got together with Joe Maddon in big-league camp and some of the other coaching staff, and they just stressed working on the outfield and not worrying about my hitting ability, just focusing on my defense. I think I've done a good job of that."

In brief
Moving along, part one:
One prospect traded at the deadline who ended up changing PCL teams was second baseman/outfielder
Willie Calhoun
. Shipped from Oklahoma City to Round Rock, the Rangers' new No. 2 prospect has hit .250 (5-for-20) with four homers and eight RBIs in his first five games with the Express.
Moving along, part two:
Outfielder
Boog Powell
was traded Sunday to the Athletics in exchange for
Yonder Alonso
. Powell hit .340/.416/.490 with six homers and 33 RBIs in 58 games with Triple-A Tacoma
Moving along, part three:
Coming to Tacoma in a separate trade Sunday was catcher
Mike Marjama
, who was having a nice season in Triple-A Durham. The backstop hit a solid .274/.342/.445 with nine homers and 51 RBIs for the Bulls.
Chris Jackson is a contributor with MiLB.com.