Phillies' Medina leads week's best pitchers
No. 73 overall prospect fanned 12 in seven innings for Clearwater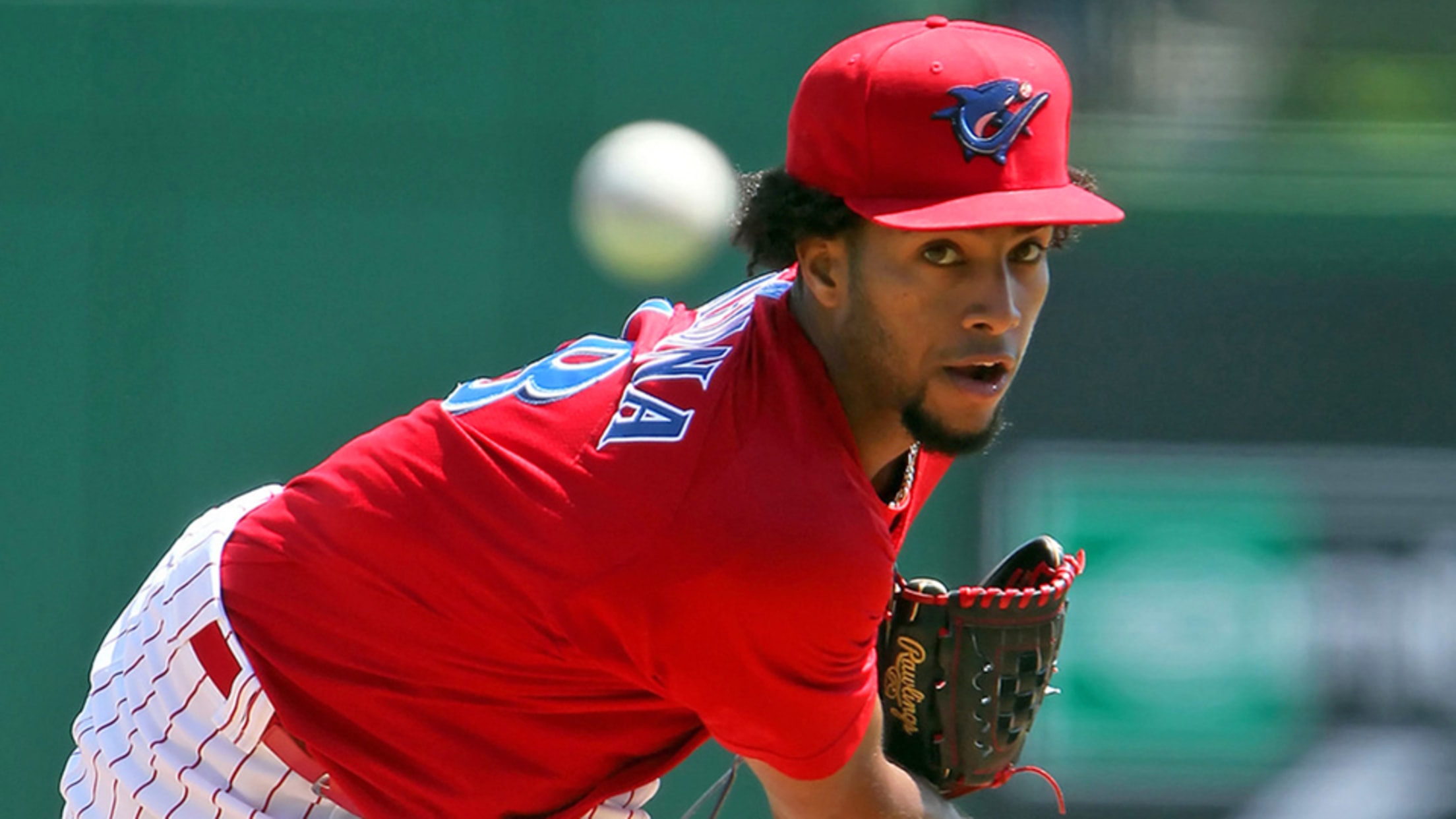 Adonis Medina ranks second in the Florida State League with a 26.1 percent strikeout rate. (Cliff Welch/MiLB.com)
The last time Adonis Medina had been on a Florida State League mound, prior to this past week, he gave up seven earned runs on seven hits (including two homers) over 2 2/3 innings at Dunedin on July 9. Then he traveled to Washington as a late addition to the
The last time Adonis Medina had been on a Florida State League mound, prior to this past week, he gave up seven earned runs on seven hits (including two homers) over 2 2/3 innings at Dunedin on July 9. Then he traveled to Washington as a late addition to the World team at the Futures Game and gave up a 415-foot blast to Peter Alonso.
Yet, it's not those hiccups that Clearwater pitching coach Aaron Fultz thinks about most these days.
"If there's a thing I'm most proud of, it's the way he's been able to bounce back," said Fultz. "Earlier in the season, he might have a rough inning or two, but he wouldn't battle back in the way we would have wanted. He's had to learn, even if you don't have your best stuff, you can still come back and go six innings. That's how the best pitchers compete. His numbers are kind of skewed in that way. His bad ones are really bad, but the way he's been bouncing back has been much better."
The Phillies' No. 2 prospect bounced back in a big way Saturday for the Class A Advanced Threshers -- and now has an accolade to show for it.
• View the Offensive Players of the Week winners »
Medina has been named Florida State League Pitcher of the Week after matching his career high with 12 strikeouts over seven innings at home against Florida. He allowed only two hits and didn't walk a batter while throwing 66 of his 90 pitches for strikes. This is his first Minor League Pitcher of the Week award since signing out of the Dominican Republic back in May 2014.
Saturday's outing marked Medina's first scoreless start since he tossed six shutout innings at home against Tampa on June 12. Prior to his most recent gem, the 21-year-old right-hander hadn't struck out more than 10 batters in an outing this season. (His other 12-K start came June 13, 2017 with Class A Lakewood.) Despite his dazzling performance last week, Medina owns a 4.48 ERA over 78 1/3 innings this season with the Threshers. However, MLB.com's No. 73 overall prospect remains highly regarded for his plus fastball and above-average changeup.
"When he's able to command the fastball, I don't want to say it's unhittable, but it's very good," Fultz said. "He hasn't had as much confidence in the fastball as he should at times. ... He just needs to keep trusting it and hitting his spots. It's 92-96 or even 97 on a good day, and the two-seam is really improving. He stays on top of those, and he'll be fine."
From a certain standpoint, Medina has been more than fine all season. His 26.1 percent strikeout rate is second-best among FSL qualifiers and in line with the 26.3 percent rate he posted over a full season in Lakewood in 2017. Similarly, his walk rate is nearly identical (7.8 percent, up from 7.7 in 2017), and his average of 3.4 strikeouts-per-walk is fourth-best in the FSL. The major difference is that he's been more prone to giving up home runs with a HR/9 that jumped from 0.6 to 1.0. Fultz believes part of that has to do with getting away from a big park in Lakewood's FirstEnergy Park, where Medina allowed only three dingers in 64 innings last season.
Given his high ceiling, Medina's name had come up in trade rumors surrounding Philadelphia's interest in All-Star infielder Manny Machado. Now that Machado is on the Dodgers and Medina remains a Phillies prospect, Fultz hopes Saturday is another sign that the righty is prepared to clear mental hurdles more easily the rest of the way with Clearwater.
"Without a doubt, this will be big for him," Fultz said. "I don't know if you expect something like this from him, obviously, but it's always possible because of his stuff. ... And it'll be good for him mentally. Every report talks about him being traded, and we haven't talked about it but I can see it's taking a toll on him, as it would any kid. Nowadays, everything is out there. But this will be big for him going forward."
Below is the complete list of Minor League Pitchers of the Week for July 16-22:
Sam Dykstra is a reporter for MiLB.com. Follow and interact with him on Twitter, @SamDykstraMiLB.