Phils' Stewart has career day in complete game
Lakewood southpaw K's 10 in three-hit shutout over Greensboro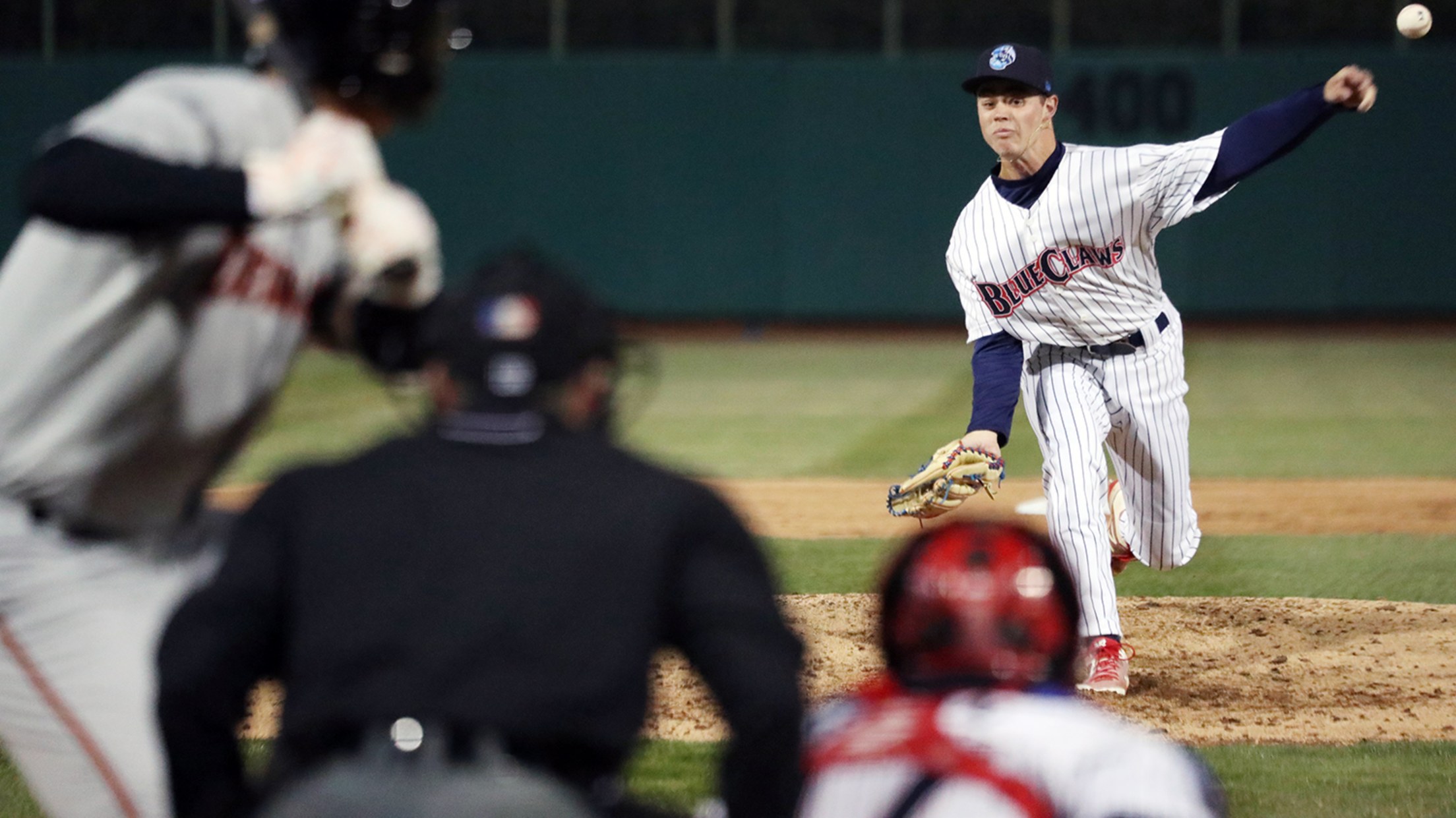 Lakewood's Will Stewart has allowed just two runs in his last four starts in the South Atlantic League. (Christopher Shannon)
Will Stewart quietly began his fourth season in the Minors last month with a more care-free approach. "Go out and have fun," the 2015 20th-round Phillies Draft pick said. "This is a game and I don't think we make it fun enough."Stewart didn't make it too fun for the sleepy Greensboro
Will Stewart quietly began his fourth season in the Minors last month with a more care-free approach.
"Go out and have fun," the 2015 20th-round Phillies Draft pick said. "This is a game and I don't think we make it fun enough."
Stewart didn't make it too fun for the sleepy Greensboro lineup on Wednesday, though -- the 20-year-old southpaw set a career high with 10 strikeouts in a three-hit shutout as Lakewood blanked the Grasshoppers, 2-0.
The 98-pitch gem was the first shutout of Stewart's life, including his time at Hazel Green High School back home in Alabama.
"It's still surreal," he said. "I've never pitched nine innings in my entire life. Being able to do it here with these guys is pretty special."
Stewart was not the wake-up call Greensboro was looking for in a game that began at 11:05 a.m. in New Jersey. Both teams wrapped up the night before around 10 p.m., although Stewart downplayed any advantage he might have had over some tired batters.
"I don't know, I think it was hard for all of us," he said. "We didn't get done until around 10 last night and both teams woke up tired. No one was bright-eyed and bushy-tailed in our locker room. It came down to who came out and fought more because this was a hard-fought game. They had a good guy on the mound against us and we just scraped and clawed to get any runs we could.
"It was pretty evenly matched, but I just personally think that I exploited their weaknesses where I could find them and they never caught up," he added.
Gameday box score: Lakewood 3, Greensboro 0
Stewart held Greensboro to three singles and erased all of them on a pair of double plays and when leadoff man Thomas Jones was caught-stealing. He did not walk a batter and turned in his third scoreless outing in his last four starts.
"I commanded my pitches pretty well," he said. "The fastball was a huge part of it, but overall it was a great day."
Stewart debuted with the Phillies in 2015 and was 11-5 with a 3.45 ERA in 44 outings entering Wednesday's game. He spent two summers in the Gulf Coast League before making 13 starts with Class A Short Season Williamsport last year, where he was 4-3 with a 4.18 ERA. Philadelphia promoted him to Class A this spring and he's responded well at 5-0 with a 1.23 ERA and 53 strikeouts in 58 2/3 innings so far. He's allowed just two earned runs since May 2, a stretch that was previously highlighted by eight scoreless frames on May 9 against Charleston.
The 6-foot-2 lefty said his defense bailed him out a few times on Wednesday, noting a play made by third baseman Jake Scheiner in the eighth that set him up to come back out for the ninth.
"In the eighth inning, I knew if I could get out of that, I would get the chance to go out in the ninth. I figured if I didn't go three-up, three-down, I wouldn't finish," he said. "If it weren't for Scheiner, I wouldn't have finished that game. It was a big-time win and a great team effort, so I'm really, really excited."
Stewart said he mixed his two-seam fastball, changeup, slider and curveball effectively all game.
"I threw a changeup, slider and curve today and all were pretty good, but my fastball-change has been my bread and butter all year and the others were there when I needed them," he said.
He said at least five of his career-best 10 strikeouts came from the two-seam fastball.
"Honestly I think it was a little bit of all of them," he said. "One or two with the curveball and a few with the change. It was a good day."
The BlueClaws scored the game's first two runs in the second an RBI double by Daniel Brito and a run-scoring single by Josh Stephen. Scheiner tacked on an RBI double in the eighth.
"It was huge for this team," Stewart said. "We've been working on hitting a lot and they're starting to hit the ball well. We're putting ourselves in a place where I can go out and there and know, hey, these guys have our back. Having that lead was huge for me. I just wanted to keep it close, I knew I didn't have to go out there and shut them out, just keep it close. [The early runs] changed the whole momentum of the game."
Greensboro starter Edward Cabrera (1-5) pitched well but took his fifth loss after allowing two runs on six hits and a walk over seven innings. He struck out two.
Stewart, on the other hand, improved to 5-0. It's the latest chapter in an encouraging season for him.
"It's been a dream come true, coming up here and being able to perform the way I know I can and not being worried about who I'm impressing," he said. "It's been a huge thing for me to be where I have the confidence to go out and pitch my game -- I don't care what happens. I can only control what I can control and that was my game plan this season. It's been working out so I'll stick with it."