Hammer nears end of breakout season in AFL
Acquired by Phillies at deadline, righty has dominated since deal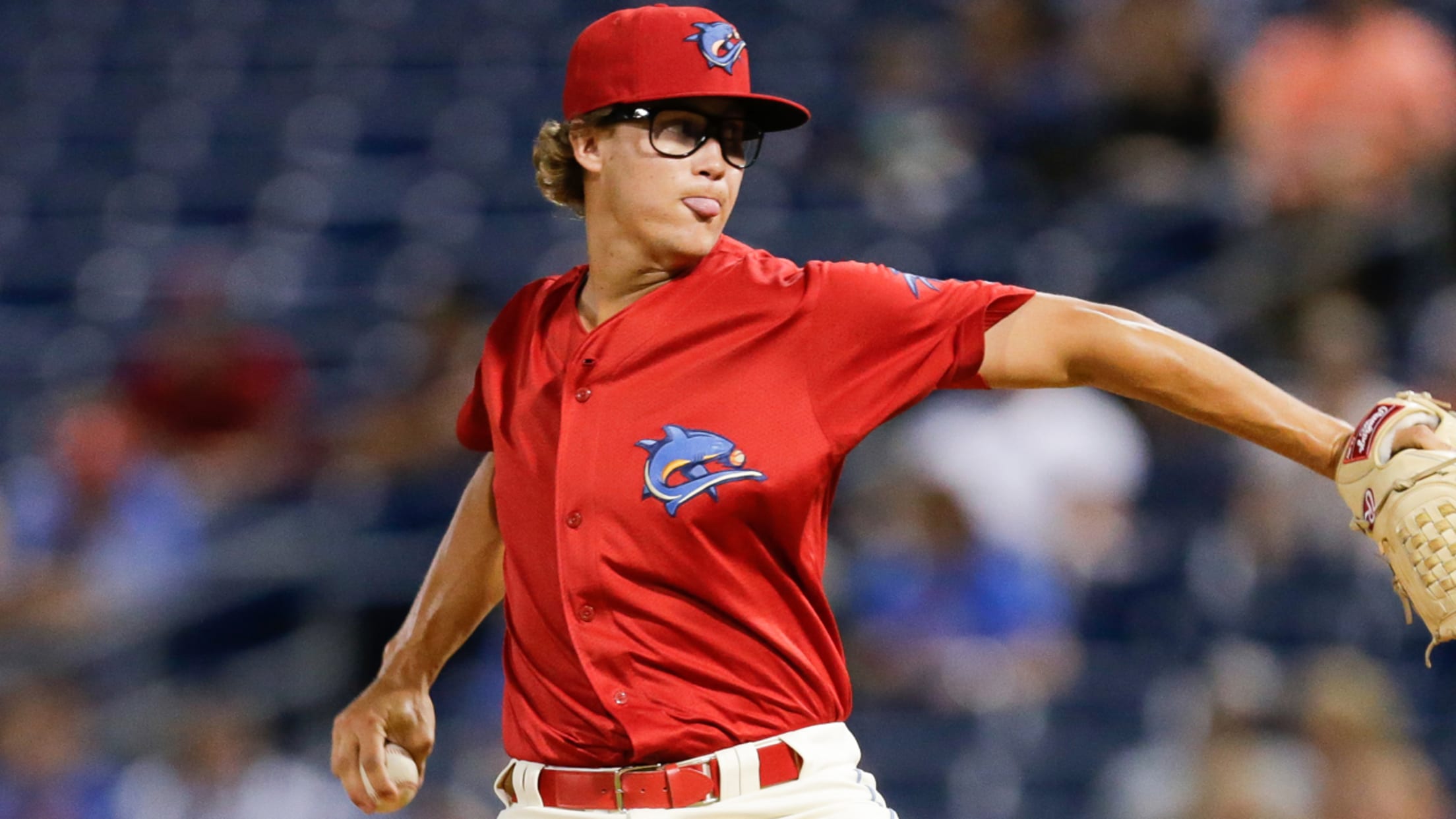 After the trade, J.D. Hammer posted a 0.57 ERA and 20 strikeouts in 15 2/3 innings with Clearwater. (Nathan Ray/Clearwater Threshers)
J.D. Hammer already had the upper-90s fastball and a name ripe for a catchy moniker. In 2017, he added a new dimension to his mound persona, and now the only thing standing between him and Rick Vaughn might be a small skull and crossbones.Replete with thick-framed glasses -- though without
J.D. Hammer already had the upper-90s fastball and a name ripe for a catchy moniker. In 2017, he added a new dimension to his mound persona, and now the only thing standing between him and Rick Vaughn might be a small skull and crossbones.
Replete with thick-framed glasses -- though without the pirate-like ornamentation of the famed cinematic closer -- and an imposing arsenal via his right arm, Philadelphia's No. 30 prospect is mowing through Arizona Fall League lineups out of the Glendale bullpen, the finishing touch to a strong first impression on his new organization.
"You kind of want to have that alter ego when you get up on the mound and be someone that is intimidating and people are afraid to face," Hammer said from the Phoenix area, where he's not allowed a run over 11 2/3 innings in his first AFL campaign. "I feel like it may have helped me, but it's not something I necessarily was going for."
The explanation for the glasses was much simpler than that.
"I couldn't see, and I've done contacts before and they really didn't work for me," he said. "I just figured if I was going to do glasses, why not go the whole nine yards and go big with it?"
Hammer didn't sport the specs during his time at Marshall University, nor during his debut season in 2016 with Rookie-level Grand Junction after the Rockies nabbed him in the 24th round. This year, he made the change, and related or not, a breakout campaign followed.
"It's gotten me noticed a little bit, but I don't think it's really contributed to anything more than my eyesight and being able to see," he added with a laugh.
Hammer opened 2017 with Class A Asheville in the Colorado system. He went 4-1 with a 1.20 ERA in 24 relief appearances for the Tourists, striking out 47 while walking just five in 30 innings and limiting opponents to a .163 average against him. That showing earned the South Atlantic League midseason All-Star a promotion to Class A Advanced where, despite an unsightly 5.25 ERA, Hammer still impressed with his peripherals. California League hitters only managed a .227 mark against the righty, who fanned 18 in 12 innings.
Then came July. With the Rockies contending for a National League Wild Card spot, the Fort Collins, Colorado native was dealt to the Phillies as part of the deal for big league reliever Pat Neshek.
"It was different because I grew up always wanting to be a Rockie and I had that opportunity, but it's always great when an organization wants you," Hammer said. "It was sad because I made a lot of good friends and I really enjoyed the system, the organization. But coming over to the Phillies, I've learned so much. I've made great friends and I just love everything they do. I feel like a completely different pitcher than I did before the trade. I've really enjoyed being with the Phillies so far."
Hammer swapped the California League for the Florida State League and surged to the finish of his first full pro season. With Clearwater, the 23-year-old was a dominant bullpen component, going 2-0 with a 0.57 ERA in 12 appearances. Over 15 2/3 innings, Hammer struck out 20, walked only two and held hitters to a .154 average.
Philadelphia, pleased with their early returns, elected to send the righty to the Fall League to continue his impressive -- if lengthy -- campaign. Hammer headed to Arizona with an eye on honing his mechanics and incorporating more looseness in his delivery as well as an emphasis on developing his changeup.
"It's been a grind, but I've learned a lot," he said of the year that's added up to 57 appearances for four different teams. "I've taken what the Phillies wanted me to work on, and I've just been fully invested in that. It's worked really well for me, and I've been continuing to work on my mechanics and pushing through. It's been working for me and I feel good. My body's a little bit tired, but other than that, it's been fun and I've learned a lot."
Working with Desert Dogs coaches Matt Zaleski (White Sox) and Connor McGuinness (Dodgers), Hammer has evolved while remaining almost untouchable. The former Marshall hurler has allowed just three hits in 11 2/3 AFL innings, striking out 11 and stifling hitters to a .081 average.
"We've implemented the things that the Phillies want me to work on and have in my delivery, but we've also touched on some of the things that they do with their organization to kind of help guys out and make them more consistent," he said. "We've gone over video, and just having the access to the videos and all these coaches and players has been a tremendous help for me. It's definitely given me a different outlook than I had before I got here.
"I feel a lot more like the pitcher I can be than what I was."
With the AFL finish line in sight, Hammer will soon be able to relax, but it won't be for long. The reliever plans a week off and then will dive into his offseason workout schedule.
Tyler Maun is a contributor to MiLB.com. Follow him on Twitter @TylerMaun.