Pfeifer provides fire on mound for Frogs
Braves left-hander strikes out 17 over eight scoreless innings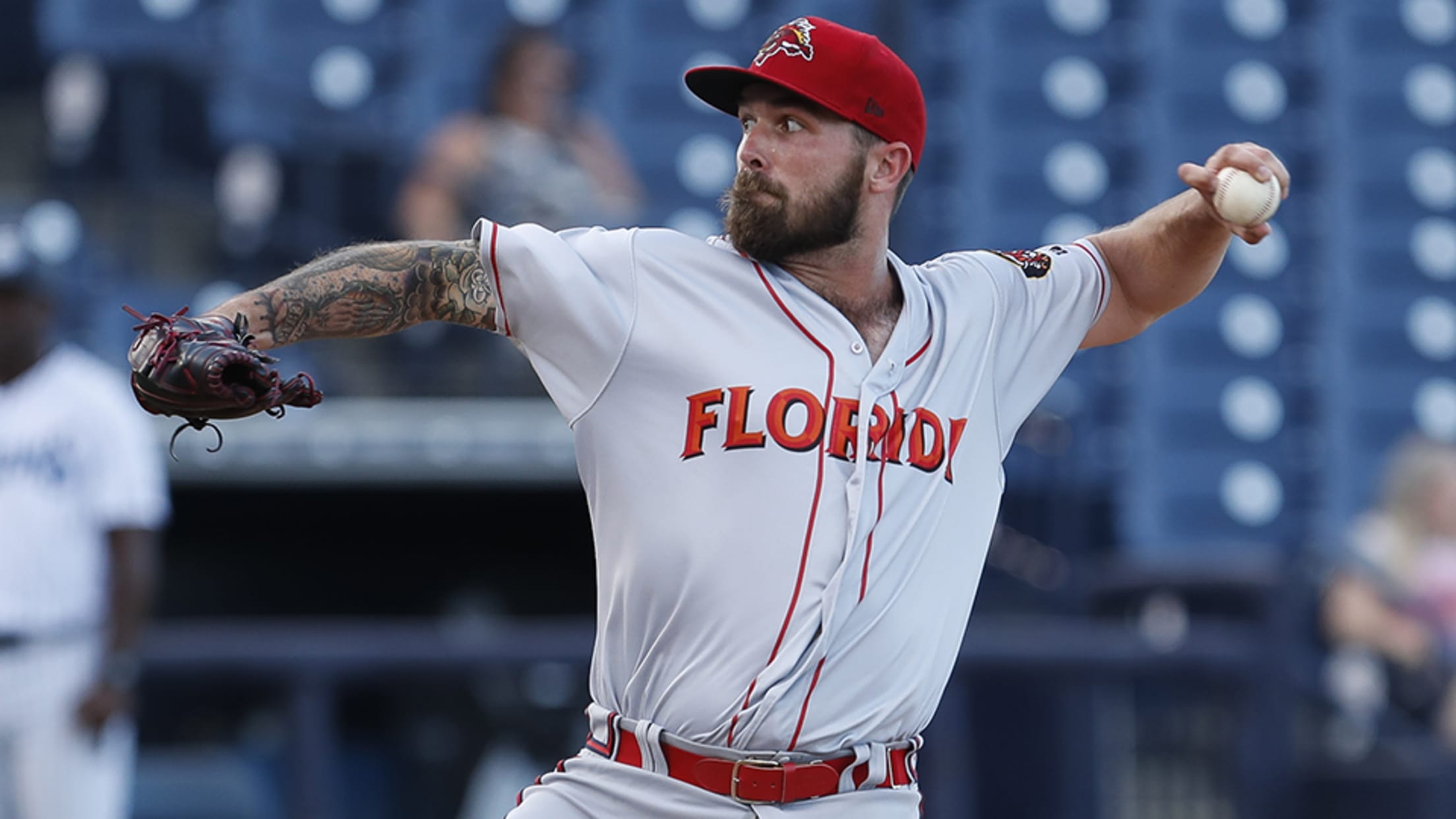 Philip Pfeifer ranks fifth in the Florida State League with 94 strikeouts over 78 innings this season. (Mark LoMoglio/Tampa Tarpons)
After spending the bulk of his professional career in the bullpen, the Braves decided to change course with Philip Pfeifer midway through this season and put him back into the starting rotation.The early returns on the decision were fairly consistent ... until he picked it up a notch Thursday.Pfeifer turned
After spending the bulk of his professional career in the bullpen, the Braves decided to change course with Philip Pfeifer midway through this season and put him back into the starting rotation.
The early returns on the decision were fairly consistent ... until he picked it up a notch Thursday.
Pfeifer turned in the most dominating pro performance to date, punching out 17 of the 27 batters he faced while working around three hits over a career-long eight scoreless frames to pace Class A Advanced Florida past Palm Beach, 4-2, at Roger Dean Chevrolet Stadium.
Gameday box score
"There's some days where you just have everything working, and tonight was one of those nights," Pfeifer said. "I had a good plan in place and I was able to execute it. And really, as a team, we were just kind of vibing off each other. We were able to execute a lot of pitches, I got a little fortunate a couple of times, had some things go my way, but I'll take it."
Fire Frogs pitching coach Dan Meyer agreed with his hurler.
"He just really had command of not only all three pitches, but of what exactly he wanted to do out there," Meyer said. "He was able to get strike one and then was able to get two strikes within the first three pitches, and by the time the hitters woke up, they were behind 0-2 or 1-2, and he was able to take advantage.
"But there was also something about his fastball tonight. He not only commanded it to both corners, it had a little extra life to it too."
Pfeifer (3-6) threw 73 of his 94 pitches for strikes and the only runner to reach third base while he was on the hill came after a wild pitch with two outs in the eighth. The 17 strikeouts marked a career high for the 2015 third-rounder, who made his 136th professional appearance, but only his 15th start -- 12th of the year.
The 27-year-old's previous high-water mark for strikeouts came on June 30, when he whiffed 11 over 7 2/3 innings at Tampa. But Pfeifer said he was much better this time than in that start against the Tarpons, and he attributed that to a change in his repertoire that he and Meyer have been developing.
"We've been working on a slider and that was a huge pitch for me," he said. "I used to throw a changeup, but we've been working on replacing that pitch with a slider to go along with my curveball and fastball, and it's made a huge difference. When I've got all three working, it's saving me pitches and that helped my pitch count tonight."
Added Meyer: "We've been playing with a slider for a different look, a different spin. We wanted to put the changeup away because he had a tendency to fly open to his arm side. With a slider, he's working more north to south, and he's able to get on top of the baseball. And that just makes everything more crisp and more repeatable and just better all around."
Against the Cardinals, Pfeifer retired the first nine batters, striking out seven -- including the side in the third on 13 pitches. He worked around a leadoff single in the fourth by Dennis Ortega when Juan Yepez successfully executed a sacrifice bunt, top Cardinals prospectNolan Gorman grounded out to second and No. 21 Luken Baker went down swinging.
The Vanderbilt product sat down 10 of the next 11 hitters he faced -- seven via punchout. The only blemish in that stretch was a two-out single to center by Ortega.
In the eighth, Pfeifer yielded a leadoff double to Zack Gahagan before ending his outing with three straight strikeouts on 13 pitches.
The 17 punchouts set a Fire Frogs franchise record for a nine-inning game. It marked the second time in Florida's history that the team reached the 17-strikeout mark, with the other performance coming on July 26, 2017 in a 14-inning contest against Jupiter.
"I know he had good strikeout numbers, but I had no idea he had that many until afterwards," Meyer said with a chuckle. "But what he did in the eighth really stuck out to me. After that leadoff double, he just came right back ... Strike one, threw fastballs and went on to strike out the side. He didn't falter, just got right back in there and dominated. It was fun to watch.
"You didn't realize how good it really was until after, and then it's just, wow."
Pfeifer wasn't keeping track of his strikeout total, but he did check on his pitch count each time he returned to the dugout. The 6-foot, 200-pounder had his hopes set on tossing a complete game, which would have been another first for his pro career. However, he acknowledged fatigue began to set in over his final two batters and he was "more than willing to hand it off to the 'pen."
Atlanta's 29th-ranked prospectRiley Delgado lined a two-RBI double down the line in left during a three-run eighth for Florida. Brett Langhorne and Shean Michel chipped in a pair of hits and a run apiece.
Ortega finished 3-for-4 and scored on an ground-rule double by Gorman in the ninth. Imeldo Diaz drove in Palm Beach's other run with a single to right later in the inning. But righty Sean McLaughlin locked down the last out to pick up his third save.
Rob Terranova is a contributor to MiLB.com. Follow him on Twitter, @RobTnova24.