Pitching legend Halladay dies in plane crash
Jays, Phillies hurler went from top prospect to Cy Young winner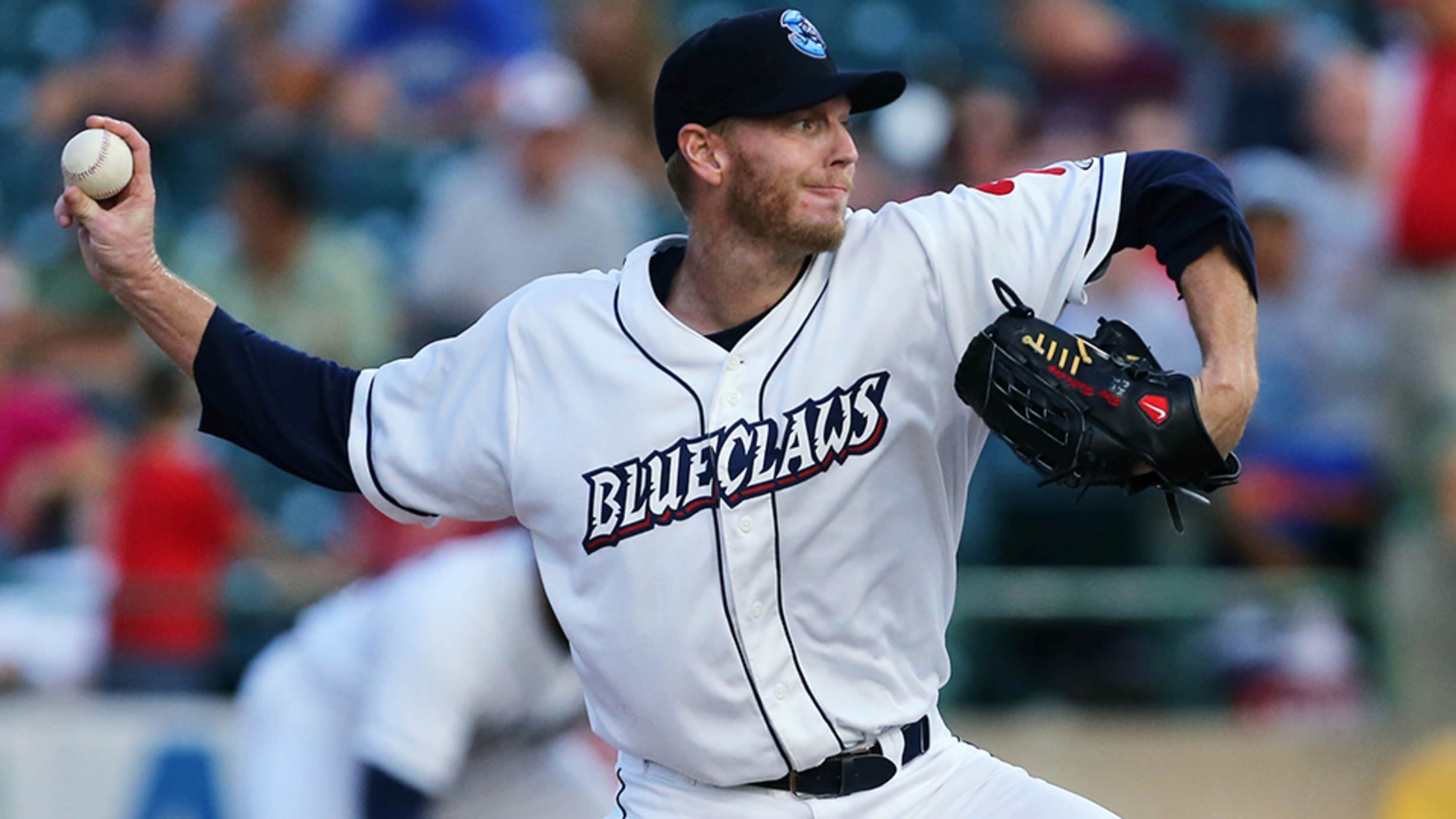 Roy Halladay made a rehab start with Class A Lakewood in the Phillies system on Aug. 20, 2013. (Michael Dill Photography)
Roy Halladay, a Cy Young Award winner with both the Blue Jays and Phillies and one of the best pitchers of his generation, died in a plane crash on Tuesday off the Florida Gulf Coast. He was 40."The Toronto Blue Jays organization is overcome by grief with the tragic loss
Roy Halladay, a Cy Young Award winner with both the Blue Jays and Phillies and one of the best pitchers of his generation, died in a plane crash on Tuesday off the Florida Gulf Coast. He was 40.
"The Toronto Blue Jays organization is overcome by grief with the tragic loss of one of the franchise's greatest and most respected players, but even better human beings," the team said in a statement. "It is impossible to express what he has meant to this franchise, the city and its fans. Our thoughts and prayers are with his family and friends."
"We are numb over the very tragic news about Roy Halladay's untimely death," the Phillies said in a statement. "There are no words to describe the sadness that the entire Phillies family is feeling over the loss of one of the most respected human beings to ever play the game."
Nicknamed "Doc," Halladay was the 17th overall pick in the 1995 Draft. He was selected by the Blue Jays out of Arvada West High School in Colorado and quickly became one of the top prospects in the system.
The right-hander was stellar in an aggressive assignment to Class A Advanced Dunedin in his first full season in 1996, going 15-7 with a 2.73 ERA, 1.24 WHIP and 109 strikeouts over 164 2/3 innings, a workload that might be unthinkable today for a pitcher in his age-19 season. He entered the 1997 season as Baseball America's No. 23 overall prospect, tops among all Toronto farmhands. He posted a 4.77 ERA and 1.49 WHIP over 162 1/3 innings between Double-A Knoxville and Triple-A Syracuse, but he held onto a top-100 spot at No. 38.
Halladay enjoyed another jump in 1998 after posting a 3.79 ERA and 1.38 WHIP over 116 1/3 innings back at the Minors' highest level, making two Major League starts that September. He had a no-hitter going with two outs in the ninth inning of his second outing on Sept. 27 when Tigers pinch-hitter Bobby Higginson homered. Halladay finished off the one-hitter in a 2-1 home win.
The Colorado native was Baseball America's No. 12 overall prospect entering the 1999 season, third among right-handed pitchers behind Brad Penny and Matt Clement. He spent that entire campaign with Toronto, splitting time between the rotation and bullpen, then bounced back and forth between the bigs and Triple-A in 2000 and even started 2001 with Dunedin in an attempt to work on his delivery. By 2002, however, he became a big league ace and maintained that status until his retirement in 2013.

Roy Halladay signed a one-day contract with the Blue Jays and announced his retirement on Dec. 9, 2013.(Danny Wild/MiLB.com)
Halladay won the 2003 American League Cy Young Award after going 22-7 with a 3.25 ERA and 204 strikeouts over 266 innings for the Jays and made six All-Star teams with the club before being dealt to the Phillies on Dec. 16, 2009 for three prospects. He won the 2010 National League Cy Young Award with the Phils, going 21-10 with a 2.44 ERA and 219 K's in 250 2/3 innings that year, and made two more All-Star squads during his time in Philadelphia. Perhaps his most memorable moments came in a Phillies uniform -- a perfect game against the Marlins on May 29, 2010, and a no-hitter against the Reds in Game 1 of the 2010 NL Division Series.
The 6-foot-6 hurler made additional rehab appearances with Double-A Tennessee and Syracuse while in the Jays system and with Class A Lakewood and Class A Advanced Clearwater as a member of the Phillies.
Between his first Major League season in 1998 through his final campaign in 2013, Halladay trailed only Randy Johnson (70.2) in collective FanGraphs WAR at 65.2 among pitchers. He ranked fourth with 203 wins, sixth with 2,749 1/3 innings and sixth with 2,117 strikeouts. He's eligible for induction into the Baseball Hall of Fame in 2019.
Sam Dykstra is a reporter for MiLB.com. Follow and interact with him on Twitter, @SamDykstraMiLB.