Pirates Prospect Primer: Keller's time to shine
Right-hander knocking on the door after another stellar season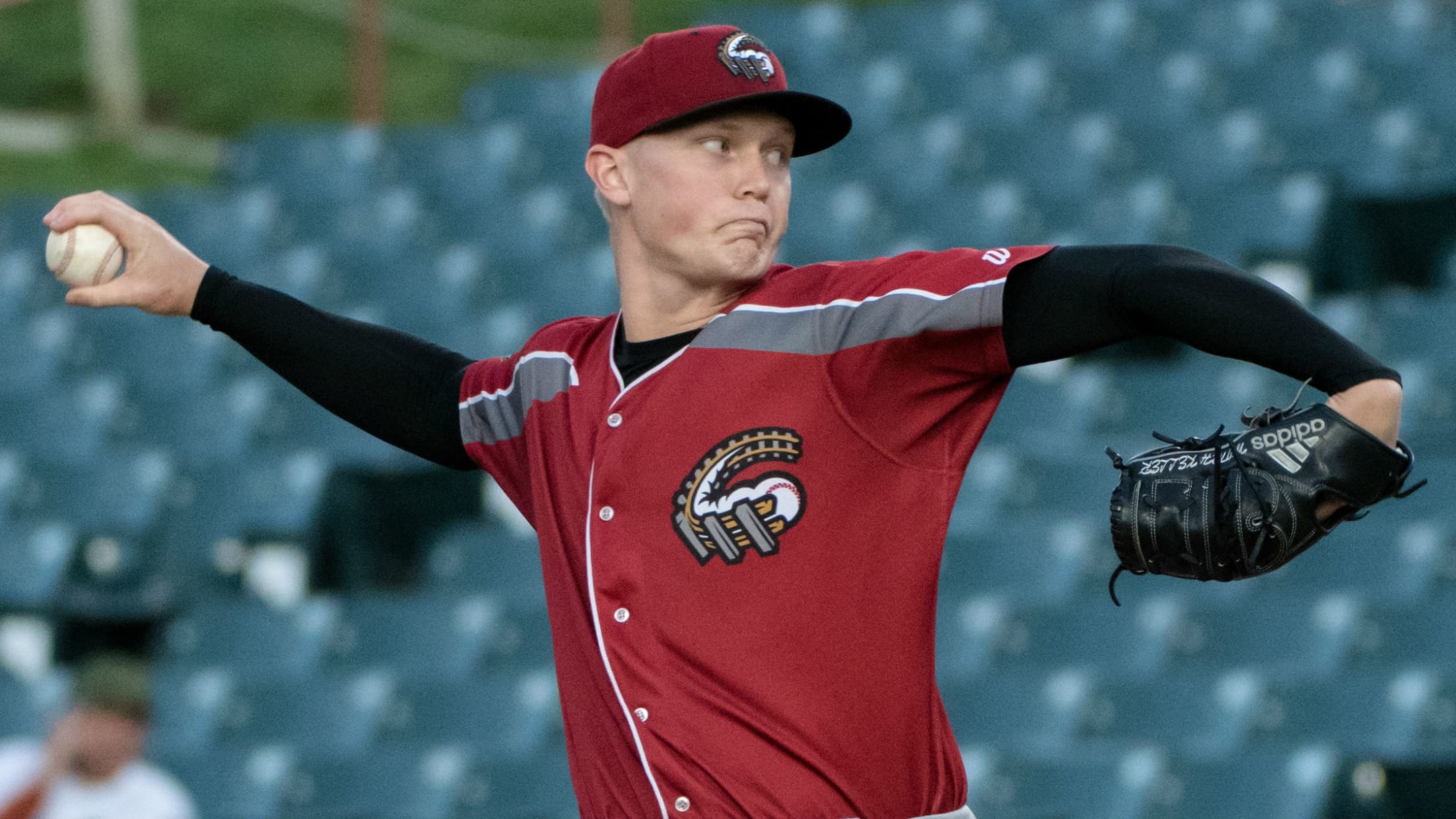 Mitch Keller has averaged just 2.45 walks per nine innings over the past four seasons. (Terrance Williams/MiLB.com)
Some players are on the verge of stardom, others are entering a crucial phase of their development and still others are getting their first tastes of full-season ball. With the 2018 season approaching, MiLB.com takes a look at the most intriguing prospects from each MLB organization.Shining star: Mitch Keller, RHPNo
Some players are on the verge of stardom, others are entering a crucial phase of their development and still others are getting their first tastes of full-season ball. With the 2018 season approaching, MiLB.com takes a look at the most intriguing prospects from each MLB organization.
Shining star: Mitch Keller, RHP
No player in the system stands out quite as much as Keller. MLB.com's No. 15 overall prospect is the complete package. Despite a back injury that limited him to 23 starts during the regular season, the 21-year-old cruised to a 8-5 record with a 3.03 ERA, 116 strikeouts and 32 walks in 116 innings between Class A Advanced Bradenton and Double-A Altoona. He followed that up with a pair of dominant starts in the postseason, helping the Curve claim the Eastern League title, then went 4-0 with a 1.52 ERA in the Arizona Fall League.
Keller isn't the flashiest arm and won't rack up eye-popping strikeout totals or hit triple-digits on the radar gun. But he doesn't make many mistakes, lacks a true weakness and pitches with a maturity beyond his years. As long as he remains healthy, the 2014 second-round pick looks like a shoo-in to pitch for Triple-A Indianapolis at some point this season. The Pirates have acknowledged keeping him healthy will be one of their priorities.
"The stuff is there. The strikes are there. The quality of the pitches is there," Pittsburgh director of Minor League operations Larry Broadway told MLB.com late last season. "Got to keep him on the field and continue to refine his approach and the quality of the strikes, the quality of the command."
Back and healthy: Austin Meadows, OF
While Meadows' talent remains immense -- his hit, power and run tools all rate average to plus -- a bit of the shine has come off the second-ranked Pirates prospect after a rash of injuries stalled his progress in Indianapolis the past two seasons. The 2013 first-rounder has played in over 100 games just once in his five-year Minor League career, when he hit .310/.360/.420 in 127 contests for Class A Advanced Bradenton in 2015. Coupled with the fact he has hit just .214 and .250 in limited action in the International League the past two seasons, alarm bells should be going off, right?
Not so fast. At 22 years old, Meadows remains very much ahead of schedule with parts of two seasons at Triple-A already under his belt. The Georgia native put together an impressive showing in big league camp, batting .368 with a homer and eight RBIs in nine games before getting sent down. More importantly, he showed he is 100 percent healthy going into the games that matter. Pittsburgh general manager Neil Huntington acknowledged as much after trimming Meadows from the Major League roster.
"Saw some very good development from him. Health, first and foremost," Huntington told MLB.com. "Showed us why we're excited about what he can become in the future. Get him out to Triple-A, get him some at-bats, get him some confidence, let him learn some things at that level and prepare himself to come help us win games in Pittsburgh."
Major League-ready: Kevin Newman, SS
Newman isn't coming off his best season, his fantastic hit tool translated to a decent-but-not-great slash line of .267/.311/.363. The dip in production dropped him out of MLB.com's Top 100, but that doesn't mean the 24-year-old won't contribute at the big league level at some point this season. He remains one of the better pure hitters in the system. Much of the Pirates' upper-level talent from past seasons is already in the Majors, and with eighth-ranked prospect Colin Moran looking like the club's Opening Day third baseman after a strong spring, that leaves Newman as one of the more likely candidate for an in-season callup.
Adding to that likelihood is the fact that the 2015 first-round pick spent time working at second base during Spring Training. While Pittsburgh typically likes versatility in their lineup, the move also opens up more opportunity for Newman to contribute to the big league club.
"It's giving him another option, if something happens, where he's not just a shortstop," Pirates manager Clint Hurdle told MLB.com. "Shortstops don't get hurt all year? There's nowhere for him to play. Something else happens where we move one of our utility players, or one of our guys that's playing second base has to go full-time here or full-time there, it opens up another avenue for him."
At the crossroads: Will Craig, 1B
Craig has been by no means bad in his first two seasons in the Minors after being taken with the 22nd overall pick in the 2016 Draft. He hit .271 in 123 games with Bradenton last season, a fairly solid number in the pitcher-friendly Florida State League. He also led the Marauders in walks (62) and total bases (170) while finishing second in RBIs (61).
The main bugaboo with Craig, as with current Bucs first baseman Josh Bell at the same stage, is a lack of power so far as a pro. The Wake Forest product hit just six long balls last season after belting only two in 63 games with Class A Short Season West Virginia in his debut in 2016. In two Minor League seasons, he has a higher on-base percentage (.386) than slugging percentage (.368).
As a former first-round pick locked to first base defensively, Pittsburgh will likely need Craig to show some more power at some point. Bell eventually silenced all his critics with a 26-homer season in the big leagues last year, and perhaps Craig will do the same with more experience. It would go a long way for a system heavy on contact hitters and speedsters that could use a young up-and-coming bopper.
Breakout prospect: Kevin Kramer, 2B
Kramer looked to be in the midst of a breakout season last year when he broke his right hand in June and missed the rest of the regular season. Before the injury, he hit .297/.380/.500 with six roundtrippers, 27 RBIs and seven steals in 53 games with Altoona. Though he was able to return for the Eastern League playoffs, he went just 1-for-13 in four contests.
The 24-year-old is a solid hitter who rarely strikes out and can play both middle infield positions. Even better, he spent the offseason addressing one of his greatest weaknesses and adding more gap power to his game, so don't be surprised to see a jump in doubles and triples from the UCLA product. The adjustments already translated to seven extra-base hits (three doubles, three triples, one homer) in Spring Training as he batted .320 in 16 games with the big league club.
"When we sat down and talked about how we wanted to go about changing that, it was about getting the ball in the air more," Kramer told Triblive.com. "I don't talk launch angle. I don't try to hit the top of the cage. I don't do any of that stuff. It's just about driving the ball and driving it efficiently.
"How do we drive the ball in advantage counts and not look like that's all we're trying to do, trying to hit home runs, because that's not me? I feel like I've been a line-drive hitter for most of my life, and I still want to keep that identity, for sure. It's about maximizing that."


More to keep an eye on: Taken with the 12th pick in last year's Draft, Shane Baz screams future frontline starter. The 18-year-old is still a ways from the big leagues, but possesses three plus pitches in his fastball, cutter and slider. ...With 27 and 36 steals respectively last year, former first-rounders Ke'Bryan Hayes and Cole Tucker can cause serious mayhem on the basepaths. Hayes, in particular, oozes breakout potential. ... Lolo Sanchez was a relatively unheralded international signing in 2015, but the 18-year-old shot up to No. 10 in Pittsburgh's Top 30 after an impressive stateside debut at the complex level, where he batted .284 with 17 extra-base hits and 14 steals in 51 games.
Predictions:
Most home runs in the system: Jason Martin
Most stolen bases: Tucker
Most strikeouts: Taylor Hearn
Current prospect to get most Major League playing time: Moran
Non-Top 100 prospect to end 2018 in the Top 100: Hayes