Craig powers his way to Player of the Week
No. 17 Pirates prospect batted .522 with five homers in six games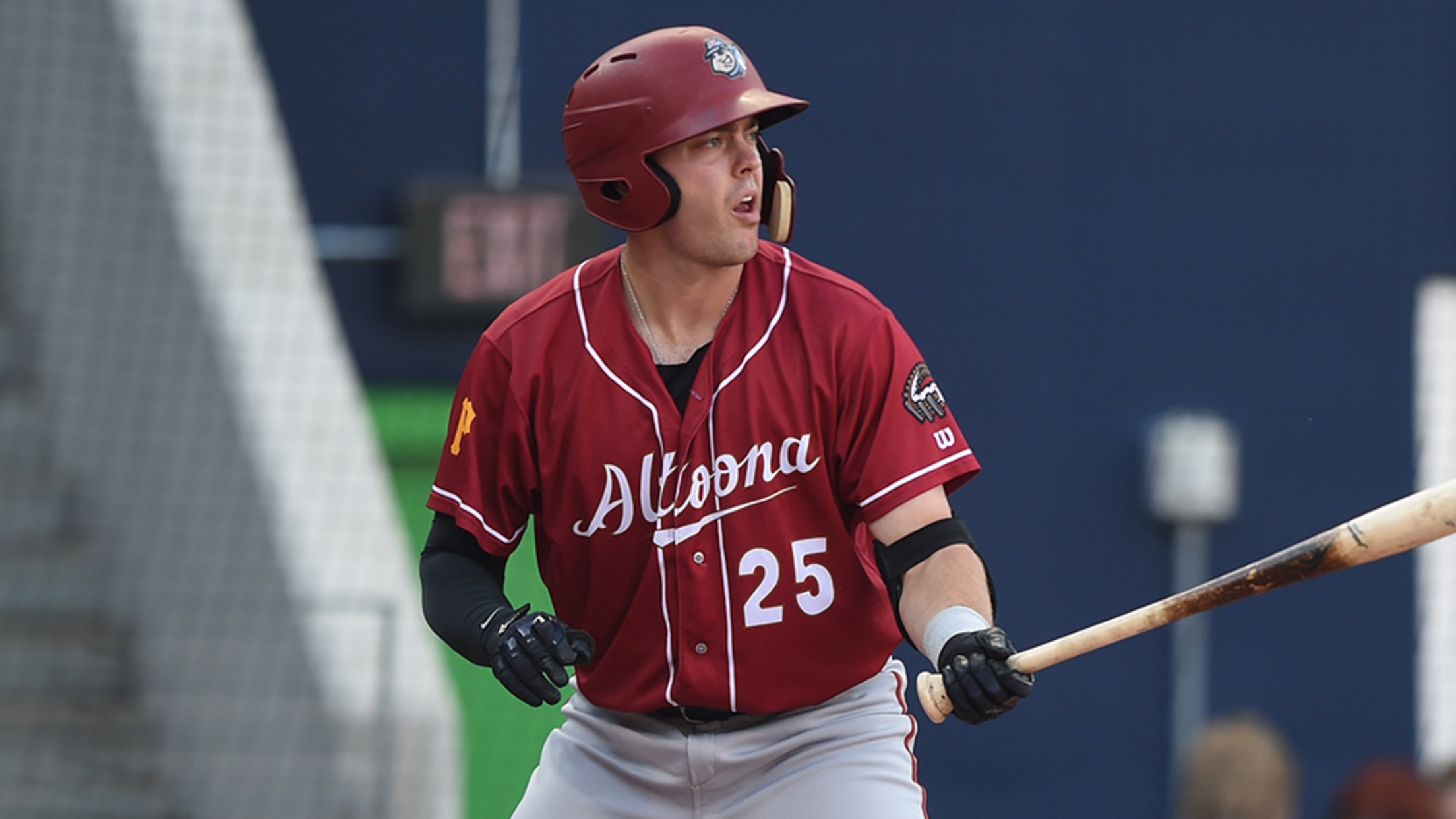 Will Craig, who entered the year with eight homers in 186 games as a pro, has 11 long balls in 61 contests for Altoona. (Kevin Pataky/MiLB.com)
Will Craig displayed a solid power stroke in his college days at Wake Forest, so he had a feeling it was only a matter of time before it showed up at the professional level. Last week the No. 17 Pirates prospect put that power potential front and center. Craig smashed
Will Craig displayed a solid power stroke in his college days at Wake Forest, so he had a feeling it was only a matter of time before it showed up at the professional level. Last week the No. 17 Pirates prospect put that power potential front and center.
Craig smashed five homers and collected 12 RBIs en route to Eastern League Offensive Player of the Week, the first weekly honor he's captured in three seasons as a pro. The first baseman hit .522/.607/1.261 with seven extra-base hits and 12 runs scored over a six-game stretch from June 11-17.
"I stepped into the box, felt confident in myself to do some damage and help the team as much as I could," Craig said. "I don't know really what happened -- it was a mind-set after the off-day we had this past Monday. It was getting back on the grind of playing every day and trying to work on a few things."
• View the Pitcher of the Week winners »
Craig wasted no time, going 3-for-5 with a homer and five RBIs on Tuesday in a road matchup against Binghamton. It started a parade of three straight days in which he went deep against the Rumble Ponies, ending with a three-hit performance in which he finished a triple shy of the cycle for the second time in the series.
"With the way I felt in the box, it felt like I could do damage at any point," he said. "It's just having fun and play as well to help my team. It was nice having a lot of guys backing me up. I didn't even know I was triple away from the cycle until after the game -- it didn't even register to me. But it's a great feeling to finally put things together for a long period of time."
The 2016 first-round pick capped off the week with five more hits in a three-game series against New Hampshire, belting homers in the final two games of the set. Craig had entered the month with a .253 average and .779 OPS, but he's raised his season line to .263/.342/.493 on the strength of a strong June. Over the month, he holds a .989 OPS, which ranks ninth on the circuit.
Coming off a 2017 where he held a .371 slugging mark in the more pitcher-friendly Florida State League, Craig is happy to see his power reemerge in Double-A.
"It's definitely nice to see [the power]," Craig said. "Especially last year, the home runs weren't where I wanted them. And this year, being kind of lower for a little bit, it's definitely uplifting to know that I've still got it. I knew I had it in there, but instead of being a few games or a few at-bats here and there it was for a whole weeklong stretch, so that was nice."
Putting aside the power surge, Craig has been pleased with his development going against tougher competition on the circuit this season. He's tied for fifth in the league with 11 roundtrippers and 13th with an .834 OPS. The righty-hitting first baseman been particularly successful against left-handers, getting on base at a .404 clip through 45 at-bats.
"Going from last year to this year, you definitely have to adjust continuously," Craig said. "Guys will throw you a certain way for a few days and you'll adjust to it. Then after a few days you'll do well and they'll adjust again. You're constantly adjusting and making those changes as quickly as possible."
Below is the complete list of Minor League Offensive Player of the Week winners for June 11-17:
| League | Player | Team | MLB | Stats |
| --- | --- | --- | --- | --- |
| International | Brandon Drury | Scranton/Wilkes-Barre | NYY | 471/.514/.735, 8 G, 16-for-34, 4 2B, 1 3B, 1 HR, 11 RBI, 11 R, 2 BB, 1 IBB, 7 K, 2 SB |
| Pacific Coast | Socrates Brito | Reno | ARI | .600/.643/1.240, 6 G, 15-for-25, 4 2B, 4 HR, 11 RBI, 10 R, 3 BB, 2 K, 1 CS |
| Eastern | Will Craig | Altoona | PIT | .522/.607/1.261, 6 G, 12-for-23, 2 2B, 5 HR, 12 RBI, 12 R, 4 BB, 4 K |
| Southern | Nathaniel Lowe | Montgomery | TB | .462/.559/.962, 7 G, 12-for-26, 1 2B, 4 HR, 10 RBI, 6 R, 7 BB, 1 IBB, 2 K |
| Texas | Chuck Taylor | Arkansas | SEA | .400/.452/.600, 7 G, 10-for-25, 2 2B, 1 HR, 7 RBI, 2 R, 4 BB, 1 K |
| California | Jo Adell | Inland Empire | LAA | .536/.581/1.036, 7 G, 15-for-28, 2 2B, 4 HR, 8 RBI, 9 R, 2 BB, 3 K, 3 SB |
| Carolina | Ryan McKenna | Frederick | BAL | .464/.559/.821, 9 G, 13-for-28, 2 2B, 1 3B, 2 HR, 4 RBI, 10 R, 5 BB, 3 K |
| Florida State | Austin Listi | Clearwater | PHI | .538/.600/.846, 3 G, 7-for-13, 1 2B, 1 HR, 3 RBI, 2 R, 2 BB, 1 IBB, 4 |
| Midwest | Nolan Jones | Lake County | CLE | .500/.538/.833, 6 G, 12-for-27, 2 2B, 2 HR, 3 RBI, 3 R, 2 BB, 6 K |
| South Atlantic | Will Allen | Greensboro | MIA | .500/.556/1.125, 5 G, 8-for-16, 1 2B, 3 HR, 10 RBI, 7 R, 2 BB, 1 K |
Andrew Battifarano is a contributor to MiLB.com. Follow him on Twitter, @AndrewAtBatt.