Dalbec delivers first EL two-homer game
Sixth-ranked Red Sox prospect plates three, reaches four times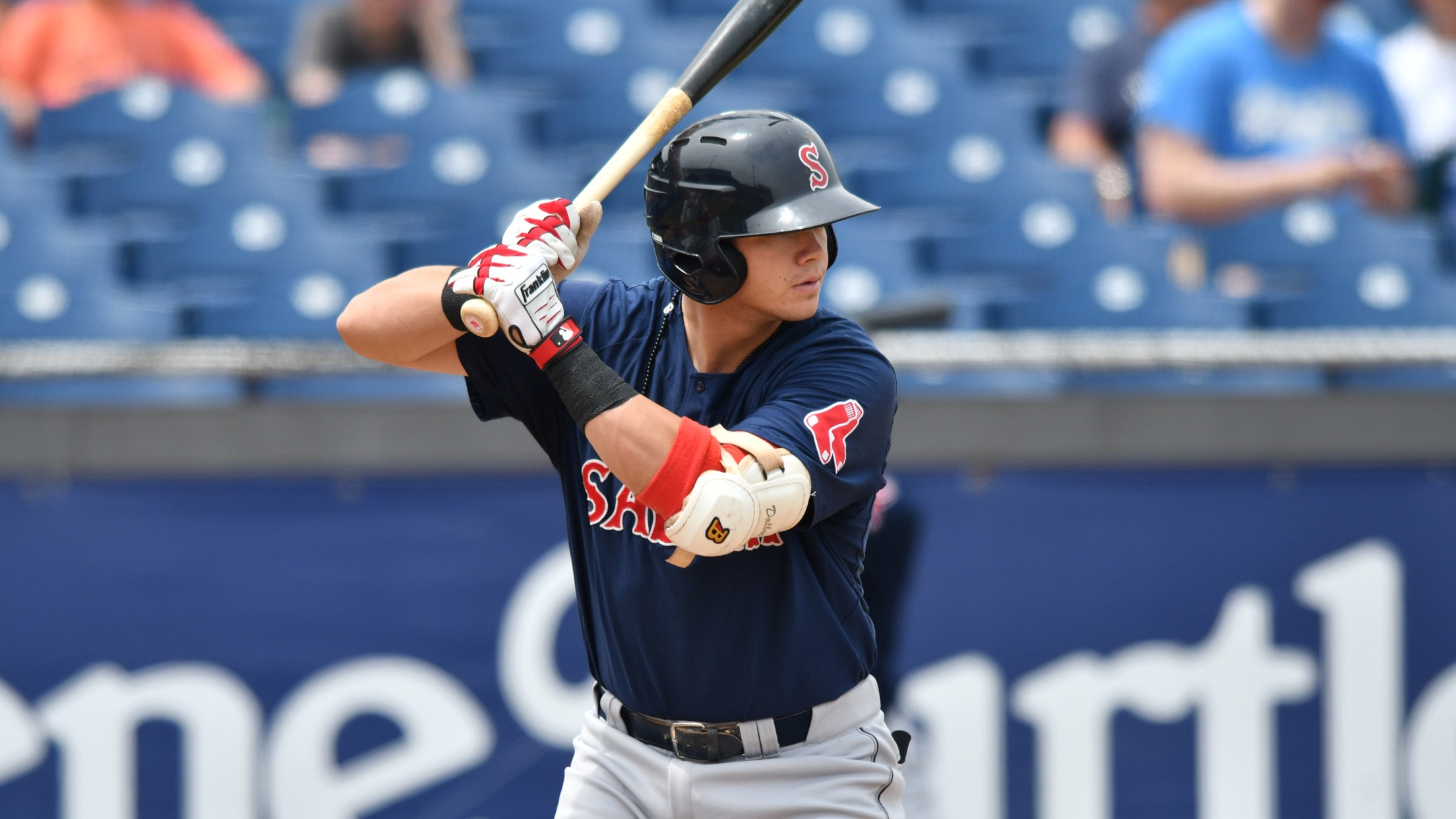 Bobby Dalbec still leads the Carolina League in home runs (26), doubles (27), RBIs (85) and total bases (197). (Ken Inness/MiLB.com)
Bobby Dalbec has a reputation as being a high-energy guy for a reason.Boston's No. 6 prospect was hitting .257/.372/.569 with Class A Advanced Salem when he was promoted to the Sea Dogs on Friday. Dalbec's slugging percentage, 55 extra-base hits and 26 home runs with the Red Sox still lead
Bobby Dalbec has a reputation as being a high-energy guy for a reason.
Boston's No. 6 prospect was hitting .257/.372/.569 with Class A Advanced Salem when he was promoted to the Sea Dogs on Friday. Dalbec's slugging percentage, 55 extra-base hits and 26 home runs with the Red Sox still lead the Carolina League.
So it was kind of business as usual Sunday when the 23-year-old bashed his first Double-A roundtrippers as Portland surged past Richmond, 7-3, at Hadlock Field. Dalbec plated three runs and walked twice.
"This is just who he is, I really haven't had to say much to him. He brings a lot of energy to a lineup and I just told him don't change anything," said Sea Dogs hitting coach Lee May. "He was very well prepared when he got here and he hasn't skipped a beat. I'm just along for the ride like everyone else."
In three games with Portland, the fourth-rounder in the 2016 Draft has gone 4-for-9 with a .444/.545/1.111 slash line. He has a pair of multi-hit efforts, drove in four runs and scored twice.
"His at-bats are very poised and professional and he doesn't miss his pitch," May said. "And he'll make adjustments when he needs to as we go along here. He's only going to get better."
Gameday box score
Dalbec started his afternoon by drawing a five-pitch walk off Giants No. 12 prospectLogan Webb in the first inning. Two frames later, he mashed the right-hander's 0-2 offering over the wall in right field to knot the score up, 2-2.
"Good hitters don't go up there trying to hit home runs. They go up there trying to get a good pitch to hit and putting a good swing on it, and homers are just a byproduct of that. And that's what he's doing," May said. "Since he's been here, he just looks comfortable and doing a good job of that."
The Flying Squirrels did not take any chances with Dalbec in the fifth, Webb intentionally walked the Arizona product with a runner on second base and two outs.
In the seventh, Dalbec led off against right-hander Ryan Halstead and he drilled the 2-1 offering well beyond the wall to straight-away center for the Sea Dogs' sixth run.
Right-hander Teddy Stankiewicz (7-9) earned his second straight victory after yielding three runs on six hits and a walk while fanning six over seven frames.
San Francisco's 19th-ranked prospect Garrett Williams (3-8) was pegged with the loss after allowing two runs on one hit and a walk in an inning of relief.
Giants No. 27 prospect C.J Hinojosa knocked his second homer on the circuit for the Flying Squirrels.
Rob Terranova is a contributor to MiLB.com. Follow him on Twitter @RobTnova24.