Prospect Roundup: Games of Aug. 31
Guerrero punches D-Jays' playoff ticket; Acuna builds MLB case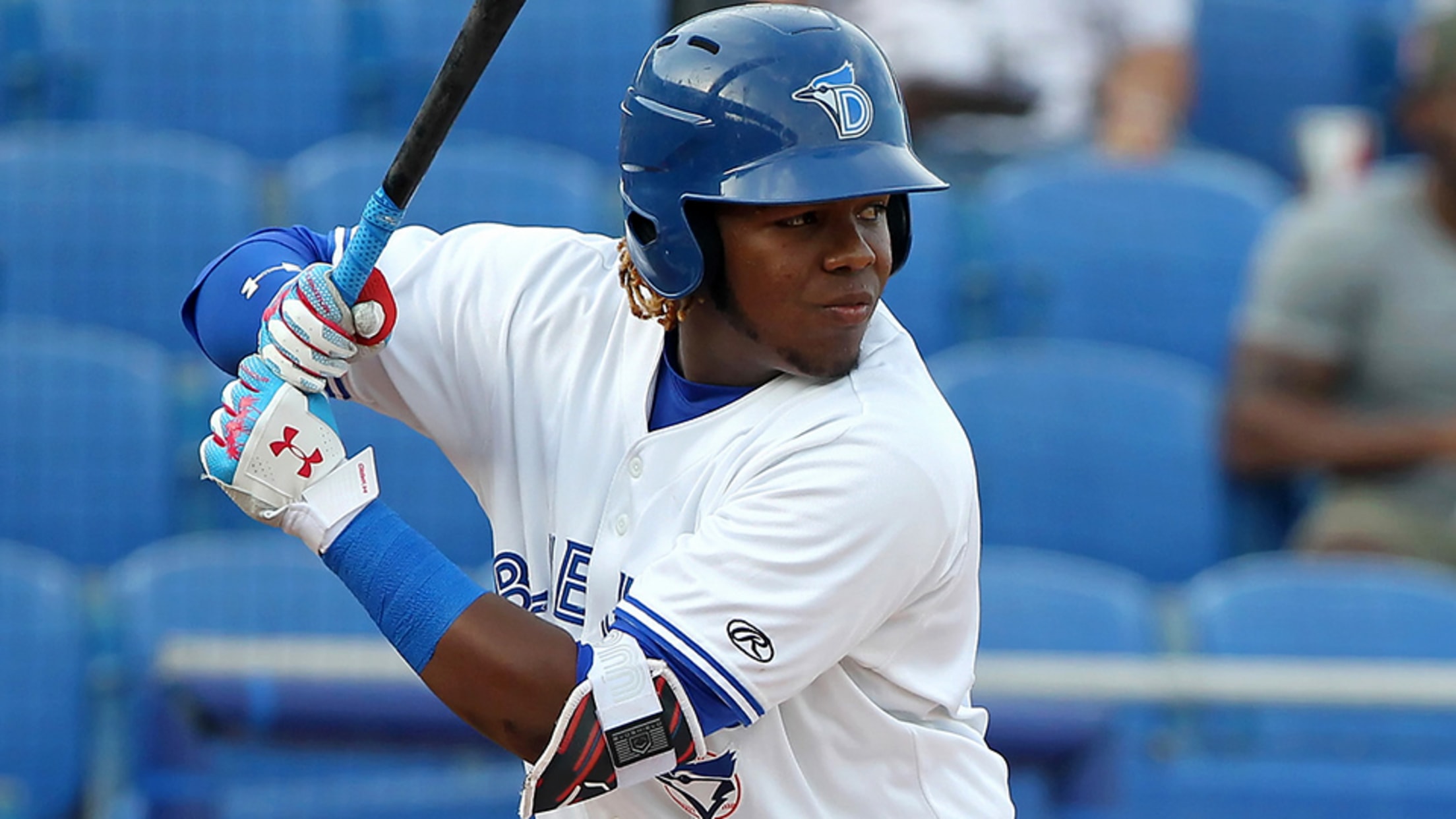 Vladimir Guerrero Jr. has hit .325 with a .917 OPS in 116 games between Class A Lansing and Class A Advanced Dunedin. (Cliff Welch/MiLB.com)
Braves OF Ronald Acuña Jr., Triple-A Gwinnett: 3-for-6, 2 RBI, 2 R, 2 K -- The Braves' top prospect continued to push for a September callup with another three-hit performance Thursday night. This was the eighth time in 49 games that the 19-year-old outfielder had collected three or more hits
Braves OF Ronald Acuña Jr., Triple-A Gwinnett: 3-for-6, 2 RBI, 2 R, 2 K -- The Braves' top prospect continued to push for a September callup with another three-hit performance Thursday night. This was the eighth time in 49 games that the 19-year-old outfielder had collected three or more hits with Gwinnett. His 70 hits and 111 total bases lead all International League batters since since his July 13 debut, while his .934 OPS ranks third and his .343 average fourth. In other words, Acuna is performing like a player worthy of a Major League look, even if he's still a teenager. There are some road blocks, of course. Acuna isn't likely to knock perennial Gold Glove contender Ender Inciarte out of center field, and if he moves to a corner in Atlanta, he'd have to contend with veterans Matt Kemp and Nick Markakis -- both of whom are signed through at least next year. When an organization has a five-tool talent like Acuna, it should make room, regardless of cost, and the Braves will do that when they deem the time is right. Whether they decide that's September -- when Acuna can get a taste of the Majors in preparation for next season -- or 2018 is yet to be seen. Given how aggressive the Braves have been with MLB.com's No. 8 overall prospect, September seems more likely right now.
Cardinals LHP Austin Gomber, Double-A Springfield: 6 IP, 5 H, 1 R, 1 ER, 2 BB, 11 K, 104 pitches, 74 strikes -- The Cardinals' No. 15 prospect finished a stellar August with a career-high 11 strikeouts in Springfield's 4-3 loss to Arkansas. Over six starts this past month, Gomber went 5-0 with a 0.91 ERA, 0.76 WHIP, .134 average-against, 44 strikeouts and 12 walks in 39 2/3 innings. He now has 140 punchouts on the season over 143 innings, second-most in the Texas League, to go with a 3.34 ERA that ranks third in the circuit. The 2014 fourth-rounder doesn't have killer velocity, but his curveball has earned impressive grades and a changeup gives him three solid options. He's put up good numbers everywhere he's gone in the Cardinals system, and if he can find a way to carry this newfound form into the start of 2018 at Triple-A Memphis, he'll be knocking on St. Louis' door before long.
Indians 1B Bobby Bradley, Double-A Akron: 3-for-4, 2 2B, 2 RBI, 2 R -- What you see is what you've gotten from the Indians' No. 3 prospect in 2017. He's going to hit for a good amount of power, as he's done with 22 homers and 49 total extra-base hits in 127 games for Akron this season. But he won't hit for a high average (.249) or provide much value on the basepaths or defensively at first base. That's fine for a slugger at his position, but that type of profile is what's moved him out of MLB.com's top 100 this year. There is good news in that Bradley has cut his strikeout rate from 29.7 percent at Class A Advanced Lynchburg last season to 23 percent against tougher Double-A arms in 2017, all while keeping his power intact. He'll get a chance at the Arizona Fall League starting in October, and that'll be another interesting measuring stick for a player preparing to move to Triple-A in just his age-22 season next spring.
Blue Jays 3B Vladimir Guerrero Jr., Class A Advanced Dunedin: 1-for-4, HR, 2 RBI, R, BB -- It'd be a shame if the top Blue Jays prospect's first full season had to come an end next Monday. Thankfully, Dunedin clinched a spot in the Florida State League playoffs with a 5-3 win over Clearwater on Thursday, so that won't need to happen. Of course, it was Guerrero's bat that did it. His two-run homer in the top of the ninth gave the D-Jays the lead and essentially punched their playoff ticket. It was the 18-year-old third baseman's 13th homer of the season and sixth in 45 games since getting promoted to Class A Advanced on July 10. Though the FSL may be pitcher-friendly, Guerrero has only gotten better at the higher level, posting a .340/.455/.509 line with 14 extra-base hits and a stellar 26/34 K/BB ratio through 45 games. (No one else in the FSL has an OBP above .414 since Guerrero arrived.) He's already MLB.com's No. 6 overall prospect, but he'll have a case for being the game's top overall prospect when rankings are updated in the offseason. His bat might already be the most exciting in the Minors.
Twins LHP Lewis Thorpe, Class A Advanced Fort Myers: 7 IP, 5 H, 2 R, 1 ER, 1 BB, 11 K, 91 pitches, 66 strikes -- It's been a rough career for the Twins' No. 15 prospect, but Thursday showed there are still plenty of reasons to be excited. Having missed significant time from 2014 to 2016 due to elbow injuries, Tommy John surgery and a bout with mono, the 21-year-old left-hander returned to the mound this season and starred in what will likely be his last start of 2017. His 11 strikeouts were a career high, while his seven innings pitched matched his longest outing as a pro. Thorpe, who has an above-average fastball and changeup as part of his four-pitch mix, has been solid in his return to the mound with a 2.69 ERA and 84 strikeouts in 77 innings in the FSL. That should allow him to enter the offseason with some confidence as he prepares to break through the 100-inning barrier at the upper levels in 2018.
Sam Dykstra is a reporter for MiLB.com. Follow and interact with him on Twitter, @SamDykstraMiLB.