Quakes' Bannon bashes way to new milestone
Dodgers infielder sets career highs with three homers, five RBIs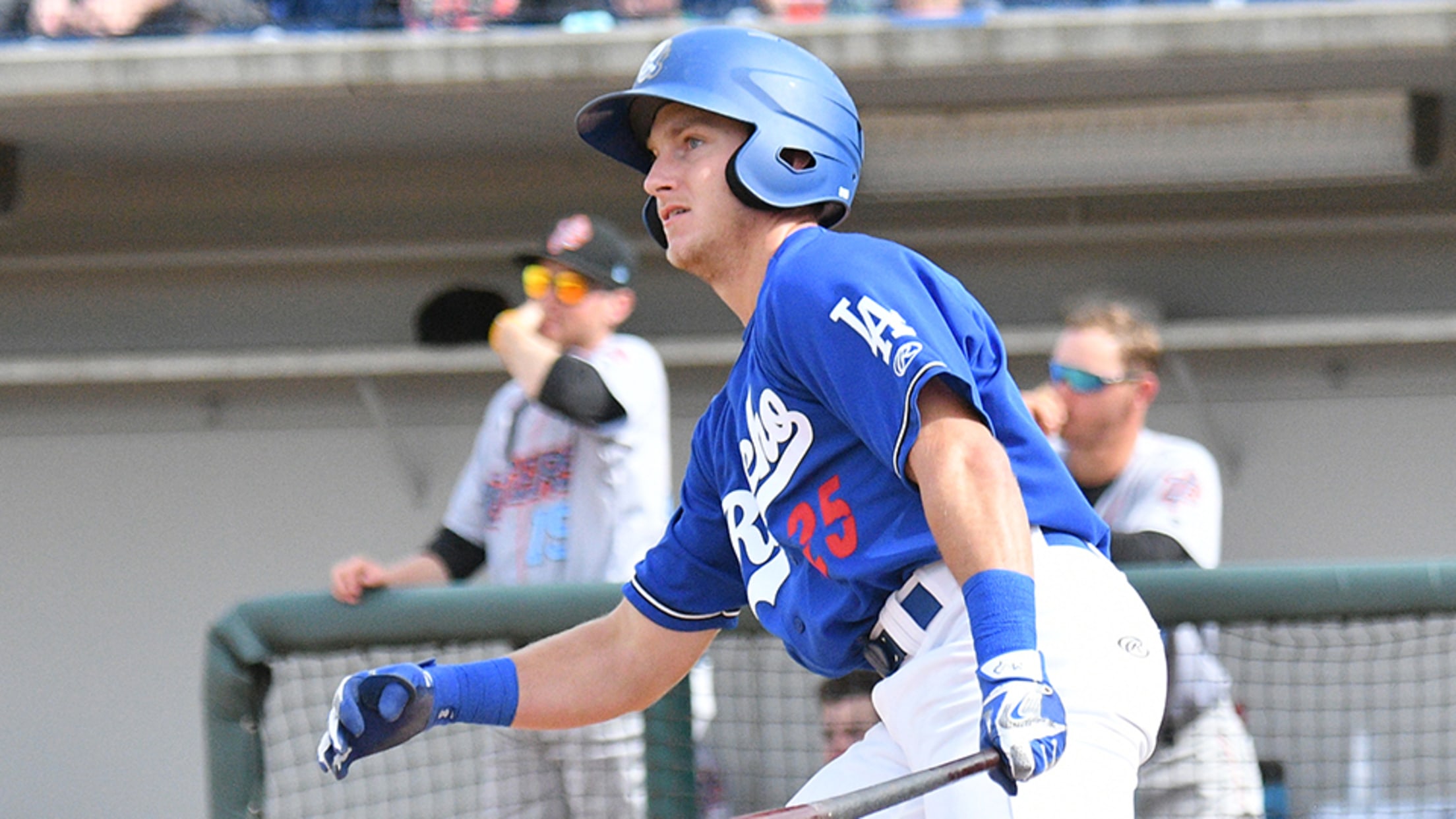 Rylan Bannon followed Roberto Ramos as the second Minor Leaguer to blast three in Lancaster this year. (Steve Saenz/MiLB.com)
Rylan Bannon stepped into the box for batting practice Wednesday night and had a sense that things could go well for him when game time rolled around. "I was telling No. 13 Dodgers prospect] [Gavin Lux after we hit in the cage that today was the best that I ever felt in
Rylan Bannon stepped into the box for batting practice Wednesday night and had a sense that things could go well for him when game time rolled around.
"I was telling [No. 13 Dodgers prospect] Gavin Lux after we hit in the cage that today was the best that I ever felt in the cage," the Los Angeles infielder said. "I didn't really do much different in there other than just really focus on getting the barrel, swinging hard and driving the ball off the back of the cage. When I got into the game, I just kind of thought about that feeling."
Bannon's preparation paid off as he set career highs with three homers and five RBIs to power Class A Advanced Rancho Cucamonga to an 11-4 win over Lancaster. It marked the second three-homer game at The Hangar this season, following Roberto Ramos' feat for Lancaster on April 8, and the first for the Quakes since DJ Peters completed the feat July 2 last season.
Gameday box score
In 40 games with Rookie-level Ogden in 2017, Bannon hit .336/.425/.591 with 10 home runs and 30 RBIs. Through 13 games in his first full season, the 21-year-old sports a .294 average with four dingers and 12 RBIs. Bannon noted his work during the winter helped him adjust to the new level.
"I think coming off a good year like that, some guys might let it get in their head like that it's just going to happen automatically," he said. "I definitely worked hard this offseason. I put on some weight, I hit a lot and took a lot of ground balls. I just kind of stayed with my same approach as last year and taking it into this year."
Facing Brandon Gold with one out in the second inning, Bannon worked the count full before slugging the seventh pitch of the at-bat over the center-field wall for a solo jack. The 2017 eighth-round pick took a different tactic in his second plate appearance, attacking the first offering and launching a two-run homer over the fence in left.
"Our 3-2 approach as an organization is that you want to narrow down your sights, you don't want to chase in a 3-2 count," Bannon said. "They always say look for a high-and-in pitch because that'll help with the timing of other pitches. A 3-2 count is big for a chase because a lot of guys think the pitcher has to throw a strike.
"I was locked in obviously, but going into the [second] at-bat, I wasn't too sure what he was going to throw me. I went up there sitting on a fastball and luckily enough he threw me a fastball, so that paid off."
Bannon grounded out to first base in the fifth and whiffed in the seventh, but came to the plate again in the final frame. The Xavier product deposited Reid Humphreys' 2-1 delivery over the center-field wall to finish off the night.
"It wasn't really on my mind going up there," Bannon said of the last at-bat. "I just went up there just trying to stick with my approach -- I wasn't looking to try to hit home runs. After the groundout after the strikeout, it was just about trusting the process. Once you ground out or strike out, you can't freak out and try to fix something that might not be broken. You just go up there and stick to your plan and good things happen."
If the the 5-foot-10, 180-pounder didn't feel the magnitude of the moment as he circled the bases, his teammates did when he returned to the dugout.
"I actually got the silent treatment," Bannon said with a laugh. "So I just went about my business and put my stuff back in the bat rack. I went back to get some water and they all mobbed me. It was really cool -- definitely was an awesome experience."
No. 15 Dodgers prospect Connor Wong collected a solo dinger while Omar Estevez went 2-for-5 with a homer and three RBIs to round out the Quakes' 15-hit night.
Four different Rancho Cucamonga starters combined to whiff 18 hitters, setting a club record for a single game. No. 24 prospect Tony Gonsolin got the start, yielding two runs on three hits and three walks with seven punchouts in 3 1/3 innings. Parker Curry (2-0) earned the win in relief after allowing one run over two frames.
Andrew Battifarano is a contributor to MiLB.com. Follow him on Twitter, @AndrewAtBatt.