Hooks' Cesar runs hit streak to 37 games
Astros prospect matches Texas League record to back Hartman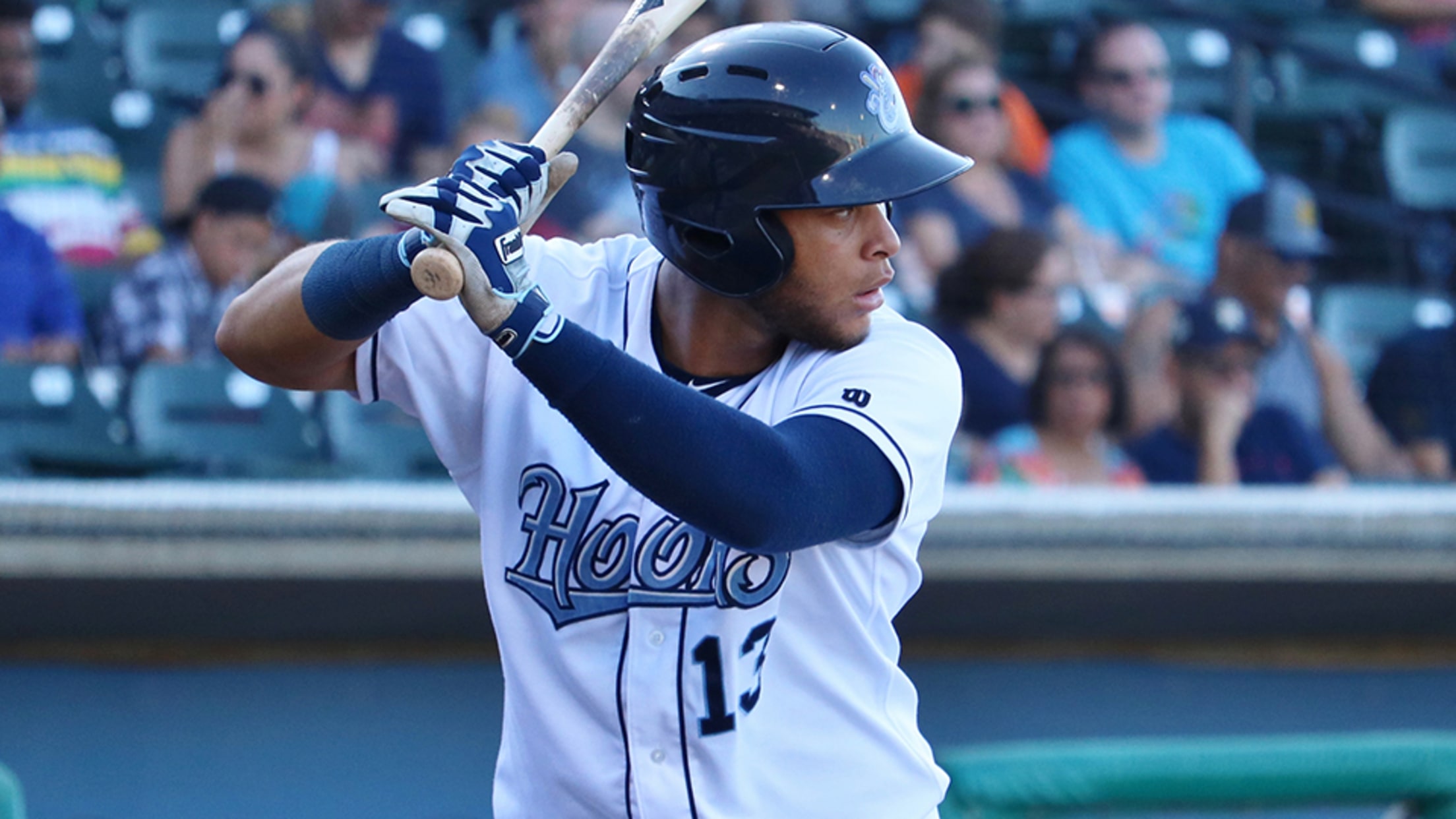 Randy Cesar's streak matches the league record set by El Paso's Bobby Trevino in 1969. (Tammy Tucker/MiLB.com)
Randy César cemented his place in the 130-year history of the Texas League on Wednesday night, but his accomplishment proved even more crucial in the moment.The Astros prospect singled in the lone run in Double-A Corpus Christi's 1-0 victory over San Antonio, extending his hitting streak to a Texas League
Randy César cemented his place in the 130-year history of the Texas League on Wednesday night, but his accomplishment proved even more crucial in the moment.
The Astros prospect singled in the lone run in Double-A Corpus Christi's 1-0 victory over San Antonio, extending his hitting streak to a Texas League record-tying 37 games. He matched the mark set by Bobby Trevino of the El Paso Sun Kings in 1969.
"This is a big day for him and I'm happy for him," Hooks manager Omar Lopez said. "Because it's not easy. It seems like it could be easy but it's not. And he's been having a tremendous year, and hopefully he can carry out the rest of the season like that."
Cesar struck out in the second inning and bounced to short in the fifth, keeping his average at a league-leading .349. The 23-year-old returned to the lineup Tuesday and singled after a six-game layoff in which he rested a sore thumb. Lopez said that, with the first-half title already locked up, the team has rallied around Cesar throughout his quest.
"We weren't caring much about what's happening in the game, everything was about him," the skipper said. "We were paying attention, we were trying to play the game the right way like always, but it was more about him."
During the streak, Cesar is batting .381 with seven homers, a triple, nine doubles and 28 RBIs. His hit Tuesday also came in his final at-bat, facing San Antonio right-hander Eric Yardley in the ninth inning, he dribbled a soft ground ball down the third-base line and hustled to beat out the pitcher's throw to first.
"It was incredible. He fought a lot in every single pitch to a tough pitcher with a very good arm," Lopez recalled.
Gameday box score
The seventh-inning single Wednesday broke a scoreless tie and followed a two-out double to right field by Yordan Alvarez. A wild pitch advanced Alvarez -- the Astros' fourth-ranked prospect -- to third before Cesar lined a 2-2 offering from Missions starter Jacob Nix to left.
"Tonight, he was committed since the first at-bat," the 41-year-old manager said. "Those games that he was out, our job was to kind of make sure he's ready and put in a good position ... and everybody helped him. All the players were giving a push. ... It's been a tremendous run for this club."
The run was all the support that Corpus Christi southpaw Ryan Hartman needed.
The 2016 ninth-round pick out of Tennessee Wesleyan held the Missions to one hit and three walks while striking out eight over seven innings. Hartman (6-2) took a no-hitter into the sixth before Ty France doubled to left with two outs.
"He was in total command with all pitches," Lopez said. "He was just spotting the fastball in and out of the plate, down in the zone and elevated up and in, when he needs it, and threw to some corners as well to put hitters away."
The Anaheim, California native has a 3.09 ERA with 75 strikeouts in 64 innings this season. Wednesday's performance marked his fifth scoreless outing of the season and the eighth in which he's allowed one run or fewer.
Lopez said Hartman's delivery a year ago contained a slight pause before landing, a quirk that has since been eliminated which has helped his arm to move more fluidly.
"He doesn't throw that hard, like 88-89 [mph] top," Lopez said. "When you spot it and you use your secondary pitches and you mix it up in the right way, that's what creates a certain situation for the hitters because it's going to be hard to recognize the changeup. And also, he'll come with a fastball up and in or down and in, so that's why he kind of freezes hitters some times."
Nix (1-1) was nearly as stingy. The Padres' No. 11 prospect yielded one run on four hits and fanned eight over seven innings. He has a 1.27 ERA in four Texas League starts after missing the first two months of the season due to a groin injury.
Gerard Gilberto is a contributor to MiLB.com. Follow and interact with him on Twitter, @GerardGilberto4.