Ramos' three homers send JetHawks soaring
Rockies infielder collects six RBIs, No. 4 prospect Welker adds five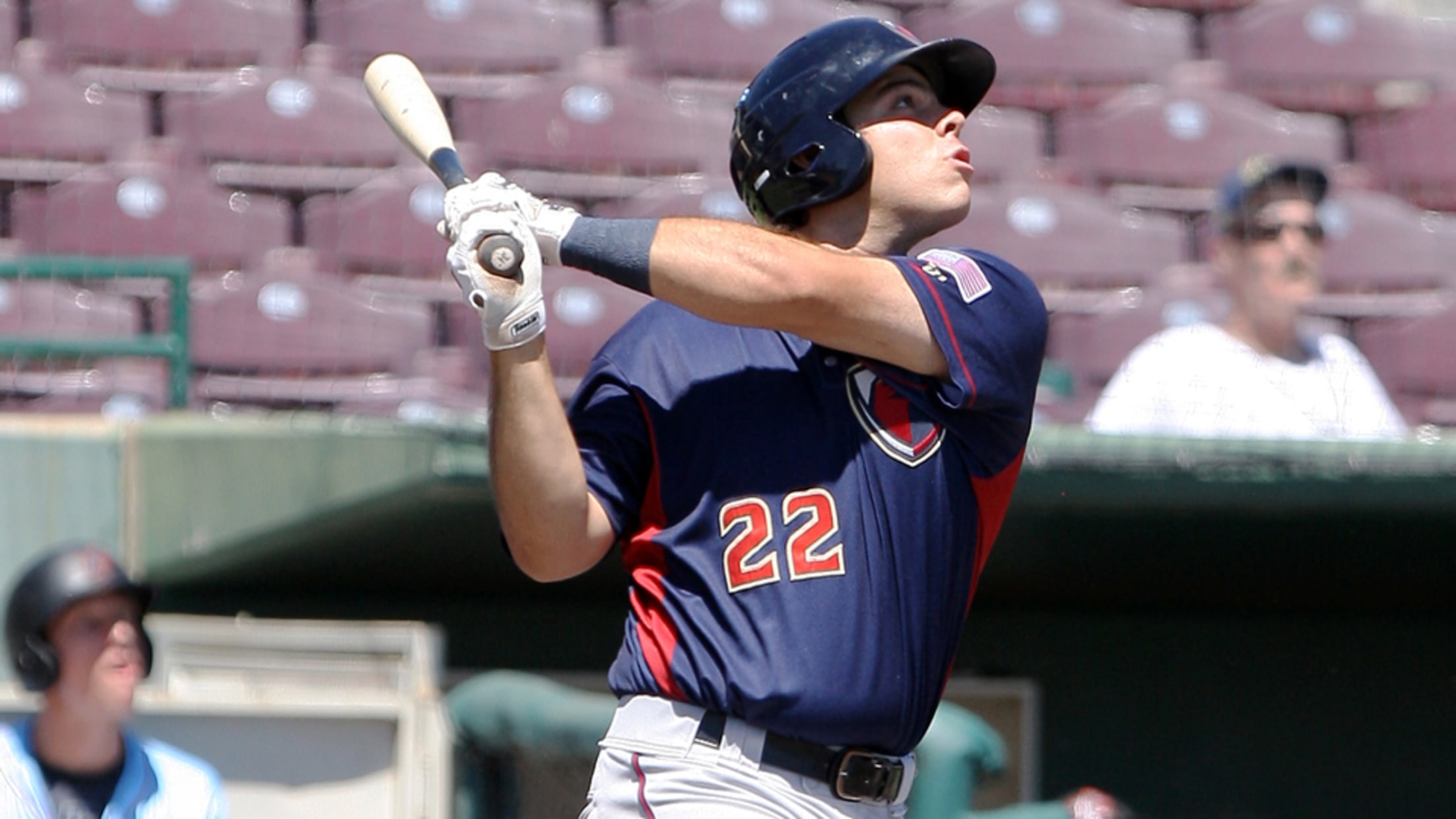 Roberto Ramos came into the season with 36 home runs over 250 Minor League games dating to 2014. (Donn Parris/MiLB.com)
After a preseason adjustment didn't work out, Roberto Ramos went back to his old way of doing things. The results have been music to fans' ears at The Hangar."I like to hit with mariachi because that's the typical music of my home country," the native of Mexico said. "We had
After a preseason adjustment didn't work out, Roberto Ramos went back to his old way of doing things. The results have been music to fans' ears at The Hangar.
"I like to hit with mariachi because that's the typical music of my home country," the native of Mexico said. "We had an exhibition with the University of Antelope Valley, and I chose a rap song [as my walk-up music]. That didn't go to well, so I tried to change back [to "Camino Real de Colima"], but they mixed it up. It didn't play [on Opening Day], and I didn't get a hit. They got it going [on Saturday], and now I'm happy."
Gameday box score
The 23-year-old Colorado prospect collected two hits in that game, and on Sunday, bashed three home runs -- pulling off the first hat trick of the Minor League season -- and collected six RBIs to pace Class A Advanced Lancaster to a 14-9 win over visiting Modesto. Colton Welker, the Rockies' No. 4 prospect, went 3-for-3 with a homer, five RBIs and four runs scored.
"It's something I've never done before, so that's pretty exciting, pretty special," Ramos said. "Any time I can help my club win, any time I can have a day like that, it's fun."
Entering the fifth inning 0-for-2, the left-handed hitter cracked a two-run dinger to center field off of left-handed Nuts starter Danny Garcia.
"[In that situation] I'm really just trying to get a good at-bat and take [into consideration] what he tried to do to me in my first couple at-bats and have a better plan," Ramos said. "I had never faced him before. [In the fifth] I had more information, so I tried to have a better plan, and I got something over the plate."
He added another roundtripper to right against righty Kyle Wilcox in the sixth. Facing southpaw Colin Rodgers in the eighth, he swatted yet another two-run jack to right, which surprised him despite the earlier long balls.
"I got the silent treatment on the second one," Ramos said. "[The possibility of a third one] wasn't even going through my head. My head was somewhere else, because I was facing a third pitcher, another lefty. I wasn't thinking about hitting another one. I just wanted a pitch I could handle."
The JetHawks' TrackMan Baseball system measured the distance of the third home run at 501 feet.
"That's what the guys were telling me in the clubhouse," Ramos said. "That's awesome. I thought the wind was involved, but the guy who was [measuring with] the TrackMan told me the TrackMan reading does not include the wind."
Ramos had a two-homer game for Rookie-level Grand Junction on June 23, 2015 and plated six runs for Hermosillo in the Mexican Pacific League on Oct. 28, 2016. He is the first Lancaster player to go yard three times in a game since Derek Fisher set a California League record with 12 RBIs in his circuit debut on May 30, 2015.
Welker has opened the year on a four-game hitting streak, going 8-for-12 (.667).
"Colton is great player, and having him in front of me and getting on -- it's fun," Ramos said. "We just have a bunch of guys in this team and in this organization in general who are amazingly talented and young."
Forrest Wall, the Rockies' No. 15 prospect, went 3-for-5 with a walk, a stolen base and a run scored.
Brandon Gold (1-0) picked up the win after allowing five runs on 11 hits and a walk while striking out two over six innings. Reid Humphreys notched his second save, retiring all four batters he faced.
Josh Jackson is a contributor to MiLB.com. Follow and interact with him on Twitter, @JoshJacksonMiLB.