Mountcastle reigns as Orioles start rebuild
Baltimore's No. 2 prospect earns fourth straight All-Star nod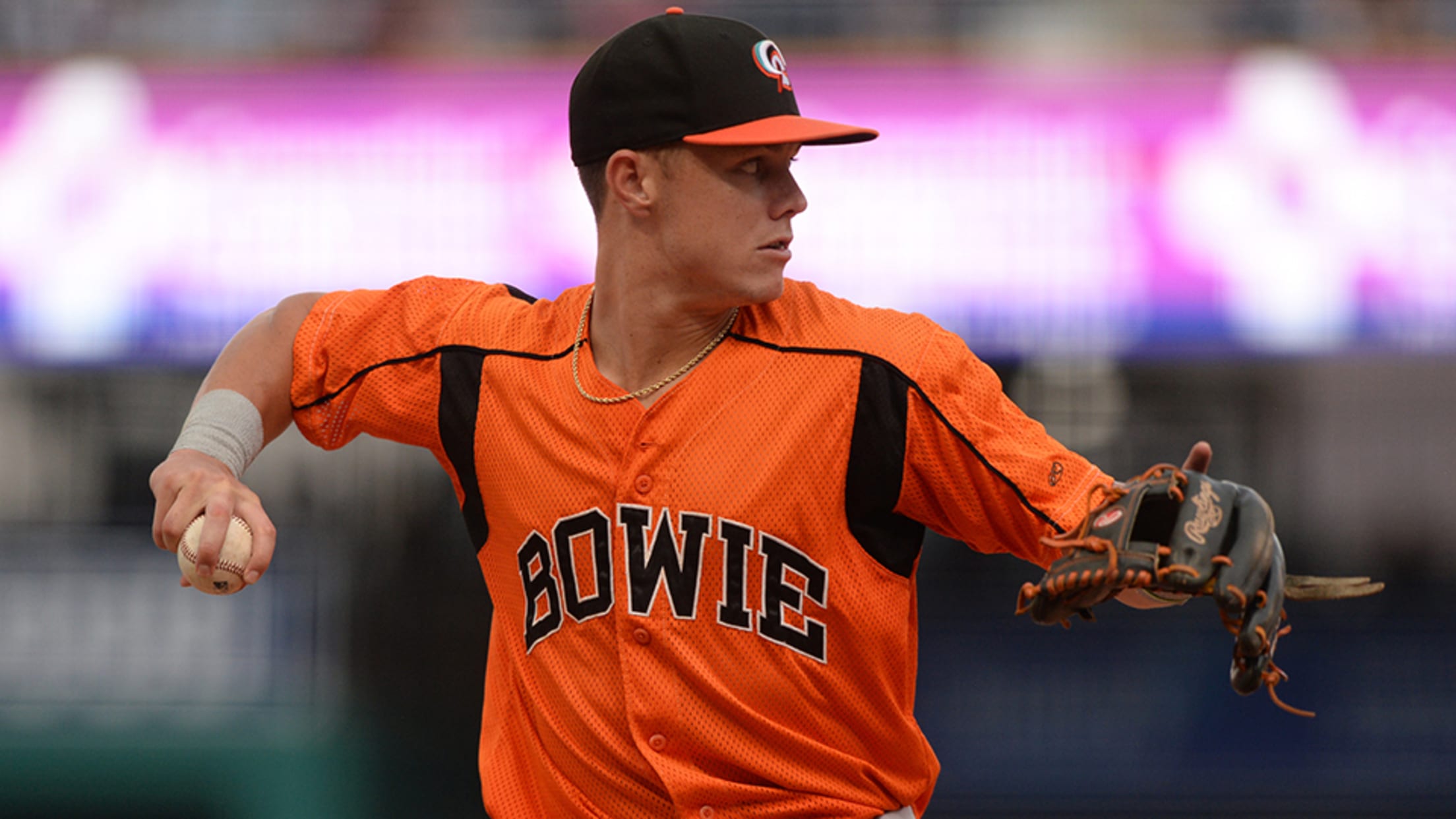 After being drafted as a shortstop, Ryan Mountcastle played exclusively at third base this season. (Kevin Pataky/MiLB.com)
Each offseason, MiLB.com goes position by position across each system and honors the players -- regardless of age or prospect status -- who had the best seasons in their organization. Click here to locate your favorite club.For the team with the Majors' lowest win total, things have nowhere to go
Each offseason, MiLB.com goes position by position across each system and honors the players -- regardless of age or prospect status -- who had the best seasons in their organization. Click here to locate your favorite club.
For the team with the Majors' lowest win total, things have nowhere to go but up. A series of midseason trades casting off five Major League All-Stars provided an influx of talent to a system that needed depth. Brian Graham, the Orioles' director of player development, was cautiously optimistic about the trade haul but saw the new players provide an immediate impact for Double-A Bowie, a team that was assigned six of the nine deadline acquisitions to finish among the club's Top 30.
Though all players brought into the organization midseason were deliberate All-Star omissions, more than half the list cut their teeth with the Baysox. Class A Delmarva was Baltimore's only full-season affiliate to finish with a winning record, but Graham viewed the combination of new players and organizational stalwarts in Bowie as forming the most talented team in Double-A by year's end.
A list of Baltimore's standout Minor Leaguers may look very different at the end of next season -- no doubt including the No. 1 overall 2019 Draft pick -- the blend of gradually developing prospects and some veterans well beyond their prospect status filled the roster of Organization All-Stars.

Orioles Organization All-Stars
Catcher -- Martin Cervenka, Bowie (97 games):
The Prague-born 26-year-old signed a Minors deal with San Francisco in November but was waived and claimed by the Orioles a month later. He earned All-Star honors last season with the Indians as a designated hitter but excelled behind the plate this year.
"It was really neat to see a player improve and evolve like he did over the course of the season," Graham said. "He's a guy that receives well, he blocks well, he's a big body and a big target to throw to with a plus arm."
Cervenka caught more than 800 innings over 93 games in his first full season as a starting backstop. He made only seven errors while throwing out 28 of 96 (29.1 percent) of would-be base stealers.
The 6-foot-4, 225-pounder also posted his best offensive power numbers with 15 homers and 60 RBIs while batting .258/.317/.457. Cervenka was named Eastern League Player of the Month in July after batting .364 (24-for-66) with five doubles, seven homers and 25 RBIs.
First base -- Aderlin Rodriguez, Bowie (128 games)
: The nine-year veteran heads into free agency after his second consecutive All-Star performance, posting a .286/.335/.478 line with a system-leading 92 RBIs. His 23 homers give him a share of the organization lead with
Wilson Garcia
.
"He deserves a lot of credit," Graham said, "He's just a grinder. He can flat out hit."
It was the second consecutive year in which Rodriguez played at Double-A for the full season. He has yet to play in a Triple-A game.
"He needs to be able to go to Triple-A and prove whether he can hit or not," Graham said. "It's up to him where he wants to play next year, but he can really hit."
Organization All-Stars by MLB affiliate »Second base -- Corban Joseph, Bowie (122 games):
The younger brother of Orioles backstop
Caleb Joseph
led the system in hits and doubles and added 17 homers and 68 RBIs while batting .312/.381/.497 at Double-A.
"Very few people in baseball had that ratio with the numbers that he had of home runs, batting average and just the ability to get on base," Graham said. "The makeup is off the charts, his presence in the lineup really helps the young hitters."
The 29-year-old made his Major League debut with the Yankees in 2013 and filled in as a utility man in Baltimore for 14 games this year. The wily veteran also demonstrated an advanced command of the zone, striking out 43 times while drawing 52 walks.
Third base -- Ryan Mountcastle, Bowie (102 games):
The
second-ranked Orioles prospect
earns his fourth consecutive All-Star nod and first as a third baseman. Drafted as a shortstop with the No. 36 overall pick in 2015, Mountcastle played exclusively at the hot corner in 2018, posting a .912 fielding percentage in 81 games in the field.
Graham said that the defensive switch was prompted by a growth sport for the 6-foot-3, 195-pounder that gives him a better profile at third base.
"He's making strides and getting better defensively, so for right now, he's probably on to the next level and watch the bat continue to grow," Graham said.
What did remain consistent for MLB.com's
No. 63 overall prospect
was his ability to hit. After missing the first month of the season with broken bone in his hand, Mountcastle batted .297/.341/.464 with 13 homers and 59 RBIs.
"The maturity as a young hitter that he showed this year was outstanding," Graham said. "He competed extremely well, his recognition of pitches was much better this year. He recognized off-speed pitches, breaking balls, showed power."
Shortstop -- Adam Hall, Class A Short Season Aberdeen (62 games): The 19-year-old Canadian second-rounder had a strong finish to the season. He earned Player of the Month honors after leading the New York-Penn League with a .390 average, .462 on-base percentage, .987 OPS and 15 stolen bases in August. He was also second with 20 runs scored and third with a .524 slugging percentage.
An oblique strain held him to just two games in the Rookie-level Gulf Coast League after the Draft last year, but the Orioles No. 27 prospect hit safely in 19 consecutive games this August and finished second in the NYPL with 22 steals while batting .293/.368/.374 with 14 extra-base hits and 24 RBIs.
"I think he surprised a lot of us with how well he was able to compete at that level with so little experience," Graham said. "He did everything you want out of a good middle infielder."
Outfield -- Ryan McKenna, Class A Advanced Frederick (67 games), Bowie (60 games): The Orioles No. 12 prospect was on fire through the first half of the Carolina League season, batting .377/.467/.556 with eight homers and 37 RBIs, earning midseason and postseason All-Star honors despite being promoted to Double-A on June 21.
"For a young play who had not played above the South Atlantic League level, to play the way he did in Frederick was pretty special," Graham said. "He hit for average, he got on base at a very high rate, he cut down on his strikeouts, he showed some power, he stole some bases and he played plus defense."
He did not continue his torrid pace at Double-A but remained productive, finishing with a .679 OPS in his first year at the level.
"He really showed maturity," Graham said. "He had as good an approach as anybody in our organization."
Mike Yastrzemski, Triple-A Norfolk (94 games), Bowie (20 games): The grandson of Hall of Famer Carl Yastrzemski opened the season in Double-A for the fifth consecutive year but put together his best Triple-A season since debuting there in 2016. The 28-year-old hit .265/.359/.441 with nine homers, 18 doubles, six triples and 49 RBIs for the Tides.
"In Triple-A, he had really good at-bats. He kind of showed the ability to use the whole field," Graham said. "Just his quality of offensive maturity this year in Triple-A was really impressive to me."
Cedric Mullins, Norfolk (60 games), Bowie (49 games), Baltimore (40 games): A "go-get-it" ability in the outfield earned the 24-year-old his first crack at the big leagues in August. Mullins also parlayed his tremendous speed into 21 steals while batting .289/.346/.472 with 49 extra-base hits across two Minor League levels.
"He's a plus defender and he can run the ball down in all directions … it's a difference-maker," Graham said. "Offensively, especially left-handed, he's a weapon. He gets on base, he scores runs, he actually will hit a home run when he gets a good pitch. He does a lot of things that put pressure on the other team."
Designated hitter -- Wilson Garcia, Frederick (108 games), Class A Advanced Clearwater (Phillies -- seven games): Garcia played seven years in the Phillies system and opened the season in the Florida State League, but an injury to Alex Murphy created a need and led the O's to acquire the 24-year-old. He played 59 games in the field and finished the season tied with Rodriguez for the most homers by an Orioles Minor Leaguer.
"He's a kid that uses his hands extremely well to hit," Graham said. "He really understands the strike zone. He's one of those guys that when you watch him, you know he sees the ball and has a feel for what he's doing."
Left-handed starting pitcher -- Zac Lowther, Frederick (17 games), Class A Delmarva (6 games): The O's No. 17 prospect might have been given too cautious an assignment to open the season, but it led to one of the best first-half performances in the Minors. In six starts with Delmarva and three with Frederick, he sported an 0.97 ERA with 66 strikeouts over 46 1/3 innings.
"Zac throws strikes, he pitches inside, he has a plus curveball, good changeup, and he commands the baseball," Graham said.
A 2017 first-rounder out of Xavier, Lowther finished 8-4 with a 2.18 ERA and 151 punchouts in 123 2/3 total innings. He does not have an overpowering fastball, but his 6-foot-2, 235-pound frames works to create a deceptive delivery.
"I know analytically, he grades out very high," Graham said. "He's got a high spin rate and good extension to the plate. He throws the fastball in the zone and doesn't seem to get hit. He's one of those pitchers that has the ability to pitch up in the strike zone with a four-seam fastball."
Right-handed starting pitcher -- Brenan Hanifee, Delmarva (23 games): Baltimore's 18th-ranked prospect followed his sinker-slider combination to his second consecutive All-Star nod. He also showed great command, issuing just 22 walks in 132 innings. The 20-year-old finished his first full season 8-6 with a 2.86 ERA and 85 strikeouts in 23 starts.
"He throws strikes. He commands the baseball whether it's a sinker, slider or changeup, everything is down in the zone," Graham said. "He works fast, he's got a great maturity, poise, composure for a young player."
The 6-foot-5, 180-pounder still has room to fill out, which could provide an uptick in velocity, but he's maintained success by being very methodical and calculated with his delivery.
Relief pitcher -- Tyler Erwin, Frederick (50 games): The 24-year-old right-hander was a shut-down option in the Carolina League, finishing with a 1.58 ERA while holding hitters to a .183 average in 50 appearances. Erwin notched 84 strikeouts in 68 1/3 innings and converted 18 of his 22 save opportunities.
"For Minor League relievers it's about getting outs and getting outs early in counts," Graham said. "Erwin threw strikes, there's life to the fastball, he can throw the slider in any count for strikes. He throws the changeup to left-handers and right-handers."
Gerard Gilberto is a contributor to MiLB.com. Follow and interact with him on Twitter, @GerardGilberto4.