SAL notes: Scheiner hammering for 'Claws
Phillies slugger continues emergence with strong first full year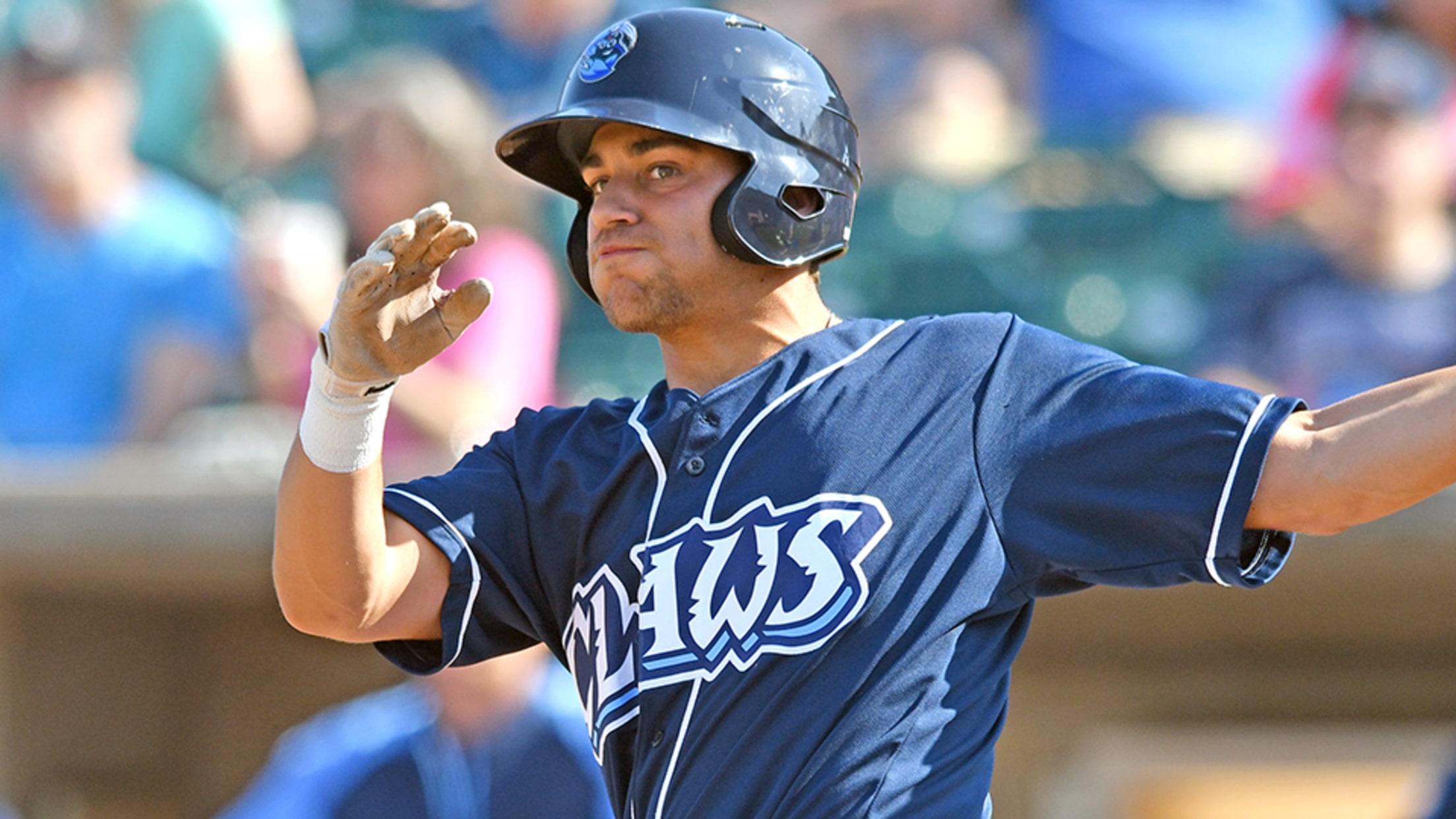 Jake Scheiner collected 14 home runs and 37 doubles through his first 149 professional games. (Ken Inness/MiLB.com)
Jake Scheiner is having one of the more successful seasons in the South Atlantic League. It also may be one of the more unlikely.A key cog in the Class A Lakewood offense, Scheiner reached what would have been the end of the road for most players in his situation four
Jake Scheiner is having one of the more successful seasons in the South Atlantic League. It also may be one of the more unlikely.
A key cog in the Class A Lakewood offense, Scheiner reached what would have been the end of the road for most players in his situation four years ago. Despite a solid career at Maria Carrillo Pumas High School in Santa Rosa, California, the infielder received little interest from schools or scouts. His lone option as far as baseball was concerned was attending a local junior college, where he wound up red-shirting as a freshman.
"In high school I was good at defense, but I was a smaller player," said the 6-foot-1, 200-pounder. "Then I had to red-shirt my first year in junior college because I would have been splitting time. In the meantime, I decided to improve my skills, lift weights, get stronger and work on my craft."
His dedication and determination paid their first significant dividends in 2016 when he led Santa Rosa Junior College to a conference and state championship. Scheiner was recognized as the Big 8 Most Valuable Player as well as the NorCal Player of the Year, a First Team All-American and state championship MVP. While professional baseball continued to show little interest, he received offers from a handful of collegiate programs and wound up at the University of Houston.
In what proved to be his lone season with the Cougars, Scheiner paced the team in the Triple Crown categories with a .346 batting average, 18 home runs and 64 RBIs. He led the American Athletic Conference in roundtrippers and was named the conference's Player of the Year as well as a Second Team All-American. That performance finally impressed pro scouts, with the Phillies taking Scheiner in the fourth round of the 2017 Draft.
"I had a great year at Houston," he said. "I loved the coaches there. I really wanted to prove myself, and I feel I was able to do that. I realized it's the same game, only the pitching and competition is a little better. After my final season at Santa Rosa and my year at Houston, it helped me come to the realization that my dreams could come true if I continued to work hard and do everything I needed to do."
His efforts have continued to produce solid results in the professional ranks. He made his debut in the New York-Penn League with a slash line of .250/.377/.317 at Williamsport in 2017 before receiving a promotion to Lakewood to open the current campaign. He helped guide the BlueClaws to the first-half North Division title and also earned a spot as a reserve in the SAL All-Star Game.
Through games of July 18, Scheiner is hitting .288/.357/.453 overall and has really turned it on of late with a .349/.455/.506 line since the break. His 23 doubles are tied for third on the circuit, and he leads Lakewood with 96 hits, 48 runs and 40 RBIs while tying for second with 10 homers. Scheiner also is making consistent contact, evidenced by his 59 strikeouts versus 33 walks.
His offensive output is more impressive considering his defensive responsibilities. After splitting his time between second and third base last year at Williamsport, he has made 20 starts at first base, 45 at the hot corner and 21 in left field. While the first turn and the outfield are unfamiliar territory, Scheiner has responded to the challenge with aplomb by making only seven errors, two coming at third base on Opening Day.
"There's been a lot of hours of work put in and it's good to see things starting to pay off," he said. "The goal now is to stay consistent while I keep working and getting better every year, which is what I've been doing the last few seasons. I'm trying to stay in the present and do what I can today to get better."

In brief
Home run barrage:
After hitting 14 homers in its first three games at Greensboro on July 14-16, Asheville leads the SAL with 111 roundtrippers, 15 more than second-place Lexington (96). Tourists players own the second through fifth spots in the league home run race, led by first baseman
Chad Spanberger
and outfielder
Casey Golden
(22 apiece) and followed by right fielder
Ramon Marcelino
(18) and infielder
Bret Boswell
(17). Spanberger and Golden also rank 1-2 in the league RBI rankings with 73 and 62, respectively.
Nice homecoming:
Columbia catcher
Scott Manea
smashed a 417-foot home run and stroked three hits in the second game of a doubleheader on July 16 at Lakewood while playing in front of nearly two dozen friends and family members. The former New Jersey resident has been as hot as the weather in July, hitting .300/.386/.580 this month. Fourteen of his 33 RBIs on the season have come in 14 July outings.
All-Star Power:
The West Virginia Power and the City of Charleston will host the 2019 SAL All-Star Game on Tuesday, June 18. The event will mark the second time Appalachian Power Park has served as the home of the midseason contest, the first occurring in 2009. Charleston also hosted the SAL All-Star Game in 1989, when the team was the Charleston Wheelers.