Huff slugs three homers in twinbill
Rangers No. 25 prospect records first career multi-homer game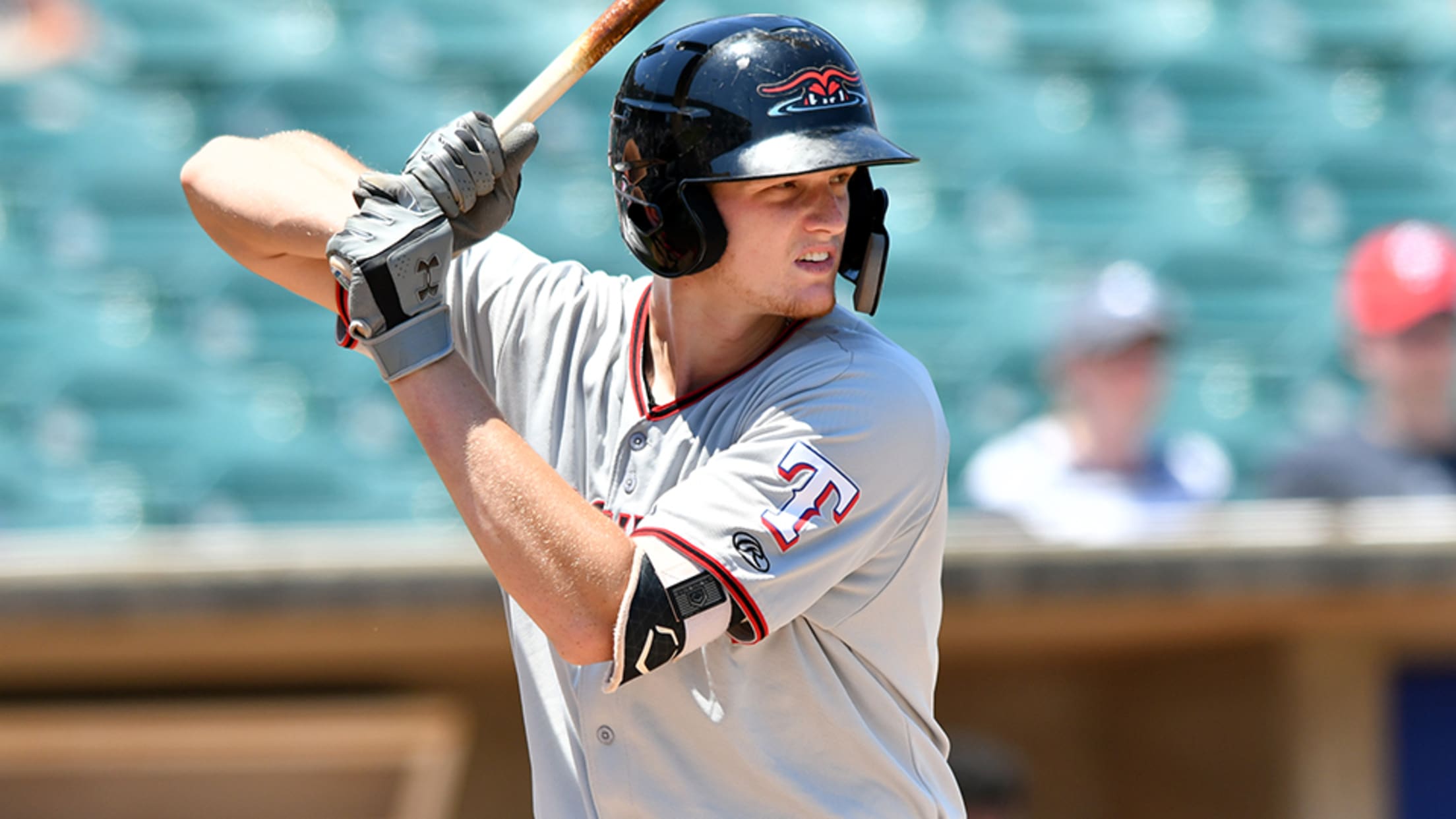 Sam Huff stands tied for eighth in the South Atlantic League with 13 homers this season. (Ken Inness/MiLB.com)
Sam Huff talks frequently with Class A Crawdads hitting coach Chase Lambin about the "tiger mentality," which enables him to utilize a patient, yet assertive approach.Texas' No. 25 prospect pounced on his opportunities Wednesday, belting two homers in the nightcap after lofting one long ball in the opener as Hickory
Sam Huff talks frequently with Class A Crawdads hitting coach Chase Lambin about the "tiger mentality," which enables him to utilize a patient, yet assertive approach.
Texas' No. 25 prospect pounced on his opportunities Wednesday, belting two homers in the nightcap after lofting one long ball in the opener as Hickory split a doubleheader with Greenville at Flour Field at the West End. It marked the first multihomer game of his career.
Huff doesn't take the importance of that approach lightly. The backstop said he's a massive fan of Reds first baseman Joey Votto and Hall of Famer Ted Williams, both famous for their uber-patient approach to hitting. Huff picked up Williams' book, The Science of Hitting, shortly after he was drafted in 2016 and has attempted to implement that strategy of shrinking the strike zone to his own game.
"It's been a struggle. It didn't come right away," Huff said. "It was a lot of work figuring out which pitches to lay off, which pitches to hit, don't be too picky and still swing within your zone, but still hit within your zone. It's been a process, but a process I want to stick with and it's paid off the last couple of weeks."
The seventh-round pick sports a .361 average and 1.156 OPS over his last 13 games dating back to July 8.
Game 2 Gameday box score
Huff held down the fort behind the plate Wednesday, going 3-for-3 and plating the Crawdads' only run in Game 1. He clubbed a 1-0 pitch from Denyi Reyes over the left-field fence in Hickory's 4-1 loss. The 20-year-old floated a three-run shot over the wall in right-center and pummeled a two-run homer to left in the Crawdads' 7-1 triumph in Game 2.
"I feel more comfortable with the swing," he said. "I've felt more relaxed and thinking less about what I have to hit and just putting a swing on it. Today was more just being relaxed.
"[Batting practice] felt good and the biggest thing in my mind is I have to apply it to the game now. I wasn't going to try and force it. I was just going to let it happen. I got the single the first at-bat and the homer helped out a little bit. The first game was good. The second game I was really locked in and what I need to do to feel the same swing every time, so it was just kind of nice."
What's more, Huff was battling a fever before the game, but still finished with a career output at the dish.
"It worked out actually, so maybe I should get sick a little more," he laughed.
The Arizona native is hitting .253 with a .763 OPS in his first season in the South Atlantic League. Huff batted .330/.436/.485 in his first professional season and .249/.329/452 last season in the Rookie-level Arizona League.
Huff is tall for a catcher at 6-foot-4 and 230 pounds, but he said he tries to stay limber with yoga and squat exercises.
"It hasn't been an issue yet," he said.
Reyes (10-3) went the distance in the opener, allowing one earned run on three hits without a walk and eight strikeouts for the Drive. In the nightcap, the Crawdads' Kervin Suarez went 3-for-3 with a double.
Josh Horton is a contributor to MiLB.com. Follow him on Twitter @joshhorton22