Morejon fans career-high 12 for Storm
Padres No. 6 prospect allows two runs, three hits in six innings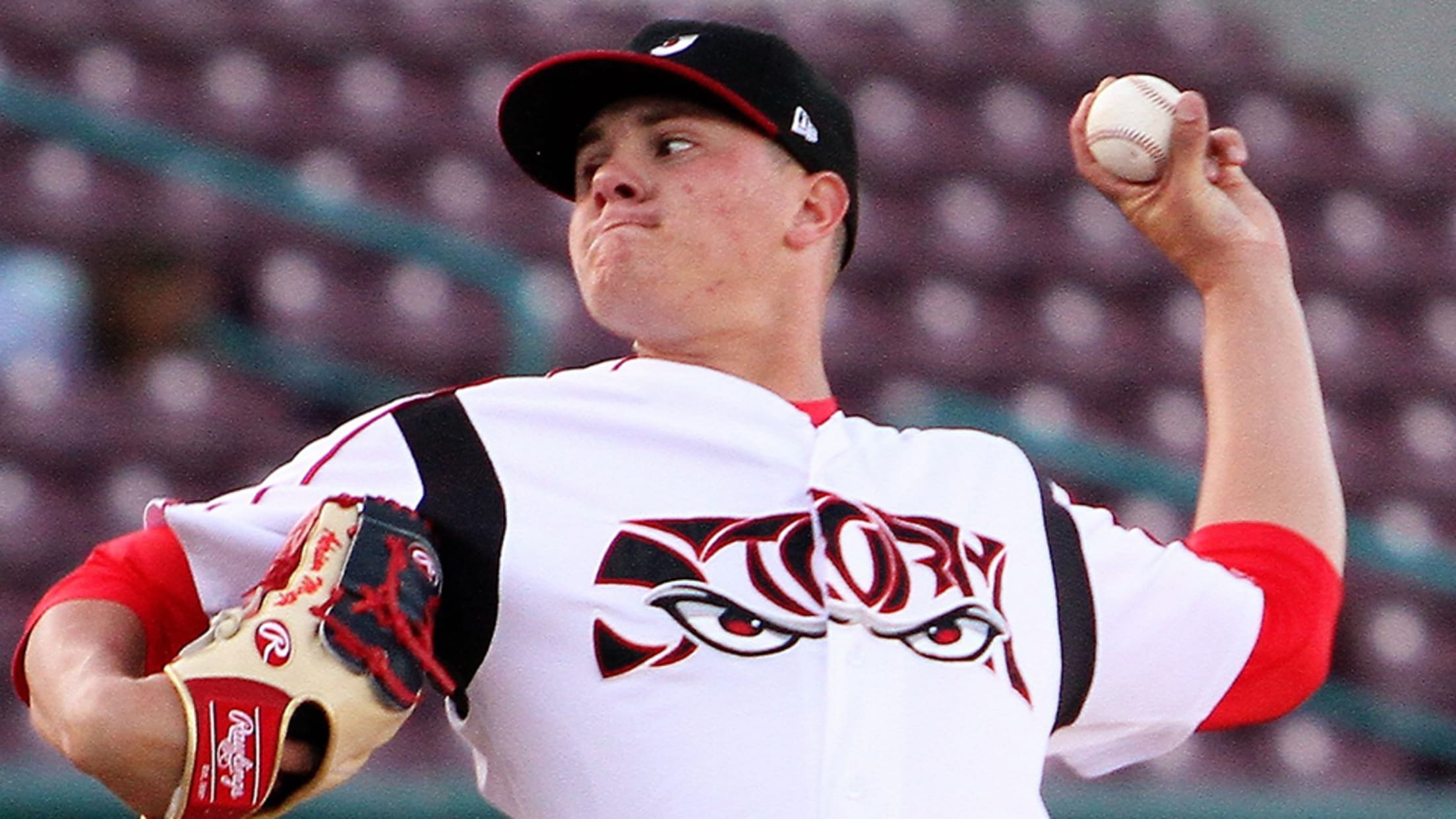 Adrian Morejon ranks 14th in the California League with 66 strikeouts over 57 2/3 innings. (Jerry Espinoza/MiLB.com)
The beginning and end certainly could have gone better for Adrian Morejon, but the middle portion of his start went about as well as it could have on Friday night. Surrendering one run apiece in the first and sixth innings, the Padres' sixth-ranked prospect recorded a career-high 12 strikeouts but took the
The beginning and end certainly could have gone better for Adrian Morejon, but the middle portion of his start went about as well as it could have on Friday night.
Surrendering one run apiece in the first and sixth innings, the Padres' sixth-ranked prospect recorded a career-high 12 strikeouts but took the loss as Class A Advanced Lake Elsinore dropped a 3-1 decision to Lancaster at The Diamond. Morejon allowed two runs on three hits and a walk over six frames.
Gameday box score
The 19-year-old walked Manuel Melendez to begin the game, then allowed a double to Alan Trejo. He caught Vince Fernandez looking for his first strikeout of the game, but his second proved more costly. Morejon struck out Roberto Ramos swinging, but the ball got away from rehabbing Padres catcher Austin Hedges, allowing Melendez to score on what was ruled a wild pitch. He avoided further damage, thanks to a popout and another strikeout.
From there, Morejon (4-4) settled into a groove. Following the wild pitch, the Cuba native retired 14 JetHawks in a row. MLB.com's No. 42 overall prospect fanned two apiece in the second and third and struck out the side in the fifth.
"It was pretty dominant," Lake Elsinore pitching coach Pete Zamora said.
Zamora has seen plenty from Morejon to preview his potential dominance on the mound but never to this extent, he said.
"Not that many in a row," the pitching coach said. "Obviously, the stuff plays. The consistency of the breaking ball is the key for him. When he's landing it and using it as a weapon ... it's very impressive."
Morejon's favorite pitcher is Dodgers ace Clayton Kershaw, who uses a devastating 12-6 curveball to neutralize hitters. Zamora and his pupil have been focusing on giving his pitch a more vertical drop as opposed to side-to-side movement. The pitch was especially effective on Friday night.
"The guy's just worked his butt off and kept his ears open," Zamora said.
Melendez led off the sixth with a bunt single and Trejo followed with a knock to left. Morejon plunked Fernandez to load the bases but got Ramos looking at strke three. Joel Diaz lifted a sacrifice fly and Hedges caught Fernandez stealing second for the final out of the frame.
Getting out of the bases-loaded jam was an example of Morejon's maturity on the mound, Zamora said.
"For a young kid, he is not fazed in any situation," he added. "It's huge. Even though we're losing, it takes the momentum and it puts it on our side."
One of the main differences Zamora sees in Morejon compared to early in the season is that kind of damage control. Through April and May, teams could tag him for more than one run in a bad inning. In those situations, that troublesome inning would stick him with the loss.
That's changed in recent weeks, the pitching coach said. Now the left-hander is scattering a run here and there, giving the Storm a chance every time he takes the ball.
"He's learning quickly on how to be efficient and stay in the game, keeping the damage under control," Zamora said.
Morejon threw 61 of 91 pitches for strikes, with three ground-ball outs to complement his strikeouts. The 6-foot, 175-pound southpaw lowered his ERA to 3.59 and has 66 strikeouts in 57 2/3 innings.
Padres No. 14 prospect Hudson Potts went 2-for-5 with a double and a run scored for the Storm.
Matt Dennis (4-7) earned the win, allowing one run on six hits and two walks with a pair of strikeouts over 5 2/3 innings.
Chris Bumbaca is a contributor for MiLB.com based in New York. Follow him on Twitter @BOOMbaca.