Reed storms out of gate for Lake Elsinore
Padres prospect homers twice, collects career-high six RBIs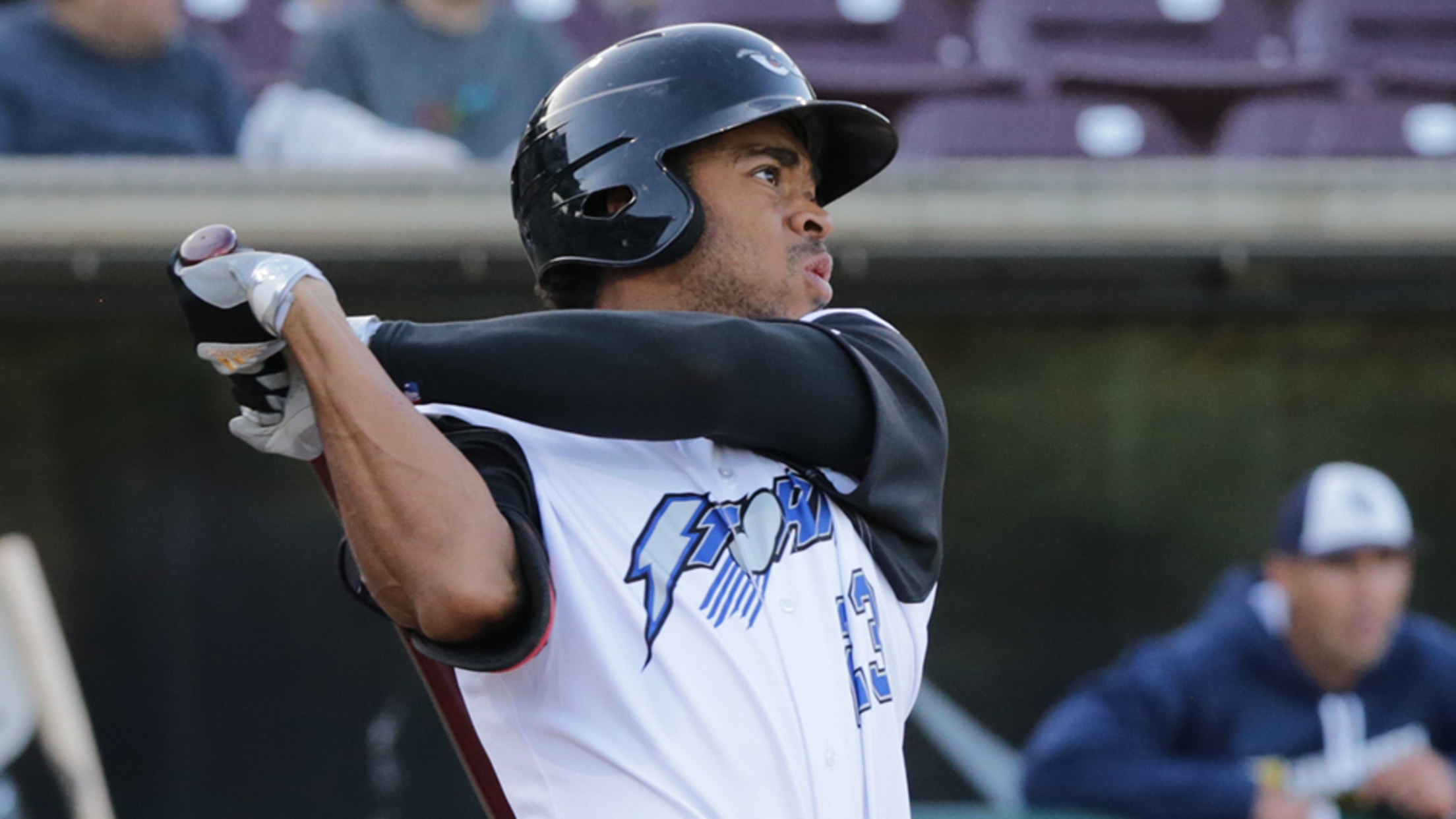 Buddy Reed had seven homers in 150 Minor League games before Tuesday's contest. (Frank Bellino/Lake Elsinore Storm)
This past winter, Buddy Reed trekked south to the Australian Baseball League in an effort to improve his approach and "find a new identity." So far, the results in the Northern Hemisphere are more than promising for the Padres outfield prospect.Reed smashed two homers -- including an inside-the-parker -- and
This past winter, Buddy Reed trekked south to the Australian Baseball League in an effort to improve his approach and "find a new identity." So far, the results in the Northern Hemisphere are more than promising for the Padres outfield prospect.
Reed smashed two homers -- including an inside-the-parker -- and drove in a career-high six runs to power Class A Advanced Lake Elsinore to a 9-1 win over Inland Empire. The 2016 second-round pick, who also doubled twice to complete a four-hit night, has collected four consecutive multi-hit games while hitting safely in five straight overall.
Gameday box score
"The offseason, playing in Australia, figuring things out and then coming out here and having a good Spring Training and starting to play with the guys, it's awesome -- it's been a lot of fun," he said. "Certain things that I was capable of doing that I never did in the box or defensively speaking."
Reed finished last season -- his first full year in the professional ranks -- with a .234/.290/.396 slash line, six homers and 35 RBIs in 88 games with Class A Fort Wayne. On a new circuit, the 22-year-old has quickly found a groove with a .367 average and six extra-base hits. Over the past five contests, he is 15-for-27 with 11 RBIs.
Between his time in the ABL and the preparation he's put in with Storm hitting coach Doug Banks, Reed thinks he's turned a corner.
"We shoot a lot of ideas back and forth with each other," the Bronx, New York native said. "And it's just being ready for a pitch in your zone, no matter what pitch it is. It's obviously baseball, but a pitcher's best pitch is a fastball. We're trained as baseball players to hit the fastball, but even the pitches that are not in the zone that aren't fastballs, whether it's a slider, curveball, changeup or any other off-speed pitch and it's in your zone and you're on time. It's almost like a two-part swing in a sense where you can be on time, get your foot down and adjust."
Extending that hot streak in the first inning, the 22-year-old worked the count to 2-2 against 66ers starter Jason Alexander before lacing a double to center field. An inning later, with Padres No. 20 prospectEdward Olivares on first, Reed roped an 0-1 offering that caromed off the wall in left-center and rolled in the deep outfield. Before the 66ers could corral the ball, he hustled around the bases for an inside-the-parker.
"The first pitch I intended to bunt and the second pitch was a changeup," the switch-hitter said. "I was on time for the fastball, I saw a changeup in my zone and I hit it well to pretty deep left-center field. As I was rounding first, the ball was in the air and I saw it go over [center fielder Brandon Sandoval's] head. It bounced on the warning track, popped up and kind of took a ricochet to the center fielder's right.
"Edward Olivares was in front of me and I was pretty close to him. Our third-base coach, Freddy Flores, was sending him. I was close and saw him waving [Olivares] home and he quickly put up the stop sign. At that time I had a lot of momentum and basically said to Freddy I had a lot of momentum and was going to keep going."
After a seven-pitch at-bat in the fourth, Reed cleared the wall in right-center for his second roundtripper of the night. After fanning in the sixth, the University of Florida product whacked a double to left to cap off his big night.
"I hit a semi-decent ball down the left-field line and I knew I was going to get on second base," Reed said. "I just want to put the barrel on the ball as much as I can and I want to get on base as much as I can for my teammates because we have a bunch of great hitters."
On Tuesday, that lineup included rehabbing Wil Myers -- recovering from an irritated nerve in his right arm -- right behind him in the No. 3 spot. Myers went 0-for-3 with a walk and two strikeouts as the Storm's designated hitter. The 6-foot-4, 210-pound outfielder said he and his teammates gave the six-year big leaguer some tips of their own.
"He came into the clubhouse like he was one of us, like he was a Minor Leaguer," Reed said. "He was talking with us and joking around and asking us questions, which was really cool. We were telling him how our field plays and how it's bright -- at the beginning of the game, it's tough to see. ... He's a great guy to talk to about hitting, he knows so much. And even watching his BP, you could tell that's what it takes to be a big leaguer."
Lake Bachar (2-1) yielded four hits and fanned five over six scoreless innings for the win. The 22-year-old right-hander has not allowed an earned run through his first 17 innings this season.
Andrew Battifarano is a contributor to MiLB.com. Follow him on Twitter, @AndrewAtBatt.