Storm's Baez twirls six one-hit frames
Padres No. 5 prospect takes perfect game into fifth, fans eight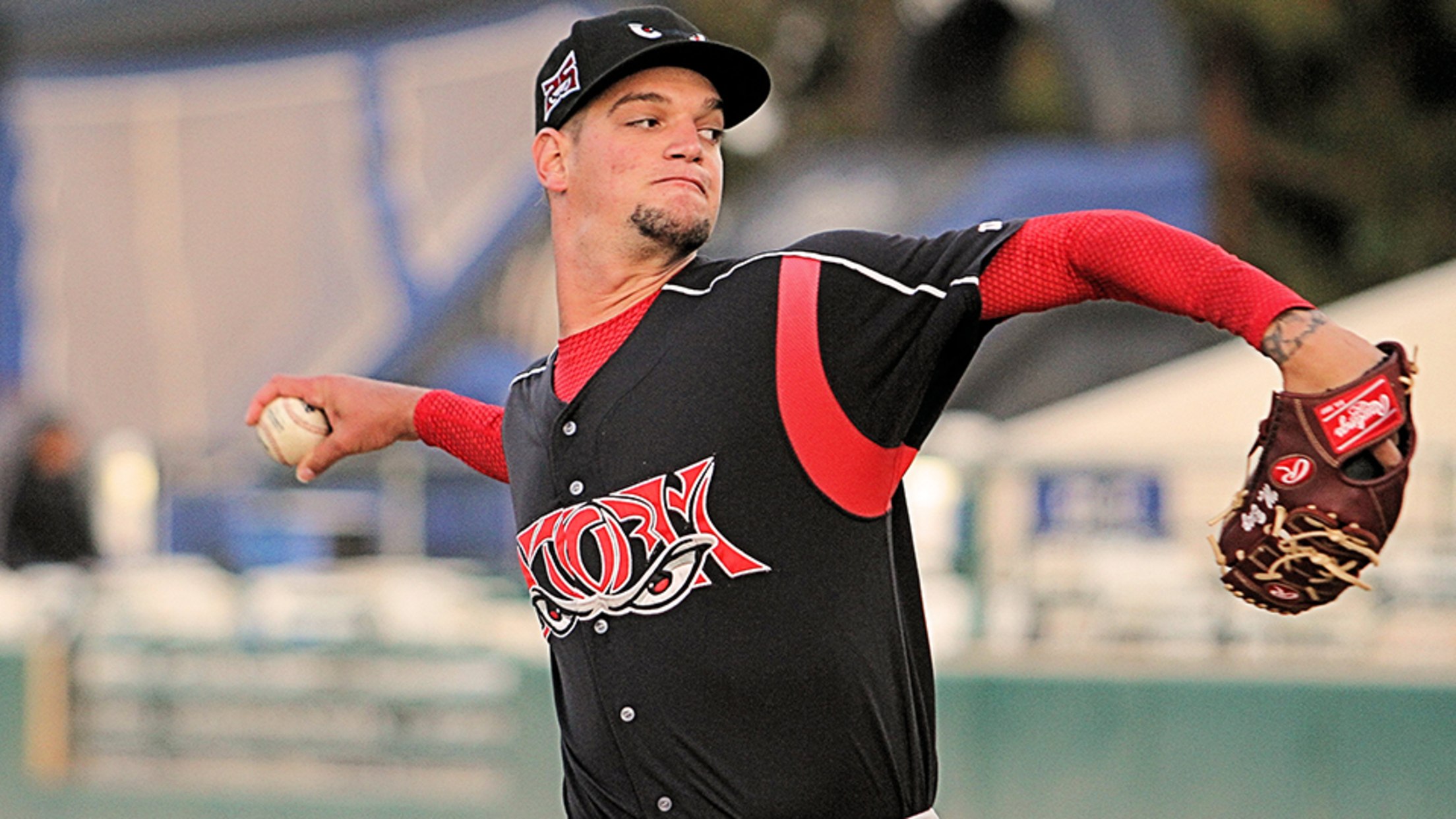 Michel Baez would rank seventh in the Cal League with a 2.84 ERA if he had enough innings to qualify. (Jerry Espinoza/MiLB.com)
Following Michel Baez's scoreless gem on May 23, his pitching coach warned that he could produce more brilliant results once he got more innings under his belt. On Tuesday night, the Padres' fifth-ranked prospect made Pete Zamora look prescient.Baez took a perfect game into the fifth, yielded one hit and faced
Following Michel Baez's scoreless gem on May 23, his pitching coach warned that he could produce more brilliant results once he got more innings under his belt. On Tuesday night, the Padres' fifth-ranked prospect made Pete Zamora look prescient.
Baez took a perfect game into the fifth, yielded one hit and faced the minimum over six scoreless innings as the Storm blanked Inland Empire, 7-0, at San Manuel Stadium. He registered a season-high eight strikeouts in his fourth scoreless outing of the year, lowering his ERA to 2.84 in his eighth California League start.
"Tonight, he just repeated his delivery," Zamora said. "We've actually done a lot of work with him and mixed in some little tweaks he had to take care of and he listened, kept his ears open, and he's put it into the game. Tonight, it all showed up."
MLB.com's No. 36 overall prospect set down the first 13 batters before Roberto Baldoquin lined a base hit to right field with one out in the fifth. Baez snagged a comeback liner from the next batter, Jonah Todd, and was able to double off Baldoquin at first. Zamora attributed much of Baez's success to a repeatable delivery on his 70-grade fastball while being active within the strike zone.
"He was in attack mode. He had trouble in the last couple starts with getting behind hitters," Zamora said. "He's always had it, it's just his ability to repeat it. He has a lot of moving parts in his delivery and we've tightened those up a little bit and it showed up tonight. When he plays that fastball in the zone consistently, it makes it really hard on hitters."
Gameday box score
The 22-year-old struck out the side in the sixth and exited after throwing 53 of 81 pitches for strikes. He threw first-pitch strikes to 11 of the 18 batters he faced and got ahead or recorded an out on eight of the 10 occasions in which the count ran to 1-0 or 1-1.
"He was attacking in and out, up and down and they were having trouble with the fastball," Zamora said. "It's a hard, rising fastball and it's a tough ball to square."
Zamora said Baez was ready to go back out for the seventh had the Storm's four-run outburst not kept him idle for nearly 30 minutes.
"We decided it was time; I don't like him sitting for that long," the pitching coach said. "He had no problem going out. ... If that inning goes 1-2-3 for us in the seventh, he goes back out. ... It was safe to just cut this one."
Baez, who signed out of Cuba for $3 million in December 2016, began the season in extended spring training with lower back issues after a dominant introduction to pro ball last year. He made one start in the Rookie-level Arizona League before moving on to Class A Fort Wayne, where he was 6-2 with a 2.45 ERA and 82 strikeouts in 10 starts to close the season.
The 6-foot-8, 220-pounder debuted in the California League on April 23 against San Jose, allowing two walks and an unearned run to take the loss, despite throwing five hitless innings. He posted another scoreless effort on May 5 but fell to 0-4 in his first five starts while his ERA sat at 4.29.
Rehabbing Padres right-hander Phil Maton, Blake Rogers and David Bednar combined for seven strikeouts over the final three innings, putting the finishing touches on Lake Elsinore's third shutout of the season.
Padres No. 18 prospect Edward Olivares collected three hits and three RBIs, while Buddy Reed delivered a two-run single. Brad Zunica, who homered in support of Baez in his last scoreless appearance, did so again on Tuesday with a two-run shot, his seventh of the year.
Gerard Gilberto is a contributor to MiLB.com. Follow and interact with him on Twitter, @GerardGilberto4.