Ramos busts out for GreenJackets
Top Giants prospect matches career high with four hits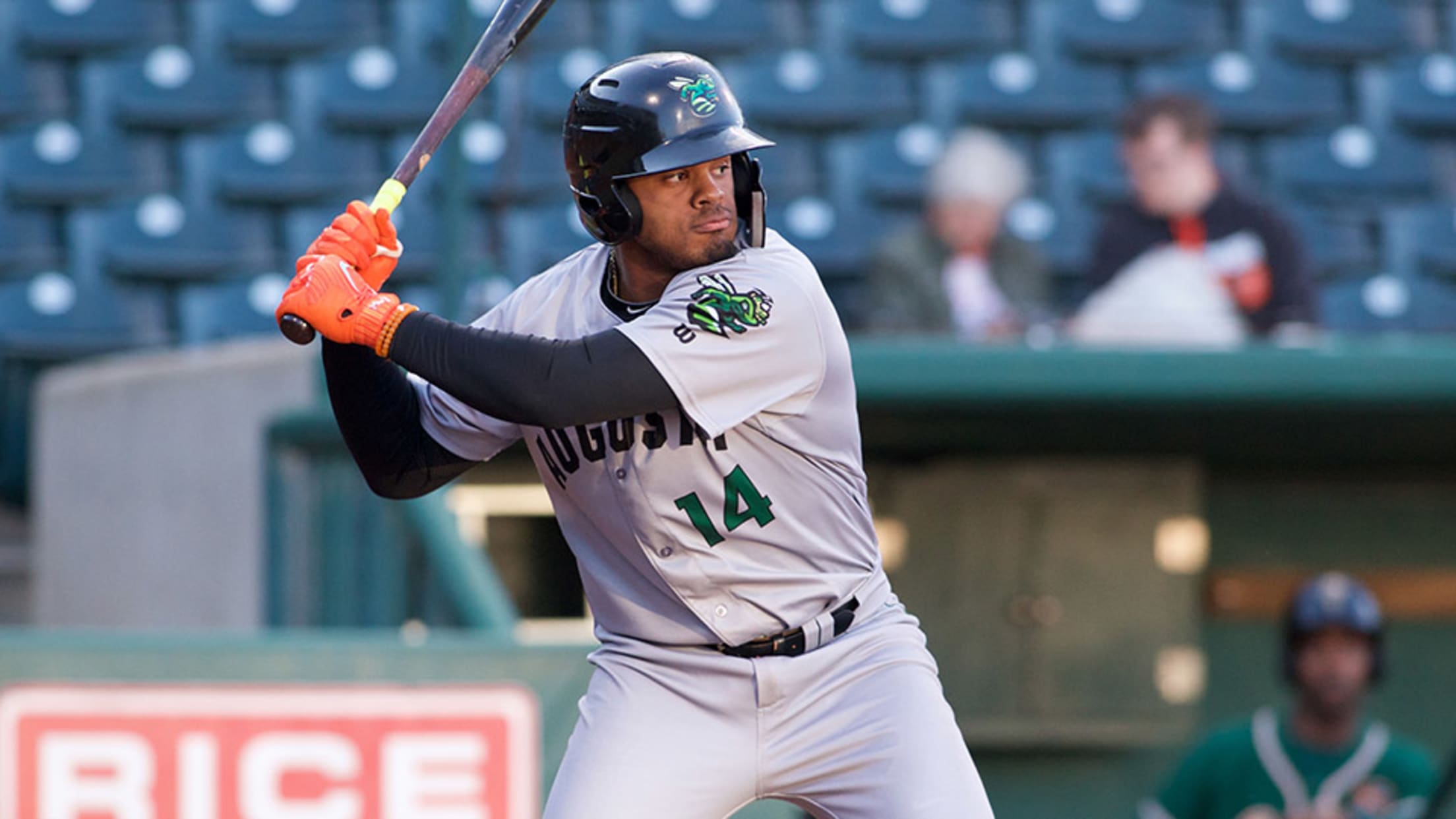 Heliot Ramos was named a postseason All-Star in the Rookie-level Arizona League last year. (Chris Robertson/MiLB.com)
After a superb professional debut, Heliot Ramos was dealing with his first adversity as someone who plays for pay.His performance Saturday went a long way toward showing he can deal with the hard times. The top Giants prospect broke out of an 0-for-14 slump by tying a career high with
After a superb professional debut, Heliot Ramos was dealing with his first adversity as someone who plays for pay.
His performance Saturday went a long way toward showing he can deal with the hard times. The top Giants prospect broke out of an 0-for-14 slump by tying a career high with four hits in Class A Augusta's 8-5 loss to Lexington at Whitaker Bank Ballpark.
Gameday box score
MLB.com's No. 55 overall prospect dropped a fly ball single into right field in the first inning, walked in the third and floated one into left for a another hit in the fifth. He grounded one down the third base line for a double in the seventh and capped his night with a line drive to center in the ninth.
GreenJackets hitting coach Thomas Neal said Ramos' turnaround was about a better approach, and said the struggles had a silver lining.
"I think he just swung at better pitches. His swing really looked good," the former big league outfielder said. "I think adversity is always good for young kids. It teaches them about failure and teaches them about what to do when things aren't going well."
Ramos, selected 19th overall in last year's Draft, had two four-hit games in his pro debut last season, on July 1 and July 22 in the Rookie-level Arizona League.
"He's a good-looking young prospect," Lexington manager Scott Thorman said. "Anytime an 18- or 19-year-old comes into the league and holds their own, people are going to take notice."
The Puerto Rico native batted .348/.404/.645 and quickly shot up to the top of the Giants prospect list, thanks to what scouts said was a quick bat with plus bat speed and the ability to hit the ball out to all fields. One question mark was his plate discipline, as observers said he tended to have a free-swinging approach. That's continued this season with 54 strikeouts and 14 walks in 187 plate appearances.
Neal believes that will improve as Ramos matures.
"I think over time, yeah," said Neal, who was playing in the Minors as recently as 2014 and played independent ball in 2015. "It takes time and effort, but just in general it definitely can be taught. He's been doing a good job. He's an 18-year-old kid playing against 23-year-olds. He's holding his own."
Seuly Matias powered the Lexington offense, blasting two homers to give him the Minor League lead with 17, one more than big league veteran Chris Carter of Triple-A Rochester.
The Royals' third-ranked prospect has been known for his raw power but is bringing it into games with consistency this season. He's homered five times in his last six games and has surpassed his career total coming into the year.
"It's a heck of a lot of fun to watch," Thorman said. "He's starting to understand what teams are doing to him, and he's learned to cut down on his swing. He's done a heck of a job so far, and he's tapping into the ability that we all knew he had."
The 19-year-old right-handed hitter struck quickly Saturday against John Gavin (2-3), following a single by Dennicher Carrasco in the second with his 16th homer, a shot that cleared the wall in left-center field. Matias struck out in the fourth and was intentionally walked in the sixth before following another single by Carrasco with a big fly to left in the eighth off Ryan Koziol.
Thorman said Matias' improvement is largely due to repetition.
"It's just experience," he said. "More ABs, understanding what the league is about and is trying to do to him. He's really embraced it and is motivated to show what he can do.
"He's definitely understanding what pitchers are trying to do to him. Obviously, he's someone that has jumped out because he's leading the league in homers, and people are starting to take notice of that."
Matias' four RBIs helped Andres Sotillet (4-2) get the win, despite giving up nine hits and three runs in 5 2/3 innings. Jacob Condra-Bogan surrendered a two-run homer in the ninth to Nick Hill but picked up his first professional save.
Vince Lara-Cinisomo is a contributor to MiLB.com. Follow him on Twitter @vincelara.