GreenJackets' Ramos collects four hits
Top Giants prospect doubles, extends streak to five games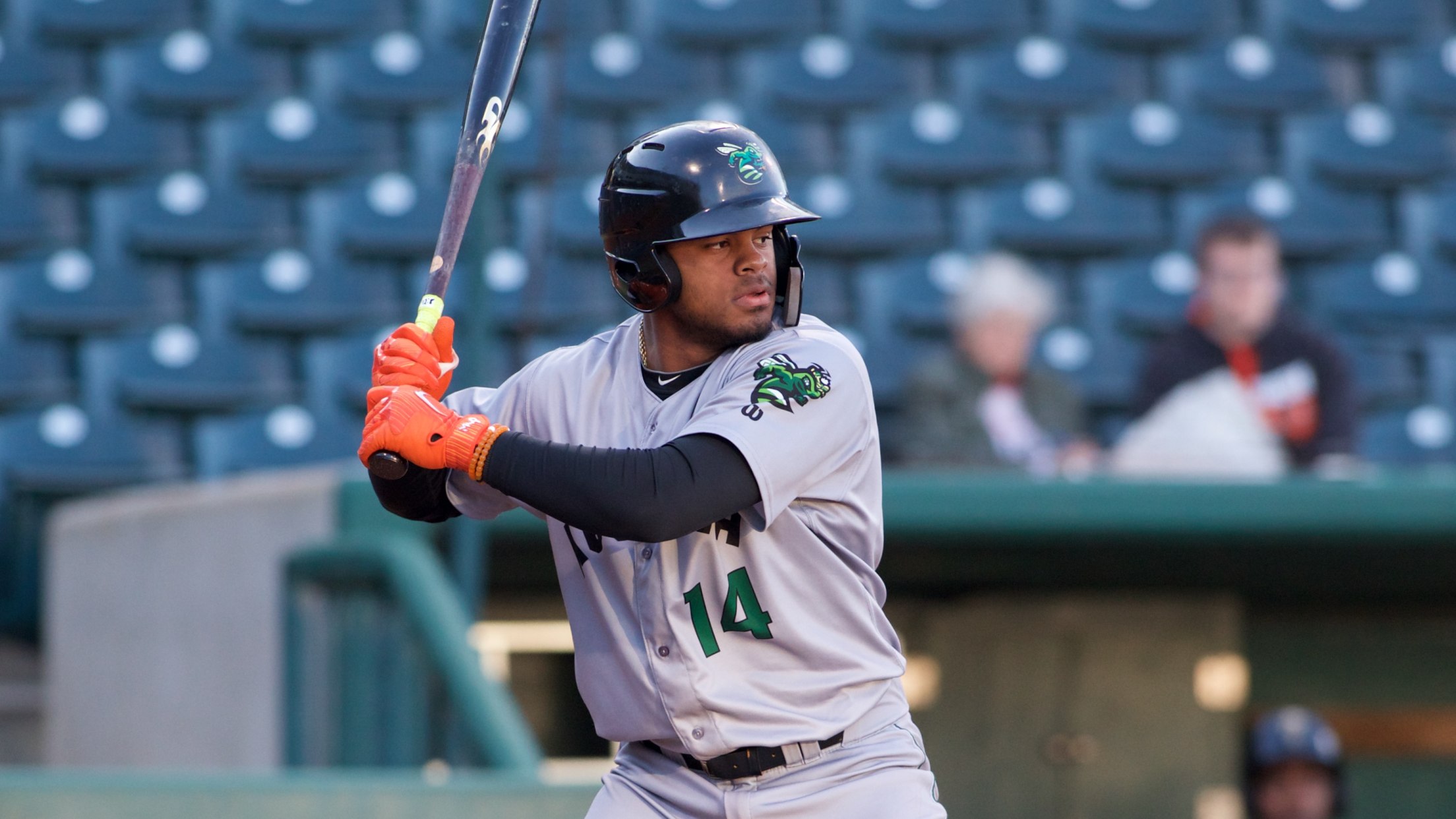 Heliot Ramos has reached safely in eight of his last nine South Atlantic League games. (Chris Robertson/MiLB.com)
The GreenJackets entered Saturday in need of a spark and Heliot Ramos delivered. The 18-year-old was a catalyst at the top of the batting order as he extended his hitting streak in style.The top Giants prospect went 4-for-5 with a double and a run scored in his second four-hit game
The GreenJackets entered Saturday in need of a spark and Heliot Ramos delivered. The 18-year-old was a catalyst at the top of the batting order as he extended his hitting streak in style.
The top Giants prospect went 4-for-5 with a double and a run scored in his second four-hit game this month as Class A Augusta edged Asheville, 7-6, at McCormick Field. The victory snapped an 11-game skid for the GreenJackets.
Gameday box score
Ramos also strung together four knocks on June 2. He went 4-for-4 with a double and walk in that 8-5 loss to Lexington, busting an 0-for-14 slump.
"I think he just swung at better pitches. His swing really looked good," GreenJackets hitting coach Thomas Neal told MiLB.com. "I think adversity is always good for young kids. It teaches them about failure and teaches them about what to do when things aren't going well."
Saturday's performance bumped his average 12 points to .243. Neal predicted that with some more seasoning, Ramos had the type of talent that can regularly produce this level of dominance at the plate.
"It takes time and effort, but just in general it definitely can be taught," Neal told MiLB.com "He's been doing a good job. He's an 18-year-old kid playing against 23-year-olds. He's holding his own."
MLB.com's No. 54 overall prospect laced a double to left in the first inning on a 1-2 fastball from right-hander Garrett Schilling (3-3) to extend his streak to five games.
In the third, Ramos was all over another mistake from Schilling and hammered it into center field for a base hit. He came in to score three batters later when 10th-ranked Jacob Gonzalez sent a ground ball into left for a two-out double that also plated Orlando Garcia and put Augusta ahead, 3-2.
After a grounding out in the fourth, Ramos was back on the basepaths in the sixth as he smoked the second pitch he saw from Erick Julio into the hole at short for an infield single. In the ninth, he lined a 1-0 fastball from Rockies No. 24 prospect Robert Tyler into left. The 19th overall pick in last year's Draft promptly stole second but was stranded in scoring position.
Gonzalez, the son of four-time big league All-Star Luis Gonzalez, finished 3-for-5 with a walk and two runs scored. Ryan Kirby hammered his 10th dinger of the season with a towering three-run shot to center in the fifth. Shane Matheny went back-to-back with a blast to right-center that capped the GreenJackets' scoring.
Right-hander Tyler Schimpf (1-1) picked up his first win, issuing a walk in 1 1/3 hitless innings.
No. 25 Rockies prospect Chad Spanberger mashed a three-run roundtripper with two outs in the seventh to pull Asheville within a run.
Rob Terranova is a contributor to MiLB.com. Follow him on Twitter @RobTnova24.